Our shared food traditions are part of what make us all New Mexicans. Cheryl Alters Jamison and Bill Jamison trace this rich heritage.
Cheryl Alters Jamison and Bill Jamison
When New Mexico attained statehoodin 1912, artists, writers, and scholars were just discovering its wonders.
This band of enthusiasts may never have constituted a majority among the newcomers, but they spoke in much louder and more passionate voices than anyone else. Devoted to historic and cultural preservation, they helped to establish the dominance of the Spanish Pueblo architectural style in Santa Fe; molded the state museum system in its early years; fought actively alongside Pueblo residents against the infamous Bursum Bill, which would have undercut Pueblo property rights; and promoted a revival of Spanish colonial folk crafts.
In a lesser-known effort, two leaders of this group even took a strong stand on behalf of traditional Hispano and Pueblo cooking. Alice Stevens Tipton, in The Original New Mexico Cookery (1916), and Erna Fergusson, in her Mexican Cookbook (1934), demonstrated bold initiative in favor of time-honored local foods at a point when every national culinary trend pointed in different directions. Tipton, in particular, insisting on the need to use New Mexico ingredients, was about a century ahead of her time.
Neither book sounds anything at all like the work of Fannie Farmer, the most famous American cook of the 
day, who probably would have bolted from a dining table at the mere mention of chile.
The Tipton and Fergusson cookbooks were the first published in New Mexico after statehood, and they gave the earliest detailed descriptions of how to craft beloved historic dishes, including red- and green-chile sauces made from scratch, corn and flour tortillas, red-chile cheese enchiladas with an optional fried egg, chiles rellenos, tamales, albóndigas (meatballs), flan, capirotada (Spanish bread pudding), and many other authentic preparations.
Shortly after the publication of these pioneering works, four influential Hispano ladies recorded their own recipes and recollections in important cookbooks. They knew that descendants of the colonial Spanish would soon no longer be a majority in the state, and they sought to encourage New Mexicans to protect their heritage and resist the temptations of American convenience foods. Together, these six ladies played a vital role in preserving and passing on the culinary traditions they loved. They inspired both restaurateurs and home cooks, creating momentum behind the food and providing continuity into the future. Whether or not you've read any of their books or other writings, if you cook New Mexican fare in your own kitchen or enjoy eating it out, you have been enriched by their efforts.
As food goes, so goes culture. In the 100 years since statehood, New Mexico has certainly felt the major impact of American values and practices. In business, education, war, and almost all other pursuits, New Mexico steps in concert with the other 49 states. At the same time, culturally it remains a land apart. The vast majority of Pueblo, Diné, and Hispano residents yield no ground on their most treasured traditions, and most of their Anglo neighbors today appreciate that dedication to heritage and look for chances to partake of its blessings. In the end, it's what makes us all New Mexicans.
Tastemakers:
Fabiola Cabeza de Baca Gilbert 1894–1991 
The Cabeza de Baca family traces its lineage in New Mexico back to the 16th century. Born in Las Vegas, New Mexico, Fabiola moved to her family's large ranch nearby after her mother's untimely death. She loved life on the range, but her grandmother insisted that she go to school in her hometown, at the Catholic academy run by the Sisters of Loretto.
Eventually Fabiola became one of the most educated people in the state. At two different times she studied in Spain for a year, and she also earned degrees at the universities now called New Mexico Highlands and New Mexico State. At the latter, Fabiola majored in home economics, which launched her 30-year career as a traveling extension agent teaching farm women traditional and modern gardening and cooking skills.
As part of her job, in 1939 she published an extension circular titled Historic Cookery. Ten years later this became the core of the recipe section of a full book, The Good Life, a tribute to rural Hispano traditions in New Mexico. She is remembered as a trailblazing educator and a grande dame of New Mexico cooking.
Katy Griggs Camuñez Meek 1920–1993
La Posta de Mesilla is memorable in almost all ways, from the excellent New Mexican food to the storied restaurant premises. The building goes back to the earliest days of Mesilla, when settlers began moving there after the conclusion of the war with Mexico, in 1848. The structure served as a major stop on the Butterfield Stage Line, and later as the prestigious Corn Exchange Hotel.
Katy Griggs was even more remarkable than the historic edifice. In 1939, at the age of 19, she opened La Posta as a tiny "chile joint," in a corner of the building that her uncle sold her for "one dollar, love, and affection." With her mother cooking at the back and just four tables on the dirt floor, Katy presided as an ebullient hostess, greeting guests, taking orders, making tongue-in-cheek risqué remarks, and charming everyone.
La Posta has grown enormously over time in space and fame, but the menu has stayed basically the same. Katy gave out most of the recipes in her La Posta Cook Book (1971), which remains the guiding beacon for the current owners-managers: Katy's grandniece, Jerean Camuñez Hutchinson, and her husband, Tom.
Edith Warner
Raised in Pennsylvania, Edith Warner moved to New Mexico in 1922 and settled in a small adobe cottage overlooking the Río Grande at a spot known as Otowi Crossing. Her house stood next to the single-lane suspension bridge over the river on N.M. 502 that led to San Ildefonso Pueblo, a short drive away, and up the foothills of the Jémez Mountains to Los Alamos, which at the time was nothing more than the site of a boy's ranch school.
To support herself, Edith opened a teahouse in her parlor, serving the few travelers who happened by. The clientele changed dramatically after 1943, when the U.S. government purchased Los Alamos for the Manhattan Project. Edith's place, already famous for its chocolate cake, became the off-duty hangout for the scientists and military officers. As Ellen Bradbury Reid remembers it from her childhood,
Edith—wearing the white leggings of the nearby Pueblo women—quietly served everyone without asking pesky questions. Project director Robert Oppenheimer wanted his research team kept happy, so he allowed the demure Edith access to the commissary's chocolate and butter, otherwise highly rationed at the time.
Cheryl Alters Jamison is New Mexico Magazine's contributing culinary editor. Read her blog at www.nmmagazine.com/tastingnm. Tasting New Mexico is her 14th book with husband and co-author Bill Jamison. See more of Douglas Merriam's work at www.douglasmerriam.com.
Adapted from Tasting New Mexico: Recipes Celebrating 100 Years of Distinctive Home Cooking, by Cheryl Alters Jamison and Bill Jamison. Reprinted by arrangement with Museum of New Mexico Press (www.mnmpress.org). The book launch will be held Sunday, May 20, 2012, at 2 p.m. at the New Mexico History Museum. 113 Lincoln Ave., Santa Fe; (505) 476-5100. Autographed copies of the book ($29.95) are available in the New Mexico Magazine gift shop.
CRISPY BEEF AND POTATO TACOS WITH NORTEÑO SALSA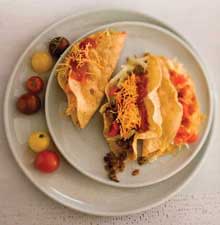 Crispy Beef and Potato Tacos with Norteño Salsa
Yield
SERVES 6 TO 8
Often dismissed because of the ground beef or its "adulteration" with potato, these can be one of the glories of Southwestern cooking when prepared with care. The potato actually elevates the flavor and texture of the ground beef, as Fabiola Cabeza de Baca Gilbert (see "Tastemakers," page 54) recognized in recipes decades ago. Gilbert's taco directions from 1949 even featured the now common hard tortilla shell, which makes it one of the earliest published sources of the idea. Pat Greathouse, a native New Mexican food journalist originally from Las Cruces, is responsible for recording this recipe.
Ingredient
Norteño Salsa
14- to 15-ounce can crushed or diced tomatoes with juice, "fire-roasted" if you wish
½ medium white onion, finely diced
1 garlic clove
½ teaspoon cider or white vinegar
1 teaspoon or more crushed New Mexican 
red chile pequin or other crushed, 
hot red chile
salt
Filling
1 pound ground beef, preferably an 80/20 
mix of lean to fat
1 yellow onion, chopped
1 large clove garlic, minced
3 medium potatoes, peeled and diced; 
about 2½ cups
2 tablespoons Kitchen Bouquet, soy sauce, 
or tamari
1 teaspoon salt, or more to taste
½ teaspoon ground cumin
water
Taco shells
vegetable oil for deep frying
1½ dozen corn tortillas
grated mild cheddar
shredded lettuce
chopped tomato
For salsa
SERVES 6 TO 8
Directions
Combine tomatoes, onion, garlic, vinegar, and small amount of chile in blender and purée. Taste and add more chile as you wish for zip, and salt to taste. Pour into bowl and refrigerate until needed.
For filling
Heat large skillet over medium-high heat. Add beef and cook until uniformly browned. Break up meat as it cooks, adding onion when meat has lost its raw color. When onion turns translucent and begins to brown, add garlic, potatoes, Kitchen Bouquet, salt, cumin, and enough water to cover potatoes and meat. Bring mixture to boil, then lower to simmer and cook for about 10 minutes. If potatoes aren't tender by the time water cooks out, add a little more water.
When potatoes are quite tender, begin letting meat and potato mixture brown in pan. (It will begin to stick as it browns.) Turn mixture several times, scraping up browned bits stuck to pan, and breaking mixture into small pieces. When potatoes have broken up and filling has lots of browned flavor, add more salt if you wish. Keep filling warm.
For taco shells
Heat at least 1 inch of oil in large skillet until oil ripples. With tongs, dunk a tortilla in oil long enough for it to go limp, a matter of seconds. Don't let tortilla turn crisp. Repeat with remaining tortillas and blot them, if you wish, on paper towels.
Fill a tortilla with 2 tablespoons of filling, fold in half, and secure with toothpick. Repeat with remaining tortillas and filling.
Raise temperature of oil to 350° F. Fry tacos, in batches, until lightly brown and crisp. Drain well.
Assemble: Remove toothpicks and garnish with cheese, lettuce, and tomato. Serve with salsa and enjoy right away.
Variations: You can make these with ground dark turkey instead of beef, frying the meat in 2 tablespoons of vegetable oil to begin. The beef filling can also be used for tostadas, flautas, or taquitos.
TOSTADAS COMPUESTAS, ESTILA DE LA POSTA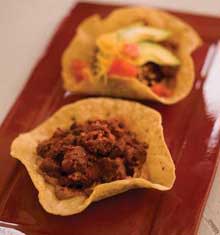 This makes a delicious light entrée
Yield
SERVES 4 TO 6
Katy Griggs Camuñez Meek founded what is probably the oldest continuously operating restaurant in the state, the famed La Posta de Mesilla, just a tortilla toss from Las Cruces. Meek learned to cook in her mother's kitchen, and used mostly family recipes when she opened her doors in 1939. (Read more in "Tastemakers," page 54.) This dressed-up tostada, with the tortilla fried decoratively into a cup, was an exception, an invention of her own destined to become a classic in New Mexico. If you lack a tool in-house to form the tortilla cups, simply fry the tortillas flat until crisp, though you'll be missing a bit of Katy's flair.
Katy's Chile con Carne
Ingredients
2 tablespoons vegetable oil
1 pound pork loin in ½-inch cubes
1 tablespoon all-purpose flour
½ cup water
1 cup red-chile sauce 
1 teaspoon ground cumin
½ teaspoon salt
½ teaspoon garlic salt
½ teaspoon crumbled dried Mexican oregano
corn tortillas
SERVES 4 TO 6
Directions
For Chile con Carne
Warm oil in large skillet over medium heat. Fry pork in oil until brown. Add flour and mix well. Cook another minute, then stir in water and red-chile sauce. Add remaining ingredients. Reduce heat to medium low and simmer until pork is cooked through and tender, 15 to 25 minutes longer, depending on meat.
For Tostada Shells
You will need some kind of round but flat-ended tool, perhaps a wooden flour-tortilla roller or a cylindrical bean or potato masher. Pour oil into deep heavy skillet to a depth of at least 3 inches. Heat oil to 375° F. While oil is warming, cut 4 evenly spaced, 1½-inch deep slits toward the
center of each tortilla.
Place first tortilla in oil and immediately press down on it with your chosen device. The hot oil will force tortilla back up toward your tool, forming a cup. Hold a slotted spoon in your other hand to help mold a uniform cup shape as tortilla crisps and colors lightly, 20 to 30 seconds. Remove tortilla cup with slotted spoon and drain on wire rack over paper towels. Repeat with remaining tortillas.
Assembly
Spoon 2 heaping tablespoons of beans into each tortilla cup, followed by about 1½ tablespoons of chile con carne. Top generously with garnishes. Serve right away. Eat with combination of fork
and fingers.
Working ahead: Chile con carne is great made a day or two ahead and stored in the refrigerator. The beans, too, can be prepared a day ahead. Reheat both just before serving. Tostada shells can be made up to an hour before serving. Garnishes can also be prepared an hour ahead.
EDITH WARNER'S CHOCOLATE CAKE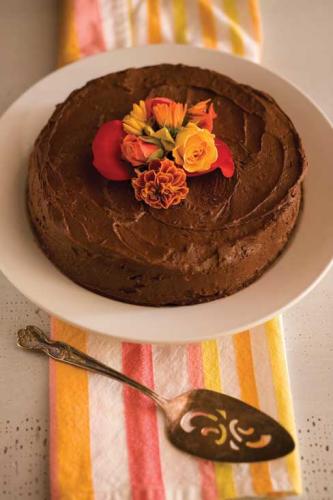 Edith Warner apparently used a loaf pan for making this cake.
Yield
SERVES 8
Edith Warner apparently used a loaf pan for making this cake, and you certainly can, too, by adding a couple of minutes to the baking time. We find the cake more attractive, though, when prepared in a round pan and sliced in wedges. The instructions assume you're baking at sea level, but they require only minor tweaking to adjust for high-altitude cooking. For example, at our 7,000-foot-elevation home we decrease the baking powder to 1 teaspoon and increase the milk by 1 tablespoon.
Ingredients
Cake
1 cup unbleached all-purpose flour
1¼ teaspoons baking powder
½ teaspoon salt
1½ ounces unsweetened chocolate, chopped
3 tablespoons unsalted butter
1 cup granulated sugar
½ cup whole milk
3 large eggs
Icing
1¼ cups confectioners' sugar
2 heaping tablespoons cocoa
pinch of salt
2 tablespoons unsalted butter, melted
2 to 3 tablespoons coffee
SERVES 8
Directions
For the cake
Preheat oven to 250° F. Grease and flour 8-inch round cake pan.
Sift together flour, baking powder, and salt. Melt chocolate with butter in a small heavy pan over low heat. Pour sugar into mixing bowl and pour melted chocolate over. Combine with an electric mixer until grainy. Stop mixer. Add flour mixture and milk; beat 1 minute, during which batter will lighten considerably in color and texture. Stop mixer and scrape sides of bowl. Add eggs; beat 1 minute more, until batter increases in volume and holds its shape like softly whipped cream. Spoon batter into prepared pan and smooth top.
Bake about 1 hour total. After 15 minutes, raise heat to 275° F; after another 15 minutes, raise heat to 300° F. Continue baking at 300° F 30 minutes more, until toothpick inserted into the cake comes out with just the barest crumb. Place pan on baking rack to cool for 20 minutes. Run knife around inside edge of the pan to loosen and unmold cake. Turn it over so that top side of cake is up and let cool completely.
For the icing
Sift together confectioners' sugar, cocoa, and salt into mixing bowl. Add butter and mix. Pour in 2 tablespoons of coffee and beat, then add just enough more coffee that the frosting has a shiny, easily spreadable consistency.
Assembly
Place cake on serving platter. Ice cake, ideally using an offset-handled spatula. There should be enough icing to give a thin but thorough coat. The cake will keep well for another day. Let frosting set before covering. Seal well, but try to keep plastic from contacting directly cake's top.