Slow food in the great outdoors
By Cheryl Alters Jamison | Photography By Douglas Merriam
This Fourth of July, we've got you covered for star-spangled barbecue fun. Everyone knows grilling is a fine method of cooking—heck, I've written a few books on the subject—but here we're talking about real BBQ, sometimes called just "Q": food smoked slow and low over smoldering wood.
A Short History of Our Hot Times
Barbecue, as both a cooking technique and an excuse for revelry, has been the great American pastime for as long as there's been an America. George Washington even slept at one. In his diary, the first president noted attending an Alexandria, Virginia, "barbicue" that lasted three days. The cooks dug a sizable trench or pit in the ground, filled it with logs, and burned the wood down to glowing coals. Then, for hours, they slow-roasted whole animals or large haunches over the coals. New Mexicans have dabbled in barbecue over the centuries, cooking mostly cabrito (young goat), venison, or beef in a similar fashion. In contrast, most of the cooks in the country's Barbecue Belt smoke pork—whole hogs, pork shoulders, ribs, and sausages.
With the exceptions of beef brisket in Texas, and mutton, chicken, and fish in a few other corners of the land, pork has been, and still remains, the king of barbecue meats. That's why New Mexicans celebrate it at our biggest barbecue event, coming up on its ninth year.
The Pork & Brew State BBQ Championship, in Rio Rancho (July 6–8), is a three-day extravaganza that has established itself as one of the country's major barbecue competitions. In the world of barbecue cookoffs, teams compete in events sponsored by a sanctioning organization, the big dogs being the Kansas City Barbeque Society and Memphis in May. KCBS sanctions Pork & Brew; victors here win money, trophies, and bragging rights, plus points toward participating in the world's largest barbecue competition: the American Royal World Series of Barbecue, held each fall in Kansas City, Missouri.
Pork & Brew attracts some 60 teams and close to 25,000 hungry onlookers to the Santa Ana Star Center's south parking lot. The contestants haul in their "cookers," often custom rigs, and everything they need to stay on-site for three days of merriment and serious meat. Many participants wear costumes worthy of Halloween and bedeck their tents with cheerfully porky décor. While most teams guard their recipes and techniques, virtually all love to talk Q and show off their smoker to anyone strolling by. On Saturday, judging takes place in the Pork Butt, Pork Ribs, Chicken, and Beef Brisket categories (meats that smoke for hours), and also in Salsa, Beans, Coleslaw, Side Dishes, and Dessert. Competitors come from far and wide, but in 2011, two New Mexico teams took second and third places overall, fueled by their high finishes in several of the individual categories.
New Mexico's Greatest of the Grate:
Mad Max's BBQ
Max and Francis Montaño, caterers from Corrales, make up Mad Max's BBQ team. The husband-wife duo and their bright blue, refrigerator-style smoker dominated many categories in 2011. In their fifth appearance at Pork & Brew, Max and Fran placed first in Chicken, third in Pork Ribs, fifth in Pork Butt, and seventh in Brisket. Like all teams, they submitted for the blind judging a half-dozen portions of meat or poultry, one for each judge. Scores are based on taste, texture, and appearance. The Montaños cleaned up in the ancillary categories too, winning Salsa, Sides (with Shrimp Veracruz), and Desserts (with a fanciful confection that Fran calls the Pickled Piggy Cake). The Montaños keep the recipes a secret, but you can buy tastes at this year's event, or contact them to cater your own party: (505) 891-8910; website.
Get Schooled at thesmokering.com
Garry Howard, of Santa Fe, is known to the world of Q fanatics as the creator and host of one of the best websites in the biz, www.thesmokering.com. Whether you're looking for advice from other barbecuers or links to equipment and cookbooks, the site's a one-stop wonder. In 2011, Garry, a software consultant in his "other" life, and his teammate, Larry Adkins, placed second in Brisket and third in Chicken, along with third place for the whole shebang.
Both teams plan to compete again this year, so come see them as well as the other competitors. Pick up some BBQ Bucks (currency at the event) and sample away. And don't miss the beer tent, where, among other brews, you can sample local Turtle Mountain Brewing Company's Pork & Brew Brown Ale. Hot times are ahead.
Cheryl Alters Jamison is New Mexico Magazine's contributing culinary editor. Read her blog at www.nmmagazine.com/tastingnm. See more of Douglas Merriam's work at
 www.douglasmerriam.com.
THE RANCH HOUSE COLE SLAW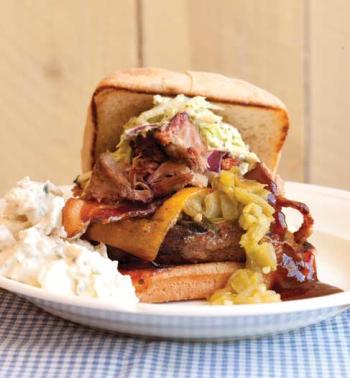 Josh Baum created this stellar coleslaw for his first Santa Fe barbecue restaurant, Josh's.
Yield
SERVES 8 TO 12
Ingredients
1 cup chopped hot green chile, drained of excess liquid
1 medium bunch cilantro, stemmed and chopped (about ½ cup chopped)
¼ cup corn oil or other vegetable oil 
¼ cup unseasoned rice vinegar 
¼ cup granulated sugar
1 cup mayonnaise (do not use any variety of light or reduced-fat mayo or Miracle Whip)
about 12 cups shredded cabbage or coleslaw mix 
salt and black pepper
Directions
Combine chile, cilantro, oil, vinegar, sugar, and mayonnaise in a large bowl. Whisk together until smooth.
Mix in cabbage, stirring to combine well. Taste and season with salt and pepper as desired. Let sit 15 minutes at room temperature before serving, or cover and refrigerate for up to a day. Enjoy.
PULLED PORK SANDWICH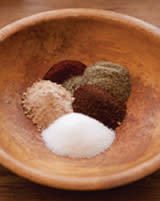 Bragging rights to the best barbecue of the summer.
Yield
SERVES 8
Ingredients
So you have a burning desire to cook up your own barbeque? Start with a pork cut called the butt (actually part of the shoulder). When cooked long and low, it's easily pulled apart into succulent shards that make for a fabulous sandwich.
With this version, you don't even need a dedicated smoker to prepare the pork, just a covered charcoal or gas grill and commercially available hardwood chunks.
Keep in mind that you'll be working to keep the grill's temperature down, and cooking the food indirectly, away from the fire. The recipe includes a dry rub (a blend of dried seasonings used more often with true Q than a marinade because it helps form a flavorful crust on the meat).
There's a "mop," too: Q speak for a flavorful basting liquid. When smoking pork, the mop usually contains a high proportion of vinegar because the tang enhances the rich meat. Nothing more is necessary to make a fine pork sandwich, but topping the meat with coleslaw sends it over the top, to bragging-rights territory.
Dry Rub
3 tablespoons packed dark brown sugar
2 tablespoons coarsely ground black pepper
2 tablespoons dried ground New Mexican red chile
1 tablespoon smoked sweet paprika*
2 tablespoons kosher or other coarse salt
2 untrimmed boneless pork butt sections, about 3 pounds each (a tied pork shoulder roast can be untied and used, as can pork shoulder steaks cut at least 2 inches thick)
Tangy Red Barbecue Sauce
1½ cups cider vinegar
½ cup ketchup
1 tablespoon packed brown sugar
1 tablespoon dried ground New Mexican red chile
1 teaspoon salt
Mop
1 cup cider vinegar
½ cup water
1 tablespoon Dry Rub (above)
2 teaspoons vegetable oil
about 3 pounds wood chunks, soaked in water at least 1 hour
sturdy hamburger buns
coleslaw, such as Green Chile Coleslaw, optional
Directions
Prepare dry rub, mixing all ingredients in a small bowl. Set aside 1 tablespoon dry rub for the Mop.
Place pork, fat side up, on a work surface. Cut each pork section in half lengthwise, forming a total of four long strips. Coat pork sections generously with the dry rub and massage well into all sides of pork. Cover and chill for at least 1 hour and up to 8 hours.
Prepare sauce, combining all ingredients in a bowl. Stir to dissolve sugar and reserve until ready to use.
Prepare mop, combining all ingredients in a small saucepan. Reserve until needed.
Remove pork from the refrigerator and let it sit covered at room temperature for 30 minutes while you fire up a gas or charcoal grill. If using gas, wrap about half of the wood chunks loosely in foil, making a pouch of sorts, with ends and seal partially open so smoke will escape when the wood smolders. (If using charcoal, wood will be placed directly on coals.)
If using a gas grill, light all but one burner. Place the baking pan of water and pouch of wood chunks over one of the heated burners. Place pork over the unheated burner so that it cooks indirectly. If using a charcoal grill, light 20–25 charcoal briquettes or 10–12 handfuls of lump charcoal.
When the fuel is ready, place a baking pan half full of water on the grill's lower grate. Place hot charcoal alongside, directly over one of the bottom vents. Put half of the wood chunks on coals, and set food on the upper grate above the water pan and under the top vent of closed lid. Monitor temperature near food throughout cooking, keeping it at about 200–225˚ F. Turn heat in the gas grill up or down as needed; open or close vents on the charcoal grill and periodically add a few more preheated coals.
Smoke covered for 3–3½ hours, until the pork's surface is very deeply browned and internal temperature reaches 170–175˚ F. About every 45 minutes, open cover, tuck several more wood chunks into the foil pouch (with charcoal, just toss them into the coals), fill the water pan with more hot water as needed, and turn pork and brush it lightly with mop. Keep mop warm between bastings, replenishing it with more water if needed.
When cool enough to handle, transfer pork to a baking sheet and shred it into bite-size pieces, discarding fat. Mix any accumulated meat juices back into the pork.
To assemble sandwiches, divide the pork among the bun bottoms, mixing in some of the crustier surface meat with some of the moister interior meat for each one. Drizzle with sauce. If desired, top each with about 1/3 cup of coleslaw before replacing bun tops. Enjoy right away.
*Note: Smoked paprika is stocked in many spice sections. It can also be found at The Spanish Table: (505) 986-2043; www.spanishtable.com