Download Road Trip Listings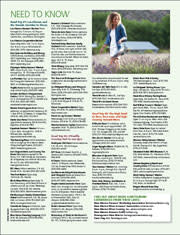 Road Trip Key
Chimayó
El Rincón Farm More than three centuries ago, the Trujillo family was among the founding families of Chimayó. Since the earliest years, the Trujillos have been famous for their weaving, traditionally done in the winter months when folks weren't farming. Ted and his family have worked steadily over the years to restore the old adobe residences on the property and to bring the farmland back to life by removing invasive species and enriching the soil. They're incorporating old Spanish techniques of terracing, with fruit trees closest to the irrigation ditch, then cultivated fields, then pastures. To honor the family heritage, the fields all have the name of earlier relatives—Sofia, Cipriano, Avelino, Juanita.
The farm grows native Chimayó chile, corn, garlic, squash, asparagus, carrots, beans, melons, and more. A hoop house protects delicate greens. The Trujillos harvest heritage apples from an orchard of ancient fruit trees. Ted has a particular interest in bringing livestock back to the property, and has started a flock of sheep. ➋ ➎
Mrs. Boots' Berries Shelley Winship and husband Doug Clark's farm grows berries and, in better fruit years, a full array of fruit, from cherries in June through apples and pears in the fall. "The red and yellow raspberries and blackberries are U-pick, but we have plenty of other harvested produce available for our visitors too," says Clark. "We get loads of families with young kids, looking for a fun and wholesome way to spend the day together." Tomatoes, peppers, cucumbers, and bright flowers are raised using natural, sustainable methods. Their lovely, peaceful property is in a hollow not far from the Santuario in Chimayó village, but you won't find it without directions. Appointments essential. (505) 351-4412 ➋ ➌ ➎

Peñasco
Sugar Nymphs Bistro Chef-owners Ki and Kai advertise "country atmosphere . . . city cuisine." It's very farm-to-table, changing with the seasons. This time of year you'll likely find on the morning menu a green-chile scramble made with local farm eggs, green chile from down the road, and bacon and cheddar with home-fried potatoes—or, for dinner, a Zuni stew made with pumpkin, ancho chile, corn, pinto beans, and tomatoes. As the name might suggest, you should not miss the breakfast scones (paired with their good espresso). ➍ ➐
Ranchos de Taos
Blossoms & Sprouts Farm A relatively new venture of three friends, this farm has high aspirations and is well on its way to meeting or exceeding them. Kirry Nelson is the farm manager, Robin Shawver plans events, and her husband, Lee, is the carpenter and mechanic. On their four acres of prime river bottom land, they're growing kale, chard, spinach, other greens, cucumbers, carrots, tomatoes, green beans, and squashes. They have a nursery and a farm store where you can relax at one of Lee's handcrafted tables after buying produce, eggs, locally raised meats, or goat cheese. They offer U-pick flowers, with sunflowers, cosmos amaranth, and much more. Nelson isn't sure how pumpkins will do on this moist land, but they'll offer those as a U-pick crop this fall too, if they thrive. On Saturday mornings, you can find them at the Taos Farmers' Market. Sunday mornings, you can join them for an "Easy Does It" yoga class (9:45 a.m., $15). Open weekends. ➋ ➌
Taos
Taos Farmers' Market This thriving market spills across the Town Hall parking lot in Camino de Placitas, offering local vegetables, fruits, cheeses and other dairy products, grass-fed meats, eggs, honey, condiments, and much, much more.
➊ ➋ ➐
Farm Café, Bakery, and Market at Overland Ranch Micah Roseberry's on a mission, as a farmer (see description of Cerro Vista Farm, below) and an educator. She's passionate about immersing people in the whole process of farm to table, and helping to bring bigger paychecks to small-scale farmers around Taos. Earlier this year, she started this ambitious collection of businesses next to the Overland Sheepskin Company, in El Prado, on Taos's north side. The market carries produce and cheeses from Morningstar Farm, Mergirl Farm, Just Kidding Farm, and her own Cerro Vista Farm, among others. Famed Taos Pueblo musician and multiple Grammy Award winner Robert Mirabal's Tiwa Farms Project is providing blue cornmeal and other blue-corn products.
Roseberry and company are growing a half-acre garden right on the property. Heirloom grains—red and black quinoa, barley and black barley, spelt, wheat, Ethiopian blue-tinged wheat, and more—will be available for purchase and used for many of the bakery's breads and goodies. The compound will host a harvest celebration on Saturday, November 2, 11 a.m.–4 p.m., with a sweet corn roast and cider-pressing, grain-grinding, and bread-baking demos. ➊ ➋ ➐
Eske's Brew Pub & Eatery Steve Eskeback was way ahead of the curve when he opened New Mexico's first brewpub, back in August 1992. His wife, Wanda Anderson, laughs and says, "We're 21! Now we're really legal." Steve's still the brewer, and at least nine of his beers are on tap, from Taos Green Chile Ale to Doobie Rock Heller Bock. There's a rotating selection of other microbrews from New Mexico, too. Eske's, tucked into a 100-year-old adobe just southeast of the Taos Plaza, also serves lunch and dinner—often with a side of live music. ➍ ➐
La Chiripada Tasting Room See winery info under Dixon.
Black Mesa Winery Tasting Room See winery info under Velarde.
Taos Pueblo
Red Willow Farmers' Market Taos was once considered the breadbasket of northern New Mexico, and the Taos Pueblo Red Willow Growers Co-op wants to see a return to that. Their farmers' market offerings are made up of produce grown on the Pueblo without pesticides or other chemicals. Shaded by ramadas near the Pueblo's greenhouses, the market features some two dozen vendors in high season. Expect corn, blue corn meal, chile, beans, cabbage, and greens, along with onions, garlic, and winter squash. ➋ ➐
Tiwa Kitchen Restaurant and Bakery Ben White Buffalo and his wife, Debbie Moonlight Flowers, own and operate this little adobe café on the Pueblo. They feature red and green chile in sauces and in stews, and a number of bison dishes such as ground-bison–stuffed blue-corn frybread with rice, beans, corn, and squash. Do try that extra-crunchy blue-corn frybread in some form, even better with chokecherry syrup. From the horno comes ovenbread, Indian cookies, and tasty fruit pies. Their own packaged products, including Frybread and Blue Corn Frybread Mix, and Blue Corn Pancake Mix, are available. Fruit for their tangy wild plum jam and chokecherry jelly grows along the river and the ditches of the Pueblo. ➐
Cerro
Cerro Vista Farm Perched north of Taos, near the Bureau of Land Management's Wild Rivers Recrea-tion Area, this 30-acre farm is surrounded by 2,200 acres of pastures and alfalfa fields. Farmer Daniel Carmona and his wife, Micah Roseberry, specialize in greens and root-cellar crops like potatoes, onions, cabbage, carrots, and beets. Enjoy views of the Sangre de Cristos, the Río Grande Gorge, and massive extinct volcanoes from this 7,450-foot elevation. ➎
Eagle Nest
Moreno Valley Farmers' Market This lovely little mountain community hosts its weekly market of up to 18 vendors Fridays, 9 a.m.–2 p.m. For a small market, this one has a great deal of variety. Along with local grass-fed beef, lamb, and cabrito, vendors offer goat cheese, eggs, honey, baked goods (some gluten-free), hot sauces and spice blends, and, of course, produce. ➊ ➋
Cleveland
Cleveland Roller Mill Museum Up until about World War II, wheat farming and milling were Mora County's most important economic enterprises. The Historic Mora Valley Foundation operates this museum to showcase that industry in an impressive, three-story, water-powered flour mill of adobe that dates to the early 20th century. It's the only mill of its size and kind restored to operating condition (for demonstrations) in all of the Southwest. The museum hosts a millfest on the Saturday and Sunday of Labor Day weekend (August 31–September 1) with three mill tours each day, food, continuous music, and some 50 artists and craftspeople selling their work. ➐
Mora/La Cueva
Salman Raspberry Ranch and Country Store Salman U-pick raspberries are a New Mexico family tradition, available through the first frost. Tucked into the eastern foothills of the Sangre de Cristos, the ranch's berry bushes stretch for six acres. The stately adobe Romero-Salman Hacienda overlooking the fields dates to the 19th century, when Vicente Romero and family received a 32,000-acre land grant from New Mexico's Territorial governor. Colonel William Salman purchased a portion of the Romero property after serving in World War II, and settled here with his family.
A true steward of the land, Colonel Salman achieved the goal of restoring the entire land grant by piecing together the five different parcels that comprise the property today. His children and later generations of the Salman family have become widely known for their horticultural skills, the raspberry fields being a prime example.
During the berry-harvest season, a simple café serves sandwiches and a daily salad with raspberry vinaigrette, as well as locally made tamales and a Frito pie I consider a must. Save room for a cone of homemade raspberry-swirl ice-cream, or a sundae with a drizzle of fresh berry sauce. Back across a slow lane, the charming country store occupies what was initially the local mercantile. Today it offers Salman Ranch raspberry products to take home. Before you leave, stop to admire the garden of effusively blooming flowers, surrounded by an old stone corral fence. ➋ ➌ ➍ ➐
Mora Valley Farmers' Market Expect all colors and sizes of tomatoes, tomatillos, chiles, corn, beans, squash, onions, cabbage, pumpkins, bakery goods, and more. ➊ ➋ ➐
Wagon Mound
Bean Day Celebration Labor Day weekend, the tiny town of Wagon Mound jumps into high gear for this classic small-town festival. Bean Day dates back to 1909, when town denizens simmered up a substantial part of the local pinto crop in giant laundry tubs as a harvest celebration. Beans are no longer the agricultural mainstay of the community, but you'd never know it during the festivities. On Sunday, some 300 pounds of pintos and 800 pounds of beef go into underground pits, rather than washtubs, and cook up overnight Sunday. At noon on Labor Day Monday, the free beef-and-beans barbecue feast begins. The pinto is further honored throughout the holiday weekend with a parade that winds its way through downtown twice, and with a Bean Queen, a rodeo, lots of music, dancing, and horseshoe tournaments. wagonmoundnm.com/beanday ➐