Keep Contemporary in Santa Fe caters to art enthusiasts who are looking for something fun, fresh, and unexpected.
THE FIRST TIME I STEPPED into Art House, one of the many galleries in Santa Fe's famed Canyon Road art district, I lost my bearings. Crossing the threshold of a historic adobe home, I entered a dim room lit by a mind-bending trompe l'oeil video work projected onto the top of a podium. As I watched, a tiny man tumbled and crawled through a mock pool of spilled ink, appearing to smear pigment across the surface of the podium. Ink Blot, it was called, by a local artist named Peter Sarkisian. I was both amused and mesmerized. Peering into that luminous projected image, I felt like I'd stumbled across a revelatory secret: Contrary to a stale stereotype, Canyon Road art isn't just landscape paintings and turquoise bracelets. In fact, the artwork shown on Canyon Road and throughout Santa Fe is far more diverse than its reputation as a hub for Southwestern art might imply. Santa Fe boasts more than 200 art spaces and an astonishing variety of artwork. How do you navigate a scene so expansive? Let's start with geography. The city's art venues are more or less clustered in districts: Canyon Road, the Plaza, the Railyard, Baca Street, the Siler Rufina Nexus, and Museum Hill. While this makes gallery hopping efficient—and each district is certainly worth a visit—we're taking a different approach. Each group of galleries outlined here corresponds to an experience. As the owner of Santa Fe Art Tours, I am aware that this guide barely scratches the surface. It would be impossible to include all of our incredible art venues in this brief introduction. Keep in mind, too, that besides many other museums and galleries, you'll find art on the walls of coffee shops, restaurants, government buildings, and hotels. There are pop-up shows, wheat-paste murals, and summer events like the International Folk Art Market and Indian Market. Use this as your starting point and you'll soon be piloting yourself through our wildly diverse art scene.

An exhibition of Paul Pietka's work is on view at the Museum of Spanish Colonial Art.
Culture and Context
The historical context of art here is key. Santa Fe has a complex and challenging past, marked by displacement, appropriation, and cultural exchange. The following venues will help you get a handle on the region's histories and its visual art traditions, which remain relevant to contemporary art.
710 Camino Lejo, on Museum Hill  
About a 10-minute drive from downtown Santa Fe, the Museum of Indian Arts and Culture is dedicated to honoring the diverse tribes of the American Southwest. Its permanent exhibition, Here, Now and Always (which is set for a major redo in the near future), features a chronological, experiential installation that offers insight into the histories and cultures of New Mexico's Diné, Apache, and Pueblo peoples. Don't miss the Buchsbaum Gallery of Southwestern Pueblo Pottery, a collection of more than 300 ceramic vessels that serves as a visual primer for one of New Mexico's most celebrated art forms. The pots are grouped by pueblo, so you can study the techniques developed by each of the 19 tribes. Just outside the museum, dubbed MIAC by locals, look for sculptures by Chiricahua Apache artist Allan Houser, take in the views, and grab a bite at the Museum Hill Cafe.
750 Camino Lejo, on Museum Hill  
As you explore Santa Fe, you're bound to notice stylized images of Catholic saints painted onto wooden tablets. These retablos are part of a longer Spanish colonial art tradition that took root across Spain's vast holdings in the Americas beginning in the 16th century. Devotional images were a way to both keep and spread the faith, but because Santa Fe was remote—according to some sources, supply wagons from Mexico City arrived only once every three years—demand soon surpassed supply. Beginning in the 18th century, enterprising locals started carving and painting figures using the materials at hand, including natural pigments, tree resin, and cottonwood roots, ultimately creating the bultos (carved devotional sculptures) and retablos that became a tradition in northern New Mexico. The Museum of Spanish Colonial Art, just north of MIAC, is the place to learn more about these traditions. "MoSCA" is the only museum in the country dedicated to exhibiting art from the Spanish colonial period.
651 Canyon Road
In 1921, Fremont Ellis, Jozef Bakos, Will Schuster, Walter Mruk, and Willard Nash formed an art collective known as Los Cinco Pintores. While they weren't adobe savvy—their first attempts at building their own homes resulted in the occasional collapse, and they were subsequently dubbed "the five nuts in mud huts"—they did enjoy success as painters and helped establish Santa Fe as a well-regarded outpost of American art. Head to Zaplin Lampert Gallery, on Canyon Road, to see their work, along with paintings by other notable artists associated with the Santa Fe Art Colony, like Sheldon Parsons and Gerald Cassidy. Keep an eye out, too, for the striking woodblock prints of Gustave Baumann and paintings by big-name 19th-century artists like Thomas Moran and Albert Bierstadt.
107 W. Palace Ave., on the Plaza  
Housed in a striking Spanish–Pueblo Revival building just off the Plaza, the New Mexico Museum of Art opened its doors in 1917. Early on, the museum extended an open-door policy to New Mexico artists of all artistic traditions. Founder Edgar Lee Hewett was one of the first people to appreciate and exhibit Pueblo painting as fine art. "The museum exhibited Native American art with American art as American art," says Christian Waguespack, the museum's curator of 20th-century art. Today, compelling exhibitions bring a contemporary perspective to the museum's collections.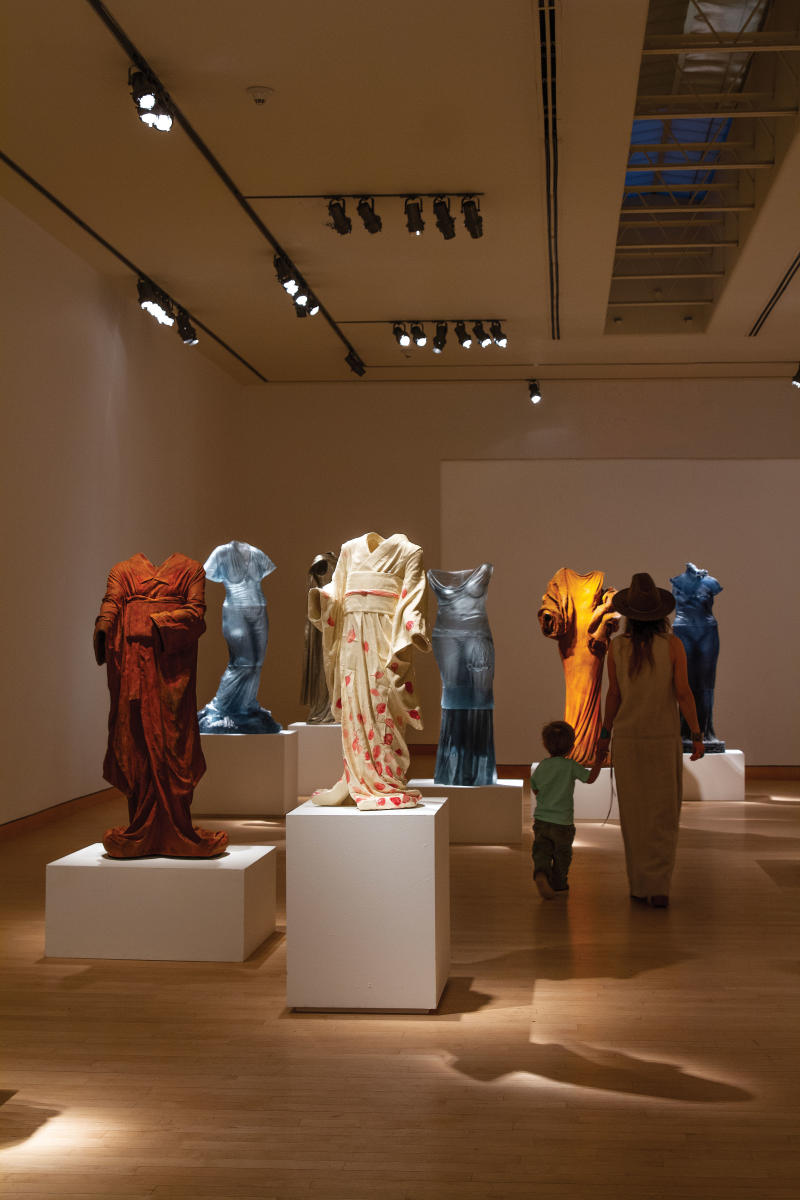 Artwork by Karen Lamonte is now on view at Gerald Peters Contemporary. 
Cutting-Edge Contemporary
As fascinating as Santa Fe's historic artwork is, discovering unexpected art spaces is undeniably refreshing, whether the surprise comes from the work or the venue. More and more galleries are featuring innovative artwork and dreaming up new ways to show it. Here are just a few that challenge long-held perceptions of Santa Fe's art scene.
1011 Paseo de Peralta, near Canyon Road
Gerald Peters Contemporary shows several exhibitions at any given time in an impressive gallery space. The array of media here is incredible: Local artist Joel Hobbie animates cottonwood roots cast in bronze with facial-recognition software; Karen Lamonte creates ethereal figurative sculptures in glass; and Patrick Dean Hubbell paints earthy abstractions with natural pigments. There's an impressive selection of art books for sale, and, on the logistical front, this spot boasts ample parking. Don't miss nearby Kakawa Chocolate House; the Aztec-inspired cacao elixirs are divine.
231 Delgado St., near Canyon Road
Peter Sarkisian's Ink Blot is no longer on view, but there's always a fascinating selection of work from the Thoma Art Foundation's collection at Art House. Look for work by Daniel Rozin, whose interactive, algorithm-driven "mirrors" follow the viewer's movements. Elsewhere in the gallery, luminous installations immerse you in the computer-generated worlds of internationally recognized new media artists. Art House is aptly named: With no more than four artworks in each small room, it feels homey and intimate. On your way out, look for the "truth window" that frames a glimpse at one of the original walls from the building's life as a farmhouse.
Read more: New Mexican art is more that painting and sculpture. Check out the Currents New Media Festival.
Check their website for locations
As you wander, keep an eye out for a sleek 1970 aluminum step van. Retrofitted as a gallery on wheels, Axle Contemporary roves around town, finds a parking spot, and pops open the back doors to reveal inspired installations that take over the truck's interior. Founded by artists Matthew Chase-Daniel and Jerry Wellman, Axle illustrates what's possible when artists think beyond gallery walls and bring art into community spaces. Currently, Axle shuttles between local restaurants, the Farmers' Market, and La Montañita Co-op. A schedule of locations is available online.
1606 Paseo de Peralta, in the Railyard  
If you hit the Railyard, you're bound to notice a commanding structure opposite the Farmers' Market Pavilion. SITE Santa Fe's aluminum facade thrusts forward like the bow of a pioneering vessel, an apt architectural metaphor, given its trailblazing curatorial status. SITE launched the country's first international biennial of contemporary art in 1995, and its thematic exhibitions continue to highlight innovation in the arts. SITE guides (rather than guards) mind the artwork; they roam the galleries, eager to chat with visitors about the work on view.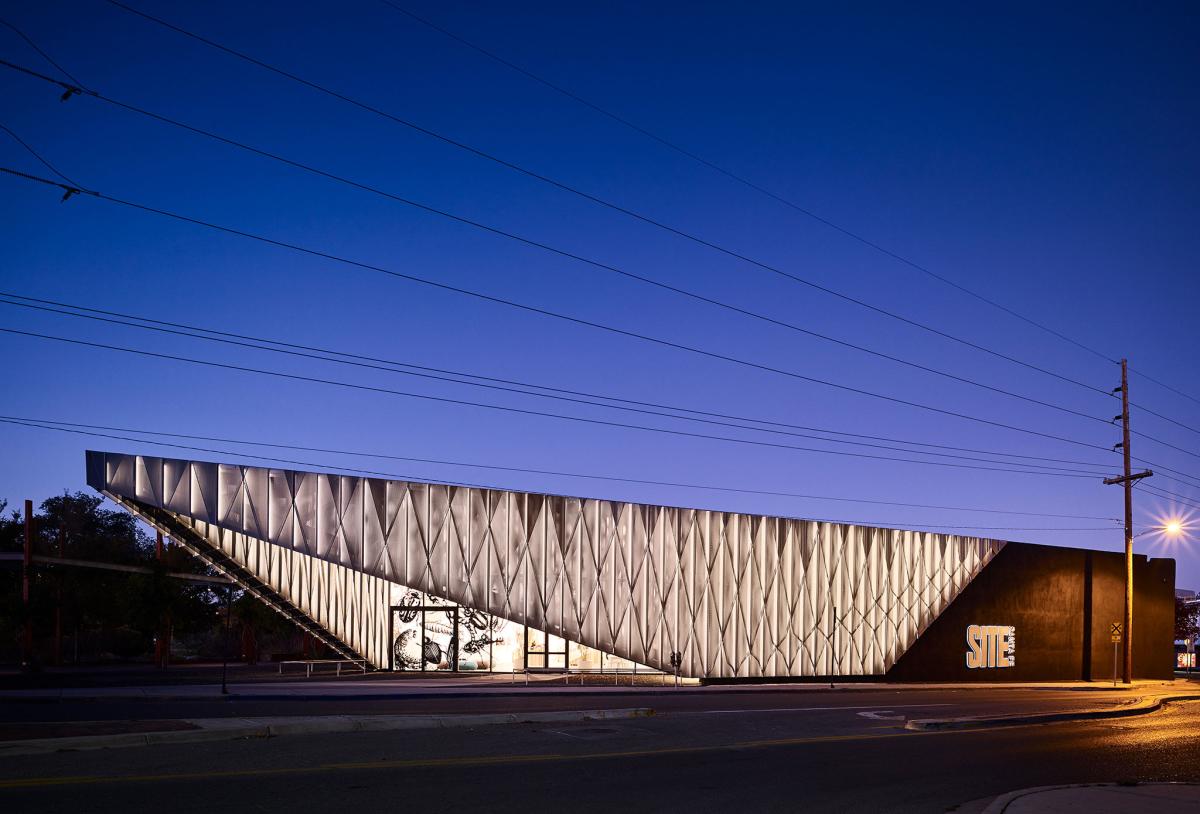 SITE Santa Fe's thematic exhibitions highlight innovation in the arts. Photograph courtesy of SITE Santa Fe.
Sensory Experiences
Maybe it's the kid in me, but being able to touch artwork is awesome. It's not just the taboo thrill, though, of touching something that's typically off limits. Often, engaging with art is an intellectual pursuit, and getting to touch snaps us back into the here and now. Tactile works engage our senses. By touching art, we connect with the artist. Visiting outdoor sculpture gardens is an easy way to scratch that itch—there are plenty along Canyon Road alone—and several art venues offer other unique ways to wake your senses.
1075 Paseo de Peralta, near Canyon Road
Next door to Peters Projects, Nedra Matteucci Galleries specializes in legacy works by New Mexico artists along with contemporary painters and sculptors. Housed in a sprawling historic complex, it elicits oohs and ahhs from just about everyone who walks through its creaky wooden doors. From the antique design details to the incredible artwork, there's ample eye candy here. But if you wander out to the sculpture garden, you'll find a lush oasis that often surprises even Santa Fe locals. Look for sculptures by Santa Clara Pueblo artist Michael Naranjo, who is blind. Incredible, right? Close your eyes and touch what his hands crafted.
53 Old Santa Fe Trail, on the Plaza
If you're on the hunt for antique silver jewelry or Navajo weavings, this is your place. Overlooking the Plaza from a second-floor storefront, Shiprock Santa Fe was established by Jed Foutz, whose family owned a trading post on the Navajo Nation. As you enter this stunning space, head to a small room on your left and you'll find yourself surrounded by Navajo textiles. The folks at Shiprock know their stuff and happily share their enthusiasm for the work. And, yep, you can touch. Running your hands over these skillfully woven textiles is a special experience that brings you closer to the work.
435 S. Guadalupe St., in the Railyard
While the artwork at Form & Concept isn't tactile in the sense that it can be touched, it is remarkably textural. Established to challenge distinctions between art, craft, and design, Form & Concept shows work that ranges from paintings and drawings to mixed-media installations and fiber arts. Located in the Railyard Arts District, this is a great stop after enjoying the sights, tastes, and smells of the Saturday morning Santa Fe Farmers' Market, a short jaunt down the street. If you're lucky, you may even catch an artist talk or workshop.
826 Canyon Road
For a few years, Art House was the only space on Canyon Road dedicated specifically to new media work, but now it has company. Currents New Media, a festival that brings hundreds of artists to Santa Fe each June, now has a permanent gallery. The space features atmospheric video installations and a fun gift shop with digitally fabricated jewelry and souvenirs. Across the street, the Teahouse serves yummy eats and tea lattes in a cozy setting.
1325 Rufina Circle, in the Siler Rufina Nexus 
Part funhouse and part art installation, Meow Wolf's The House of Eternal Return is entirely interactive. You must touch. Shuffle through papers and documents to piece together the story that weaves through the installation, or just let loose and have fun. There's a whole Victorian-style house to explore—and then some. Fair warning, though: The crowds can get crazy. Buying your tickets online may get you in a bit faster.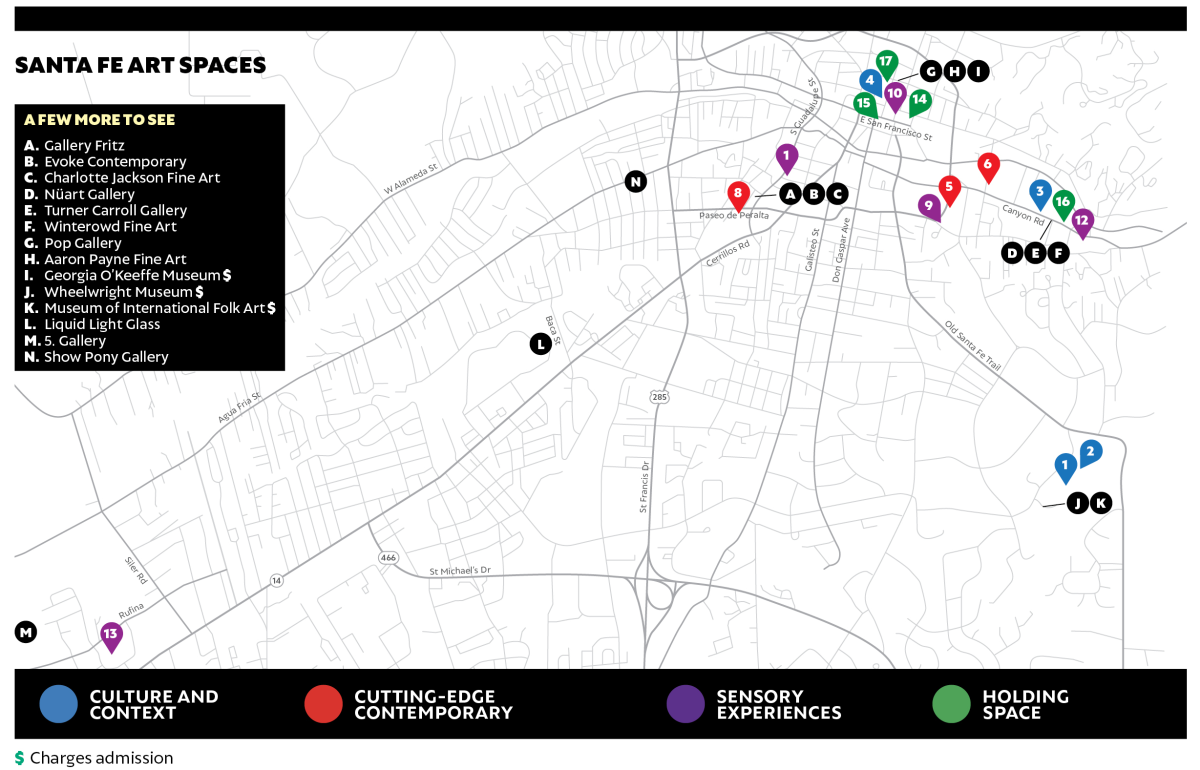 Holding Space
Art has the power to teach, to transform, and to connect. Art venues have this power, too. They provide a platform for artists and a space for contemplating art. I'll abstain from geeking out about practices that make exhibitions inviting and accessible, but mull this over: When was the last time you visited a museum or gallery and felt encouraged, supported, and heard? As the idea of holding space enters general discussions about how we relate to one another, it's worth considering how this manifests in the art world as well.
108 Cathedral Pl., near the Plaza  
Affiliated with the Institute of American Indian Arts, the Museum of Contemporary Native Arts, near the Plaza, exhibits progressive work by indigenous artists on the forward edge. In fact, according to "MoCNA," it's the only institution in the country with this specific focus. In a town where very few commercial art galleries are Native-owned-and-operated, MoCNA's presence in downtown Santa Fe and its commitment to showing the work of Native artists is significant. MoCNA stewards the National Collection of Contemporary Native Art, and its exhibitions seek to recontextualize indigenous art.
54 San Francisco St., on the Plaza
Tucked above the Häagen-Dazs shop on the Plaza (aka the Santa Fe Espresso Co.), No Land provides opportunities for artists who have found it challenging to break into the commercial art scene. "Our focus is to work closely with artists at the early stages of their careers and provide a platform for injecting these new voices and stories into the larger conversation in Santa Fe," says Co-Director Kyle Farrell. The exhibitions often feature experimental work, with installations and performances activating the entire gallery space. Gallery hours are limited, so try to visit during an event, then head downstairs to Jazz Age–inspired Tonic for a candlelit cocktail.
725-A Canyon Road
Owned and operated by a team of local artists who also exhibit in this Canyon Road space, Vivo Contemporary combines a collaborative gallery model with a warm and welcoming vibe. Plus, one of the artists is always there to discuss the work. The team's thematic exhibitions often invite viewer participation. A recent one, for example, asked visitors to add their own titles to each piece. An iPad dock invites you to browse more artwork, and you can take home pocket-size profiles of the artists, each one wonderfully illustrated. The work is a lot of fun, too, ranging from landscape-inspired paintings to pixelated, bird's-eye portraits to found-object assemblages.
142 Lincoln Ave., near the Plaza
In a corner gallery one block north of the Plaza, Keep Contemporary caters to the art enthusiast who's looking for something fun, fresh, and unexpected. Director Jared Antonio-Justo Trujillo curates lowbrow, outsider, and pop art, providing a place for styles that are relatively rare in Santa Fe. Look for works that pay homage to local traditions and regional icons—think lowriders and the Virgin of Guadalupe—and Trujillo's own backlit, graffiti-inspired sculpture.  
Read more: This restaurant interprets Georgia O'Keeffe's art through food.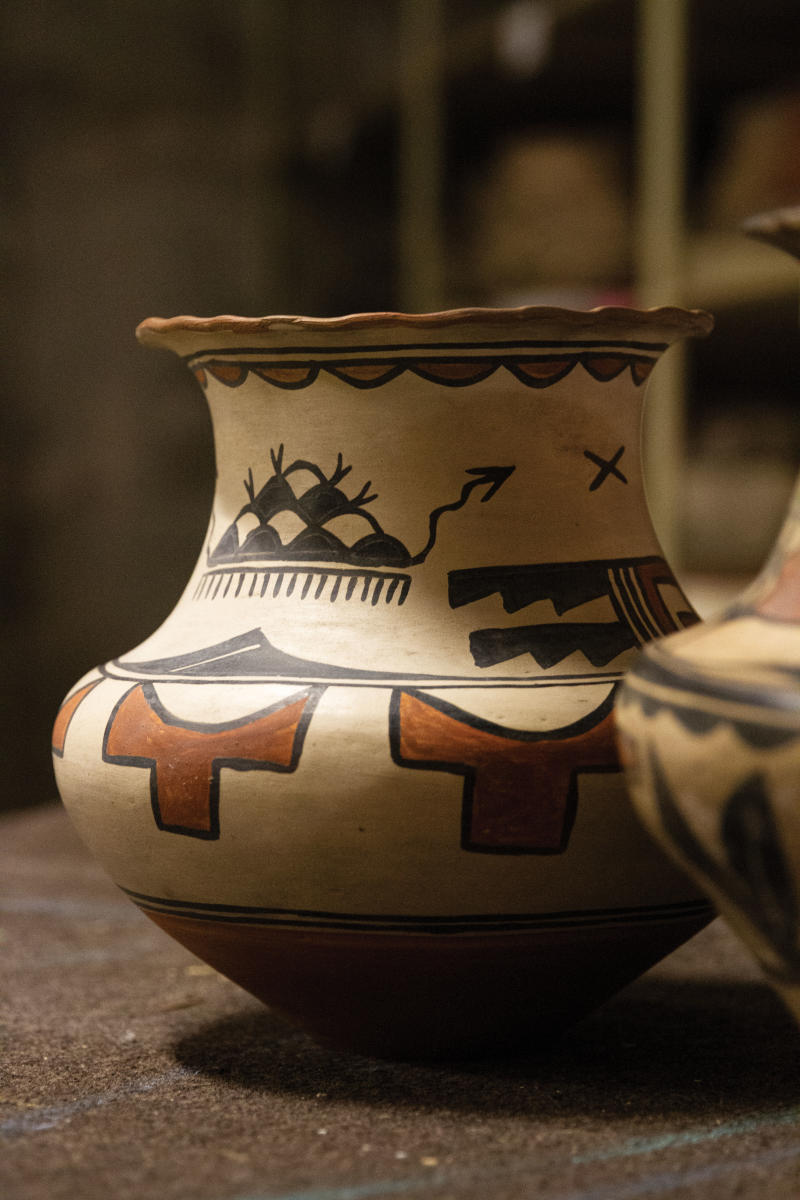 The Buchsbaum Gallery of Southwestern Pueblo Pottery is a collection of more than 300 ceramic vessels on view at the Museum of Indian Arts and Culture.

Pro Tips
Get Oriented: Download the Santa Fe Art Experience app for a comprehensive list of galleries. Keep an eye out for the Art Map, published by the Santa Fe Gallery Association. There are numerous print guides to Santa Fe's museums and galleries, most of them available for free at galleries, hotels, and visitor centers. Local publications like Southwest Contemporary and Pasatiempo cover current exhibitions and list art events and openings around town.
Get a Guide: Most museums provide free docent tours for a more in-depth look at current exhibitions. Each museum has a different tour schedule, so call ahead to ensure that a docent will be available during your visit. My company, Santa Fe Art Tours, offers interactive walks Wednesday through Friday, for a fee. Two of the most popular tours: Curated Canyon Road, which highlights an incredible art district, and A Matter of Taste, mixing art, chocolate, and conversation.
Get Curious: Gallery-goers in Santa Fe often comment that the local art scene is remarkably friendly. Don't be afraid to ask questions about the work on view. When they have time, gallery staff enjoy talking about art, and they'll often pepper their insights with illuminating stories and useful recommendations.
TGIF: During summer, many galleries extend their hours to 7 p.m. on Fridays and host exhibition openings, artist talks, and other events. Check out the Plaza area and Canyon Road galleries on the first Friday of the month and the Railyard Arts District on the final Friday of the month.
Parking: Many galleries have their own parking lots, but space fills quickly. Canyon Road has public parking lots near the Teahouse and at the 225 Canyon Road Compound. Alternatively, you may park for free along the road itself. At both the Plaza and the Railyard, paid parking lots and garages are available. The state-owned parking lot east of the Roundhouse, at Old Santa Fe Trail and Paseo de Peralta, has space to park for free on weekends. You can hoof it from there or catch the free Santa Fe Pickup Shuttle.
Accessibility: Santa Fe's historic districts are charming and atmospheric, but there's a downside: They're not easy to get around. Canyon Road's sidewalks are wonky to nonexistent, and many galleries are housed in historic adobe buildings with multilevel interiors. If accessibility is a concern, call ahead to ensure that a ramp is available. Thanks to new sidewalks, ramps, and spacious galleries, the Railyard Arts District is easier for people who have mobility concerns.
Restrooms: Finding restrooms can be a challenge in Santa Fe. In the Plaza area, try the Santa Fe Convention Center, on Marcy Street, and check out the art in its Community Gallery while you're there. On Canyon Road, public restrooms are found in the 225 Canyon Road Compound, which also has beautiful galleries. Several galleries in the Railyard Arts District have public restrooms, as does the historic Santa Fe Depot. 
---
How Do I Look?
Over many years of guiding tours, I've noticed something peculiar: When people look at a work of art, they rarely actually look at it. Instead they give it a glance and then immediately read the label, seeking an explanation. Sound familiar?
There are several methods I like to use for looking at art, but the essential idea is to simply spend time gazing at it before you read the label. Observe the artwork's physical characteristics. Take note of any personal memories or ideas that come to mind. Use that information to hypothesize about the artist's message. Then look at the label. You might be delighted to find that your interpretation was spot-on—or that you invested the work with new meanings.
Cultivating such a practice of truly seeing a work of art makes the gallery-going experience more memorable. It can be mindful and meditative or chatty and fun. Swap stories, ask questions, look for minor details, and the artwork will reveal more nuances than you originally thought.