Sweet Cheeks Bakery has drawn a following for its Native jewelry designs.​ Photograph courtesy of Sweet Cheeks Bakery.
EVA ARMENTA-KETCHELL DOESN'T HOLD BACK when describing her initial batches of cookies. "They were ugly," recalls the owner of Sweet Cheeks Bakery. While her bakes were nothing like the #gramworthy designs she coveted, the Farmington native kept at it. 
A real estate agent, Armenta-Ketchell had always possessed an entrepreneurial spirit. She began baking at home—armed with five cookie cutters and no culinary training—as a creative outlet. Then, in 2011, her family opened Fat Boys Deli, a 900-square-foot restaurant that serves fresh-daily soups and made-to-order sandwiches. As Fat Boys gained a following, she realized her role as the deli's baker could become a testing ground to make and sell custom sugar cookies. 
"I've always enjoyed cooking and making things," she says. "Some people like to be social and be up at the front with customers, but I like to be back in the kitchen, cooking and making people happy in that way." 
In 2019, Armenta-Ketchell introduced her cookies in the deli and began developing her recipes and honing her airbrushing skills. Before long, patrons were placing orders for parties, and Sweet Cheeks Bakery was born. 
She created designs for birthdays, baby showers, and other special occasions until a Western-themed birthday gave her an idea. "I had horseshoe cookie cutters and flipped them," she says. "I love turquoise, so I made the cookies look like squash blossom necklaces." 
As word spread, she expanded to include kokopellis, bracelets, and other jewelry. She carefully researched each piece and its meaning to be mindful about how she used images from cultures that were not her own.  
While the jewelry cookies were a hit, the turning point came when a rancher in Gallup ordered a batch but didn't pick them up on time. Concerned that they would go to waste, she posted a photo on Facebook and tagged her rancher customer, who came for the cookies and shared her image in the Memories and Photos in New Mexico Facebook group, which has more than 90,000 members. Over the next two days, Sweet Cheeks was swamped with orders and shipping requests. Since then, Armenta-Ketchell has sent her cookies to destinations from New York to Hawaii.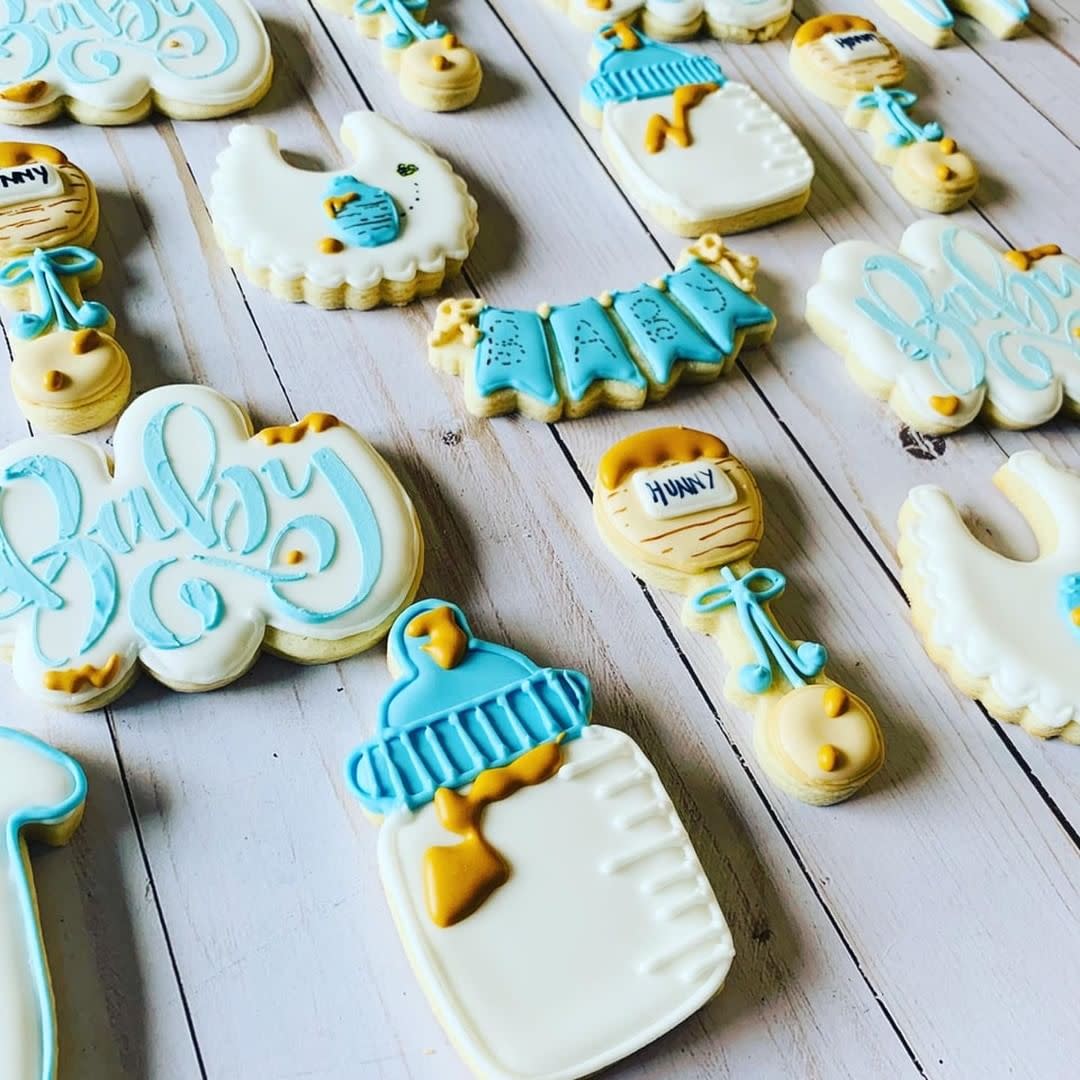 Sweet Cheeks Bakery designs special treats for every occasion.​ Photograph courtesy of Sweet Cheeks Bakery.
She makes between 15 and 30 dozen per week (about $40 per dozen) but has reached capacity without additional help. The Native jewelry designs are especially time-intensive, taking up to five days of work. "You ice the cookies, dry them for 24 hours, do the details in white, paint artwork, dry them, paint metallic notes, dry again, and then paint with teal," she says. "They're all hand-brushed." 
Armenta-Ketchell hopes her path inspires others. "I have friends who want to start their own businesses, but they're afraid of failing," she says. Don't let a few setbacks get in your way, she advises. "If you put in the time, you're going to see the result." 
DESIGN THINKING
While Sweet Cheeks Bakery owner Eva Armenta-Ketchell enjoys the Native jewelry designs, she also offers her take on a few other favorites.  
Wedding cookies: "They're classic, elegant, and not as crazy in the designs."  
Baby showers: "I love doing these, because you just give me a color and I can put my own creativity into it."  
Eighties themes: "I had a customer want Kiss-themed cookies, and I thought, Oh, that's my era! One of my favorites was making a cookie that looked like a roller skate." 
SWEET CHEEKS BAKERY
Order custom cookies online. Pick up at Fat Boys Deli, 1301 E. 20th St., Farmington. Follow along on Instagram.
---
Read More: The mother-daughter duo behind Indulgence Bakery & Cafe has created a divine gathering place in Las Cruces.
Read More: Open since January, Jacob Brenner's bakery specializes in naturally leavened loaves.
Read More: The artist and owner of Artifacts 302 Gallery has helped elevate previously unseen artists in Farmington.