Above: White Sands Chili. Photographs by Douglas Merriam.
AS A COOK, I'm at my most creative in summer, when the corn, tomatoes, and squash overrun the garden—and then seem to multiply on the counter, demanding ever more inventive uses. But when it comes to winter, true coziness demands something familiar bubbling on the stove, like a creamy green chile chicken soup. But then, it takes a lot of energy just to stay warm on a January evening, so why not wrap that soup in a buttery piecrust? Green chile chicken pot pie makes for a humble potluck dish, but it also has extraordinary powers to melt winter blues and workday stress like a warm embrace from Grandma. And since I've already got a local stout in my hand, why not use it instead of stock in my favorite chili recipe? Seriously, you should try that. It adds a surprisingly delicious layer of flavor.
---
THE RECIPES
White Sands Chili
I like to make this with fresh Estancia pinto beans, mild red chiles, and one of New Mexico's most exquisite treats: oryx. These striking-looking African antelopes, introduced to White Sands Missile Range for exotic game hunting in the 1960s (now so numerous that they outcompete native elk), yield a tender meat that melts into this rich stew. But if you haven't recently been hunting in southern New Mexico, the recipe works equally well with lamb, venison, bison, or beef.
Serves 6–8
For the Beans:
1 pound dried pinto beans
1 tablespoon whole coriander seeds
2 fresh bay leaves
Salt, to taste
For the Chili:
8 dried red chiles (use some anchos for a thicker, milder sauce)
2 tablespoons lard (or vegetable oil)
3 pounds oryx (or other red meat), cut into 1/2-inch cubes
1 large onion, chopped
4 cloves garlic, minced
2 14-ounce cans crushed tomatoes
2 cups beef stock
1 tablespoon Mexican oregano
1 tablespoon ground cumin
Salt, freshly ground black pepper, and sugar, to taste
Make the Beans:
Sort the beans and remove small stones and damaged or defective beans. Rinse the beans in several changes of water until the water runs clear.
In a large saucepan or bowl, cover the beans with cold water and soak overnight in the refrigerator. For a quick soak, put the beans in a large saucepan, cover with 3 quarts of hot water, and bring to a boil for 2 minutes. Remove from heat, cover, and let stand for one hour.
To cook, cover the soaked, rinsed beans with fresh water. Put the coriander seed and bay leaves in a mesh tea ball or wrap them in cheesecloth and add them to the pot. Bring to a rapid boil, then reduce heat to a gentle simmer. Cover and cook until tender, adding water if necessary, 1–2 hours (or longer if you have older beans or harder water, or you live at a higher elevation).
Drain the beans, remove the spices, and add salt to taste.
Make the Chili:
Break off the stems and shake out the seeds from the chile pods. Rinse them in several changes of warm water. Put the pods in a large saucepan, cover with boiling water, and rest 30 minutes. (Put a plate on top of the pods to keep them submerged.) Put the pods in a blender and puree with 1 cup of fresh hot water, or more if necessary.
In a Dutch oven or thick-bottomed stockpot, brown the meat in half the lard, turning to get color on all sides. Add the onions and garlic and cook until they are softened, about 5 minutes. Add the remaining lard to the pot and add the tomatoes, stock, oregano, and cumin and stir to combine. Bring to a boil, then reduce the heat and simmer about 1 hours. (Covered will produce a soupier stew, uncovered a thicker one—your choice.)
Season stew to taste with salt and pepper. Add a little sugar if your chile puree is slightly bitter.
Serve over hot pinto beans.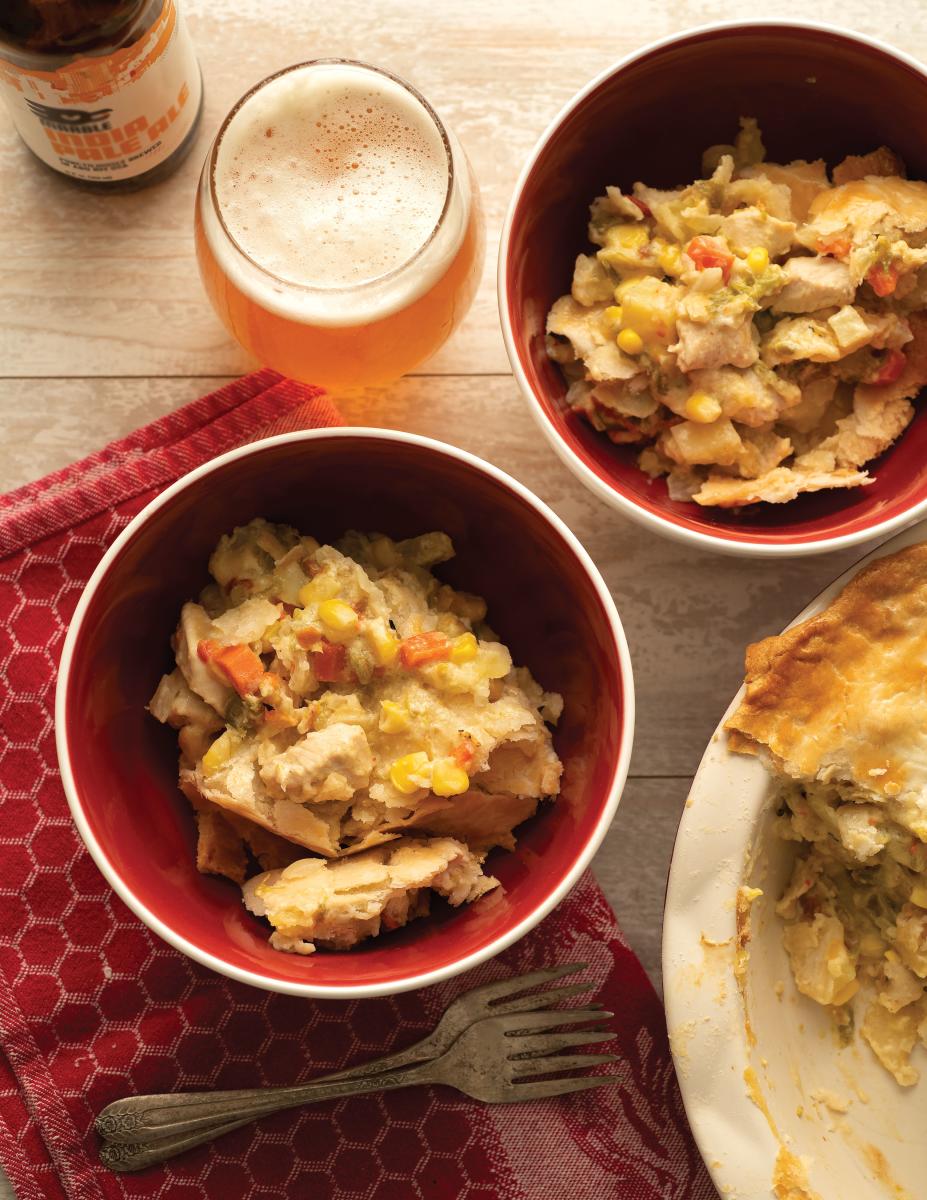 Green Chile Chicken Pot Pie
Winter-warmer enchilada casserole meets chicken soup for a real dose of love in a bowl. Most of the ingredients need to be precooked, because the pie itself doesn't bake very long before the crust is browned. That makes this a great way to use up holiday leftovers, like roasted potatoes, green beans, sautéed peas, buttered carrots, and even turkey in place of the chicken. The recipe is very flexible, so feel free to substitute.
Serves 6
6 tablespoons butter
1 cup diced onion
2 cloves garlic, minced
1/2 cup all-purpose flour
1 cup roasted, peeled, and diced green chile
1 1/2 cups milk
1 cup diced cooked potatoes
3/4 cup diced cooked carrots or butternut squash
1 cup cooked or frozen corn kernels, green beans, or peas
2 cups cubed cooked chicken
Salt and pepper to taste
2 chilled pie crusts
1 egg beaten with 1 tablespoon water
Preheat the oven to 375°.
In a large saucepan over medium heat, melt the butter. Add the onions and garlic and sauté until translucent, about 10–15 minutes.
Reduce the heat to low, add the flour, stirring well, and cook about 2 more minutes. Add the green chile and milk and cook until it starts to bubble and thicken. Remove the pot from the heat. Stir in the potatoes, vegetables, and chicken, then season to taste.
Roll out one pie crust and arrange it in the bottom of a deep-dish pie plate. Fill with the chicken mixture. Roll out the other crust, lay it over the top, and crimp to seal. Brush the crust with the egg wash and make 4 slits in the top to allow steam to escape. Put the pie plate on a baking sheet (to catch drips) and bake 45 minutes to 1 hour, until the crust is golden brown.  
---