Rasa Lila O'Donnell pauses to take in the expansive view from an outcrop on the Hermit Peak Trail.
LIKE A PRAYER, WE RISE, EAT LIGHTLY, and hustle up switchbacks into the mountains just beyond our Taos home. We are five—me, my wife, our 12-year-old boys, Ilan and Sky, and our 16-year-old daughter, Isabella, who took her first steps hiking. She has never met a mountain she couldn't climb.
In March, these south-facing trails into the Sangre de Cristos, the southernmost subrange of the Rocky Mountains, are dry and bathed in sunlight. Fragrant with thaw, the soil imparts a mineral scent, like rain, even on a cloudless day. Higher up, the path, not yet blessed with enough spring sun to break free of winter, remains snow-packed, chilly, and infused with the liminal fragrance of ice and pine. 
There are no flowers yet, no sign of the birds I typically associate with spring. Not up high. Not yet. Wind buffets the sage.
Some mornings, swift snow squalls grasp at us while we hike, then release and move down into the piñon-and-juniper valleys below. Some mornings, we're in full sun. The highest points in New Mexico, within sight to the north and south, are packed with snow. Our feet slip and slide on the trails, searching for purchase.
These are the in-between times. Unclarity reigns, and boundaries are ill-defined.
The COVID-19 pandemic is barely a month old in the United States. But it did not exactly catch us by surprise. We had intuited how bad this might get by early January and began stocking up on food and supplies a month later. We took our kids out of school early. We "masked up" and settled in for the uncertain path ahead.
Between fear of the disease, a crashing economy, the confusion in our children's eyes, and the sudden fog that engulfed even the near future, we needed a way to clear our minds and hearts—something to keep our spirits high in the months and possibly years to come.
We are a family of travelers. We hike, backpack, explore. Our original 2020 itinerary included a 10-day road trip through the Southwest, a backpacking trek along California's Lost Coast, a week on Lake Powell, a trip to Cuba, where I teach photography workshops, and a challenge to complete 52 hikes in 52 weeks.
We began our hiking challenge on New Year's Day, scrambling over frozen rocks in Arizona's Pumphouse Wash in search of Ancestral Puebloan houses I remembered from my days as an archaeologist. Our plan was to fill the challenge with trails throughout the Southwest.
We made a list of nearby trails: Frijoles Canyon, in Bandelier National Monument, and the West Fork of the Río Santa Barbara, in the 224,000-acre Pecos Wilderness. We also listed trails in southern New Mexico: Argentina Canyon, Dog Canyon, and the Middle Fork of the Gila. Then Colorado trails. And Arizona trails. The wish list grew like a child's Christmas inventory.
Yet, in these pandemic times, traveling felt unsafe—even wrong. We knew staying home was best for our own well-being and for the health of our community. The very large world to which we'd grown accustomed had at once become very small and, to be honest, frightening.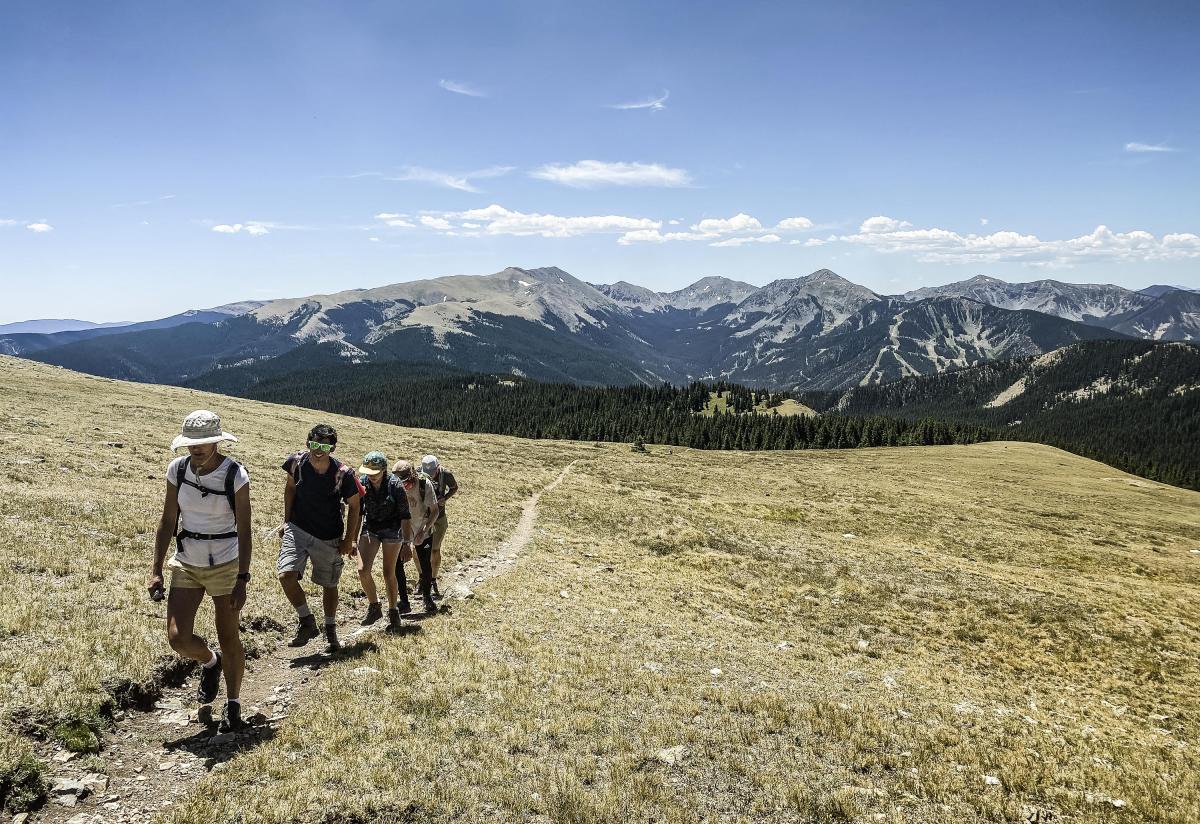 Friends join the family on a trek up Gold Hill, with a backdrop of the Wheeler Peak Wilderness.
IT'S MID-APRIL, and we're on the grassy volcanic plains of the Río Grande del Norte National Monument. The five of us can barely stand against the blasts of northern New Mexico's infamous spring winds. Hike number 27 awaits. 
Cerro Chiflo, a 9,000-foot volcanic plug, rises before us, proffering a pathless, brutal scramble straight up through piñons and junipers and over unsteady scree to the forested peak. Piñon jays careen in vocal clusters of 10 or 20. A bald eagle soars overhead. 
The climb up Cerro Chiflo resembles life in this pandemic world, a lesson in patience and stick-to-itiveness. For the better part of the day, we pick our way in and out of the scrub forest, rocks, and cacti. 
Some routes are dead ends, where vertical cliffs leap from the forest. We turn, scramble down, then pick another way up. Other routes are so steep, we scuttle on all fours. Still others require us to jump from boulder to boulder. Rest breaks are requisite. 
At the top, drenched in sweat and shivering, we hoot and holler. I change shirts, and we eat among the rocks and crevices, huddled against the wind. We find one of the largest elk sheds—at least four feet across—I've ever seen. 
To the east, the Sangre de Cristos remain tipped in snow that settles in veins of white flowing down canyons yet to thaw. Directly below us, the Río Grande Gorge cuts a black gash north to south across the mesas. 
We see where my wife's father's family farmed for generations in the Questa area. I grew up just to the north, across the state line in southern Colorado. Our children have spent their entire lives in this landscape. 
Read More: The 10 Ultimate NM Hikes
"If we're supposed to stay home," says Ilan, "what does that mean?" 
I sense a deeper anxiety in his voice. If we're out hiking now, what about the monthlong summer wilderness camp he loves, what about his friends, and what about the other trips we have planned? What about Grandma? He is also worried about how the school year will end. Will he be able to go on to seventh grade? Can he ride his bike around the neighborhood?
I see it hitting him. I stop and wrap my boy in my arms. I want to cry. Are adults allowed to cry in these times? I need to distract him. No—what I really need to do is distract myself.  
"Where do you think we should be able to go?" I ask. "Remember, we live in New Mexico. We have a very big backyard." 
We use our vantage point atop Cerro Chif­lo to point out the landscape features that would define our home for the duration of the pandemic—from the Sangre de Cristos in the east to the Chama River valley in the west and from the Pajarito Plateau in the south to the Colorado line in the north. 
By early May we've accomplished our 52-hike challenge. Doubling the number seems reasonable, but with summer approaching, it also feels too easy. One hundred and … twenty? It gives us something to push for. 
While we've sought peaks to top—from Wheeler Peak, the highest point in New Mexico, to Flag Mountain, near Questa—we now want to expand our landscape.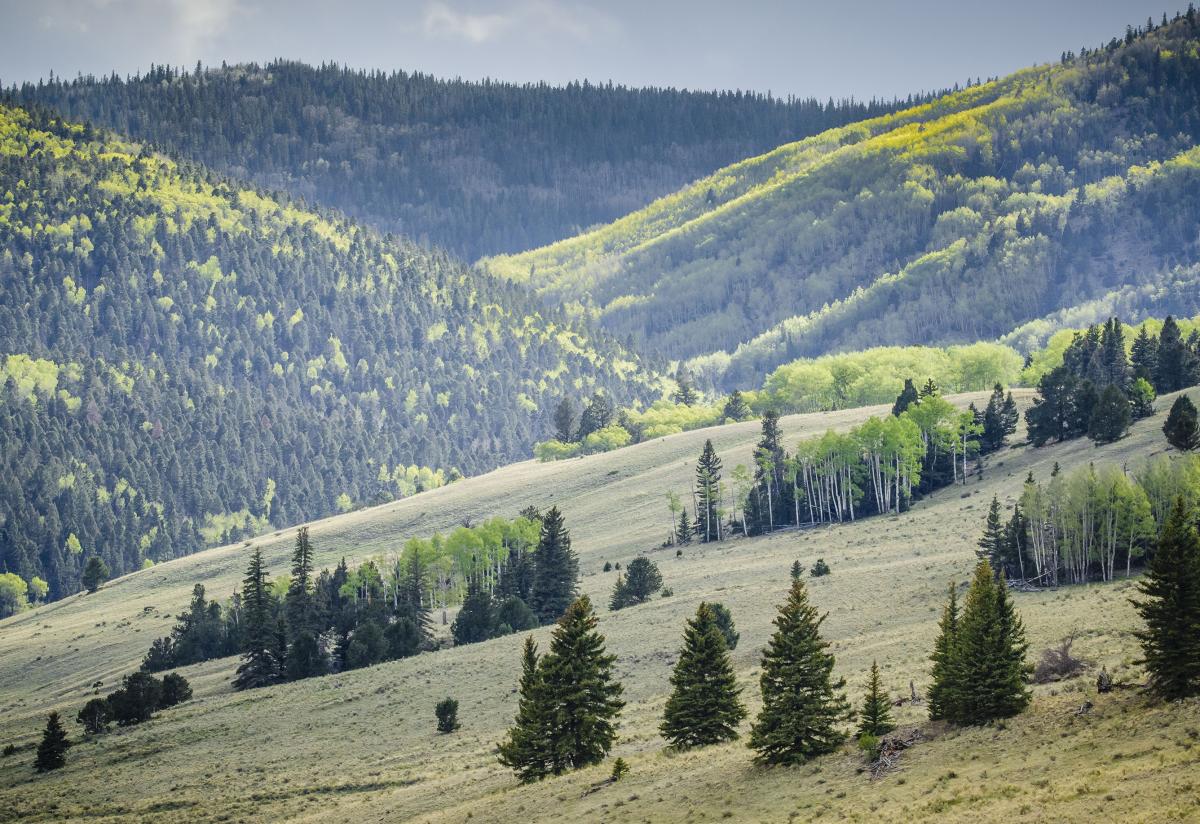 The Valle Vidal awakens in early spring.
THERE IS NO SIGN at the eastern end of the North Boundary Trail.  
The trail itself is unremarkable. Embarking from a bullet-shell-strewn pullout east of Taos, the old logging road winds into the ponderosa pines and along a ridge to the west. After some miles, it narrows and steepens to an animal path. Then it is but a ghost of a trail, materializing from the trees and then disappearing again. We see prints from coyotes, elk, and deer. Several hours later, we descend a steep, curling hillside to find a surprisingly familiar sign. 
"Hey," says Sky. "I know this place."
And he does. The sign points to Devisadero Peak, a shrine-topped hill, and the battered loop trail we hike several times a month. Isabella wonders: "If these trails are connected, then what about the trails across the valley, the old logging roads? Can we walk the whole way from Taos to Angel Fire and into the Moreno Valley?" 
Our backyard suddenly feels very big indeed.
Read More: 25 Reasons to Love Taos
Throughout the summer, we explore new routes within a few miles of our home. The 14-mile loop up Ojito Canyon leads to a wide view of Taos we've never experienced before, then connects into the aspen-clad South Boundary Trail we know and love. The Talpa Traverse takes us across the rocky lower slope of the foothills connecting Taos with neighboring villages. A series of trails along the rim of the Río Grande Gorge guides us to ancient hunting sites, petroglyphs, and not-so-ancient wrecked cars used for erosion control in the 1930s.
On one steamy afternoon hike into the meadows east of Taos, my wife, Rasa Lila, points out that this pandemic quarantine time is like being forced to meditate. We don't want to sit. We don't want to be present with the pain and discomfort. We want to turn away from it. The quarantine, she says, allows us the opportunity to see how we are stuck in habits that don't work. We must exist with the pain that is now. On this day, that means plodding, one foot in front of the other, following a trail to find a new way of being.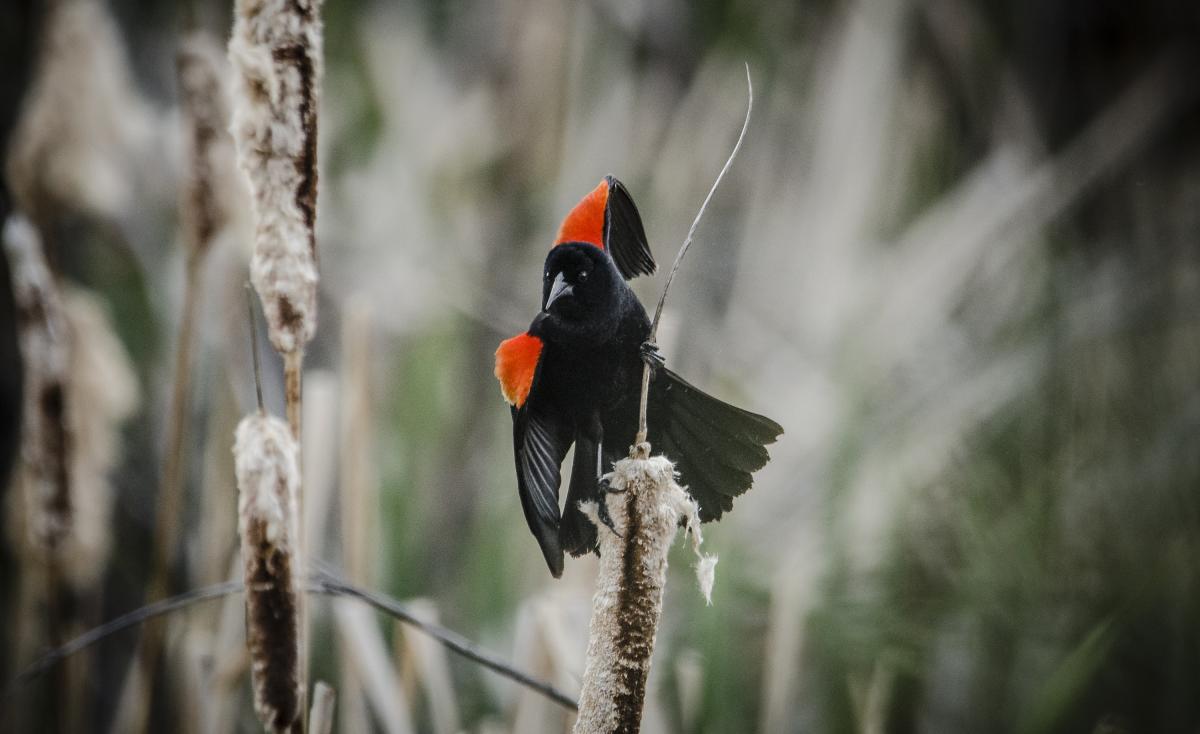 A red-winged blackbird in Río Fernando Park.
ON A LATE JULY MORNING, Rasa Lila and I find ourselves, for once without the kids, huddling under a wide spruce halfway up Hermit Peak, a Precambrian mass of granite northwest of Las Vegas. Rainwater sluices down our raincoats and into our boots. Lightning strikes, far too close, jarring my teeth. 
We started up the trail on a near-cloudless morning. The monsoon-driven storm built up quickly, and within an hour we were stuck. Should we wait it out? Go back? Push on despite the danger? 
We wait nearly an hour before deciding to head back down the trail. We pack away our snacks and water bottles and have just set out when a massive roll of thunder stops us in our tracks. We look at each other. "We can't go back," I say. 
"We wait it out," she says. "Then we climb."  
We return to the spruce, huddle into our raincoats under wide branches, and lean into each other. Lightning rips the sky above, bone-shaking thunder quick on its heels.  
We don't want to sit. We don't want to be present with the pain and discomfort. We want to turn away. 
The rain comes in sheets. Frigid raindrops force us to curl into balls, but my rain jacket leaks. As the storm takes its time heading east, we sit in the wet and the cold and the fear of the lightning. But finally, finally, the flashes move east and the rain peters to mist.  
We start moving again. Up. 
By the time we reach the summit, the sun has wrung our clothes dry. The chill lifts. We lie in the grass and nap. When we awake, we sit on the cliff's edge watching the storms roll in waves over the prairie below.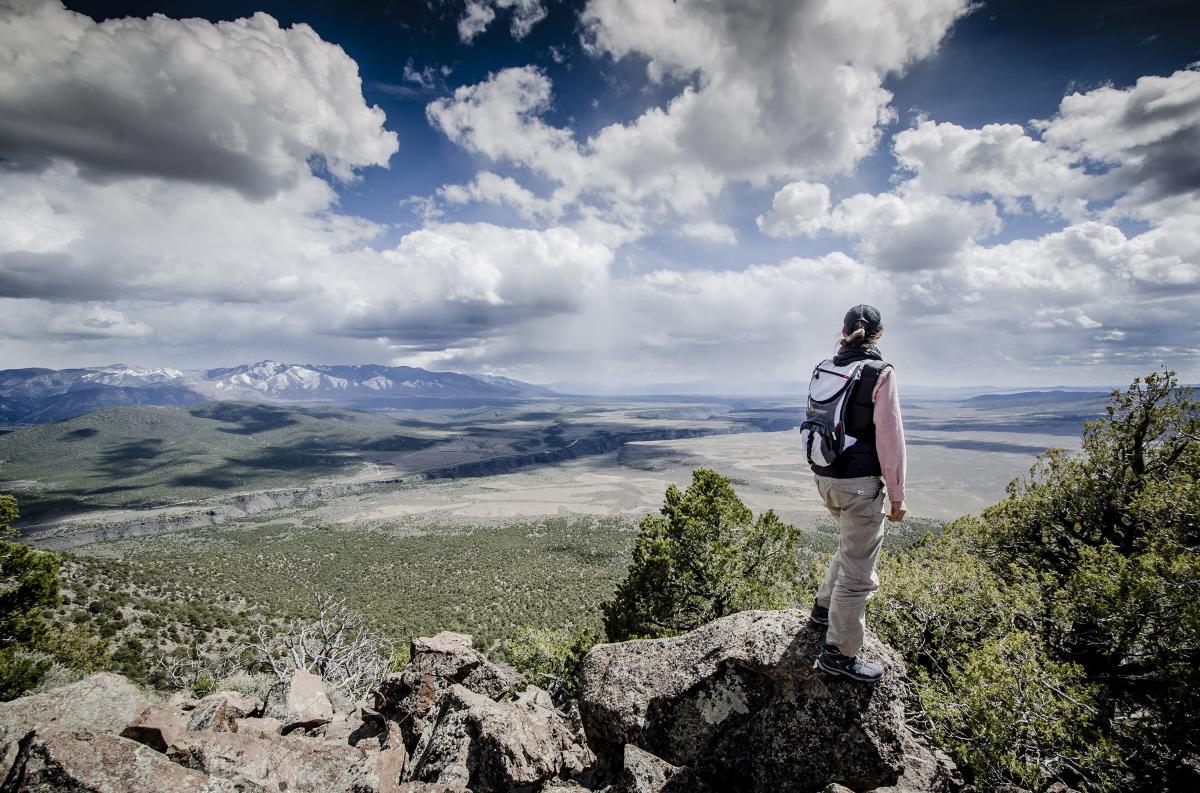 Rasa Lila O'Donnell gazes on the Río Grande del Norte National Monument from Cerro Chiflo. 
ONE MORNING, from the high cliff's edge overlooking Taos Valley, where I asked Rasa Lila to marry me, I step away for a moment. I listen for the Río Fernando, far down below. Sometimes the gurgle of the creek carries up along the slopes and cliffs. This morning, however, the wind scatters the sound to the far corners. 
Downslope, two ravens catch a thermal and play in lazy circles. The ponderosa pines, the piñons, and the junipers blanket the land in a way that brings me ease, buying me a moment of respite from the ballooning counts of infections, hospitalizations, and deaths that await us when we look at the internet again. 
West, on the mesa and toward the Tusas Mountains, virga tease from a rim of gray in curtains that momentarily obscure the land beyond. Then the world rolls out large. 
It isn't a point-A-to-point-B trail. There are forks, curves, dead ends, and moments of being lost. Still, we journey on.

A Few Good Trails
Hermit Peak Trail
Difficult out-and-back trail totaling about 9.5 miles. Dogs must be leashed. Trailhead about 20 miles northwest of Las Vegas, New Mexico. 
South Boundary Trail
Multiple loops and moderate point-to-point trails. Total length about 20 miles. Trailhead at El Nogal, three miles east of Taos. 
Gold Hill Trail
Steep out-and-back 3-mile trail north of the Taos Ski Valley. Dogs must be leashed. Trailhead at Taos Ski Valley. 
For more ideas, go to Taos Land Trust or Taos Mountain Outfitters.