HIKING IS NEW MEXICO'S FAVORITE PASTIME. And no wonder: The call of the trail is easy to answer in a state that ranks sixth in the country for public lands, and where uncrowded tracks lie within minutes of even the largest cities. The terrain varies, climbing from high desert to alpine, sometimes in one hike. In the descriptions that follow, "easy" trails are generally in good condition, with little elevation gain. "Moderate" trails require a bit more fitness for longer distances and more elevation gain, and "strenuous" ones may require good conditioning and cover significant mileage and elevation changes. Consult the information resources provided for detailed directions and updates on trail, weather, and other variable conditions.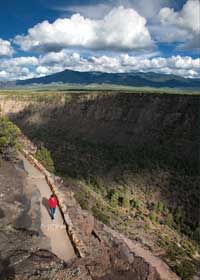 The path into the Río Grande Gorge at Wild Rivers Recreation Area. Photograph by Geraint Smith.
1. Río Grande Gorge
WHERE: Wild Rivers Recreation Area, near Questa 
DISTANCE: 7-mile loop
DIFFICULTY: Easy (with one strenuous stretch)
SEASON: Year-round
Driving north on NM 68 toward Taos, there's a wow moment when the road curves at the crest of a hill, and the dramatic splendor of the 50-mile-long Río Grande Gorge unfolds in the near distance. For hikers, the best point of entry is near Questa, at the Wild Rivers Recreation Area. There, follow the Wild Rivers Backcountry Byway to Big Arsenic Springs Campground and the trailhead. As you descend well-maintained switchbacks, you'll travel from the sagebrush-dotted mesa past ancient juniper and ponderosa pine to the low-lying riparian area—an inverted world. Here, the Río Grande is not the slow-moving broad expanse seen in southern New Mexico. The designated wild and scenic river cascades over basalt boulders as it courses south. Near Taos, the rapids are famous among kayakers and rafters, but this section is more commonly frequented by mule deer, Río Grande cutthroat trout, red-tailed hawks, and migratory birds. At the bottom, you can take in the subtle geological color blends that signal the work of the Río Grande Rift, which created the canyon. Following the riverside trail downstream for nearly four miles, you'll arrive at La Junta Campground, where a narrow footpath leads to the confluence of the Río Grande and Red River. An otherwise gentle trail, the trek out of the gorge at La Junta rises 800 feet in eight-tenths of a mile, making it a true climb—but there are plenty of places to stop and take in the incredible views on your way up. When you reach La Junta Overlook Campground, go left along the bluff, past several campgrounds, to finish the loop.
GETTING THERE: From Questa, head north on NM 522 to the marked turnoff for the Río Grande del Norte National Monument/Wild Rivers Recreation Area. Turn left (west) on NM 378, following the road into the recreation area to the Big Arsenic Springs Campground entrance. Follow the signs to the day-use-area parking and the trailhead at the back of the campground on the canyon rim. Info: Bureau of Land Management, Taos; 575-758-8851.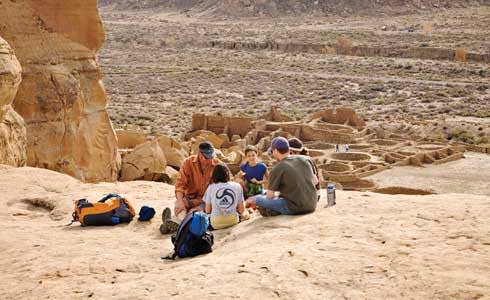 Break time at Chaco Canyon. Photograph by Charles Mann. 
2. Pueblo Alto Trail
WHERE: Chaco Culture National Historical Park, near Nageezi
DISTANCE: 5-mile round trip
DIFFICULTY: Moderate
SEASON: Spring, fall
This hike pays off with a unique vantage on Chacoan culture, one of the state's Ancestral Pueblo treasures. The trail follows an ancient route, ascending through a narrow canyon to the rim. Cairns (rock piles) mark the way across the bluff to an overlook surveying Pueblo Bonito and Chetro Ketl. From here, everything you see was once the territory of Chaco, a ceremonial and trade center that flourished in the 11th and 12th centuries. To return to the trailhead, retrace your steps or continue the loop along a 30-foot-wide Chacoan road. A stairway leads to the remains of Pueblo Alto, a great house whose excavation in the 1970s challenged traditional assumptions about Chaco.
GETTING THERE: The trail departs from the back of the Pueblo de Arroyo parking area. Info: Chaco Culture National Historical Park; 505-786-7014, ext. 221.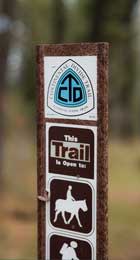 Continental Divide Trail marker. Photograph by Jay Hemphill. 
3. Continental Divide Trail
WHERE: San Pedro Parks Wilderness, near Cuba
DISTANCE: 8-mile loop with optional variations
DIFFICULTY: Moderate
SEASON: Spring through fall
Established in 1978, the Continental Divide National Scenic Trail stretches from the Canadian to the Mexican border. Some 770 of its 3,100 picturesque miles lie in New Mexico, traversing mountains and mesa tops, lava flows and desert expanses. A particularly beautiful segment—and one that's well marked—climbs through the San Pedro Parks Wilderness, a verdant area of rolling hills marked with wildflower meadows, streams, and aspen stands. Enter the wilderness area at Las Vacas trailhead, where a triangle connecting Las Vacas to Los Pinos to the Anastacio Trail closes the loop on an eight-mile day hike. You'll find plenty of solitude amid the scenery along these seldom traveled trails.
GETTING THERE: From Cuba, follow NM 126 east for 10 miles. Turn north onto FR 70 and drive 3 miles to the Las Vacas trailhead. Info: Continental Divide Trail Coalition; 303-996-2759.
4. Stewart Lake
WHERE: Pecos Wilderness, near Pecos
DISTANCE: 13-mile out-and-back
DIFFICULTY: Strenuous
SEASON: Summer, early fall
The Pecos Wilderness is convenient to Santa Fe and Las Vegas and is stunningly beautiful, making it immensely popular for camping, hiking, and fishing. It offers the best of New Mexico's mountain wilderness areas: high peaks, alpine lakes, wildflower meadows, and abundant wildlife. Novices will appreciate the well-maintained trails, while experienced hikers will love the network, which is perfect for backpacking. The strenuous Stewart Lake trek has a big payoff: lunch on the shores of a glacier-formed lake in high country. The route departs Cowles Campground at a tough grade but quickly levels off a bit to a steady climb that's not too steep. The forested trail will keep you cool and occasionally reward your efforts with views of the more than 200,000 acres of wilderness. You'll pass through fields of purple geraniums, Indian paintbrush, and sunflowers, as well as copses of aspen and fern. The area is so lush you'll wonder if you're in New Mexico. A small waterfall marks the way to a glassy alpine lake, whose clear waters reflect the ponderosa forest and the surrounding 12,000-foot peaks.
GETTING THERE: From Pecos, head north on NM 63. At FR 121, turn left and park at Cowles Campground, immediately on the left. The trail begins across the road from the campground. Info: Santa Fe National Forest, Pecos Ranger District; 505-757-6121.
5. Bisti/De-Na-Zin Wilderness
WHERE: Near Farmington and Bloomfield
DISTANCE: Hiker's choice
DIFFICULTY: Easy
SEASON: Spring, fall
New Mexico's landscape is often called otherworldly, and the Bisti Wilderness is a prime example of why that's so: weathered sandstone hoodoos and rolling hills of shale and silt look like the set of a fantasy movie. This is New Mexico at its most austere—and most fascinating. 
The more than 3,000 acres at Bisti are wilderness in the truest sense: There are no trails here to guide explorers. If you venture into the badlands, take particular note of your surroundings. (It's best to travel with a map, compass, and GPS unit.) Setting out from the parking area, find and follow the arroyo, which will serve both to orient you and to protect the fragile soil, where every footprint leaves a trace. To see the formations that define Bisti, exit the arroyo to the south to the Egg Hatchery, where pony-size boulders are marked with the ripple pattern of the vast sea that once covered this terrain. A mazy forest of petrified logs is ribbed with great fallen trunks whose bark has faded into subtle, alluring shades of slate blue and ocher. Hikers, take note: summers are hot in this exposed landscape, and moisture, whether via summer monsoons or winter snowfall, turns the silt to shoe-sucking muck.
GETTING THERE: From NM 371, 36 miles south of Farmington, turn east on gravelly Road 7297. After 2 miles, the road comes to a T intersection; turn left and drive just under 1 mile to the Bisti Access Parking Area, on the east side of the road. Info: Bureau of Land Management, Farmington; 505-564-7600.
6. Three Rivers Petroglyph Site
WHERE: Near Tularosa
DISTANCE: 1-mile out-and-back
DIFFICULTY: Easy
SEASON: Year-round
Spotting petroglyphs is a thrill on many New Mexico trails, but at Three Rivers Petroglyph Site, they're the star attraction. The Jornada Mogollon people carved more than 21,000 sunbursts, animals, and geometric designs in the basalt of the Three Rivers Valley, making the area one of the largest rock-art sites in North America. A half-mile trail starts from the visitor center and will lead you through the desert, past many of the most interesting glyphs, carved here between 900 and 1400, including google-eyed and horned beings, standards of Jornada Mogollon sites. Another trail, on the east side of the picnic area, leads to the remains of a Mogollon village.
GETTING THERE: From Tularosa, follow US 54 north for 17 miles. Turn east at Three Rivers onto CR B30, then continue for 5 miles, following the signs to the petroglyph site. Info: Bureau of Land Management, Las Cruces; 575-525-4300.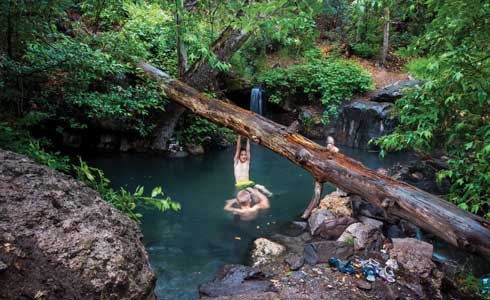 Kids enjoying Gila's Jordan Hot Springs. Photograph by Jay Hemphill. 
7. Gila Middle Fork
WHERE: Gila Wilderness, near Silver City
DISTANCE: 15-mile out-and-back
DIFFICULTY: Moderate
SEASON: Summer and fall
The Gila Wilderness was the first of its kind in the United States, setting a high bar for lands subsequently protected by the Wilderness Act of 1964. The area is vast—totaling more than 550,000 acres, twice the size of the Pecos—and boasts both significant human history and natural gems. This route takes you into the heart of the wilderness, following the Gila Middle Fork along the longest trail in the area. You don't need to make it to the end—just a couple of miles is enough to give less ambitious hikers an enticing taste. You'll still get to see towering cliffs and leafy sycamores, and experience several of the river crossings that make this trail a top pick. Locals love trekking to the Jordan Hot Springs, about seven miles in. You can easily make it an overnight camping trip if the 15-mile round trip is too much for one day.
GETTING THERE: From Silver City, take NM 15 north to the Gila Wilderness Ranger Station visitor center. The trail departs from there. Info: Gila National Forest, Wilderness Ranger District; 575-536-2250.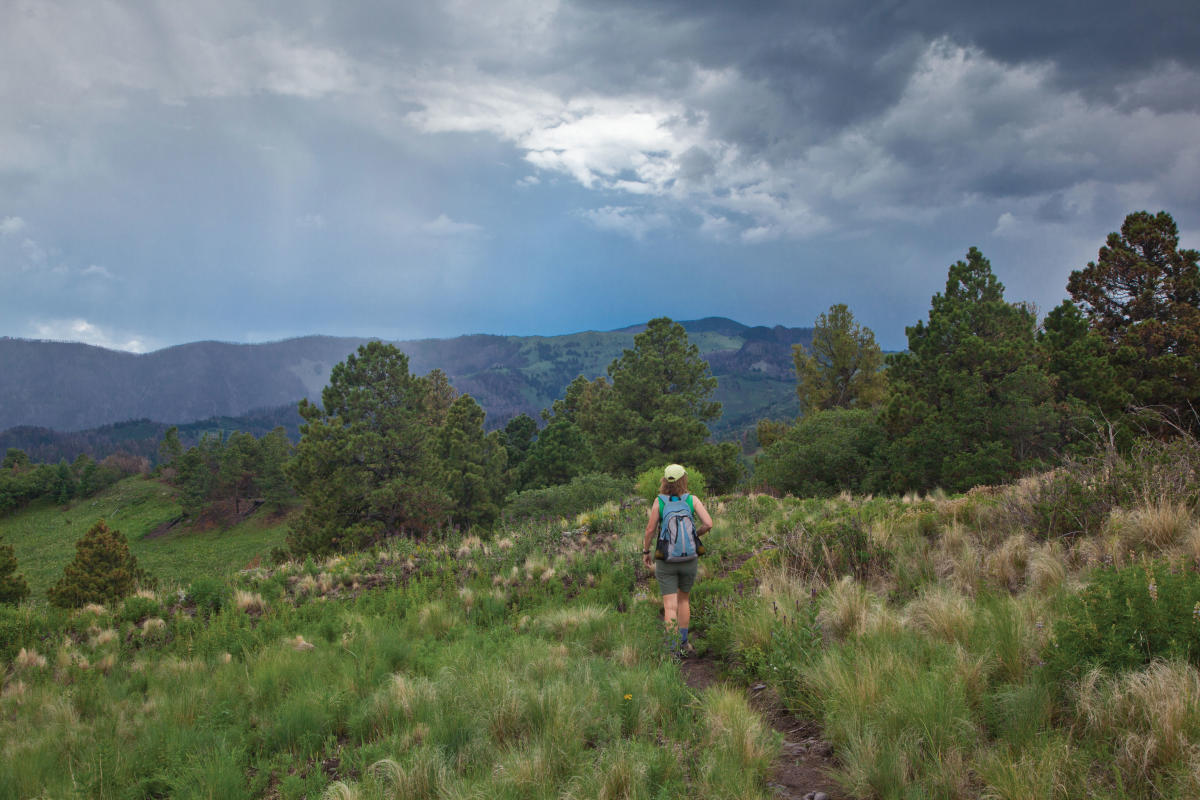 The Argentina Canyon is a moderate 6.3-mile hike loop through lush, high-altitude forest. Photograph by Laurence Parent.
8. Argentina Canyon
WHERE: White Mountain Wilderness, near Capitán
DISTANCE: 6-mile loop
DIFFICULTY: Moderate
SEASON: Late spring to fall
Argentina Canyon is a favorite of many rangers in the district. Its network of trails ascends through lush forests to the White Mountain Wilderness and southern New Mexico's tallest peaks (including the nearby Sierra Blanca, for which the wilderness is named). The Argentina Canyon Trail follows a stream to the Crest Trail, which affords Tularosa Valley views. Descend toward Little Bonito Spring, then follow Bonito Creek back to the trailhead. If you time your hike just right during August and September, you'll be treated to fields of primrose, coral bells, penstemon, and yarrow. In 2012, the Little Bear Fire consumed more than 40,000 acres in the area, but it didn't affect the trails here.
GETTING THERE: From Capitán, drive 10 miles south on NM 48 and turn right onto NM 37. Follow NM 37 just over a mile to the Bonito Lake and South Fork Campground turnoff. Follow FR 107 for 9 miles to the parking lot at the end of the road. Info: Lincoln National Forest, Smokey Bear District; 575-257-4095.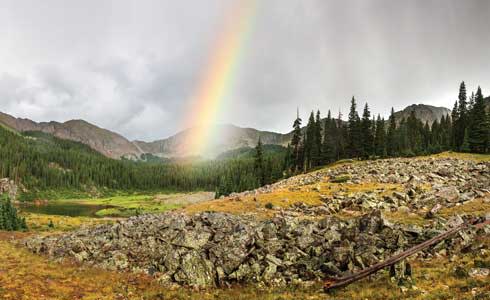 A fleeting rainbow at Williams Lake. Photograph by Geraint Smith.
9. Williams Falls and Lake
WHERE: Carson National Forest, near Taos
DISTANCE: 4-mile out-and-back
DIFFICULTY: Moderate
SEASON: Year-round
In an area famous for its outdoor pursuits, this day hike is the most popular around. The state's highest peaks and an alpine lake fed by a waterfall attract hikers in all seasons. From the parking lot, the trail follows a creek through stands of Engelmann spruce and a meadow. Williams Lake's crystalline waters reflect the surrounding peaks, including Wheeler, to the east, often snowcapped even in summer. Turn east just before the lake and continue 300 yards to discover the magical 30-foot falls. To make the trip in winter, just strap on a pair of snowshoes or cross-country skis.
GETTING THERE: From Taos Ski Valley parking lot, continue to Twining Road. Turn right, then left onto Zap's Road, then right onto Kachina Road. The parking lot for hikers is near the Kachina lift and Bavarian Lodge. Info: Carson National Forest; 575-758-6200.
10. Dripping Springs Trail
WHERE: Dripping Springs Natural Area, near Las Cruces
DISTANCE: 3-mile loop
DIFFICULTY: Easy
SEASON: Fall through spring
Set in the Organ Mountains foothills, Dripping Springs Natural Area offers accessible desert hiking amid mesquite trees, creosote bushes, and grama grass. Organ Mountain evening primrose and Organ Mountain pincushion cactus can only be found here. Historic sites along the route reflect several phases of the state's history: In the 1870s, Colonel Eugene Van Patten—nephew of John Butterfield, of stage-coach-line fame—built Dripping Springs Resort, whose guest list included Pat Garrett and Pancho Villa. In 1917, Dr. Nathan Boyd bought the adjacent land and built a sanatorium. You'll pass the ruins of both institutions along the gentle loop.
GETTING THERE: From I-25 in Las Cruces, take the University Avenue exit east toward the mountains. Follow the signs to Dripping Springs Natural Area and park at the A.B. Cox Visitor Center. Info: Bureau of Land Management, Las Cruces; 575-525-4300.
---
Read More: Near Las Cruces, a hike to ancient petroglyphs brings whispers of the past.
Read More: One Family's Quest to complete a 120-Hike Challenge
Read More: In New Mexico, winter hiking doesn't have to mean trekking snowy paths. (But you still ought to pack some water.)