Above: This pecan-packed beauty is 100 percent made in New Mexico.
LET NEW MEXICO'S top food crop add pizzazz to your holiday menus. Rich in fiber, antioxidants, phosphorus, magnesium, heart-healthy fats, and anti-cancer and anti-aging properties, pecans can enhance any meal. This selection of recipes offers options ranging from breakfast to dessert, and everything in between.
Should you, like the pros, stock up on pecans for the year ahead, make sure to keep them in the refrigerator or, better yet, the freezer. Wrap them tightly, because they can absorb the flavors of other foods easily. If you enjoy outdoor cooking, talk a farmer out of some pecan wood, in logs, chunks, or chips, or save up a bunch of the nuts' shells. All make good fuel for barbecuing and grilling; the wood gives off a somewhat sweet and toasty smoke.
PECAN PIE
I vote for changing the slogan to "As American as pecan pie." On Thanksgiving, I want a filling made from a star ingredient indigenous to North America. This particular pecan pie is a beauty, chock full of many more nuts than the oft-used recipe on the back of the corn syrup bottle. Can you use a store-bought crust? Sure, but if it's Thanksgiving, or your loved one requests pie instead of cake for a birthday, consider making your own. It's not nearly as tough as the manufacturers of those prefab crusts would like you to believe. For the most beautiful slices, let the pie sit for a minimum of two hours before slicing. Pecan pie can be made a full day ahead, if you wish.
Serves 8
FLAKY SINGLE PIE CRUST
2 cups unbleached all-purpose flour
1 teaspoon salt
6 tablespoons unsalted butter, cut in small cubes, well chilled
6 tablespoons lard, well chilled
4 to 6 tablespoons ice water
FILLING
1 cup packed light brown sugar
1⁄2 cup plus 2 tablespoons light corn syrup
2 tablespoons molasses
4 tablespoons (1⁄4 cup) unsalted butter
1⁄2 teaspoon salt
1⁄4 teaspoon ground cinnamon
2 tablespoons bourbon
1 teaspoon pure vanilla extract
4 large eggs
3 tablespoons whole milk
2 cups pecan pieces Pecan halves, about 1 cup
Grease a 9- to 10-inch deep-dish pie pan. Prepare pie crust. In a food processor, pulse together flour and salt, then scatter butter over it and quickly pulse several times just to submerge butter in flour. Scoop lard into small spoonfuls and scatter them over flour-butter mixture; pulse again quickly several more times until it disappears into flour too. Sprinkle 4 tablespoons of water over mixture and pulse again quickly, just until water disappears.
Dump mixture into a large bowl or onto a pastry board. Lightly rub dough with your fingers. Add more water a tablespoon at a time as you rub. When dough holds together if compacted with your fingers, stop. It's ready. Pat dough into a disk about 1 inch thick. Wrap dough in plastic and refrigerate for at least 30 minutes.
On a floured board or counter, use a rolling pin to roll out dough into a thin round about 2 inches larger than pie pan. Lift crust carefully and arrange it in pie pan, avoiding stretching it. Crimp edge decoratively, then refrigerate crust for at least 15 additional minutes.
Preheat oven to 375° F. Form a drip pan for the oven's lower shelf, turning up the sides of a large sheet of aluminum foil.
Prepare filling, first combining brown sugar, corn syrup, molasses, butter, and salt in a large, heavy saucepan. Bring to a boil over high heat and leave at a rolling boil for 30 seconds (give it 1 minute if cooking above 5,000 feet altitude), stirring constantly. Remove pan from heat and stir in bourbon and vanilla extract. Let mixture cool to warm room temperature, stirring occasionally.
Whisk eggs with milk, then whisk into cooled syrup mixture. Stir in pecan pieces. Pour filling into pie crust. Top entire surface with a neat layer of pecan halves, in concentric circles if you like.
Bake pie for 10 minutes, then reduce oven temperature to 350° F. Cook for 30 to 35 additional minutes, or until a toothpick inserted into center comes out clean and crust is lightly browned. Let pie sit for at least 2 hours before slicing into wedges and serving.
Adapted from American Home Cooking, © 1999, Cheryl Alters Jamison and Bill Jamison (William Morrow/HarperCollins Publishers)
CHILE-PECAN SAUCE FOR TURKEY
On a New Mexican Thanksgiving table, it's not the least bit uncommon to find red chile sauce alongside gravy, for ladling over turkey and mashed potatoes. This sauce can substitute for either, combining some of the best of both. I find the pecan crunch a welcome addition to the soft textures common to the holiday's main dishes. Try the sauce some other time with grilled pork tenderloin.
Makes about 2 cups
1 tablespoon vegetable oil
2 to 3 tablespoons minced shallots
2 garlic cloves, minced
2 tablespoons ground dried New Mexican red chile
2 cups chicken or turkey stock, preferably a low-sodium variety
1 teaspoon Worcestershire sauce
1 tablespoon unsalted butter
2/3 cup chopped pecans, toasted briefly in a dry skillet until fragrant
Sea salt or kosher salt
Warm oil in medium saucepan over medium heat. Add shallots and garlic and sauté until softened and lightly colored, about 5 minutes. Stir in red chile and cook about 1 more minute, until fragrant. Pour in stock and Worcestershire sauce. Simmer mixture until it has reduced by approximately one-third, about 20 minutes. (Sauce can be made ahead to this point, early in the day. Reheat before proceeding.) Whisk butter into sauce until melted. Stir in pecans and add salt as needed. Serve warm.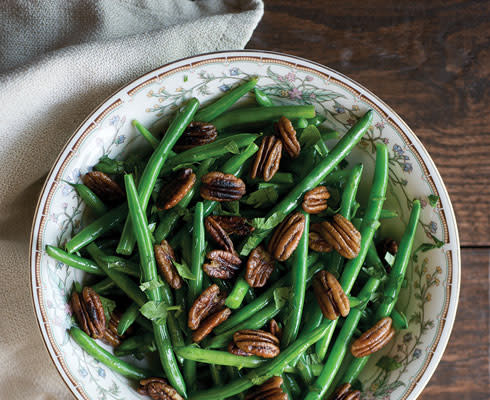 Add crunch and zing to your Thanksgiving buffet with a green bean salad.
GREEN BEAN SALAD WITH TOASTED PECANS
Give goopy green bean casserole a rest without losing a rare green vegetable on the feast-day table. This fresh, hearty salad's zingy dressing is an excellent counterpoint to Thanksgiving's rich array of savory flavors.
Serves 6
11⁄2 to 13⁄4 pounds slim green beans or haricots verts, tipped and tailed
2 tablespoons sea salt or kosher salt
1⁄2 cup chopped pecans, toasted in a dry skillet until fragrant
1 tablespoon pecan oil, preferably, or walnut oil
1 tablespoon vegetable oil
1 tablespoon champagne vinegar or white wine vinegar
Endive or butter lettuce leaves, optional
3 to 4 ounces thin-sliced dry-cured ham, such as prosciutto, cut in matchsticks
2 tablespoons or more chopped fresh parsley, optional
Coarse or flaky sea salt, such as Maldon
Prepare an ice bath. Half-fill a large bowl with ice, add water to level of the ice. Place beans and salt in a large saucepan and cover beans with water. Bring beans to a simmer. Cook briefly until tender, 5 to 8 minutes. Drain off water and plunge beans into ice bath, which helps them retain their bright color. When cool, drain again.
Whisk together oils and vinegar in a small bowl. Toss beans with mixture and lay out on a platter. Tuck endive or lettuce around edges, if you wish. Scatter ham, pecans, and parsley among beans and toss lightly. Sprinkle with a bit of coarse salt and serve at room temperature.
PECAN-SAGE DRESSING
Serve this dressing alongside the Thanksgiving bird.
Makes about 4 cups; serves 8
1 pound dense country white bread or 3⁄4 pound French bread, cut in 3⁄4-inch cubes (~9 cups)
6 tablespoons (3⁄4 stick) unsalted butter
1 1⁄2 cups thin-sliced leeks (white, light green parts)
1 1⁄2 cups thin-sliced celery
4 ounces button or wild mushrooms, sliced thin, optional
1 cup chopped pecans
2 to 3 teaspoons crumbled dried sage
1 1⁄2 teaspoons dried thyme and/or dried marjoram
1 teaspoon coarsely ground sea salt or kosher salt
1⁄2 teaspoon freshly milled pepper
Approximately 3 cups turkey or chicken stock
2 large eggs
1⁄2 teaspoon baking powder
Preheat oven to 325° F. Toast bread cubes on baking sheets for about 25 minutes, stirring once or twice, until lightly brown and crisp. Dump them into a large bowl. Butter a 9-by-13-inch baking dish.
Warm butter in a large skillet over medium heat. Stir in vegetables and sauté until very soft, about 7 minutes. Stir in pecans and sauté for an additional minute. Add sage, thyme, salt, and pepper and scrape into bowl of croutons. Add stock a cup at a time, until bread is very moist but not soupy. You will probably use 2 to 3 cups of stock.
Taste and adjust seasoning if you wish. Whisk eggs and baking powder together and mix them into dressing. Spoon dressing into prepared baking dish and cover it with foil. Bake for 25 minutes. Uncover and continue baking 15 to 20 additional minutes, until lightly browned and crusty on top.
Adapted from American Home Cooking, © 1999, Cheryl Alters Jamison and Bill Jamison (William Morrow/HarperCollins Publishers)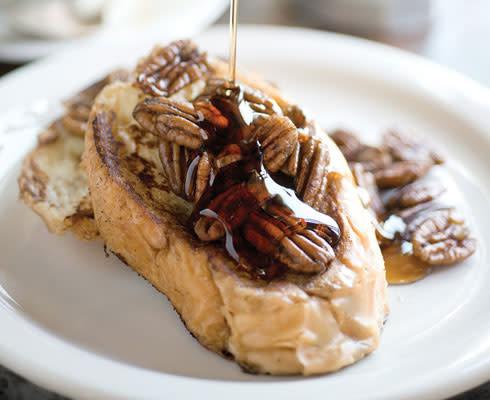 French toast gets a protein boost when topped with pecans.
PECAN-EGGNOG FRENCH TOAST
French toast is a crowd-pleasing breakfast when you've got a houseful of holiday guests. The eggnog lends a festive note. You can easily expand this one to serve more diners. Serves 4
8 slices of French bread, about 1 inch thick, preferably cut on the diagonal for a broader surface
1 1⁄2 cups store-bought eggnog
3 large eggs
2 tablespoons sugar
2 teaspoons pure vanilla extract
1⁄2 teaspoon salt
Unsalted butter
Vegetable oil
1 cup pecan halves
Maple syrup
Preheat oven to 300° F. Butter a baking sheet.
Whisk together in a shallow dish the eggnog, eggs, sugar, vanilla, and salt.
Dunk bread slices into eggnog mixture and soak them for at least 10 minutes, turning if needed to coat evenly, until saturated but short of falling apart.
Warm one tablespoon of butter and one of oil together on a griddle or in a large, heavy skillet over medium heat. Cook French toast in batches briefly until golden brown and lightly crisp, turning once. Place first slices on baking sheet and keep them warm in oven. Continue cooking remaining slices, adding more butter and oil as needed. When all French toast is ready, add 1 more tablespoon of butter to the griddle. When melted, stir in pecans and sauté briefly until fragrant. Serve French toast immediately, with 2 slices angled over each other on each plate. Scatter pecans equally over portions. Serve with maple syrup.
Adapted from A Real American Breakfast, © 2002, Cheryl Alters Jamison and Bill Jamison (William Morrow/HarperCollins Publishers)
EXTRA RECIPES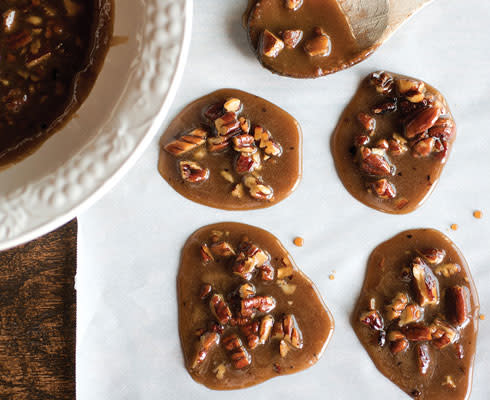 Piloncillo Pralines
Pralines are pecans held together by a candied syrup. The deeper, more caramelized tones of this version come from the inclusion of piloncillo, a raw Mexican sugar, much richer in flavor than American brown sugars. Look for the small hard cones of piloncillo in stores that offer a good selection of Mexican or Latino ingredients, or order from the Santa Fe School of Cooking (santafeschoolofcooking.com). If you can't find it or just don't have time to look, use dark brown sugar in its place.
Makes 1 1/2 dozen medium pralines
 
1 1/2 cups granulated sugar
8 to 9 ounces piloncillo or 3/4 cup dark brown sugar
1/2 cup plus 2 tablespoons whole milk
6 tablespoons (3/4 cup) unsalted butter
1 1/2 cups pecan pieces, toasted in a dry skillet until fragrant
1/2 teaspoon ground canela (Mexican cinnamon), or other cinnamon
2 teaspoons pure vanilla extract
 
Cover a baking sheet with wax paper.
 
Combine all ingredients except vanilla in a large heavy saucepan. Warm mixture over medium-low heat, stirring occasionally, until piloncillo melts. Raise heat to medium and continue cooking, but now stir constantly, until mixture reaches 238° F to 240° F (called "soft ball" stage in confectionery parlance).
 
Add vanilla and remove pan from heat. Continue stirring more-or-less continuously to help cool candy. When mixture becomes creamy and cloudy, and pecans remain suspended while stirring, spoon mixture onto wax paper, about 1/4 cup per praline. (You can make any size pralines you want, really, but this size gives you about 1/1/2 dozen.) Work quickly, before the candy hardens in pan. Pralines will set as they cool.
 
Best the day they are made, pralines can be kept, tightly covered, for up to several days.
 
Note: Cones of piloncillo can be found in different sizes, though many are about 2 ounces. If you need to chop one to get the amount needed for the recipe, soften it before attempting to chop it. To soften, zap the piloncillo in a microwave about 10 seconds, or as needed. Be careful of your fingers when cutting its slick surface.
 
Adapted from The Border Cookbook, © 1995, Cheryl Alters Jamison and Bill Jamison, Harvard Common Press.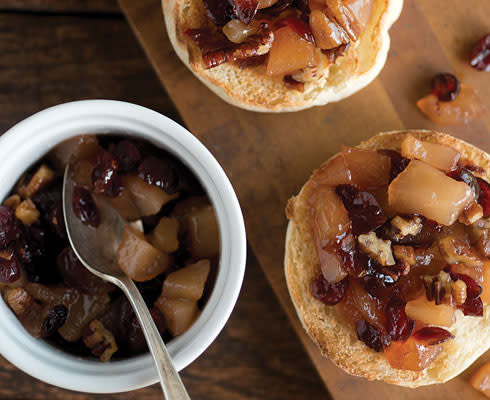 Winter Fruit and Pecan Compote
Quinces are a winter fruit found in southern New Mexico around areas where pecans grow. They look a bit like apples, but must be cooked to be palatable. Spoon this compote on bread or just eat it like cranberry relish. It lasts for days refrigerated.
Makes about 4 cups
 
2 cups apple juice
1 cup sugar
1 1/2 pounds fragrant ripe quinces (about 3 medium to large)
3/4 pound apples, preferably a tangy variety
1 1/2 cups cranberries
3/4 cup chopped pecans
 
Combine juice and sugar in a heavy saucepan over low heat. Peel and core quinces and apples, and cut them into small bite-size pieces, placing them in the juice as they are cut. Bring to a boil over high heat, then cover, and continue cooking at a boil until quinces are crisp-tender, 30 to 35 minutes. Stir in cranberries and continue boiling uncovered until they pop and all fruit is very soft and suspended in thick soupy liquid, about 20 additional minutes. Add a little water if the fruit begins to get dry before it is soft enough. Stir in pecans and remove from heat.
 
Cool, spoon into jars or a bowl, cover, and refrigerate overnight. Serve by the spoonful.
 
Adapted from A Real American Breakfast © 2002, Cheryl Alters Jamison and Bill Jamison, William Morrow/HarperCollins Publishers.