Above: Paul Novak's vegetarian tortilla soup packs a Chimayó red chile kick.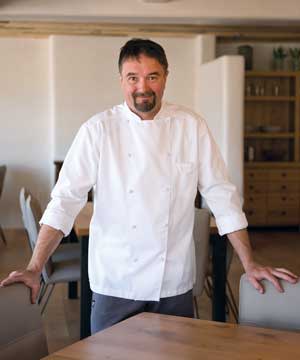 Chef Paul Novak.
CHEF PAUL NOVAK started cooking in Santa Fe restaurants during high school, but took off soon thereafter, as lots of local kids do, to see more of the world. His culinary tour of the West took him to San Francisco, where he worked at Wolfgang Puck's Postrio for three years and picked up what he calls his "main education in a real restaurant—professional, high-end fine dining in a really competitive environment." This was followed by stints in Denver; the Seattle area; Pasa Robles, California; and even the cheese department of a Whole Foods in Los Angeles. But there came a time that he wanted to return to New Mexico, to see what it was like from an adult perspective.
"I remember driving over the Ratón Pass and smelling the earth and saying to myself, 'I know that smell, and it's awesome.'"
In the early part of this decade, Novak was chef de cuisine at Geronimo, the Canyon Road bastion of fine dining that he describes as "a super-busy, money-making machine." From there he downshifted straight into the Ojo Caliente Mineral Springs Resort and Spa—"an oasis in the middle of nowhere with a farm on it." And even though he never used to like cooking for vegetarians, he's now serving up a very "vegetable-forward" menu at the Blue Heron Restaurant at Sunrise Springs, Ojo's new sister resort on a historic 70-acre property in the village of La Cienega, at the southwestern fringe of Santa Fe.
As the executive chef, Novak is tailoring the Blue Heron's menus to fit the bucolic spa resort's wrap-around wellness ethos. Keywords for the cuisine include "freshness, awareness, moderation." The following recipes for a five-course menu for four reflect those values, with an emphasis on what's in season in northern New Mexico in early summer, and a commitment to simplicity.
"My food comes from the earth," says Novak. "What I cook anybody can cook." —Dave Herndon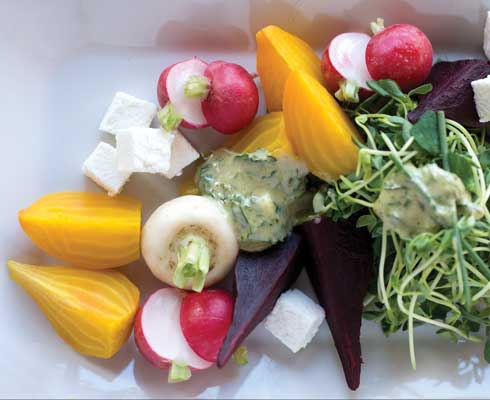 Like these beets and radishes, much of the produce used at Sunrise Springs is grown at Ojo Caliente.
Roasted Beets with Radishes, Farmer's Cheese and Tarragon Aioli
2 golden beets, tennis ball–sized 2 red beets, tennis ball–sized
1 bunch of spring radishes, white and red
4 ounces pea shoots
2 tablespoons fresh chopped chives, plus 8 whole chives
4 ounces farmer's cheese (goat or cow, whichever is local to you)
3 teaspoons chopped tarragon
About 1 cup mayonnaise
Preheat oven to 500° F. Place golden and red beets in separate baking dishes and add water to reach halfway up their sides. Cover with foil and bake for 50 minutes. Remove beets from water, let cool, then peel off the skin. Cut off stems and tips, then quarter. Place in separate bowls, coating the red beets with a little olive oil to help stop the dye from bleeding.
While beets are in the oven, make your tarragon aioli. To make mayonnaise, separate one egg, placing the yolk in a food processor or blender. Add 1 tablespoon oil (olive or avocado) and mix well; very slowly drizzle in 3⁄4 cup oil. Be patient and allow it time to incorporate. Add chopped tarragon and puree until smooth and green. Leave at room temperature while you prepare the other ingredients.
Toss pea shoots and chives with a little red-wine vinegar, olive oil, and a pinch of salt. Cut off tops and bottoms of radishes and chop into quarters. Slice farmer's cheese into 1⁄4-inch-thick pieces. Place in a hot nonstick pan, browning both sides, then cut into medium-sized pieces.
To serve, put pea shoots in center of plate. Arrange beets and radishes next to the shoots. Sprinkle cheese liberally atop and finish with dollops of aioli. Garnish with long chive pieces.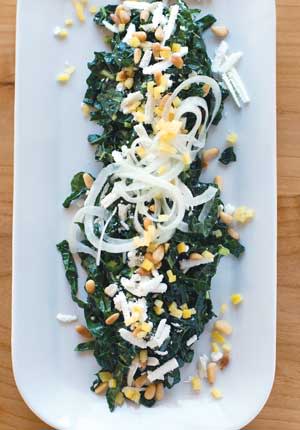 Piñon nuts lend local flavor to the Tuscan Kale salad; preserved lemon could become your new go-to secret ingredient.
1 bunch Tuscan kale, de-stemmed and cut into 1⁄4-inch slivers
3⁄4 cup pine nuts
1 cup ricotta salata, coarsely grated
1 sweet onion, sliced paper thin
1 tablespoon chopped preserved lemon Preserved lemon dressing (below)
An hour before dinner, massage kale with 3⁄4 cup dressing, more as needed to taste. Set aside and toss every 20 minutes. Place pine nuts in pan and toast on low heat. To serve, place a mound of kale on plate, drape onions over kale, and sprinkle pine nuts, ricotta salata, and preserved lemon on top.
For the Preserved Lemon Dressing
1 tablespoon honey
1⁄4–1/3 cup lemon juice (adjust to taste)
1 tablespoon preserved lemon (see recipe below, or purchase at fine grocery store)
3⁄4 cup olive oil
Salt to taste 
Blend all ingredients in blender until smooth. 
For the Preserved Lemon
10 lemons
2 cups salt
1⁄2-gallon mason jar
Lemon juice sufficient to fill the jar full of other ingredients
Wash lemons in cold water, then slice 3⁄4 of the way through lengthwise. Place lemons in jar, add salt and lemon juice and mix well. Write the date on the lid and close the jar lightly, leaving just enough space to let out air. Place on counter at room temperature and shake 3 times a week. Test lemons in 40–60 days; when ready they should be soft, as if cooked. When preserved, move to refrigerator, where they last for 6 months. To use, discard the pulp and dice the skin finely for use. The lemon can also be used on chicken and fish.
3 bulbs garlic
1 medium sweet onion, diced small
2 teaspoons dried oregano
2 teaspoons cumin
1⁄4 cup Chimayó red chile powder
5 yellow-corn tortillas
4 cups high-quality stewed tomatoes, pureed
1⁄2 cup fresh chopped cilantro (save a little for garnish)
3 quarts water
Salt to taste
small avocados
1–2 limes
Turn oven to 450° F. Cut off tops of garlic bulbs and rub with olive oil. Place in small baking dish and roast 20–30 minutes until soft and golden brown. When cool, squeeze the bulbs to release the roasted cloves.
Heat a gallon-sized soup pot with 1⁄2 cup of olive oil. Add the diced onion and sauté for 5 minutes until soft with no color. Add oregano, cumin, red chile, and tortilla strips; cook for 3 minutes. Add the tomato puree and water, lower heat to medium, and simmer for 20 minutes until tortillas start to fall apart. Add the cilantro and roasted garlic cloves. Cool to room temperature and puree in batches in blender until smooth. Taste and add salt as needed.
To serve, reheat and garnish with chopped cilantro, sliced avocado, and a wedge of lime.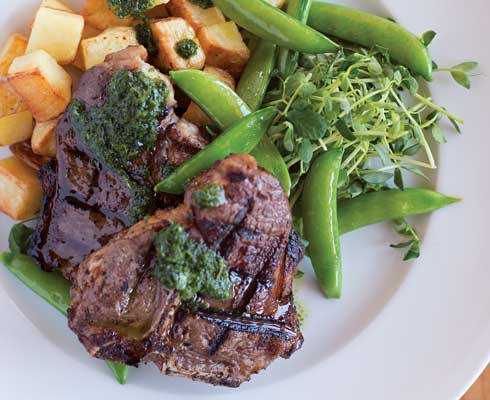 Meat is used judiciously at Sunrise Springs by chef Paul Novak.
Lamb T-Bone with Roasted Yukon Potatoes, Snap Peas, and Herbed Garlic Pesto
4 lamb T-bone steaks
1 pound snap peas
2 ounces pea shoots (garnish)
4 large Yukon potatoes
2/3 ounce fresh thyme
1 bunch parsley, picked and stemmed
2/3 ounce fresh oregano
2 large cloves garlic
3⁄4–1 cup olive oil
Salt and pepper to taste
Heat oven to 450° F. Dice the potatoes in 1⁄2-inch cubes and toss them in olive oil and salt. Place in a large cast-iron pan and roast for 25–30 minutes, turning every 5 minutes. Remove from oven and lower heat to 350° F. While potatoes roast, make the savory herbed garlic pesto.
Place garlic, herbs, and half the oil in blender. While blending, add remaining oil a little bit at a time to reach a sauce-like consistency.
Pan-sear lamb on high heat for 3 minutes on each side and place in oven at 350° F for 8–10 minutes (medium rare), along with the potatoes, to reheat. Meanwhile, steam snap peas until just tender, pour out water, and return peas to the pot with a little butter, salt, and pepper.
To assemble, place roasted potatoes on plate, mound the lamb atop, arrange snap peas over the meat, drizzle with herb sauce, and garnish with pea shoots.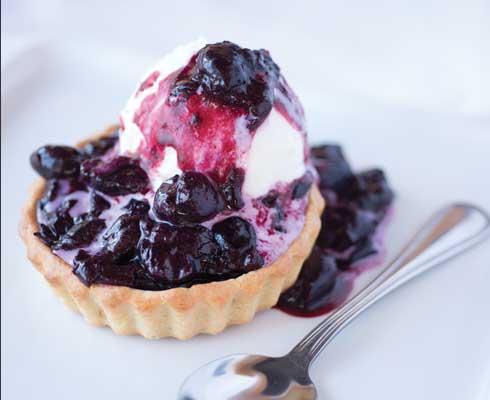 Novak's bing cherry tart looks good enough to eat.
Warm Bing Cherry and Almond Crust Tart with Coconut Ice Cream
For the Gluten-free Almond Shortcrust
3⁄4 cup almond flour
3⁄4 cup all-purpose gluten-free flour
2 tablespoons cornstarch
1/3 cup butter, melted
3 tablespoons maple syrup
2 teaspoons almond extract
Mix all ingredients together (with a pinch of sea salt) intil dough is thick and pliable . Oil individual 4-inch tart pans, then press dough into pans to about 1/8 inch thick. Bake shells at 350° F for 15–20 minutes until just baked but still white. 
For the Bing Cherry Filling 
2 pounds bing cherries (fresh or frozen)
1⁄4 cup cornstarch
Juice from 1⁄2 lemon
Sugar to taste
In a small cup, mix cornstarch and lemon juice with a fork (add a little water if it's sludgy). In a medium saucepan, cook cherries on low heat until they give up much of their moisture, about 20–30 minutes (shorter for frozen, longer for fresh). Taste cherries and add sugar to taste. Bring filling to boil on high heat. Re-stir cornstarch mix, then pull filling off heat and add cornstarch, mixing thoroughly and quickly. Return filling to medium heat, stirring as the filling becomes thicker and clearer.
Spoon filling into crusts, bake at 375° F for 15 minutes. (Save a little filling for garnish; add water to loosen the consistency.)
For the Coconut Ice Cream
1 3⁄4 cup coconut milk
1 3⁄4 cup coconut cream 
Scant 1⁄4 cup agave syrup
3⁄4 cup cane sugar
1⁄2 vanilla bean
3⁄4–1 teaspoon sea salt
In a saucepan, combine coconut milk, coconut cream, agave, and sugar. Cut vanilla bean in half and then cut open lengthwise, scraping beans into the milk mixture. Cook on medium heat until it begins to simmer. Add salt, pour into a blender, and mix on high for 1 minute. Refrigerate for 5 hours, then churn according to your ice cream maker's instructions.
To assemble, warm tarts in hot oven for 8 minutes, then top with a scoop of ice cream, pouring a bit of reserved cherry filling over it.
---
NEED TO KNOW
Among the myriad wellness activities offered at Sunrise Springs is the "Culinary Adventure for Two," which includes a trip to the Santa Fe Farmers' Market followed by a cooking class. (877) 977-8212; sunrisesprings.com