Above: Santa Fe (by way of Kenya) chef Ahmed Obo greets diners
at his popular Jambo Café.
PEOPLE COME FROM AROUND THE WORLD to savor New Mexico's renowned chile-fueled cuisine—but the world has also come to us. For a delightful detour from the norm, check out some of the savvy immigrant restaurateurs serving the dishes of their homelands in the Land of Enchantment. Albuquerque, in particular, boasts more exotic eateries than we could cover in a dozen issues. The city's International District on the east side, along Central Avenue (Route 66), has been the center of much foreign settlement since the era of Vietnam War refugees. That translates into a neighborhood rich in worldly mom-and-pop cafés. Santa Fe has attracted several notable options as well, and the following selection features other favorites from Las Cruces and Gallup.
Most of these restaurants, with a couple of significant exceptions, put more of their energy into food than décor. That simplicity pays off for diners with a lighter ka-ching at the cash register, making these spots easy to frequent, well, frequently. 
ALBUQUERQUE
AJIACO COLOMBIAN BISTRO
This Latin charmer sits one block below Central Avenue, in the heart of Nob Hill, part of a sweet, small complex that also houses the better-known P'tit Louis and Limonata bistros. Owned by a husband-and-wife team, the sleek contemporary café offers foods from diverse regions of Colombia, including a tasty version of the namesake dish. A hearty chicken-potato soup from the highlands outside of Bogotá, ajiaco is brightened with capers, crema, and avocado, among other garnishes. Should you have a small group, consider the picada, a platter that includes chopped portions of grilled steak, chorizo, morcilla (blood sausage), yuca, plantains, and more. I'm a fan of the patacón con ropa vieja, a crispy fried mashed plantain cake with criolla-style shredded stewed beef and deliciously soupy pinto beans on the side. The arepas, traditional corncakes, are especially light, and can be found in numerous preparations here. If you can make it to dessert, the coffee flan is made, of course, with 100 percent Colombian coffee.
Lunch and dinner; closed Sunday and Monday. 3216 Silver Ave. SE; (505) 266-2305; ajiacobistro.com
PAD THAI CAFÉ
The huge Talin Market can aptly be called the retail heart of Albuquerque's International District. Within Talin's grounds sits the bright new Pad Thai. Calling a Thai place "Pad Thai" could be considered akin to calling an American place "Hot Dog." That made me a touch skeptical of the café's serious intentions. However, I kept hearing about this place from Albuquerque's best food explorers, including Gil Garduño, the man behind the culinary website and blog NMGastronome.com. They were right. This is some really great eating, Thai with the Isan accent of the northeastern region, near Laos and Cambodia. The chef-owner has a deft touch for the hot, sour, salty, and sweet balance necessary for good Thai food. Do sample the pad thai, many Americans' gateway noodle dish into Thai cuisine, which here avoids the syrupy heavy-handedness all too common elsewhere. Tom kha, a soup that can be prepared with chicken or shrimp, has a sprightly broth redolent of citrus, fresh lemongrass, and galangal, a rhizome similar to ginger. The menu contains a generous assortment of curries, rice and noodle dishes, entrees like a spicy Thai basil blend with beef, and main-dish salads. The laab, a traditional Isan minced pork salad, is a swirl of sunny flavors—lime, chile, fish sauce, shallots, cilantro, and mint. Go with friends so you can sample broadly from the menu.
Lunch and dinner; closed Tuesday. 110-A Louisiana Blvd. SE; (505) 266-0567
BANH MI CODA
Across the football field of a parking lot from Talin Market and Pad Thai Café, you have to squint to spy the sign for Coda Bakery and Tofu House, better known as Banh Mi Coda. Don't miss the teeny spot, known for its full line of Vietnamese bánh mì sandwiches. The bánh mì, a harmonious melding of French and Asian inspiration, ranks among the most scrumptious sandwiches ever conceived. The ones here don't disappoint. You order at the counter from about a dozen options, all served on Coda's freshly baked baguettes, with the requisite crusty surface and soft center. Choose from meats such as grilled pork or meatballs, or perhaps shrimp sausage, chicken, fried egg, or tofu. On top of that will be piled pork pâte (except on the vegetarian options), pickled vegetables, and slices of jalapeño. Chow down at one of the handful of small tables or get sandwiches to go. There are pastries and smoothies, too, all at ridiculously great prices.
Open daily, mid-morning to 7 p.m. 230 Louisiana Blvd. SE; (505) 232-0085
BUDAI GOURMET CHINESE
If I get in the mood for Chinese but don't want to make it myself, I'll drive a good hour to Budai, in a northeast Albuquerque shopping strip. The restaurant's exterior is dwarfed by the sign for a dollar store next door, but you forget all about the surrounds once you enter the elegantly soothing dining room. You are in the care now of fine Chinese chef Hsia Fang and his wife, Elsa, who likely will greet you as you enter. The menu's core is Taiwanese, like the chef and his wife, but he riffs on dishes from southern China, Shanghai, and Singapore, too. I am a fan of the black pepper lamb, soup dumplings, and any of the duck dishes. Ask Elsa to see the not-so-secret menu of gutsier preparations like Taiwanese three-cup rabbit with ginger, basil, and rice wine; succulent Shanghai dong po braised pork belly; and a variety of offal offerings.
Lunch and dinner; closed Monday. 6300 San Mateo Blvd. NE, Far North Shopping Center; (505) 797-7898; budaigourmet.com
FU YUANG
Korean is one of the hottest food trends nationally, whether traditional bulgogi barbecue or cross-cultural taco mash-ups. The Yi family, though, has a long history in the Albuquerque restaurant business (back to 1980), and has operated Fu Yuang for over a decade. The family serves mostly traditional Korean such as that bulgogi, made with rib eye here. The menu features some really interesting soups and stews—in particular galbitang, made with beef ribs, and taegigogi kimchi jiege, with shredded pork shoulder and spicy fermented kimchi. Chinese dishes are on the menu too.
Lunch and dinner; closed Sunday and Monday. 3107 Eubank Blvd. NE, Scottsdale Village Shopping Center; (505) 298-8989
TULLY'S ITALIAN DELI & MEATS AND SARATORI'S DI TULLY PASTRY SHOPPE
A real-deal, old-school Italian deli-cum-meat-market, Tully's is known for its classic sub sandwiches. Whether you want meatballs and marinara, homemade Italian sausage, the over-the-top Joe DiMaggio combo, or even something more modern like "Tuscan turkey ciabatta," this is your place. You order at the back counter among the displays of meats and cheeses, and a member of the Camuglia family, owners since 1970, whips up your sandwich. While you wait, peruse the tempting grocery section that fills half the place. It has yummy imports, such as pastas and the jars of Calabrian chiles in oil that I always covet, as well as a freezer case full of house-made lasagna, eggplant Parmesan, chicken piccata, and other classics. You might consider sharing that sandwich so that you have room for freshly filled cannoli from the family's bakery, two doors down in this small strip shopping center. Even if you don't have room for dessert, come and take a look at samples of grand wedding and birthday cakes, including the technicolor Venetian rainbow cake. I bet you'll leave with, at the very least, a sampler of biscotti or other Italian cookies to munch later.
Lunch, Monday through Saturday. 1425 San Mateo Blvd. NE; (505) 255-5370 (deli), (505) 268-2627 (bakery); tullysitaliandeli.com 
SANTA FE
SHOHKO CAFÉ
Shohko and Hiro Fukuda were Japanese hippie artists traveling the US more than 40 years ago when they decided Santa Fe was a spot they could settle in. On a whim, the couple set up a booth serving teriyaki and yakitori to a Fiesta de Santa Fe crowd more used to burritos and Frito pies. The delighted response spurred them to open a café a few blocks from the Plaza. At first, they served a few simple Japanese specialties and more generic dishes like chow mein for an audience unaccustomed to Asian eating. The menu became much more authentic by the time the café moved to an old adobe on Johnson Street in 1980. The Fukudas added New Mexico's first sushi bar just as raw fish on rice was on its way to becoming an improbable American sensation. Shohko herself can still be found behind the sushi bar many days, and Hiro keeps things going behind the scenes, while daughters Ayame and Iba have joined them in running the restaurant. Today, the family serves Wagyu beef, mostly organic produce, and perhaps the broadest array of top-quality seafood in the state. Whatever the craving—sushi, sashimi, ramen, tempura, tonkatsu, seaweed, or spicy ahi salad—Shohko provides beautifully presented plates and a full selection of premium sakes, beer, and wine in a sleek, chic environment.
Lunch Monday–Friday, dinner Monday–Saturday; fragrance-free, please. 321 Johnson St.; (505) 982-9708; shohkocafe.com
JAMBO CAFÉ
Jambo sits between Petco and Office Depot in a shopping strip near the busy intersection of Cerrillos Road and St. Michael's Drive. It's a long way from the island of Lamu, off the coast of Kenya, where chef-owner Ahmed Obo learned from his mother to cook the vibrant local cuisine. Don't miss the exceptional soups, because Ahmed reigns as four-peat winner of the local Souper Bowl competition. In addition to East African dishes from his childhood, Ahmed's kitchen serves Moroccan and Afro-Caribbean specialties. Jambo is probably the only place in Santa Fe to find curried goat stew regularly, not to mention jerk chicken, banana leaf–wrapped mahi mahi, and sandwiches with an exotic flair. You can count on plenty of gluten-free, vegetarian, and vegan options, as well as beer and wine, in this delightfully transformed storefront.
Lunch and dinner; closed Sunday. 2010 Cerrillos Road; (505) 473-1269; jambocafe.net
PAPER DOSA
Chef Paulraj Karuppasamy and his wife, Santa Fean Nellie Tischler, started Paper Dosa as a pop-up business, wowing diners with their South Indian dishes from Chef Paul's original home. By the time the couple opened their attractive brick-and-mortar restaurant in midtown, they had a huge following craving a cuisine not known here before. The menu emphasizes fresh herbs, coconut milk, seafood, and flatbreads made of fermented doughs, tortilla-like dosas, and smaller uttapams. Don't miss the pakoras, a South Indian version of onion rings, good for dunking in chutney. I particularly love their curry-leaf corn soup as a summer dish. Curries are always featured on the concise menu, as are plenty of gluten-free, vegetarian, and vegan options. Match any of them with quality wine or beer pairings.
Dinner only; closed Monday. 551 W. Cordova Road; (505) 930- 5521; paper-dosa.com
GALLUP
BOMBAY RESTAURANT & GRILL
When traveling, I often go looking for the Chinese lunch buffets that have sprung up across America's small towns, to avoid the franchise world of Anywhere, USA. At least some of their vegetables, I hope, will not be french-fried. Thanks to our March issue readers' choice restaurant survey (nmmag.us/nmbesteats), I now have a northern Indian variation on that theme, at the far west end of Gallup. To find the Bombay Restaurant, near the intersection of I-40 and Route 66, keep your eyes peeled for the bustling U Save Truck Stop, and turn in. Four years ago, Punjab-born Parminder "Paul" Singh fashioned this restaurant out of the U Save's defunct basic truck-stop café. Singh came to Gallup, having heard that Indian drivers of trucks and other countrymen were wishing for food from home along this stretch of the interstate. He added satellite TV capable of bringing in Indian cricket matches and other sports, tacked a smattering of Indian fabrics to the walls, and placed some artificial flowers on the tables. A steady stream of Indians and in-the-know others stop in for the simple buffet that runs until 4 p.m. each day, after which patrons order à la carte from a menu of northern Indian dishes. The buffet isn't expansive but, for $11, covers the bases with dishes like butter chicken and meatballs in curry, along with vegetarian options of chickpeas and my favorite, saag (creamy spinach), with perhaps rice pudding to wrap up the meal. The star of the meal is the naan flatbread, delivered hot from the kitchen's tandoori oven.
Breakfast through dinner daily. 3405 West Historic Route 66 at I-40 Exit 16; (505) 488-2920
LAS CRUCES
INTERNATIONAL DELIGHTS CAFÉ
Near New Mexico State University, this cheerful plant-filled café with a shaded patio serves up North African, Greek, and Middle Eastern specialties, including some good vegetarian and vegan choices. To start the day, jolt awake with strong Turkish coffee from the espresso bar and pair it, perhaps, with fruit-topped croissant French toast. If savory is more your morning's desire, try the Middle Eastern plate of falafel, hummus, olives, feta, and more. The falafel and hummus come in more combos later in the day, and are supplemented by salads and grilled fare such as lamb gyros,chicken kebabs, and more. On Fridays, the café menu adds a fragrant couscous with lamb shanks. International Delights offers a large line of imported groceries for those who want to cook for themselves.
Breakfast through dinner daily. 1245 El Paseo Road, Brazito Plaza; (575) 647-5956; internationaldelightscafe.com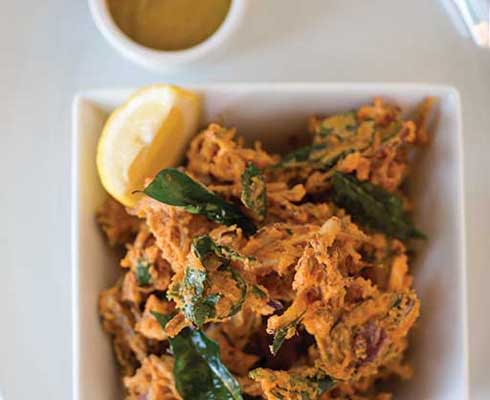 Onion Pakora from Paper Dosa, in Santa Fe.
Paper Dosa's Onion Pakora
Serves 4 as an appetizer
Onion pakora are akin to onion rings. The more exotic-sounding ingredients can be found in Asian markets such as Talin in Santa Fe and Albuquerque, or even at well-stocked supermarkets like Whole Foods.
1 cup chickpea (besan) flour
1⁄4 cup rice flour
1⁄2 cup dried curry leaves
1 teaspoon minced fresh ginger
1 small garlic clove, minced
Pinch or 2 ground ajwain seed
Pinch or 2 ground fennel seed
Pinch or 2 dried ground red chile
Pinch or 2 salt
Water
Several cups vegetable oil
1 large red onion, sliced in thin rounds and separated into rings
Favorite chutney
Combine the chickpea flour and rice flour in a medium bowl. Mix in curry leaves, ginger, garlic, ajwain, fennel, red chile, salt, and enough water to make a somewhat thin batter.
Heat oil in a deep, heavy saucepan to 375° F. Dunk onion rings several at a time into batter. Let excess drip back into bowl. Fry rings a few at a time, just briefly, until batter is lightly browned and crisp. Drain on a baking rack over paper towels. Fry remaining rings. Serve right away with your choice of chutney.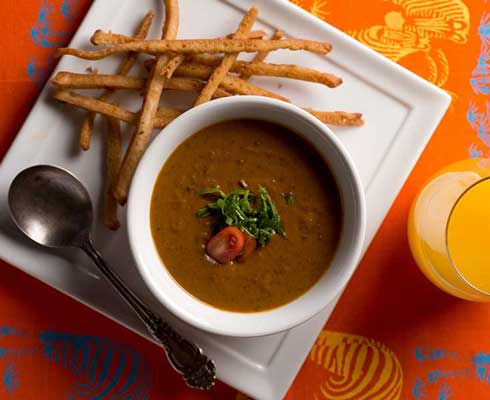 Curried black bean and sweet potato soup from Jambo Café.
Chef Ahmed M. Obo's Curried Black Bean and Sweet Potato Soup
Serves 4 to 6
One of Jambo Café's most popular soups, this won Chef Obo one of his Souper Bowl trophies at a popular annual Santa Fe fundraiser for the Food Depot.
1⁄2 cup olive oil
1 small to medium yellow onion, chopped
2 tablespoons grated fresh ginger
1 tablespoon minced garlic
11⁄2 tablespoons curry powder
1 tablespoon ground coriander
1 tablespoon ground cumin
1⁄2 tablespoon ground turmeric
1 tablespoon ground ginger
1 tablespoon dried thyme
2 tablespoons tomato paste
1 cup Roma tomatoes, diced
2 cups whole black beans, cooked, or 15-ounce can black beans, drained and rinsed
2 large sweet potatoes, peeled and diced
4 cups vegetable stock
13.5-ounce can coconut milk
2 tablespoons dry sherry
2 tablespoons rice wine vinegar
Salt
Over medium heat in a medium-to-large soup pot, heat the olive oil until shimmering. Add the onion, ginger, and garlic and sauté 3 to 5 minutes until soft. Add the spices from the curry to thyme and cook for 2 to 3 minutes until the aroma of the spices pops. Add the tomato paste, mixing well for 1 minute. Add the Roma tomatoes and cook for 3 minutes until a paste forms. Stir in the black beans, sweet potatoes, and vegetable stock. Bring to a boil and reduce heat; simmer for 15 to 20 minutes until the vegetables are soft. Pour in the coconut milk, sherry, and rice wine vinegar. Stir well and add salt to taste. Cook for an additional 10 to 15 minutes on low to allow all the flavors to marry.
Turn off the stove and allow the soup to cool for 10 minutes. Using an immersion blender, puree the mixture to a creamy soup consistency. Add more stock as needed. If you don't have an immersion blender, puree the mixture in batches in your blender. Heat up the soup over medium heat for 5 to 10 minutes to serve hot.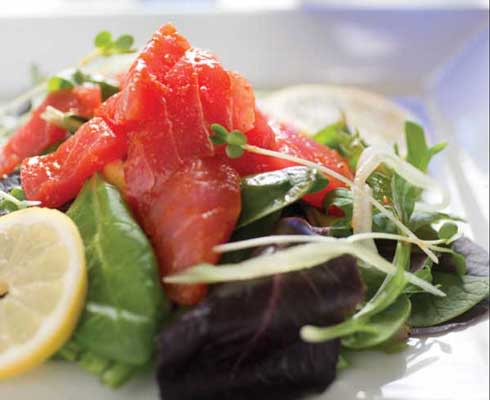 Spicy Ahi (Tuna) Salad from Shohko Café, a go-to place for seafood.
Spicy Ahi (Tuna) Salad
Serves 4
Shohko Café doesn't share its recipes. However, Ayame Fukuda smilingly gave me her blessing to create my own salad based on theirs. Make the dressing ahead if you wish, but don't cut the tuna or assemble until shortly before you plan to serve the salad. You can find high-quality tuna in seafood markets, including the counter at Whole Foods. Some worthy salad additions are a sprinkling of toasted sesame seeds, cilantro leaves, chopped cucumber, or chopped avocado.
1 pound very sashimi-grade tuna, well chilled, cut in 1⁄2-inch cubes
Approximately 1⁄2 pound mixed salad greens
For the Dressing
3 tablespoons soy sauce
2 tablespoons vegetable oil
1 tablespoon sriracha hot sauce
1 tablespoon toasted sesame oil
1 tablespoon rice vinegar or fresh lemon juice
Pinch of sugar
In a small bowl, whisk together the salad dressing. Toss 2 tablespoons of the dressing with the tuna cubes. Toss the rest with the salad greens. Plate the greens immediately and scatter the tuna cubes over each. Serve right away.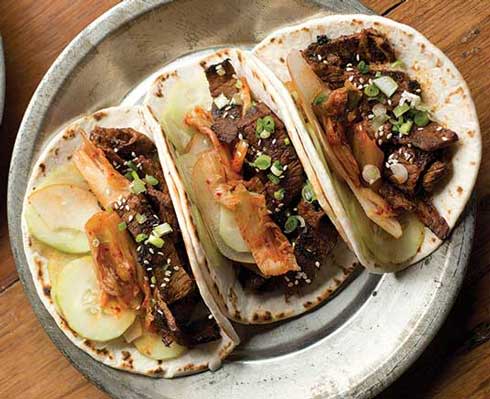 Korean barbecue meets New Mexico in a bulgogi taco.
Bulgogi
Serves 4
Korean barbecue makes a great summer dish. If you want to try the current food-truck sensation, the Korean taco, use the meat to fill warm corn tortillas, then top with some store-bought kimchi.
1 pound beef rib eye, sirloin, skirt, or flank steak
For the Marinade
3⁄4 cup pear nectar or 1 small Asian or Bosc pear, chopped
2 tablespoons soy sauce
2 plump garlic cloves
1 tablespoon chopped ginger
1 tablespoon brown sugar
1 tablespoon toasted Asian sesame oil
1 tablespoon gochugaru (Korean red pepper flakes) or 11⁄2 teaspoons crushed New Mexican red chile flakes
1 chopped scallion
Optional garnishes: Lettuce leaves, sesame seeds (toasted in a dry skillet), cucumber slices, Asian or Bosc pear slices, sliced or chopped scallions
Place meat in freezer for about 15 minutes while you organize ingredients and make marinade.
Combine marinade ingredients in a food processor and process until smooth.
Slice chilled meat across the grain in the thinnest slices you can manage. Place meat in a gallon resealable plastic bag or deep bowl, pour the marinade over the meat, and mix well. Refrigerate at least 30 minutes and up to overnight.
Heat a large cast-iron skillet over high and, watching for splatters, pour in marinade with beef. Stir frequently, to cook beef evenly and reduce marinade. Most of the liquid should evaporate and meat should have some dark brown edges. Spoon onto a platter and serve with your choice of garnishes.