GUIDELINES FOR FARM AND RANCH FUN
We've verified accuracy prior to press time, but these are small businesses that can be affected by everything from weather to the timing of a grandchild's wedding. Call ahead.
Pack a cooler to keep your purchases from wilting in a hot car.
At farm stands and farmers' markets, vendors are likely to close up shop when they run out. Go early to avoid disappointment, or call ahead to confirm availability.
U-Pick Advice: Slather on sunscreen, bring insect repellent, and wear long-sleeved shirts and sturdy shoes or boots. Most U-picks will give you a bucket, basket, or bag, but it helps to bring your own.
Typically, pets are not allowed, even at farmers' markets.
Bring cash for farm purchases; wine and beer tastings sometimes have a charge.
Download Road Trip Listings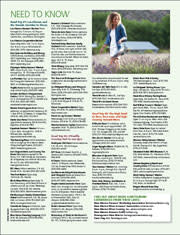 THE TIME OF YEAR HAS COME TO dig up the dirt on harvest season. This time we're starting from Pojoaque and pointing northward into the Río Grande Valley, then spurring west into O'Keeffe country, or up the High Road and over to the eastern front of the Sangre de Cristos. Along the way we'll find no shortage of traditional regional products, of course—corn, beans, chiles, fruit— but also jumbo pink banana squash, scarlet queen turnips, red rubin basil, or green zebra tomatoes. We'll visit farm stands, pick raspberries, stop to smell the lavender. This is the season for connecting with New Mexico's deep agrarian roots, supporting our farmers and ranchers, and showing the kids that carrots—especially of the cosmic purple variety—do not originate in a plastic bag.
North-central New Mexico supports numerous farmers' markets, and they tend to be small celebratory affairs where you can easily park, and growers have time to talk with you about how and where they farm. Since many of the farms that hug the Río Grande corridor don't have extra staff to welcome guests, or on-site stands where you buy their produce, the markets are one of the best ways to get an overview of our agricultural bounty and the hardy souls who produce it.
You'll also find quite a few wineries listed on these road trips. These businesses grow at least some of their own grapes on-site for "estate bottlings," or buy other New Mexico grapes for their winemaking. We even give a few cheers to microbreweries that use local ingredients, and one distillery.
Interspersed, you'll find some farm-style lodgings, so you can extend your Trip to Bountiful.
ROAD TRIP #1:
Los Alamos and Río Grande Corridor
The Río Grande and its tributaries give life to the small farms and orchards that dot northern river valleys like freckles on a fair-haired eight-year-old. A trip up through agricultural villages like Velarde and Dixon is a step back in time to sustainable family farming; in fact, Dixon has the largest concentration of organic farmers in the state. Climb to the heights of Los Alamos to find a distillery and a most engaging farmers' market.
Road Trip Key:
Los Alamos
Los Alamos Farmers' MarketI relish the drive up "the hill" as the sun rises in the morning sky, then enjoy meandering through the market, surrounded by green lawns across from Ashley Pond. It has just about everything you could want, and farmers have time to chat about their farm and produce. ➊ ➋
Los Alamos Cooperative Market This market does a heroic job of featuring virtually all organically grown produce. It's also a good place to pick up grass-fed New Mexican meats, and even peanuts from Portales. ➊ ➋ ➐
Don Quixote Distillery and Winery Don Quixote handcrafts small-batch spirits and was the state's first distillery. Ron and Ohla Dolin produce the only bourbon and vodka made from blue corn in New Mexico, and make a gin using New Mexico botanicals, as well as brandy, pisco, grappa, Calvados, and cherry eau de vie. They make 17 table wines, dessert wines, and ports, a line of chocolates, and vanilla and other extracts. Check their website for upcoming classes. They also have a convenient tasting room on U.S. 84 in Pojoaque. ➍ ➏
Pojoaque/Nambé
Pojoaque Farmers' Market Pojoaque Pueblo's Poeh Cultural Center and Museum includes a series of rustic ramadas that shelter vendors offering crops from the Pueblo's own 12-acre farm and other growers in the area. I run up there from Tesuque a couple of afternoons a week to pick up a few vegetables for dinner. Expect many varieties of apples, grapes, peaches, plums, and other fruit. ➊ ➋
Los Portales The Vinaigrette restaurants in Albuquerque and Santa Fe get some three-quarters of their top-notch organic produce from owner Erin Wade's farm in Nambé. Wade offers a few harvest-season tours each year. The bucolic 10-acre farm and its greenhouse fairly burst with tomatoes, potatoes, greens, and other crops. ➊ ➋ ➎
Trujillo Farm I consider Trujillo Farm's fresh Nambé green chile to be the best, and that has been confirmed by local Hispanic friends. The Trujillos have four generations of family involved in the business. You can visit the farm, where the family still raises chile along with corn and other crops. Much of their business is in dried posole and spice blends, fresh salsa, other condiments, and Rose's homemade tamales. ➋ ➎
Estrella del Norte Vineyard and Casitas Richard and Eileen Reinders' estate is a gem of a place to spend a weekend afternoon. They make some two-dozen wines, from grapes as different as mour-vèdre and Riesling. Check out the distinctive Geronimo's Gold, made from their apples. This dessert wine has a smooth apple flavor with a robust, port-style finish. The winery has a great array of special events. On September 14, Chef-owner Matt Yohalem, of Santa Fe's Il Piatto, will present an Italian harvest dinner in the vineyard. Reserve soon. The Santa Fe School of Cooking hosts occasional classes here ($85–$145; 505-983-4511; santafeschoolofcooking.com), featuring food from the wood-burning grill and details on New Mexico wine history. The owners of the winery have two quaint casitas that can be rented for a wine-country experience: one at the winery property, the other at the nearby Nambé Valley vineyard.
➍ ➏ ➑
La Mesilla/Española
Monte Vista Organic Farm This past February, David and Loretta Fresquez were honored by the Santa Fe Farmers' Market Institute as Organic Farmers of the Year. Among their crops are spinach, garlic, many varieties of potatoes, exotic pumpkins and squashes, and raspberries bursting with flavor and crimson juice. ➊ ➋ ➍
Santa Cruz Farms Don Bustos farms a piece of land granted to his family more than 300 years ago by the King of Spain. He pretty much farms as they did then, with nothing more than solar energy to aid his efforts. Today, the property sits right in Española, not far from U.S. 84, the central corridor though town. With the help of family and a group of interns, Don grows a whopping 70 varieties of certified organic fruits and vegetables. He's hoping for a great blackberry season this fall, and will have plenty of green chile and other vegetables. ➊ ➋ ➍
Española Farmers' Market At this outdoor market, expect horno cooking demonstrations, heritage chiles, Spanish squash, and a variety of corn and corn products, along with loads of other vegetables, fruit, and specialty items. Make sure to get Susie Lucero's chokecherry preserves. ➊ ➋
Ohkay Owingeh Pueblo
The Feasting Place By reservation, Norma and Hutch Naranjo welcome guests to their Pueblo home for hands-on classes in horno baking and preparing feast-day meals. Classes typically last about half a day and include a full meal. On request, Norma makes up baskets from their extensive garden at Hutch's nearby Santa Clara Pueblo. A basket might include horno-dried chicos, dried or fresh chiles, squash, beans, and, this time of year, tomatoes and cucumbers. ➋ ➎ ➏
Alcalde/Los Luceros
Ice's Organic Farm and Ice's Country Tea Room Energetic, congenial "retirees" Gayle and Ron Ice sell at the Los Alamos and Santa Fe farmers' markets. They'll be happy to greet you at their certified-organic farm, too, where you can buy produce, or Gayle's jams, jellies, vinegars, dip mixes, and more, all made on-site. By reservation only, you can also experience Gayle's lovely take on the afternoon tea-room concept. For only $25 each, guests are seated on the Ices' screened porch, where they may choose hot or iced tea, and then be served a full meal's worth of farm goodies, often starting with deviled eggs, then salad, small tea sandwiches, homemade breads and jams, probably a hot dish, and sweet nibbles to finish. ➊ ➋ ➍ ➐
RZ's Bees Ricardo Sanchez's local raw honey (a mix of clover, alfalfa, and wildflower) and beeswax products provide a real sweet spot on this trip. ➍
Velarde/La Canova
The Fruit Basket The Velarde family operates one of the most festive farm stands in the north. The eaves hold glorious fresh ristras from end to end. You'll spot it from half a mile away coming into town; it's in the middle of the village, on the highway's west side. Find local chiles, ristras, and wreaths, their own salsa, spices, and—depending on the season—apples, pears, cherries, plums, apricots, and more from orchards just beyond the stand. ➋ ➍
Black Mesa Winery Some 25 very different wines are made at Black Mesa, and the top seller is the chocolate-enhanced Black Beauty. All wines produced at the winery are made from grapes grown in northern and southern New Mexico, and are bottled and cellared near the tasting room. ➍
Pat Montoya's Family Orchard Pat and Juanita Montoya specialize in apples, apple cider, apple wood for grilling and smoking, and other fruit products. Pat is known at farmers' markets in Santa Fe, Taos, and Los Alamos as the "apple-slushie man." The 12-acre family orchard is in La Canova, right on the Río Grande, near Velarde. The apples, grown with organic practices, include Double Red Delicious, Golden Delicious, Jonathan, Fuji, Gala, Rome, Granny Smith, and Winesap. The farm also grows peaches, pears, apricots, and cherries, and the family makes jams and jellies from the surplus. Don't miss their chile jelly. If weather conditions allow, you should find watermelons, cucumbers, and a field of decorative chiles, too. ➋ ➍
Embudo
Comida de Campos. Mother-daughter team Eremita and Margaret Campos's three-acre farm, Algo Nativo, nestles between the west bank of the Río and a bank of sheer cliffs. It's a serene spot. They offer occasional traditional cooking classes in an outdoor kitchen with an horno and have a cottage for overnights. ➋ ➎ ➏ ➑
Blue Heron Brewing Company From pale ale to porter to pilsner, Scott and Kristin Hennelly brew it all themselves. They like to use local hops when available, especially for seasonal brews like Autumn Sun, a smooth, light ale. They feature one wine, too: Blue Heron Blanc, made for them by La Chiripada, the nearby winery owned by Kristin's brother. ➍
Romero's Orchard Clovis Romero's roots in the Embudo Valley run deep. His family settled in Embudo in the 18th century, and his father, Octaviano, planted the original orchard a century ago. Clovis has been tending the orchard and farming it since 1964, and has been named Farmer of the Year by multiple organizations. Romero's Orchard consists of 10 lovingly tended acres adjacent to the Río Embudo, overlooking volcanic mesas and hills. The bulk of his 330 trees are apples, including Red and Golden Delicious, Rome, Winesap, Stamen Winesap, McIntosh, Jonathans (my favorite for apple crisp), and various heirloom summer apples. Romero also has four varieties of peach, several kinds of apricot, sugar and Bartlett pears, and Italian plums. He sells the fruit at the farm and offers U-pick, usually through the Dixon Studio Tour in early November. Because of spring freezes, he expects a very light crop this year. ➋ ➌ ➍
Dixon
Talon de Gato Farm Santa Fe Farmers' Market regulars Adam Mackie and Steve Jenison welcome visitors to their farm, east of Dixon. Signature crops for them include wildly popular shishito and padrón peppers, and the only French chile, the Espelette. They grow blue corn for a delicious stone-ground cornmeal. Early-season crops include asparagus and rhubarb, and later they have spinach, broccoli rabe, butternut squash, and an array of alliums—leeks, shallots, garlic, and onions. They raise fruit trees and hops, too. Produce is grown using environmentally sound and sustainable practices, and the entire farm now operates off a solar system. ➋ ➍
Fred and Ruby Martinez Family Orchard This orchard sits at the mouth of the Río Embudo canyon, Cañoncito, just a bit east of Dixon. Fred and his dad, Delfin, installed wind turbines in 1964 to heat their orchard, and the family may be the only orchardists in this area who have had a fruit crop every year since. It will be a little smaller this year because much of his 23 acres of fruit trees were out of range of the turbines during the intense late-winter freezes. "I'll still have Galas, Fujis, Yellow Delicious, and Rome Beauties," he says, "and I just discovered that I have some Jonathans that made it through the freeze too. I'll put up my signs so people can find me when they begin ripening."
The family irrigates their orchard from one of the 10 acequias off the Río Embudo, and uses an integrated pest-management system. This approach allows them to spray the orchard only once in the spring, unlike many fruit farmers who have to spray throughout the season. ➋ ➍
Vivác Winery The Padberg family owns and operates this little gem, now celebrating its 10th anniversary. The adobe tasting room, surrounded by vines and flowers, sits at the intersection of N.M. 68 with N.M. 75. The winery has an estate-bottled red blend, and numerous other wines in styles from sweet to full-bodied dry. One that I've enjoyed over several vintages is the Dolcetto, a light-bodied dry red with a somewhat smoky finish that's friendly to a broad range of foods. Visitors can try pre-set tasting tours of selected wines or create their own tasting à la carte. Wine flights showcasing three wines with either a savory plate or house-made chocolate truffles are also available.
On Saturday, October 5, the Vivác gang hosts its Annual Picking Party, a favorite event for members of its wine club—and membership is free with online sign-up. Members spend the morning picking grapes in the Fire Vineyard alongside the winemakers, then relax with a fancy, four-course catered meal paired with lots of the winery's bottlings ($35/person includes the meal, wine, and a bottle of Fire Vineyard red to take home). Contact michele@vivacwinery.com to reserve. For a wickedly fun time, arrive on Saturday, October 26, for the annual family-style Halloween Party: costume contests for kids and adults, live music, and drink specials (free admission). ➌ ➍ ➐
Zuly's Café This cheerful and relaxed family-run café uses lots of ingredients from area farms and fields. New Mexican food is the specialty, but you'll see (by perusing the blackboard menu) that there's a little something for everyone. A good stop for high-quality coffee, too. ➍ ➐
The Tower at El Bosque Farm This singular accommodation puts you in the midst of a quiet working farm in the Embudo River valley. The lower, river-stone part of the structure originally served as a writing studio for owner and author Stanley Crawford. After adding on to their own home, Stan and his vivacious wife, RoseMary, expanded the studio into a guesthouse, with a downstairs bedroom, upstairs sleeping loft with futon, and balcony. The views of fertile fields and nighttime stars are worth more than the price of the whole stay.
Up to four guests can relax in tranquility, with amenities like Internet service, a washer-dryer, and your own full kitchen. Picking farm produce to go with just-laid eggs from the Crawfords' chickens is an absolute delight. Just a stone's throw from Dixon. ➌ ➎ ➑
La Chiripada Winery and Vineyard A chiripada is "a stroke of luck," and owners Michael and Patrick Johnson feel the name is apt—they've made a living in the wine business for some 30 years now. Their signature wines, Special Reserve Riesling, Río Embudo Red, and Río Embudo Red Reserve Selection, are made from grapes grown at their vineyard in the Río Embudo Valley.
Warm summer days and cool, clear nights combine with rich, sandy loam to create ideal conditions for the cultivation of grapes, but the winters at 6,100 feet made the Johnsons choose cultivars capable of withstanding cold and a short growing season. Other wines, including viognier and Shiraz, are made here from grapes grown elsewhere in New Mexico. A charming spot. Open daily.
Sopyn's Fruit Stand Come late summer, this simple roadside stand bursts with chile ristras and wreaths, dried herb and flower bundles, plump pumpkins, all manner of squashes, and, in a good year, lots of fruit. ➍
Dixon Cooperative Market This village institution, really the heartbeat of the community, is open daily to sell produce, condiments, and meats from many area growers and producers. For instance, you can't get fresher beef than from JR Ranch, in nearby Lyden, owned by Joe and Betty Romero. Their Black Angus Vaquero Beef is also USDA-inspected and -certified Natural: no hormones or antibiotics, and the cattle spend their time between the ranch and the lush meadows above Peñasco and Truchas.
Through October, the co-op plays host to the Dixon Co-op Farmers' Market. ➊ ➋ ➍ ➐
Mission Embudo Casitas. This rustic but inviting old adobe, smack in the center of Dixon, was originally the Presbyterian Mission Building. The simple lodgings here include two casitas each sleeping two, and a three-bedroom apartment that sleeps up to 10. All open onto a peaceful inner courtyard with grapevines, roses, and apricot and apple trees. You're not on a farm, but you're in the midst of this lively but low-key farming community. The rates are very reasonable, and the property is available as a group retreat center. ➎ ➑
This is the first of three foodie-friendly roadtrips appearing in the Sept. 2013 edition of New Mexico Magazine. One road trip a week will be posted on the website, or, you can purchase the magazine today to see all three now.