IN 1943, HUNDREDS OF SCIENTISTS CAME TO NEW MEXICO to build an atomic bomb before the Nazis could. J. Robert Oppenheimer and his team toiled in a top-secret laboratory located at a former boys' school and made history when they detonated the world's first atomic bomb—nicknamed "the gadget"—sending a mushroom cloud into the sky near Alamogordo on July 16, 1945. This summer, the story comes to the big screen in Christopher Nolan's Oppenheimer, which was filmed in Los Alamos and Santa Fe. See the movie and then hit the road to learn more.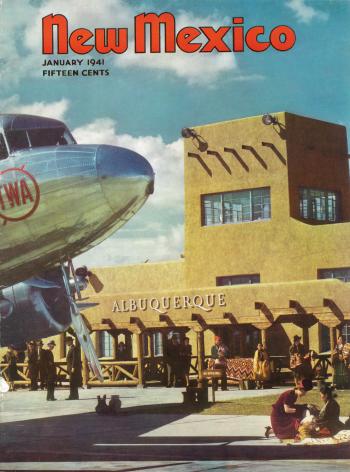 ON THE COVER
January 1941
Albuquerque's Municipal Airport was captured on Kodachrome by TWA and reproduced in three colors.
Start at Albuquerque's National Museum of Nuclear Science & History. Its newest exhibit, At Play in the Atomic Age, showcases the A-bomb's influence on toys, movies, and comic books, through 2023. "We have the largest collection of unclassified nuclear weapons in the world," says Jennifer Hayden, the museum's president.
In Santa Fe, a plaque commemorates the receiving office at 109 East Palace Avenue, where new scientists and their families checked in for transport to Los Alamos.
The Los Alamos History Museum provides daily walking tours of the historic campus where the scientists lived and worked.
The Bradbury Science Museum, in Los Alamos, hosts a special Oppenheimer installation in July and August, featuring his notes, a personal copy of the Bhagavad Gita, and other rarities.
Chow down on the green chile cheeseburgers that nourished Trinity Site scientists at the Original Owl Bar & Café, in San Antonio.
The Manhattan Project National Historical Park hosts exclusive "behind the fence" tours (October 18–20) of Los Alamos National Laboratory property.
Visit ground zero for the gadget during the biannual Trinity Site Open House (October 21).
Read more: For this daughter of Santa Fe, how you prepare your chile is who you are. 
SITE PLANS
New Mexico's historic sites and desert landscapes play major roles in Oppenheimer.
Oppenheimer House. Originally built in 1929 for Los Alamos Ranch School director A.J. Connell's sister, and located within the Manhattan Project historical park, this building was home to the lab director and his family from 1943 to 1945 and is in the process of becoming a museum. nmmag.us/oppenheimerhouse
Fuller Lodge. The Ranch School dining hall became a community center for Manhattan Project workers. Designed by architect John Gaw Meem, the lodge now welcomes visitors as a historic site and arts center. losalamosartscouncil.org
Lamy Train Station. The Atchison, Topeka and Santa Fe Railway depot was the first dusty stop in New Mexico for scientists making their way to the lab. nmmag.us/lamystation