NEW MEXICO'S WEATHER creates micro-climates everywhere, which makes weather forecasting tricky. After 33 years as a weatherman on KOB 4, Steve Stucker spent his last morning in front of a green screen on March 31. Originally from Iowa, Stucker began his career here on the radio before joining the Albuquerque station in May 1990. His decades of morning forecasting have given him a deep understanding of New Mexico's unique weather patterns. Now that he has a bit more time, you might find him working with Beds4Kidz, the nonprofit he founded 10 years ago, or cruising down a highway stretch on his Harley-Davidson Electra Glide Ultra Classic on a summer day.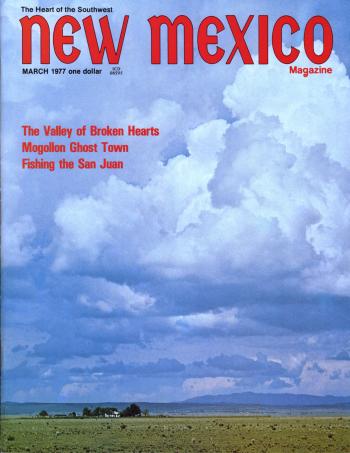 ON THE COVER
March 1977
Fred Stimson photographed what some called the "Valley of Broken Hearts" for a story by John L. Sinclair.
OUR STATE IS SO BIG. If you prefer cooler weather—an hour and a half, two hours, you're there. If you prefer to be in the desert, you just hop on the interstate; in a couple of hours you're in Las Cruces or White Sands National Park.
All of my 40 years have been either in Santa Fe or Albuquerque, but I traveled the rest of the state, and there are variances everywhere. We go from deserts to high deserts to mountaintops and valleys and everything in between. So the weather is very, very different.
We are a very temperate climate. But we really do get four seasons, and not a lot of places as warm as we are can claim that. I swear that we have a blue sky unlike any other place in the United States. When we have our perfectly clear sky, it's a blue that I just don't recognize anywhere else.
Summertime is by far my favorite season. I love the hot days and the cooler evenings. It's amazing how, with our higher elevation and our low humidity, we can sizzle at 90 to 100 degrees at six o'clock, and by seven thirty to eight o'clock we've cooled down into the sixties. I just hate to see it go at the end of every August. But then fall comes in and I'm like, What was I complaining about? Fall is spectacular.
Life itself has seasons. Sometimes they're very difficult seasons. We go through hard times—it might be physical, financial, spiritual, or emotional. But if we keep an even keel, keep moving forward, and do what we say we believe in doing, then, almost invariably, it comes back around again.
Read more: ​​​​​This touchstone is inlaid with culture and history.
HOT TOPICS
Retired KOB 4 weatherman Steve Stucker talks about some of his favorite elements of our weather.
Monsoons. "Living here taught me that monsoon season doesn't mean flooding season—it means seasonal rains. It's really our lifeblood. Here in the land of high desert, the monsoon is generally a very, very good thing."
Night skies. "There is nothing that will ever erase my memories of taking my young daughters camping up in the Pecos Wilderness and just being stunned at the stars."
The Albuquerque Box. "It's a combination of our geography and our prevailing wind patterns. I think that's one of the reasons that the Albuquerque International Balloon Fiesta has become so gigantic and so spectacular. It's not available anyplace else on earth."
OUR SOPAIPILLAS ARE TO FRY FOR
"At Napolito, we make our sopaipillas by hand. We have a lady who comes in every morning and makes the dough. Then we roll it out like a tortilla and fry it until it puffs up. We've been making them this way since 1964. People like to come in and have a sopaipilla with a cup of coffee. Many people like to have a sopaipilla after a meal, because it's something sweet but not too sweet."
—Victor Gallegos, manager of Nopalito Restaurant, the Las Cruces eatery opened by his parents in 1964