S.M. Chavez in the studio. Courtesy of Sean Michael Chavez.
IN PIERRE-AUGUSTE RENOIR'S Dance at Bougival, a couple sways in a community square. She's dressed in white, with a red hat. He's in a blue suit with a hat that mirrors the yellow in the trees. On the concrete floor lies a cigarette butt, crushed by their dancing feet.  
That cigarette butt opened up a world of exploration for Albuquerque native S.M. Chavez. "That simple gesture was what painting meant to me," he says. "The cigarette butt was not a beautiful thing, but I would always stare at that little detail and how simple it was, and yet how much emotion it carried. There was so much within it."
In similar ways, Chavez's work carries an attentiveness to the texture of everyday Southwestern life and memory. His scenes of cowboys, horses, and the desert landscape merge with classic techniques and allow viewers to experience his artistic process. Chavez maintains compositional lines within the background of his finished paintings, which inject a fresh, unseen aesthetic into a genre that is particularly traditional.  
Within the past two years, he has seen an explosion of interest in his oil paintings, which often feature fractured, lonesome subjects that reflect an artist's own everyday solitude and find resonance in the context of a pandemic. In April 2020, Chavez's Young Cowhand, Masked was included in the New Mexico Museum of Art's first online exhibition and received a special nod from the curator. In January, he is showing six new works in the Coors Western Art Exhibit & Sale, in Denver.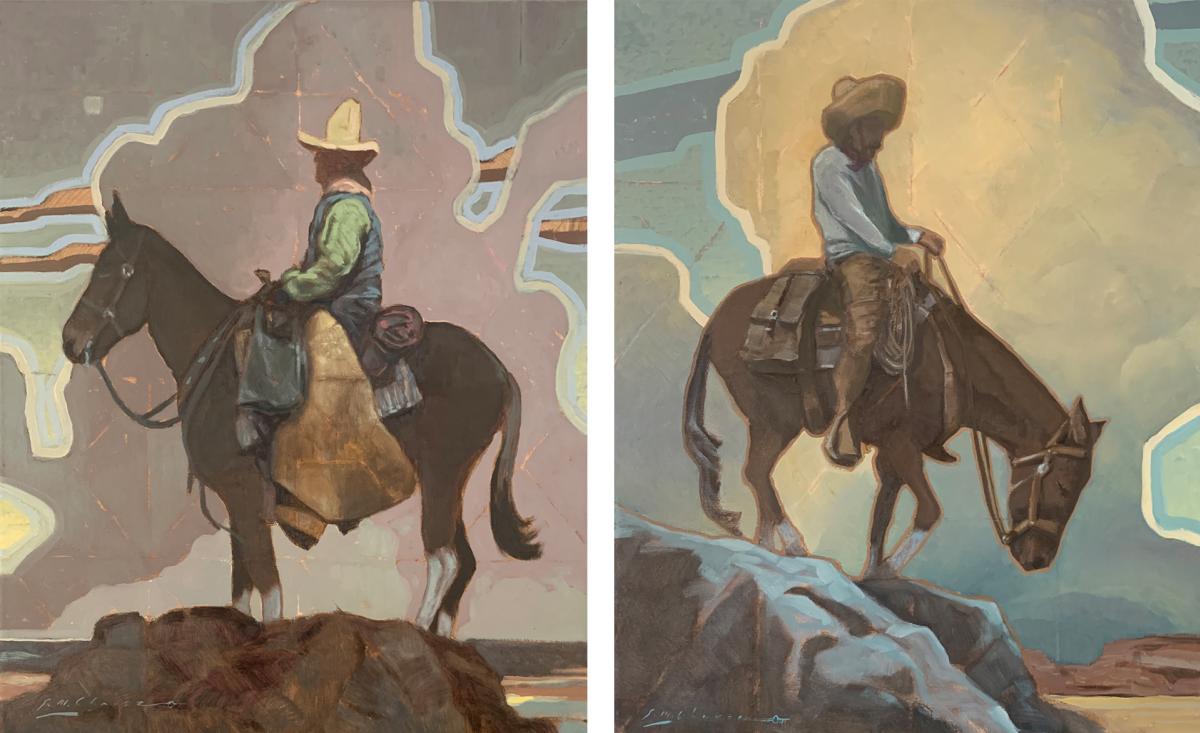 Chavez's paintings Grandes Alturas (left) and El Borde (right). Courtesy of Sean Michael Chavez.
Chavez's artistic journey took him to both coasts—first to Massachusetts, where he'd frequently visit the famous Renoir at the Museum of Fine Arts, Boston, and then to San Francisco—before he returned to study graphic design at the Southwest University of Visual Arts, in Albuquerque. For 18 years, Chavez worked in marketing and branding before he transitioned to a full-time painter in 2020. "Working in a commercial setting was a day-to-day creative pacification, because every moment I was doing something artistic," he says. "But my true passion crept up."
Chavez recalls a moment, after he returned from San Francisco, when he saw a pickup driving on a mesa with a cloud of dust building up behind it. "I realized that I hadn't actually seen that in my life before," he says. "I took it for granted. I had to spend time on the coasts to really see what was right in front of me." 
His earthy palette encompasses shades of the desert and subtle variations that are often overlooked. "The colors give a certain warmth that invites rather than shocks," he says.
In one of Chavez's new paintings, Paciencia, a vaquero sits on an adobe stoop with a rifle resting in his hand, the barrel facing the big toe of his leather boot. Between his feet rests a blackened, crushed cigarette. Chavez's own coming of age as a painter rests in his continuing to pull inspiration from work that moves him, like Dance at Bougival, and merge it with iconic scenes that tell the story of New Mexico.
"Doing hard work and being yourself really is my ultimate truth as an artist," he says. "If you're doing things with sincerity, the rest is likely to follow."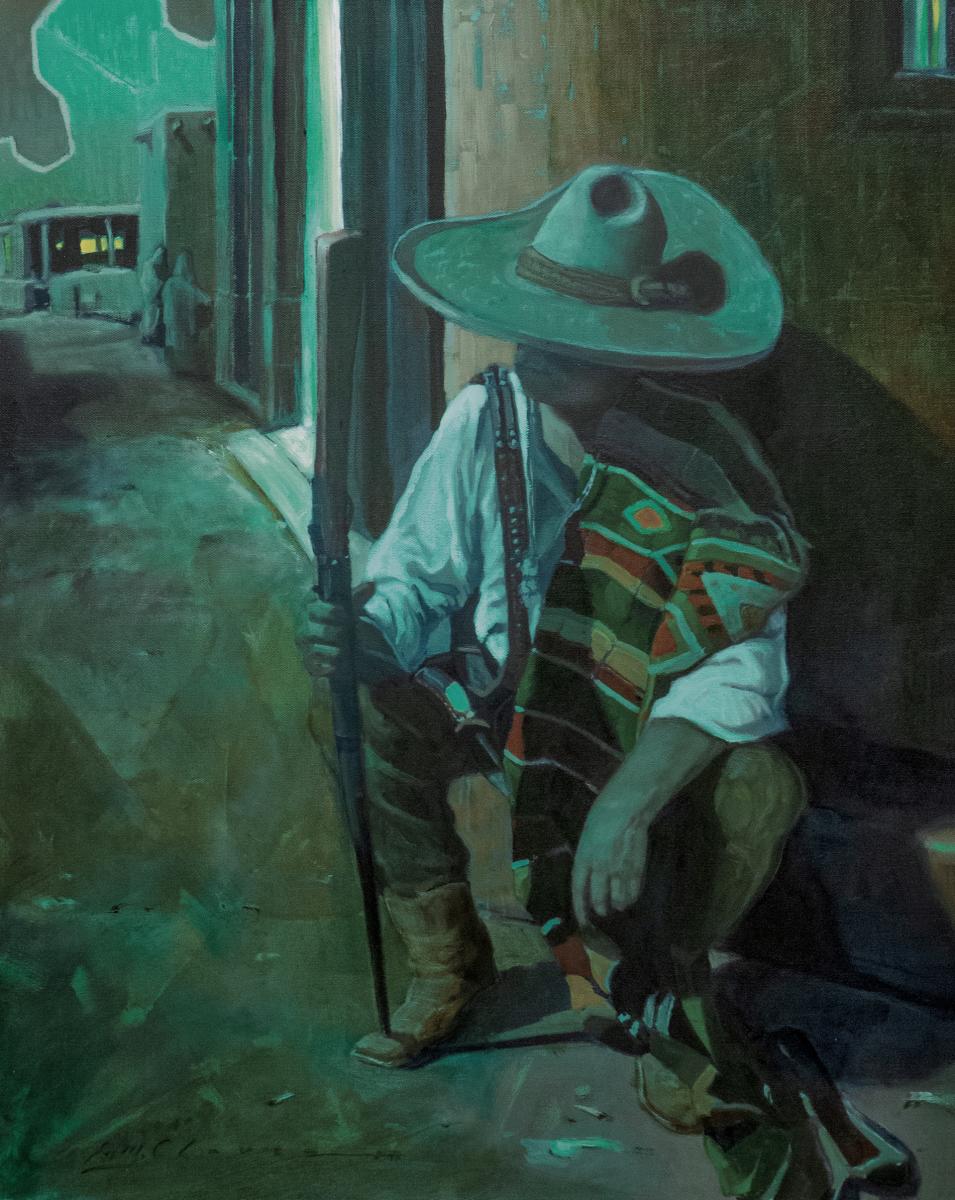 S.M. Chavez's painting Paciencia. Courtesy of Sean Michael Chavez..

S.M. Chavez also exhibits his Western-themed paintings at the Acosta-Strong Gallery, on Santa Fe's Canyon Road.
---
Read More: For 80 years a storefront on old Route 66 has sheltered murals by a who's who of Native American artists.
Read More: Spinning complex histories of indigeneity into a creative practice.
Read More: Santa Fe can seem like a maze of art—hundreds of galleries, museums, and events. Here's how to map it out.