Eroded rock inspires Afton Love's 16 Faces and 16 Bowls. Courtesy of Afton Love.
AFTON LOVE'S ARTISTIC AMBITIONS are immense. "I wanted to explore the mysteries of life," says the Ojo Caliente–based conceptual artist, who showcases natural geological forms using materials such as graphite, clay, beeswax, wool, and resin. "I feel like I found a way to get at those questions and their answers through erosional rock formations." 
Love, who grew up in the Butte Creek Canyon area outside Chico, California, has long been fascinated by rock surfaces. During a 2018 artist-in-residency stint at the Anderson Museum of Contemporary Art, in Roswell, she moved from making intricate, 15-foot drawings of rock formations to working with the micaceous clay that has fueled New Mexico's traditional ceramic arts for centuries. Her installation 16 Faces and 16 Bowls, a sculptural assortment of 32 shapes made from hand-dug micaceous clay found south of Taos, is on view at the Harwood Museum of Art through April 18 as part of the exhibition Contemporary Art/Taos 2020. 
The pieces represent the fruit of an informal mentorship she embarked upon with Taos Pueblo ceramicist Johnny Ortiz, who schooled her in the practice of responsibly harvesting clay from pits where his ancestors have dug for generations. 
Love pressed the clay onto the face of a huge sandstone rock, imprinting its intricate details. While the 16 fired squares seem like identical black tiles, each one highlights the minuscule gradations in the rock's surface. Below each tile sits a rudimentary clay bowl, sturdy at the base and eggshell-thin around each rim.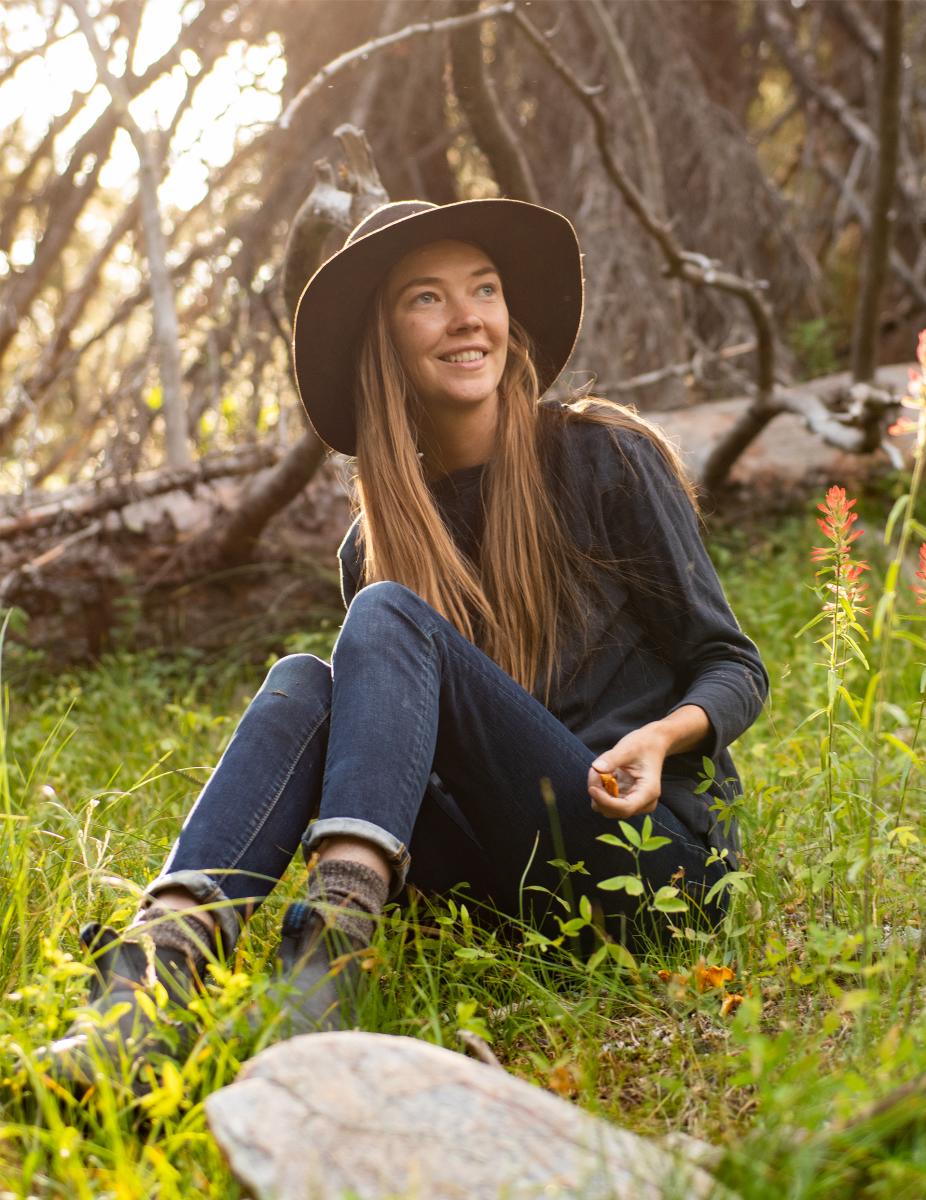 Afton Love, who grew up in the Butte Creek Canyon area outside Chico, California, has long been fascinated by rock surfaces. Photograph by Douglas Merriam.
"I was exploring the tension between strength and fragility," Love explains. "Historically, clay is durable, useful, and strong. I want to make it keep its form but appear extremely delicate, as something that you want to take care of and nurture."  
Love devised her own process of building clay forms like papier-mâché. She adds local sheep's wool to her bowl shapes, letting them dry in layers to build durability while remaining relatively thin. In the pit fire, the wool fibers burn out. "You'll see certain moments in these pieces where it will have a blue or an orange tinge," Love says. "That's where it absorbed the carbon and was in the process of re-releasing it. That's the beauty of these pieces: how much is left to chance in the fire."  
Although micaceous clay can be found throughout the world, Love says, New Mexico is the only place she knows with such a long tradition of hand-dug craftsmanship with it. At the sites she frequents, "you can see where people have come back and left little offerings. There are pieces of broken pottery and beads made of the same clay, sometimes 20 years old."  
More of Love's two- and three-dimensional works are on view at Albuquerque's 516 Arts through May 22 in a solo exhibition, Perfect Union, which explores geological expressions of time. "The Earth is not on our timeline, and yet we are a part of it," Love says. "It's changing and shifting and morphing and moving and growing, just like we are. There are all these ways the Earth expresses itself, just like we do."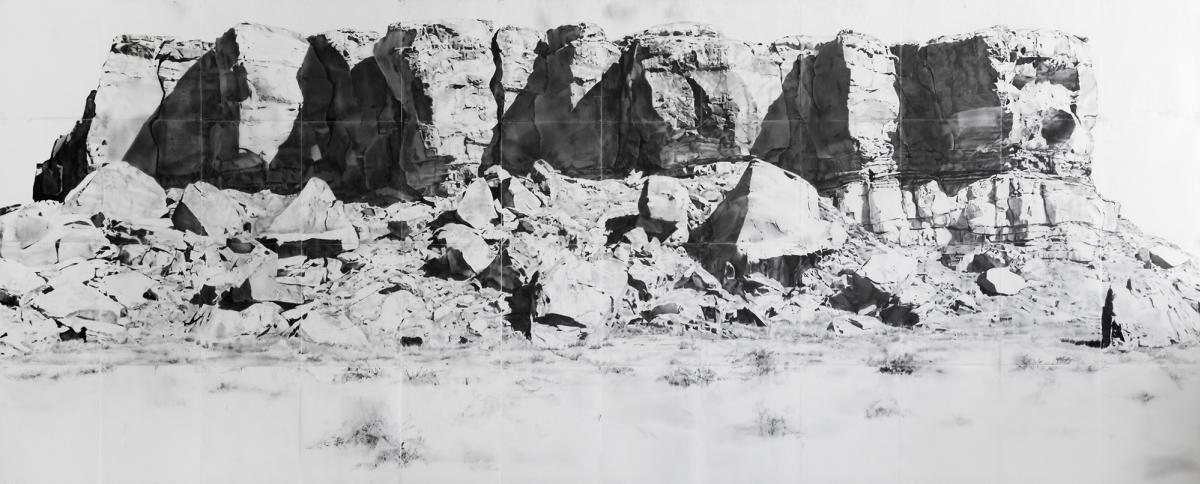 One of Afton Love's large-scale drawings of rock formations. Courtesy of Afton Love.

Contemporary Art/Taos 2020 is on view through April 18 at the Harwood Museum of Art, 238 Ledoux St., Taos.
Perfect Union is up through May 22 at 516 Arts, 516 Central Ave. SW, Albuquerque.
---
Read More: Chef Johnny Ortiz gathers and raises the ingredients for his 12-person, reservation-only meals, served on dishes he also makes by hand. An evening at Shed roots every guest in his native soil.
Read More: A 516 Arts exhibit showcases 13 artists' interpretations of feminism.
Read More: Joanna Keane Lopez's interactive sculptures use adobe bricks covered in aliz to revive a dying tradition.