Birria, a slow-cooked, mildly spicy taco can be made from goat, lamb, or beef. Photograph by Douglas Merriam.
THANKS, INSTAGRAM. WHEN BIRRIA TACOS BEGAN trending on social media last year, I salivated over the succulent meat, often embedded in oozing white cheese and topped with onions and cilantro. Accompanied by a cup of deep red consommé, each taco dip was oddly exciting.  
Birria, a slow-cooked, mildly spicy meat—originally goat or lamb, but also beef—is nothing new. It started out as a celebratory stew in Jalisco, Mexico, but became a breakout internet star in the U.S. and inspiration for a host of New Mexico chefs over the past year.
"It's that bright red color," Dominic Valenzuela, owner and chef of Albuquerque's Tako Ten, says of the attraction. He added birria ramen and "Birria TaKos and Consumé" to Tako Ten's menu in January.  
Slightly smoky and mild in heat, birria gets its distinctive flavor from charred guajillo chiles and a combination of fresh and dry aromatics such as onion, cumin, and cinnamon. But the social clamor comes from the consommé, made from the simmering juices, as much as the meat.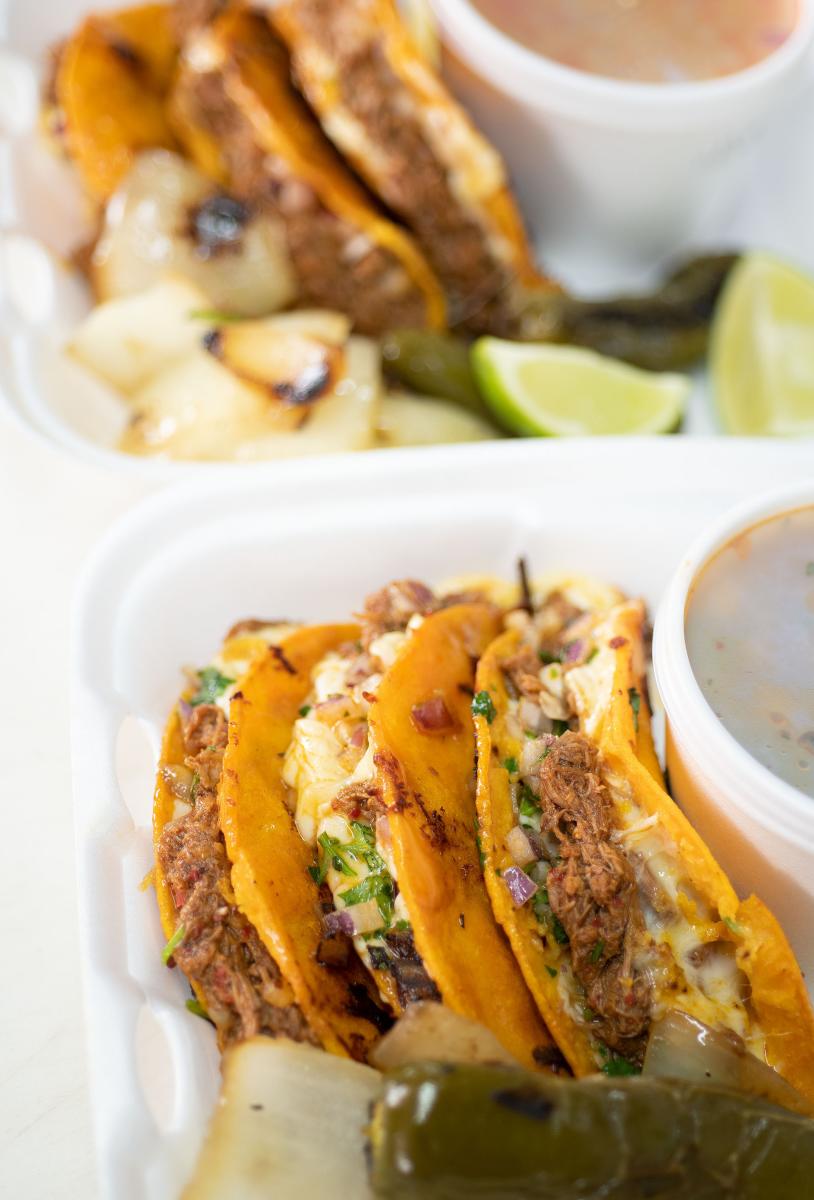 Quesa tacos from Birrieria y Tacos food truck in Albuquerque. Photograph by Douglas Merriam.
Ivon Ruiz and Refugio Chairez Rodriguez, owners of the Birrieria y Tacos Alex Tijuana Style food truck, helped bring it to Albuquerque. Ruiz's birria recipes—which include hefty amounts of guajillos, onions, and garlic—come from her mother and grandmother, both of whom made and sold tacos and birria in Tijuana for more than 25 years. "We wanted to give Albuquerque something spicy, something new," Ruiz says in Spanish, through a translator. 
Many Mexican restaurants now serve birria, including La Guelaguetza Mexican Restaurant, in Albuquerque, and Taqueria Adelitas, in Santa Fe, as do food trucks like La Pichorrita and El Michoacano: Birria, Barbacoa y Carnitas.  
"You know how it is in America," says Valenzuela. "It takes a long time for things to catch on, and when it does it spreads like wildfire." 
Try these recipes
Chef Robin Valdez, owner of La Luna Eatery, in Albuquerque, shares his recipes for beef birria and vegan hibiscus flower birria.
---
Read More: Santa Fe's food trucks reward urban explorations with mouthwatering treats. Grab a fork and go.
Read More: How a quintessentially Mexican street food jumped the border and gained official red-or-green cred.
Read More: Santa Fe's Paloma prides itself on good, clean, responsible ingredients.