Above: Jennifer Beth Finn Rios' Great-Grandmother's Brisket. 
"KETCHUP? A HALF BOTTLE of ketchup?" Martín Rios quizzes his wife, Jennifer, about the beef brisket her paternal grandmother made for Hanukkah and other Jewish holidays. Guadalajara native Martín, a multiple James Beard Foundation Best Southwest Chef nominee and chef at the Rioses' elegant Restaurant Martín, in Santa Fe, isn't exactly known for cooking with ketchup. However dubious he is about the ingredient, he wants to please Jennifer, who has promised the dish for a holiday potluck at my home with our chef friends and their families.
A related conversation goes on in my own kitchen. My visiting sister, Julie Alters, is keeping a vigilant eye on our classic,  Creamy Jalapeño Spinach. The original mid-1970s-era recipe called for canned mushrooms, cream of mushroom soup, and Cheez Whiz. Julie tolerates me upscaling the processed ingredients to fresh oyster mushrooms, cheddar, and pickled jalapeño. When we get to the topping, though, she is adamant. Nothing but French's Original Crispy Fried Onions, the kind that go on everyone's retro green bean casserole. No home-fried shallots, no Trader Joe's organic fried onions—just French's. She gets her way. I think of it as my gift to her.
Chefs personify the spirit of hospitality and generosity all year. In the midst of their busiest season, I am, almost annually, honored to have the chance to share my table with this group of culinary pros. In my renovated dairy-barn home in Tesuque, just outside Santa Fe, a Christmas tree rises toward the rafters. This celebration, though, encompasses all manner of spiritual and religious beliefs. We revel in friendship, a sense of community, and a shared feast. Everyone brings food they associate with the season.
In addition to that spicy spinach, I put together a bright fruit-filled salad known throughout Mexico as Ensalada de Noche Buena (Christmas Eve Salad). This version, however, is one that I picked up from friends in Chimayó. In addition, because smoked salmon and salmon caviar exclaim "holiday indulgence!" to me, I have stuffed both into endive spears to nibble with sparkling wine. Julie's French bulldog, Rocky, eyes it all with interest. His job is that of holiday greeter. My friend Don Banas helps behind the scenes.
The first knock on the door comes from Hugo and Rachel Sena. They arrive with a hefty pot of chicken posole and a load of vegetable-stuffed tamales, "gift-wrapped" in cornhusks. The dishes are traditional for Christmas in both Rachel's northern New Mexico home and Hugo's native Mexico. He was born in a small village in the state of Veracruz but arrived in Santa Fe nearly two decades ago. He worked in kitchens with Martín Rios and other top local chefs before becoming part of the management team at the local Whole Foods supermarket. Hugo and his brother eventually opened Tres Colores restaurant, specializing in the food of southern Mexico. Today Hugo also operates the popular Mexican street-food concession at Whole Foods in Santa Fe and Albuquerque, serving dishes like the one he and Rachel have brought today.
Colin Shane, chef at Arroyo Vino, near Santa Fe, comes through the door carrying charcuterie boards nearly the size of old-growth cottonwoods. Colin's wife as of October, Lauren Kendall, totes nearly as substantial a load of canning jars filled with a jewel-like collection of preserved bounty from her two-acre Rooted Leaf Culinary Gardens. The two met when Lauren delivered some of her produce to Colin's kitchen. Now her garden—really a farm—surrounds Arroyo Vino. Lauren's also a beekeeper, so the condiments include some of her garden flower honey. Other jars that she sets out hold pickles of baby carrots, cucumbers, "walking" onions, tomato jam, and fig mostarda, all preserved by Colin. Still more jars hold duck liver pâté and a salmon rilletes spread. Colin lays out his house-cured meats on the boards, fennel-scented cured pork from Kyzer Farm, and air-dried bresaola from Four Daughters Land and Cattle. Rye lavash crackers and a spice-scented loaf of butternut-squash-and-walnut bread accompany the generous assortment.
Lauren, who's originally from Ohio, tells me that "preserving and otherwise putting up what we grow is a tradition we want to make part of our life together." Colin grew up in Santa Fe, then embarked on a music career, but found himself cooking in Florida to bring in extra income. The experience awakened something in him that punk rock hadn't. He returned to his hometown and Rios' kitchen, before moving on to Arroyo Vino. The young chef was a semifinalist earlier this year for a James Beard Rising Star Chef award. "Lauren's amazing produce drives my creativity in the kitchen," he says.
Jennifer James and Nelle Bauer have driven up from Albuquerque, where they run French-ish, an aptly named restaurant mingling French and classic American influences. Jennifer and I share an alma mater, the University of Illinois. Both of us grew up in central Illinois towns and found our way to New Mexico decades ago. Jennifer met Albuquerque native Nelle when both were working at Graze, an early standard-setting Duke City café. Jennifer has several James Beard Best Southwest Chef semifinalist nominations under her belt, too.
The partners contribute a hearty helping of all-American nostalgia with their two dishes. Deviled eggs, silky smooth yolks piled high, come decked out with festive green and red chile rings. A classic layered "overnight" salad takes its place on the table in a capacious glass compote. Jennifer insists you don't need a recipe. "Just pile up a combination of greens like iceberg, romaine or spinach, along with peas, cheese, bacon, or more. The dressing's an equal mix of mayonnaise and sour cream with a little sugar to taste. Let it sit overnight, or at least for a few hours, and then toss before serving. If you want a little more guidance, there are a few million nearly identical recipes for it online." There may be, but the flavor of this particular version is one in a million.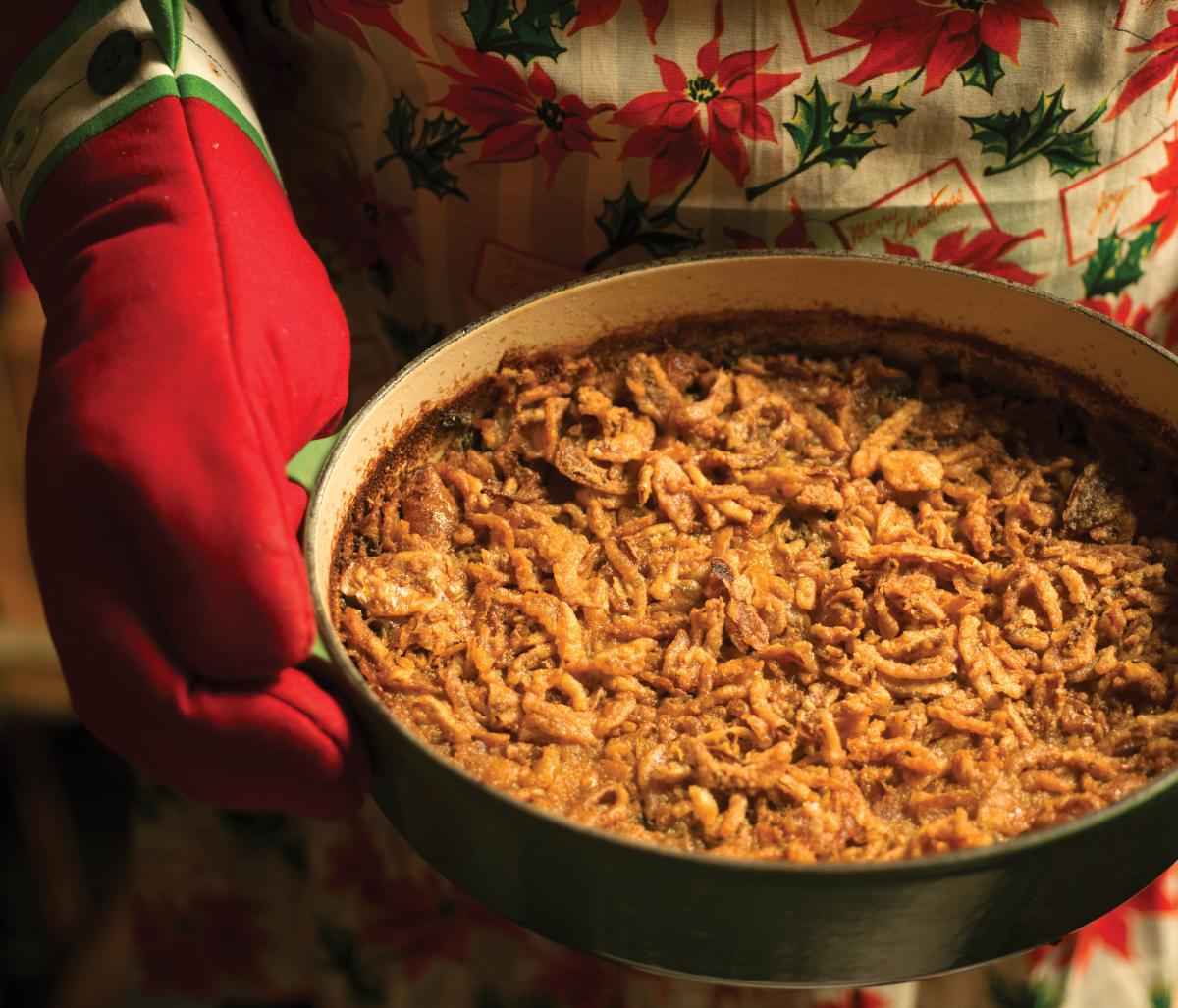 Above: Cheryl A Jamison's Creamy Jalapeno Spinach dish. 
From the other side of the world, Kenya native Ahmed Obo finds room on the table for his stew of butternut squash and black beans, perfumed with curry, ginger, and coconut and ladled over rice. The oldest of 11 children, Ahmed learned to cook from his mother, helping to get their sometimes scarce food on the table. He started to make money from cooking as an early teen. The family lived off the Kenyan mainland on the island of Lamu, and Ahmed scraped together enough cash from odd jobs to buy a leaky boat. He fixed it up so he could take visitors fishing, then whip up meals for them, pairing the catch with his local produce and rice. The industrious young man made his way to New York but, wanting to be in a smaller community, settled in Santa Fe. Chef Ahmed's Jambo Café offers the foods of East Africa in both Santa Fe and Albuquerque. Because he's a follower of Islam, December doesn't hold the religious significance for Ahmed that it does for some of our group. He simply loves sharing food and friendship.
The dinner's sweets arrive with Sugar Nymph Bistro's owner, Ki Holtze. She has driven down from Peñasco, where she and partner Kai Harper Leah settled after living "pretty much all over." Ki tells us that, when she was growing up, she avidly read Gourmet and other food magazines. She looked forward to holidays as a chance to experiment with many of their recipe ideas. Her French-style strawberry cake, or fraisier, wows the group, and that's before we've even tasted it. Ki also whips up a batch of blueberry scones and bakes them in less time than it takes most people to measure the ingredients.
We laugh, joke, catch up on everyone's kids, travels, their business highlights, and a few lowlights—like when a car drove smack into Jambo's dining room during the lunch rush earlier this year. Second and even third helpings abound. After dessert and more toasts, I think I speak for everyone in saying we feel nourished in all respects, having carved out this time together for a communal meal. As Ahmed says, "We feed our own souls by giving back to one another."
---
THE RECIPES
Cheryl Alters Jamison's good friends made too much food for us to fit in the magazine. Find more recipes at nmmag.us/CherylDinner.
Ensalada de Noche Buena from Northern New Mexico
Hispanos in New Mexico and elsewhere know Christmas Eve as la Noche Buena (the Good Night), and in many warm climes in the Americas, a celebratory dinner includes this kind of colorful salad, where ingredients are added almost like ornaments on a Christmas tree. In recent decades, after the tropical elements in the salad became widely available, some New Mexico families have adopted the tradition. This version is based on one I learned from friends in Chimayó.
Serves 8
For the Dressing
Juice and zest from 1 lime
3 tablespoons honey
2 tablespoons cider vinegar
2 tablespoons mayonnaise
1 tablespoon vegetable oil
1/2 teaspoon ground dried New Mexican red chile
1/4teaspoon salt
For the Salad
4 oranges, peeled, sectioned, and cut into bite-size pieces
1 pink or ruby-red grapefruit, peeled, sectioned, and cut into bite-size pieces
3/4 pound jícama, peeled and cut in slim matchsticks
1 large avocado
1/4 cup chopped cilantro
4 red radishes, slivered
1/4 cup toasted pepitas (or roasted salted peanuts, chopped)
Seeds of 1 pomegranate
Romaine leaves, sliced in thin ribbons Radicchio, sliced in thin ribbons (optional)
In a blender, puree all dressing ingredients. Refrigerate until ready to use. (Dressing can be prepared a day ahead.)
In a medium bowl, toss together oranges, grapefruit, and jícama and refrigerate for at least 45 minutes. Shortly before serving, peel and slice avocado. Add it, cilantro, and radishes to the mixture. Toss with salad dressing.
Line a serving bowl or platter with romaine and optional radicchio. Spoon salad mixture over romaine and toss gently a time or two. Scatter pepitas and pomegranate seeds over salad and serve.
Cheryl's Creamy Jalapeño Spinach
This is a staple on the Alters and Jamison family tables for special holiday meals and always wins as many raves as anything else we prepare.
Serves 6–8
6 tablespoons unsalted butter
1 cup thin-sliced oyster or button mushrooms
1/2 cup minced onion
1/2 cup chopped celery
Two 14-to-15-ounce bags frozen chopped spinach, thawed
2 tablespoons unbleached all-purpose flour
1 cup half-and-half
1 cup crème fraîche
3/4 cup grated mild to medium cheddar cheese
2–3 tablespoons minced pickled jalapeño, plus 1 or more tablespoons jalapeño pickling liquid to taste
Salt and freshly milled pepper
6-ounce container French's Original Crispy Fried Onions
Preheat oven to 375º. Butter a medium baking dish.
Melt butter in a large saucepan over medium heat. Add mushrooms, onion, and celery and sauté until vegetables are very soft, 8–10 minutes. Add spinach and continue cooking until all standing liquid has evaporated from vegetable mixture. Sprinkle flour over vegetables, then cook for another couple of minutes, stirring frequently. Pour in half-and-half and crème fraiche and bring mixture to a boil. Reduce heat to a simmer and cook briefly until the mixture is lightly thickened. Remove from heat and immediately stir in cheese. Add as much jalapeño and pickling liquid as you wish for zip, but keep it balanced with the other flavors. Season with salt and pepper. Spoon into prepared dish.
Scatter onions over spinach mixture. Bake for 20–25 minutes, until bubbly with onions that have darkened a shade or two. Serve warm.
Hugo Sena's Chicken Posole
In New Mexico as well as old Mexico, turning fresh corn into posole is the most common way to preserve it. The corn is treated with slaked lime, or nixtamalized, to remove its outer skin, a technique developed by Native Americans centuries ago. The corn puffs up and becomes somewhat slicker in texture, with a distinctive toothsomeness when cooked. The technique also makes the vitamins and essential amino acids in the plant accessible when eating the corn. It's almost always served at Christmas and New Year's gatherings of families and friends.
Serves 8 or more
1 pound dried posole
Water
2 medium onions, chopped
6–8 garlic cloves, minced
2 dried New Mexican red chile pods, stemmed and seeded
2 dried guajillo chile pods, stemmed and seeded (or additional dried New Mexican red chile pods)
2 dried ancho chile pods, stemmed and seeded (or additional dried New Mexican red chile pods)
4 cups chicken stock
2 cups shredded cooked chicken
1/4–1/2 cup chopped cilantro leaves
2 teaspoons crumbled dried oregano, preferably Mexican
1 tablespoon plus 1 teaspoon salt, or more to taste
Garnishes
Chopped green cabbage
Sliced red radishes
Crumbled dried oregano, preferably Mexican
Lime wedges
Combine in a large pot or Dutch oven the posole, one-quarter of the onions, 2 garlic cloves, and 6 quarts water. Simmer partially covered for 1–2 hours, until posole kernels have softened.
Meanwhile, combine in a medium saucepan the remaining onion and garlic cloves, all dried chile pods, and chicken stock. Simmer, uncovered, until chile pods and onion are soft, about 20 minutes. Transfer mixture to a blender, adding only about half of the liquid. Puree, then strain to eliminate chile skin bits. Stir pureed mixture and remaining chicken stock into posole. Add chicken, cilantro, oregano, and salt. Continue to simmer over a low fire about 1 hour, until flavors have melded.
Serve hot in bowls with some of the liquid, letting each diner customize with toppings, as desired.
Jennifer Beth Finn Rios' Great-Grandmother's Brisket
Brisket leftovers, reheated another day, are terrific. Martín roasted root vegetables— carrots, parsnips, turnips—and small potatoes in olive oil in another shallow pan and added them to the platter with the brisket and sauce.
Serves 12–14
1 small brisket, 6–7 pounds
2 teaspoons salt and 2 teaspoons coarse-ground black pepper, or more to taste
5–6 medium onions, sliced thin
1/2 cup vegetable oil
2 cups dry red wine
1 cup ketchup
Sprinkle brisket on both sides with 2 teaspoons each of salt and pepper. Let brisket stand at room temperature for about 30 minutes.
Heat oven to 325°.
Warm oil in large roasting pan on the stovetop over medium heat. Scatter onions in roasting pan and stir to cover in oil. Cook for 5 minutes, until onions have begun to wilt. Reduce heat to medium-low and continue cooking for about 30 minutes, until onions are reduced and light brown. Scrape onions onto a plate or into a bowl and return roasting pan to stovetop.
Raise heat to high and add brisket, fattier side down. Sear brisket until medium brown, 8–10 minutes. Turn brisket over carefully with tongs and a spatula, and continue searing until second side is medium brown, 8–10 minutes more. Remove from heat. Spoon onions and any juices evenly over brisket, then add red wine and ketchup. Cover the pan tightly with foil.
Transfer brisket to oven and bake about 1 hour per pound. After about 5 hours, remove the foil and continue cooking until brisket is fork tender. Remove brisket to a platter. Place roasting pan back over stovetop. Over medium heat, reduce pan juices to gravy-like thickness and degrease, if you wish. Pour over and around brisket. Serve warm, sliced across the grain.
Colin Shane's Winter Squash Walnut Bread
Colin elevates a humble winter squash bread a few notches. It's especially tasty slathered with some of his smoky fig mostarda. (Find this and other recipes online at nmmag.us/CherylDinner.)
Makes 2 loaves
1 medium winter squash, such as acorn, butternut, or kabocha
3 cups all-purpose flour
1 1/2 teaspoons baking powder
1 teaspoon baking soda
1 1/2 teaspoon kosher salt
2 whole eggs
3/4 cup buttermilk
1 cup olive oil
1 teaspoon Nielsen-Massey pure vanilla paste or 2 teaspoons pure vanilla extract
2 cups packed brown sugar
1/2 teaspoon ground nutmeg
1 teaspoon ground cinnamon
1/2 teaspoon ground ginger
1/2 teaspoon ground allspice
1/2 cup toasted chopped walnut pieces
Preheat the oven to 350°. Grease 2 bread pans.
Peel squash using a vegetable peeler, then cut open and scoop out the seeds. You may clean and roast the seeds as a snack or garnish for the bread, if you wish. Cut the squash into usable pieces and grate on the coarse side of a box grater. Scoop into a medium mixing bowl and set aside.
In a small mixing bowl, sift together flour, baking powder, baking soda, and salt.
In a large mixing bowl, whisk together eggs, buttermilk, olive oil, and vanilla paste. Whisk sugar and spices into wet ingredients, then add flour mixture and stir to combine. Fold in grated squash and walnut pieces.
Spoon batter into two prepared bread pans. Bake for 40 minutes or until a toothpick stuck into the middle of each loaf comes out clean. Cool about 10 minutes, then jiggle the pan to loosen bread. Turn loaves out onto a baking rack. Allow to cool for 1 hour before serving, sliced.
Ahmed Obo's Curried Black Bean and Butternut Squash Stew
Many of Ahmed's dishes make use of humble ingredients such as squash and beans but also layer them with complex flavors, including coconut and curry and other spices. This stew is the perfect example with a simply magical taste. Ahmed served the stew over steamy white rice. 
Serves 8 or more
3–4 tablespoons olive oil
1 medium yellow onion, diced 
2 tablespoons grated fresh ginger 
1 tablespoon minced garlic
1½ tablespoons curry powder 
1 tablespoon ground coriander 
1 tablespoon ground cumin 
1 tablespoon ground ginger 
1 tablespoon dried thyme 
2 tablespoons tomato paste 
1 cup chopped Roma or plum tomatoes 
14- to 15-ounce can black beans, drained and rinsed, or 2 cups freshly cooked black beans 
1 medium butternut squash,
peeled and diced 
4 cups chicken or vegetable stock, or more as needed 
14-ounce can coconut milk 
2 tablespoons dry sherry 
2 tablespoons rice wine vinegar 
Salt & freshly ground black pepper
to taste
Cooked white rice (optional)
1. In a medium-size soup pot, warm olive oil over medium heat. Stir in onions, ginger, and garlic, and saute them until soft, about 5–8 minutes. Add dried spices and continue stirring 3 or 4 minutes, until spices begin to pop. Stir in tomato paste and tomatoes and cook for another 3 or 4 minutes, until a paste forms. 
2. Add black beans, diced butternut squash, and stock. Bring mixture to a boil, then reduce heat, and simmer for 15–20 minutes, or until vegetables are soft. Add another ½–1 cup stock if the mixture gets dry. Mix in coconut milk, sherry, and rice wine vinegar. Cook for another 10–15 minutes. Add salt and pepper, as needed. 
3. Serve hot in big bowls, over rice if you wish.
Sugar Nymph's Scones
Ki Holste adds fruit to the scones as available. She made blueberry scones for this meal but suggests raspberries, strawberries, peaches, or apples as other tasty alternatives.
Makes about 1 dozen 
2 cups all-purpose flour
¼ cup granulated sugar
1 teaspoon baking powder
¼ teaspoon baking soda
⅛ teaspoon salt
A grating of fresh nutmeg, about ¼ teaspoon
4 ounces (½ cup) cold unsalted butter
1 egg yolk whisked with enough whipping cream to equal ⅔ cup of liquid (if you double this recipe, use 1 whole egg)
For the topping
About 2 tablespoons whipping cream
About ¼ cup granulated sugar
1. Preheat oven to 425°.
2. In a mixing bowl or food processor combine dry ingredients. Cut or pulse butter into flour mixture until butter is the size of small peas. If using food processor, put this mixture in a bowl. Make a well in the butter-flour mixture and pour in combined egg and cream. With a large spoon mix dough until it forms a rough mass. 
3. With clean hands, reach to the front of bowl and under dough and bring mixture toward you. Do a quarter-turn of bowl and repeat, folding toward yourself. Repeat another four to six times until the dough feels cohesive. It can still be a bit raggedy but should be one mass. Dump dough onto a floured counter, press down into a rectangle about ¾ inch thick.  If adding fruit, press into top of half of dough. 
4. Cut a vertical line down center of dough and fold dough onto itself. Press down on dough until it is about 1½ inches high. Spread cream across top of dough and liberally sprinkle with sugar. Dough can be cut into triangles or trapezoid shapes. Place on a baking sheet with about 1 inch between scones. Bake for 14–18 minutes. Enjoy right away.
Fraisier
Sugar Nymph's Ki Holtze whipped up a show-stopping version of fraisier, a French cake named for les fraises or strawberries, that decorate it. It includes pastry cream and sweetened almond paste or marzipan as a part of the layered confection. You may choose to leave out the food coloring from the marzipan and have a cream-colored cake, but there's something extra festive about the look of the dyed topping.
Serves 10 or more
For the Cake
2 large eggs and one egg yolk, at room temperature
⅓ cup plus 2 tablespoons granulated sugar
½ cup ground unsalted pistachios or almonds
½ cup unbleached all-purpose flour
1 tablespoon cornstarch
¼ teaspoon baking powder
5 large egg whites, at room temperature
For the Buttercream
7 large egg yolks
⅓ cup sugar
2 tablespoons unbleached all-purpose flour
1½ cups half-and-half
8 ounces imported white chocolate (such as Lindt), chopped
1 tablespoon pure vanilla extract
1 cup (2 sticks) unsalted butter, at room temperature
5 tablespoons fraise or framboise eau-de-vie (clear strawberry or raspberry brandy) or other brandy
6 tablespoons strawberry jam
Three 1-pint baskets strawberries, stemmed
7 ounces marzipan
Several drops green food coloring
Confectioners' sugar
2 ounces imported white chocolate (such as Lindt), chopped
4 strawberries, cut in half through stem end
For the Cake
1. Position oven rack in center of oven and preheat to 350°. 
2. Butter 9-inch square pan with 2-inch-high sides. Line bottom with parchment paper. Butter and flour parchment. 
3. Using electric mixer, beat eggs and ⅓ cup sugar on high speed in large bowl until a slowly dissolving ribbon forms when beaters are lifted, about 4 minutes. Mix nuts, flour, cornstarch and baking powder in medium bowl. Fold nut mixture into egg mixture. Using clean beaters, beat egg whites in medium bowl until soft peaks form. Gradually add remaining 2 tablespoons sugar and beat until stiff peaks form. Fold whites into batter in 2 additions. Transfer batter to prepared pan. 
4. Bake until toothpick inserted in center comes out clean, about 18 minutes. Cool cake in pan on baking rack 5 minutes. Cut around cake in pan. Turn cake out onto rack. Peel off parchment; cool cake completely. 
For the buttercream
1. Whisk yolks, sugar, and flour in medium bowl until well blended. Bring half-and-half to simmer in heavy medium saucepan. Slowly pour hot half-and-half into egg mixture, whisking constantly. Return egg mixture to same saucepan and cook until mixture is very thick and boils, whisking constantly. Transfer mixture to medium bowl. Add 8 ounces white chocolate and vanilla extract and stir until chocolate melts and mixture is smooth. Press plastic wrap on surface of pastry cream to prevent skin from forming; cool. (Can be prepared 1 day ahead. Refrigerate. Bring to room temperature before continuing.) 
2. Using electric mixer, beat the butter and 1 tablespoon brandy in large bowl until fluffy. Add pastry cream ¼ cup at a
time, beating after each addition until just blended. 
3. Melt jam in heavy small saucepan over medium heat. Stir remaining 4 tablespoons brandy into jam. Cut cake horizontally into 2 even layers. Place 1 layer on 8-inch cardboard square. Brush half of jam over. Spread 1 cup buttercream over jam. Cover buttercream layer completely with whole strawberries, stem end down. Set aside ½ cup buttercream; spoon remaining buttercream over, between, and around berries. 
4. Spread remaining jam over second cake layer. Place cake, jam side down, atop buttercream. Press cake gently to adhere. Refrigerate cake until buttercream is firm. (Can be prepared 1 day ahead. Cover cake and remaining buttercream separately and chill. Bring buttercream to room temperature before continuing.) 
5. Knead marzipan and 2 drops green coloring in large bowl until color is evenly distributed. Add another drop or two, if you wish, for a deeper shade. Dust work surface with confectioners' sugar. Roll out marzipan on sugar to 12-inch-diameter circle, sprinkling with confectioners' sugar as needed, to prevent sticking. Spread reserved ½ cup buttercream over top of cake. Using rolling pin as aid, drape marzipan over top of cake. Press gently to adhere. Trim marzipan flush with top of cake; reserve trimmings. Brush excess confectioners' sugar off marzipan. Using long sharp knife, cut ⅓ inch off each side of dessert to expose strawberries. Cut marzipan trimmings into leaf shapes using small cutter. 
6. Melt 2 ounces white chocolate in heavy small saucepan over low heat. Transfer chocolate to small parchment cone. Cut off tip to form small opening. Pipe the word Fraisier atop marzipan layer. Garnish with strawberry halves and marzipan leaves. Refrigerate until serving. (Can be prepared 4 hours ahead.)