No matter what you're planting, Roswell Seed Company has you covered. Photograph courtesy of Roswell Seed Company.
WHETHER WITH POTS OF MAGENTA geraniums or 100-pound bags of alfalfa seed, the Roswell Seed Company has been enriching southeastern New Mexico gardens and fields since 1898.  
Current owner Jim Gill's great-grandfather John B. Gill, and his brother Walter, founded the town staple. An Arkansas orchardman, John moved to the Pecos Valley to chase the free artesian water and founded Roswell Seed and Produce Company a few years later. He was known for walking an orchard or field, offering a flat figure for the crop, and sealing the contract with a handshake and a silver dollar. The entrepreneur would then pack his apples, celery, or onions into insulated railcars and escort them to sell directly to customers as far afield as Oklahoma City and elsewhere.  
That work ethic carried the company through lean times, including the Great Depression, when Roswell Seed got out of the produce business. "Grandfather always said there was nothing like trying to collect a past-due bill on food they'd already eaten," Gill recalls.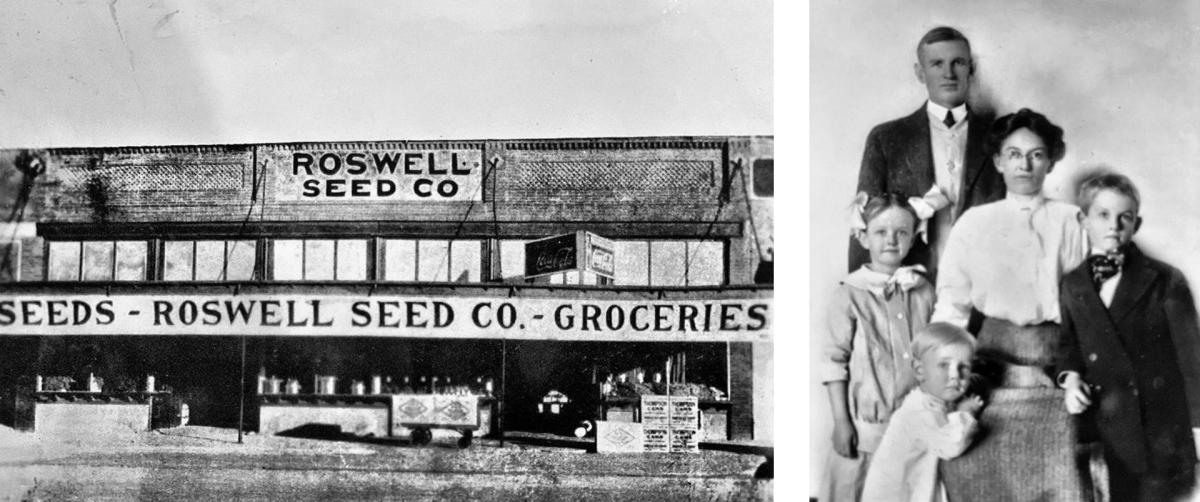 The 1911 Roswell Seed Company building (left). Original owner Walter Gill with his family (right). Photographs courtesy of Roswell Seed Company.
At 10, Gill started sweeping floors at the store, located just a few blocks from the town center, though when it was built, in 1911, it was far from it. In high school, he became the shop's delivery service. After graduating from New Mexico State University with a degree in agricultural engineering, followed by a seven-year stint at a feedlot, he returned to the business. He took over after his father passed away in 2006.  
Today, the store's vibrant green exterior and towering, yellow-lettered sign proclaiming seed beckon customers inside and out back, where sprawling greenhouses cultivate plants for the company's retail and wholesale businesses. "We don't really try to sell anybody anything, we just try to help them," Gill says.  
The approach applies whether someone is asking about their family's rose garden, wholesale plants, or cleaning barley seeds for their thousand-acre spread. 
"Some people take exotic vacations," Gill says. "I just love to take drives and see a field after they've planted it and just before the harvest." 
Beat the Heat
No foolin', April 1 is a perfect day to plant chile, Jim Gill says, especially in southern New Mexico. (Northern New Mexico's colder climate may require waiting longer for the last frost.) Gill loves the Lumbre variety, with smaller pods in the four-to-six-inch range, for its heat. "You get good chile flavor, then boom, a bomb goes off in your mouth," he says. "But it dies down eventually."

Owner Jim Gill measures grass seed. Photograph courtesy of Roswell Seed Company.
Field Tips
Jim Gill shares advice on sprucing up yards and gardens this spring and beyond.
Watch what you plant together. For example, if you put in a lawn that you water year-round, don't plant a low-water native tree, such as a mesquite or desert willow, next to it. The tree will receive too much water and may suffer from rot.  
Don't overfertilize in the spring. "If you're wanting to plant tomatoes and peppers in this ol' packed ground of ours, you need to work all the stuff into the soil and let it sit over the winter," Gill says. Adding too many amendments in the spring overloads the soil with nitrogen, which can lead to weakened plants prone to disease and insects.  
Have realistic expectations. Don't expect a bumper crop from new plantings. "People need to learn from their mistakes and keep perfecting their technique before they get a good crop," Gill says.
---
Read More: The founders of Seed2Need grow, harvest, and distribute 25 tons of organic produce each year to central New Mexico food banks.
Read More: Community gardens in Española and Albuquerque reclaim agroecología, heirloom seeds, and cultural roots for the next generation.
Read More: The Los Alamos Nature Center blooms with a favorite desert plant, thanks to the botanical acumen of this retired geneticist.