IF YOU MEET PAULA WILSON AT HER STUDIO during the weekly art event known as MoMAZoZo, you might not actually see her for a while. Art tends to get in the way, along with history, a growing artistic community, and the gorgeously decrepit streetscape in downtown Carrizozo, where US 54 meets US 380, midway between Socorro and Roswell.  
Though I can't immediately find the artist when I come to visit one scorching day in June, I can follow her trail. Wilson's bold brushstrokes decorate the outside of a three-building suite on the former railroad town's historic 12th Street. On the rear facade, zagging, free-form designs and a few mysterious, all-seeing eyes overlook the train tracks. Repurposed wire-and-metal sculptures hang jauntily from the empty window frames of a sagging second-story porch. Across from a sunken auto bay filled with glittering broken glass, spiky bushes of Siberian elm, and jimson weed, two large female silhouettes flank the garage-door entrance to Wilson's studio. Everything in sight adds depth, atmosphere, and a bombed-out kind of beauty.  
Wilson is a mixed-media artist, and the sum of her work can't be reduced to its parts. Through sculpture, collage, printmaking, painting, fashion, and video art, she creates layered pieces that weave narratives across time, space, cultures, art history, and natural landscapes.  
Amid the crumbling century-old complex Wilson bought with her partner, Mike Lagg, in 2015, thousands of square feet are filled with creative possibilities. Every morning, the couple walks the half mile from their midcentury adobe home to the space they have also named MoMAZoZo. It spans the falling-down El Cibola Hotel, where Lagg keeps his woodworking studio, an open-air chicken and pigeon coop in a part where the roof is missing, and an artists' residency studio on the second floor. The adjoining building, once home to a Ford garage, is where Wilson constructs her works. Next door, the Lyric Theater is an old-time movie palace (the last picture shown there was The Exorcist) that the couple has repurposed for community performances and artist talks.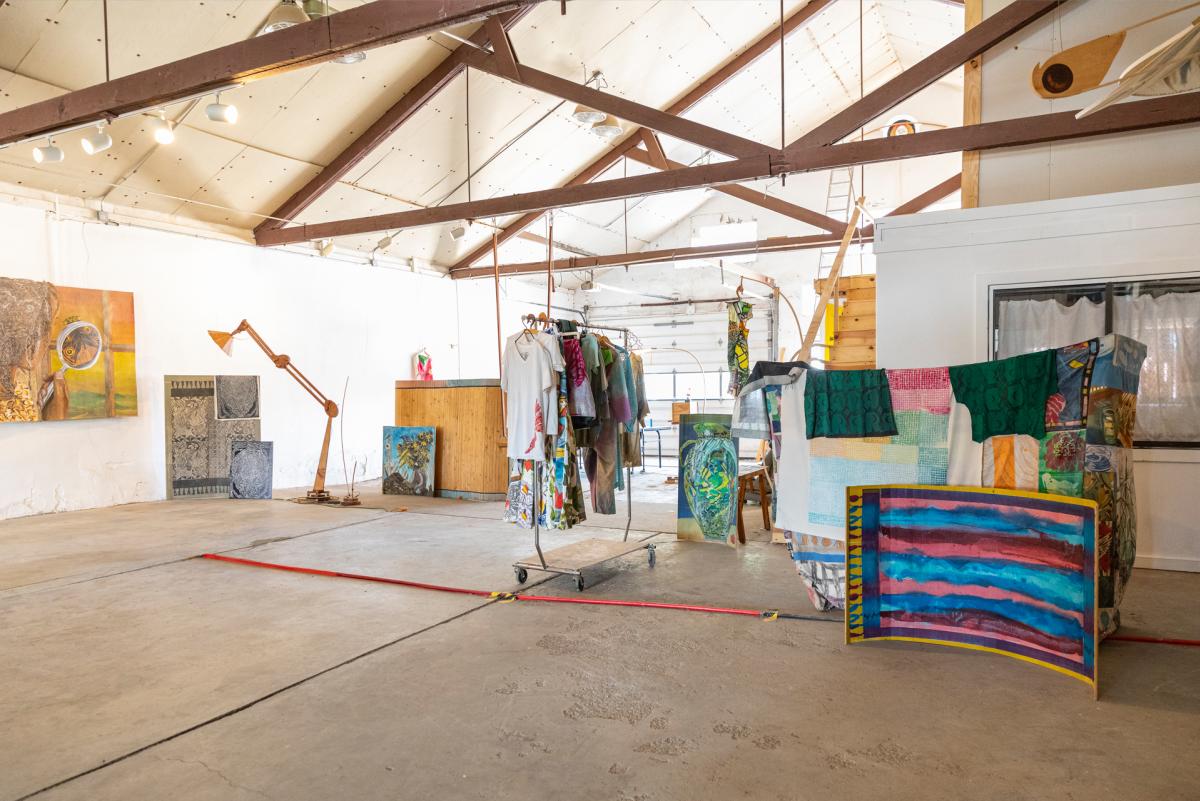 Paula Wilson makes art in a former Ford garage.
I eventually locate Wilson in her studio amid a small crowd of artists, art lovers, and artworks. She's pressing woodblock prints onto T-shirts for the visitors swirling around her at the printing press. In an arts district that is home to four other galleries, the vibe of the gathering is casual, with a touch of post-covid giddiness. But an electric current of chance also hangs in the air. "You never know who or what might happen by," someone says to me.  
They might have meant Wilson herself. In 2007, she moved from the warehouses of Bushwick, Brooklyn, to the semi-abandoned outposts of Carrizozo after earning an MFA from Columbia University and working as a studio assistant to painter and printmaker Kara Walker. Raised in Hyde Park, Chicago, Wilson first came to Lincoln County in the 1990s, where her mother, a copy editor and bookbinder, had moved for a slower and more creative pace of life. 
Read More: Keri Ataumbi draws national acclaim for her contemporary Kiowa jewelry.
After she fell in love with Lagg, who took her on a mountain drive for their first date, Wilson decided to carve out her own artistic space in this town of around 900 residents.  
Self-portraiture is a hallmark of her work. In the studio, several large-scale depictions of Black women, like the figures standing sentry outside the building, powerfully occupy space among busy backgrounds strewn with patterns and color. Muslin, canvas, and slatted wooden screens are sutured together to create monumental works that reference a multicultural stew of influences.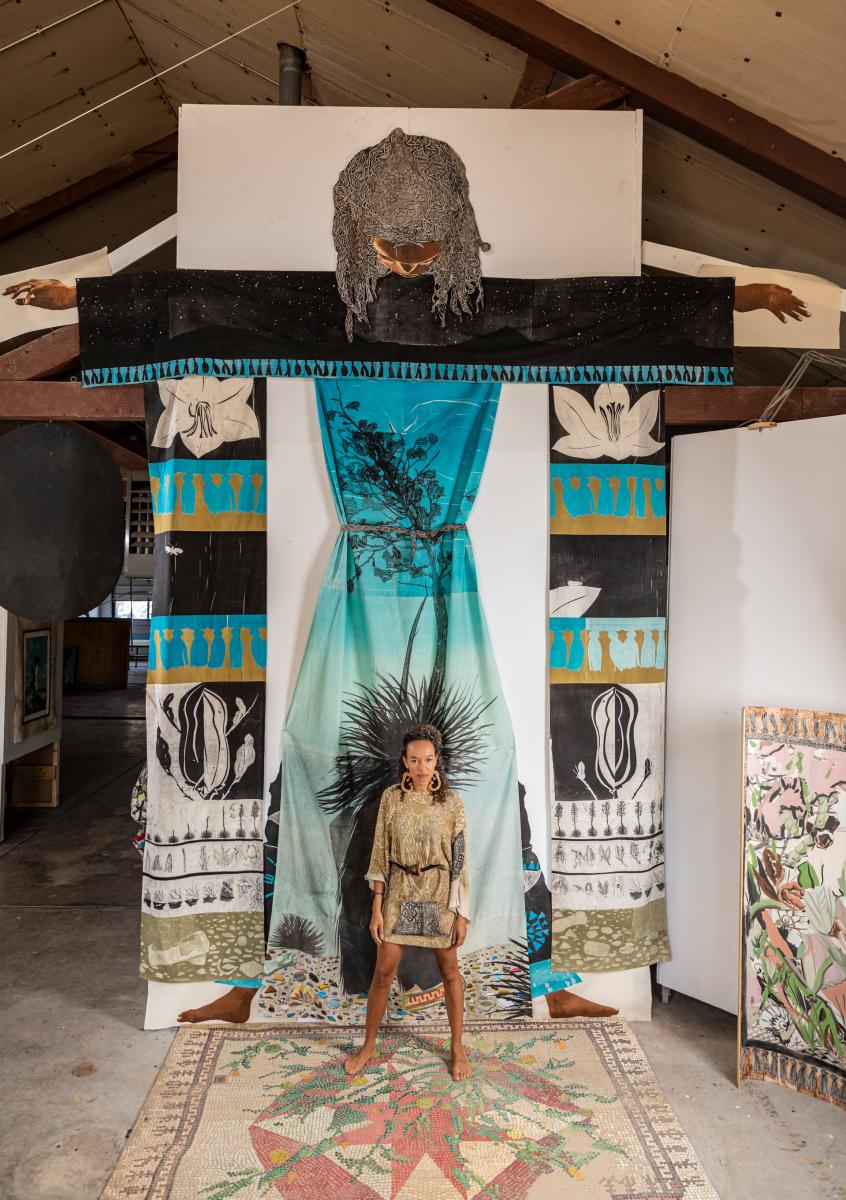 The artist poses with Yucca Rising, a sculpture of a powerful, towering Black woman whose garments reflect the elements of Wilson's environment.
"I'm particularly interested in this idea that we become the things that we turn our attention to," Wilson says. As I ask her about the gently clanking wooden tool belt she wears around her waist—a gift from Lagg that carries items ranging from a phone to scissors—I realize that Wilson's outfit is its own art installation. A spindly homemade hair pick hangs around her neck, a self-described "symbol of protection" that recurs in her prints, along with the vaguely flowery yet definitely phallic forms of her
dangly two-tone wooden earrings. The artist is also the art.  
Over the course of the pandemic, Wilson has been constructing a massive blue muslin figure on one wall with the help of local sewing artist Molly Sheahan. Commissioned by the Tufts University Art Galleries, the imposing, as-yet-unnamed woman wears a draped garment that pays tribute to the New Mexico state flower, the yucca, as well as its sole pollinator, the yucca moth. The layered work is made up of dried yucca woodblock prints along with relief and ghost prints, reflecting the muted mood of a starry evening. 
Art spills into the outdoor areas of Paula Wilson's workspace. 
"A lot of activity happens between the moth and the yucca at night," the artist muses. "I feel like she almost builds herself."  
By "she" Wilson characteristically means more than one subject: Both the woman and the yucca rise from the ground. She mentions regeneration more than once. "New Mexico is so amenable to that kind of energy. I feel like a lot of people come out here to reinvent themselves. There's an openness in the landscape. It gives you permission."  
Other personal images appear in Wilson's work in the exhibition Eye to I: Self-Portraits from the National Portrait Gallery, at the Albuquerque Museum through September 12. As the 2021 Frederick Hammersley Visiting Artist at the University of New Mexico, Wilson created prints that "are also all about moths," she says. She finds inspiration in the jimson weed outside, which is pollinated by night-flying hawk moths. The organic, vining patterns in her prints often mimic the invasive plants of her environment.  
Read More: Santa Fe can seem like a maze of art—hundreds of galleries, museums, and events. Here's how to map it out.
We chat while munching on popcorn that Lagg has coaxed from the old-fashioned machine in the Lyric. References fly from the intertextuality of Wilson's creative brain. The jimson weed, or datura, is "medicine that is also poison," she says, a plant sacred to the nearby Mescalero Apache, with an intoxicating nocturnal scent. There's also a theory that some abstract Mimbres pottery designs were based on it. "She can rehabilitate soil tainted by plutonium," Wilson says wonderingly, layering on the atomic histories contained in the local landscape.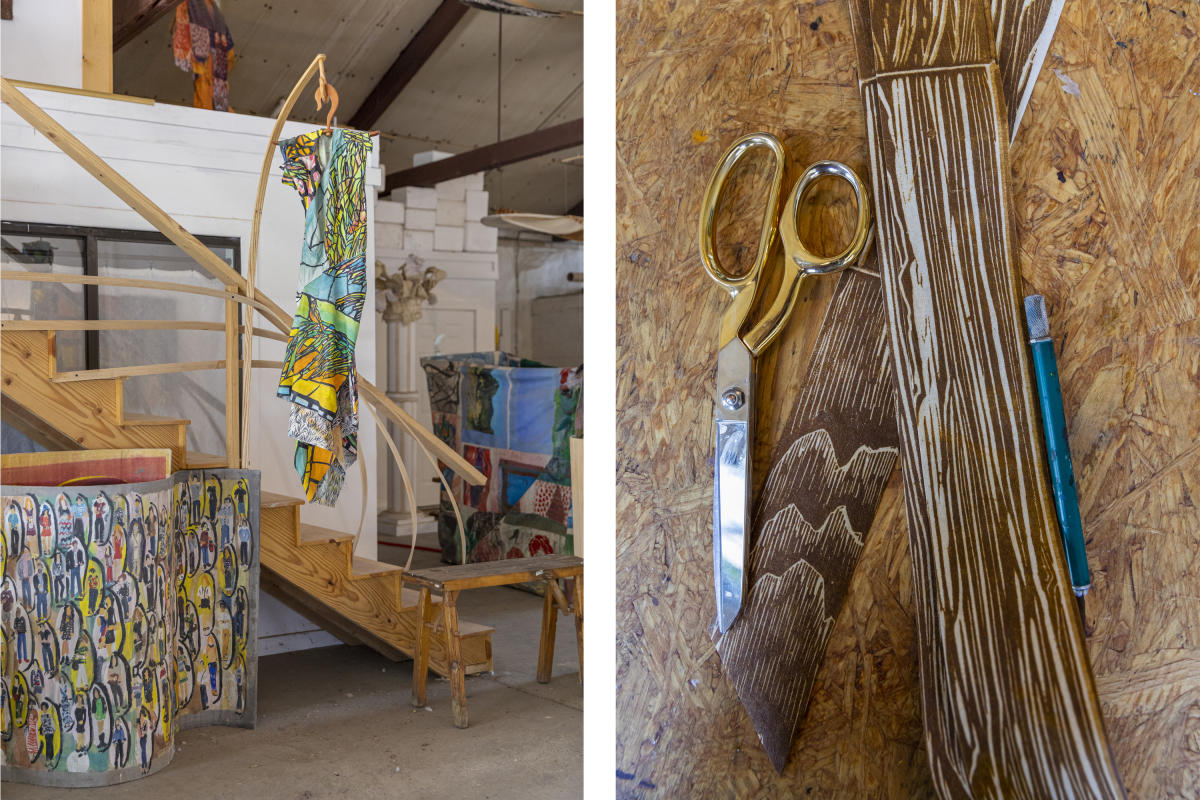 In-progress and completed artworks fill the Carrizozo studio that Paula Wilson shares with her partner, woodworker Mike Lagg.
In one of her best-known works, the 2014 video Salty & Fresh, an oversize version of the artist emerges from the sea wielding an extra-large palette, painting a series of female faces onto the nude backsides of three smaller figures standing in the water, dressed up as ornamental vessels. Beach picnickers look on and murmur, recording the occasion from behind iPhone screens. It's a weird, hypnotic meditation on the figure of the artist, the art-making landscape, and the way an audience perceives the entire practice.  
"Her life is an extension of her work," says Frank Rose, owner of Santa Fe's Hecho a Mano gallery, which shows a selection of Wilson's prints. "You can't really tease them apart." That is reflected in the falling-down structures she owns and inhabits, he adds. "There's a clear relationship between the way she inserts herself into the work and the landscape. It feels reverent, like she is always in relationship to it."  
Read More: These trailblazers strive to preserve our cultures, enrich our experiences, and create new paths.
Wilson says she and Lagg see themselves as gentle stewards of the ramshackle buildings, leaving some parts alone to the elements while teasing resources (like a greenhouse made from discarded windows) and art projects out of others. "It's not just that the landscape becomes a subject," she explains. "It's this potential, and the sense of time and timelessness out here."  
As if on cue, a freight train whistle blasts. Through the open garage door, the din of pastel-colored cars drowns our conversation. As they pass, Wilson laughs at my reverent expression.  
"It's like this colorful snake, isn't it? And a connection point. There's just something about Carrizozo, the receptivity to strangers. And the legacy of the railroad here." She's building layers again. At this moment, all the touchstones of the artist's world are visible—living, breathing, growing, blowing a horn.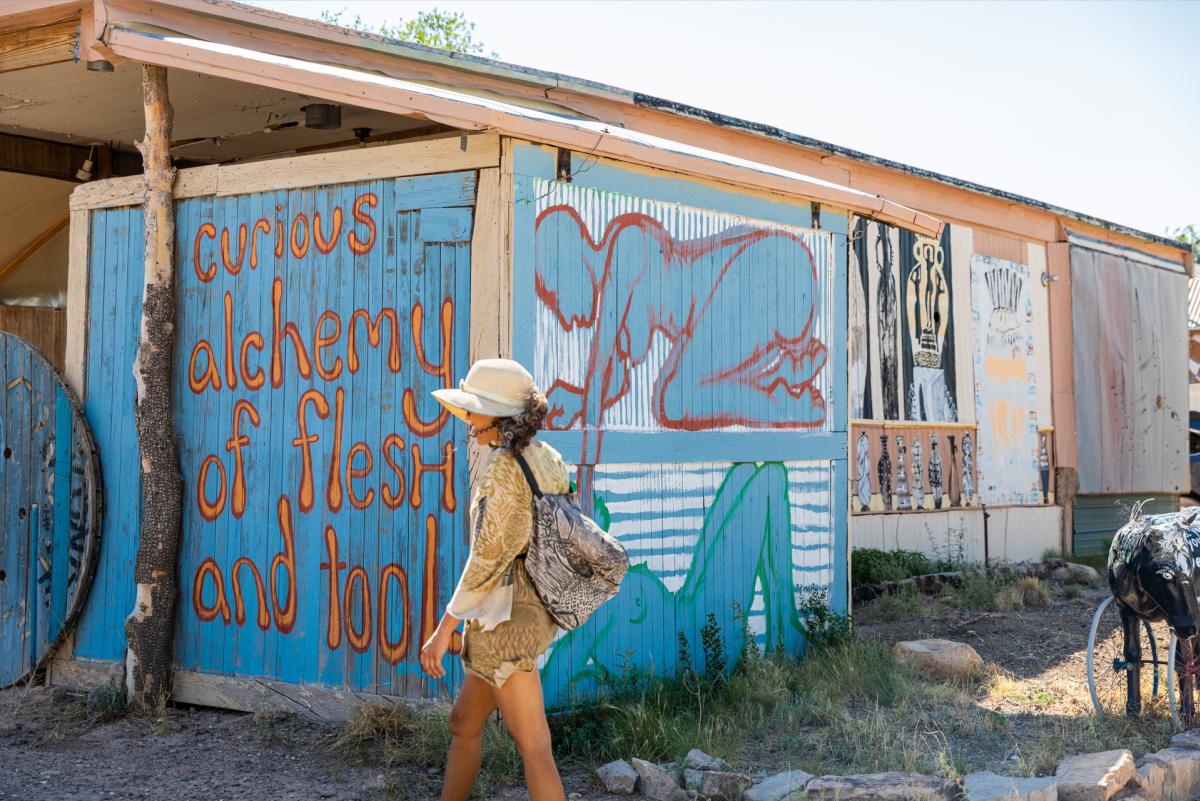 Chicago native Paula Wilson lived in Brooklyn before finding her muse in Carrizozo.
ART HOPS
Keep up on Carrizozo's art galleries and cultural events. 
Visit Paula Wilson's MoMAZoZo every Friday between noon and 1 p.m. 503 13th St., Carrizozo; @momazozo on Instagram
See her work through September 12 in Eye to I: Self-Portraits from the National Portrait Gallery, at the Albuquerque Museum. 2000 Mountain Road NW, Albuquerque
Peruse her prints at Hecho a Mano. 830 Canyon Road, Santa Fe