Jewelry artist Keri Ataumbi works in her Cerrillos Hills studio. 
IF YOU CAN GET "work" and "play" to be synonymous, then you're golden. Using that advice from her parents, Kiowa jewelry artist and metalsmith Keri Ataumbi has gilded both her life and her career. In her studio near the Cerrillos Hills, south of Santa Fe, a place where gemstones and gifts from the ancestors regularly surface with each rain, Ataumbi creates contemporary jewelry imbued with ancient stories and traditions.  
"For Native people, a lot of our adornment is a communication tool," Ataumbi says. "You can look at what someone has on and know what clan they're from, or how many wars their son has been in. Our adornment, if you know how to read it, has a huge amount of language within it."  
Her wearable art draws raves from fashion connoisseurs. Vogue has featured her several times in the past three years, most recently in January, when she was included among a diverse set of 40 designers. Ataumbi attributes that to a growing awareness of Indigenous lifeways and the solutions they may hold to social issues, such as climate change.  
"Keri Ataumbi is a vital creative force inspired by tradition—not just her own, but traditions from around the world," says Andrew Connors, director of the Albuquerque Museum, which included her work in a 2018 exhibition, American Jewelry from New Mexico. "She creates contemporary statements rooted in the shared humanity of handmade objects."  
Rather than view art with what she calls a "colonial perspective," where mediums are separated into categories such as pottery, basketry, and painting, Ataumbi approaches her jewelry through a holistic sense of the world shared by the Kiowa, a Great Plains tribe based in Oklahoma. Much of her work explores the differences between Indigenous and Western perspectives, and how they can create new, harmonious ways to exist. She juxtaposes materials like bison horn and porcupine quills with precious metals and stones, for example, or uses high-tech tools to create traditional Kiowa designs. 
"In the Western world, there's been a real separation in terms of what's art and what isn't art," she says. "There's not an integrated feeling about jewelry, that jewelry is actually art and can have all the same stories and potency that a painting does."  
Read More: The mines boomed and then faded, but the town of Cerrillos still revels in its past—served up with a champion-caliber burger.
Like a hairstyle or a pair of moccasins, jewelry can tell a unique narrative. Each piece carries the energy and memory of both the person who made it and the one who wears it. While Ataumbi's fine jewelry is more artwork than accessory, she intends for it to be worn—whether it be an everyday pair of floral earrings or a power piece like her necklace of ruby, mother-of-pearl, diamond, and buckskin. She wants the jewelry to inspire a sense of personal identity. Even if you're just hiking, she says, the thought you put into choosing a pair of earrings serves to honor a place and communicate with the life forms around you.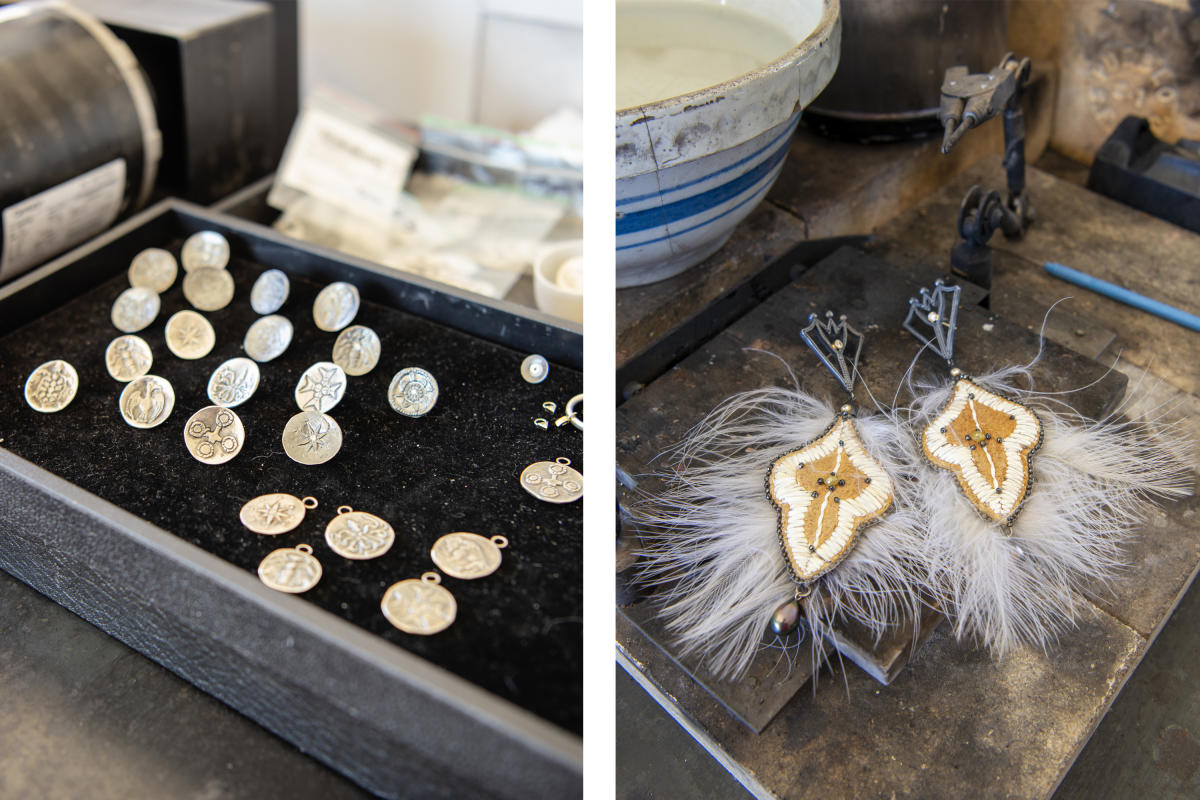 Keri Ataumbi's latest work includes jewelry inspired by coins and Kiowa medicine shields. 
ATAUMBI'S 20-ACRE PROPERTY SITS ON ANCESTRAL Tewa homeland, dotted by bushy junipers. Her vegetable garden, her bee colony, and the tipi her mother gave her as a high school graduation gift flank a barn turned studio that buzzes with inspiration. Along the skin of the soil beyond it, ants mingle with buried beads, pieces of turquoise, and other tokens of the ancients that the insects occasionally unearth on their little hills.  
"We as Indigenous people value things like bird feathers and porcupine quills and all these things that come from nature," she says. "Popular culture values things like gold and diamonds and rubies, which are still from the earth but hold more value. So what I've been doing is taking porcupine quills or buffalo horn and combining them with sapphires and gold." 
Read More: Non-Native photographers have long staged pictures of Native people, but a contemporary Diné-Chicana documentarian explores the power of indigenous expression.
Ataumbi, who uses only recycled metals to prevent new mining, recalls a cuff she created for the 2019 Santa Fe Indian Market that addressed such differences in cultural value systems. Fashioned from bison horn and encased in 22 and 18-karat gold with diamonds around it, the bracelet bore a beaded portrait of a buffalo created by artist Jamie Okuma (Luiseño and Shoshone-Bannock). Crafting the horn part, Ataumbi says, took weeks and required far more workmanship than the beadwork, metalwork, and stone setting.  
The bracelet attracted a collector who told her he couldn't pay what she was asking "for a horn." Ataumbi asked if he'd ever tried to find and clean a bison horn, reminding him that the creatures don't range across the continent anymore. "To me, it's more valuable to have fresh water so the buffalo or the porcupine can live than gold," she says. "Mining gold is one of the most toxic things that there is."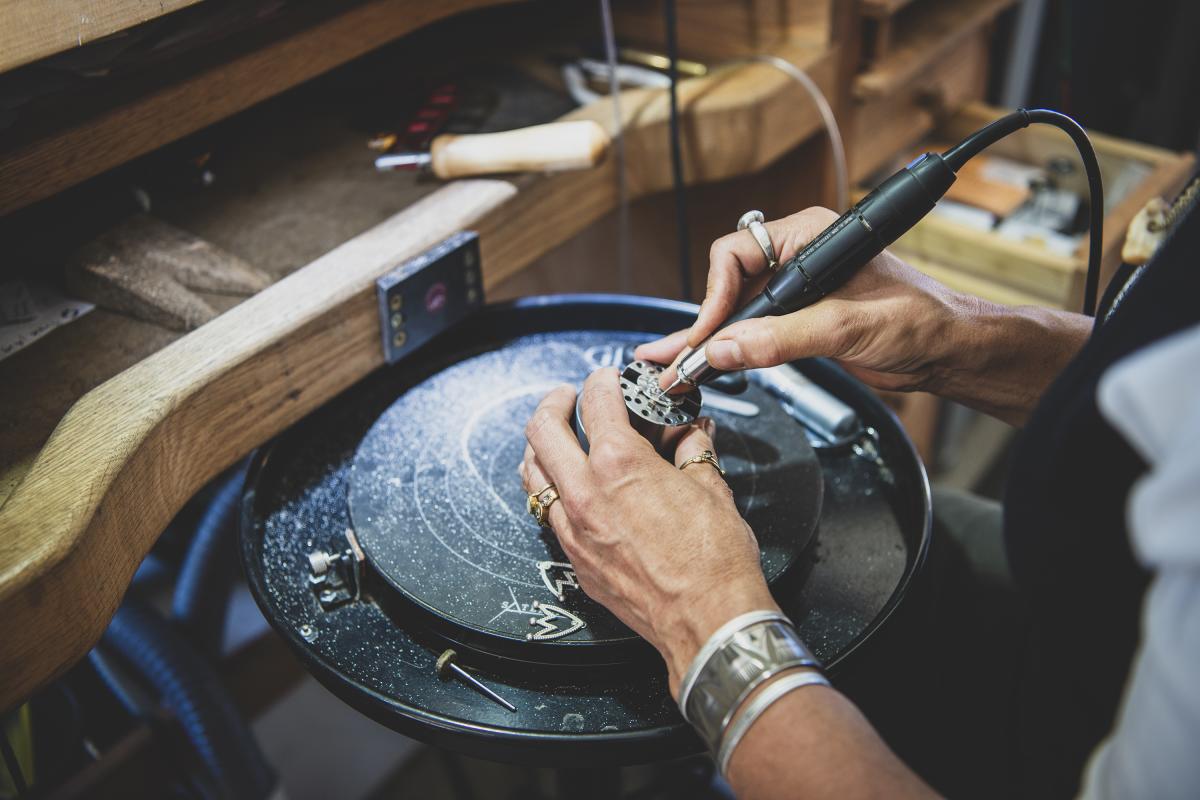 Almost all of Keri Ataumbi's designs are part of a limited-edition series. 
As two of the only Kiowa children on Wyoming's Wind River Reservation, Ataumbi and her sister, beadwork artist Teri Greeves, were influenced not only by their predominately Eastern Shoshone and Northern Arapaho neighbors but also by the diversity of art bought and sold at the trading post owned by their mother, noted Kiowa fashion expert Jeri Ah-be-hill. 
One day, when Keri was 11 or 12, a trader arrived on his yearly visit, his dusty old RV filled with Navajo jewelry, rugs, and other treasures from the 1970s Southwest. The girls' mother called them over to each pick out one piece of jewelry for themselves. Ataumbi became captivated by a ring with a large turquoise stone. Later, she realized it held the design of a water beetle.  
A kinship with the earth's smallest creatures stayed with her, and some of her early work was devoted to their beauty. Her insect collection, now no longer available, captured the detail and lighter-than-air movement of bees, damselflies, spiders, butterflies, and water beetles, in gold, diamonds, pearls, sapphires, and more.  
Read More: See work by Native beadworker Hollis Chitto.
With an Institute of American Indian Arts associate's degree in sculpture and a BFA in painting from the College of Santa Fe, Ataumbi employs elements from other mediums, such as sculpture and Southern Plains beadwork, into contemporary jewelry. In a world of fast fashion, she prefers a slower approach to creating, one where story is retained. 
Almost all of her designs live in limited-edition series, so that each piece is unique to an era of creation and can appreciate with time. One of her most recent series, Mahtaun Bling, translates traditional beadwork designs into metal, using contemporary tools like computer-aided design software.  
"Making these pieces, based off of Kiowa beadwork designs, was very challenging, because beadwork is highly dependent on color, and if you translate it into silver, you've got one monochromatic color going," she says. "I literally drew a bead in CAD, then started beading on the computer screen to create those pieces." 
Mahtaun is Kiowa for "young girl," and the line includes designs at a lower price point than some of Ataumbi's other work, making it accessible to a younger demographic. Playful and feminine, the pieces feature tulips and flower chains that seem delicate but maintain the strength of sterling and gold—not unlike the tough Indigenous girls they are designed for.   
Protection, Ataumbi says, is another way that jewelry communicates, and she regularly creates jewelry for young women to embrace their femininity and power. To that end, she is working on a series of small medallions that combine properties of ancient coins, tokens, charms, and Kiowa medicine shields.  
"This past year has been so intense for everyone," she says. "I want to make a series of little medicine shields for people to wear, for protection. I want my jewelry to have strength and potency, and to do it through beauty." 

SHINE ON
Ataumbi Metals are sold exclusively by the artist. Follow her on Instagram: @ataumbimetals.