Cerrillos rewards hikers with expansive views.
THE RAILROAD CROSSING ARMS LOWER and the warning bells ring out, breaking the quiet of a village that has had neither a train stop nor a station for decades. Within seconds, an Amtrak train rushes across First Street in Cerrillos at a clip just fast enough to let you know it's headed somewhere else. It continues a trek across northern New Mexico's Galisteo Basin—next stop Lamy—along a route that connects Los Angeles to Chicago.
Once a destination for people throughout America drawn to the area by a mining boom, Cerrillos became a temporary and permanent home for well over 2,500 mostly miners and merchants during the 1880s. The town is said to have welcomed well-known figures of the time—Thomas Edison, former U.S. president Ulysses S. Grant, actress Sarah Bernhardt, and Lew Wallace, author of Ben Hur: A Tale of the Christ and governor of the New Mexico Territory. Famed journalist Nellie Bly's train made a pit stop in Cerrillos as she raced back to New York during her record-breaking 1891 "Around the World in 72 Days" tour, which chronicled an epic journey inspired by Jules Verne. 
At one point, the village was up for consideration to become the state capital. Today, Cerrillos—Spanish for "little hills"—is home to about 260 people, many of whom live in a three-street-by-four-street grid. From Santa Fe, it's a 20-minute drive south on Cerrillos Road, also known as NM 14, but, much like Amtrak, cars often pass right through the town on their way to other places. 
Over the past several years, local business owners have started to change that, giving passersby reason to pause and perhaps take that sharp turn onto Main Street. 
"There's an energy that's been here for centuries," says Patrick Torres, a Gallup native who opened the popular Black Bird Saloon with his wife, Kelly, a few years ago. "People are drawn to it not only for the feel and vibe, but because the area is beautiful."  
After managing restaurants in Santa Fe for many years, the couple started looking into running their own. Properties in Santa Fe didn't seem the right fit. Cerrillos offered a 19th-century building—once a tailor shop, dry-goods store, and saloon—with just the right vibe, plus an on-site place to live that reminded them of shops in Europe.
"The chance to live and work in the same place was appealing," Kelly says. "We like to say this place kind of found us."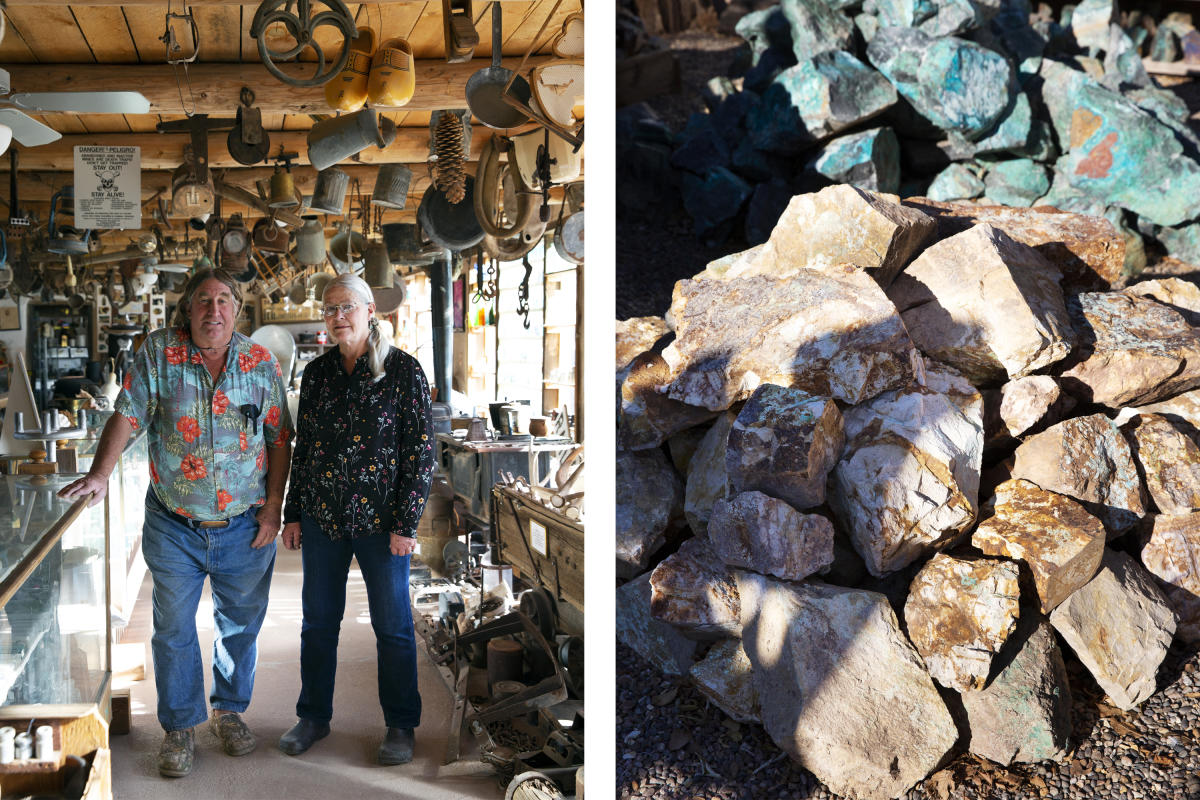 Todd and Pat Brown of the Casa Grande Trading Post, Petting Zoo, and Cerrillos Turquoise Mining Museum have a detailed answer for nearly any question.​ 
MOUNT CHALCHIHUITL (pronounced "cha-chee-wee-dul") takes its name from the Aztec language Nahuatl and translates to "jade stone." It's the oldest and largest turquoise mine in New Mexico, and Todd Brown, a 50-year Cerrillos resident, business owner, and caretaker of the mine, has offered to be my tour guide. (Ours is an abbreviated tour due to pandemic restrictions; group tours are not permitted at this time.) 
Brown and his wife, Pat, own and operate the Casa Grande Trading Post, Petting Zoo, and Cerrillos Turquoise Mining Museum, on Waldo Street. It occupies the site of the old Palace Hotel, which burned down in 1968. Todd, originally from Long Island, ran away to New Mexico after attending the Woodstock concert at age 16. "I had a ride out west," he says. "I wanted to live on a commune but found the village of Cerrillos, which was even better because each person leads his own life." 
Pat had made her way to Cerrillos from Virginia when they met at the Galisteo River. They raised their six children in what eventually became a 28-room adobe house. 
Before we get to the mountain, though, Brown pulls his SUV alongside a little roadside cemetery. "Theodore Roosevelt came to recruit the Rough Riders," Brown begins, referring to the renowned unit of soldiers who fought in Cuba during the Spanish-American War. "Four cowboys in this town signed up to come with their horses." 
Henry Clay Green, the son of the owner of the Palace Hotel at the time, was one of them. The men headed to Florida with their horses, Brown says, but found out the animals weren't allowed on the boat to Cuba. Instead, the soldiers had to run up San Juan Hill.  
"As they ran up, the first guy to die was Clay Green. It took his mother two years to get his body back. They buried him here," Brown says, pointing to a short obelisk. 
In addition to running his businesses, including this mine tour, and serving as president of the village's water board, historical society, and community association, Brown is the cemetery's caretaker. He also carved many of its headstones. Years ago, he and other members of the Cerrillos Historical Society located 45 unmarked graves and made sure they were properly acknowledged with markers.  
At the mine, we hike down a rocky path filled with rust-colored rhyolite, a volcanic rock, toward the bottom of the open pit. (Photos are not allowed, nor is disclosing the location, to prevent trespassers from coming on the land without a permit to steal turquoise.) 
Along the way, Brown retells the story of how the Ancestral Puebloans began mining and trading turquoise from this pit as early as 900. Cerrillos turquoise from that period has been found as far away as Chaco Canyon. 
Turquoise was only one commodity that attracted prospectors. Galena lead, zinc, silver, and gold began drawing starry-eyed dreamers with the first Spanish explorers. None of it lasted long, but Cerrillos turquoise always maintained a certain allure. In the 1890s, it drew the attention of Tiffany & Company, which purchased the rights to one mine, because the color of its turquoise matched that of the Tiffany box.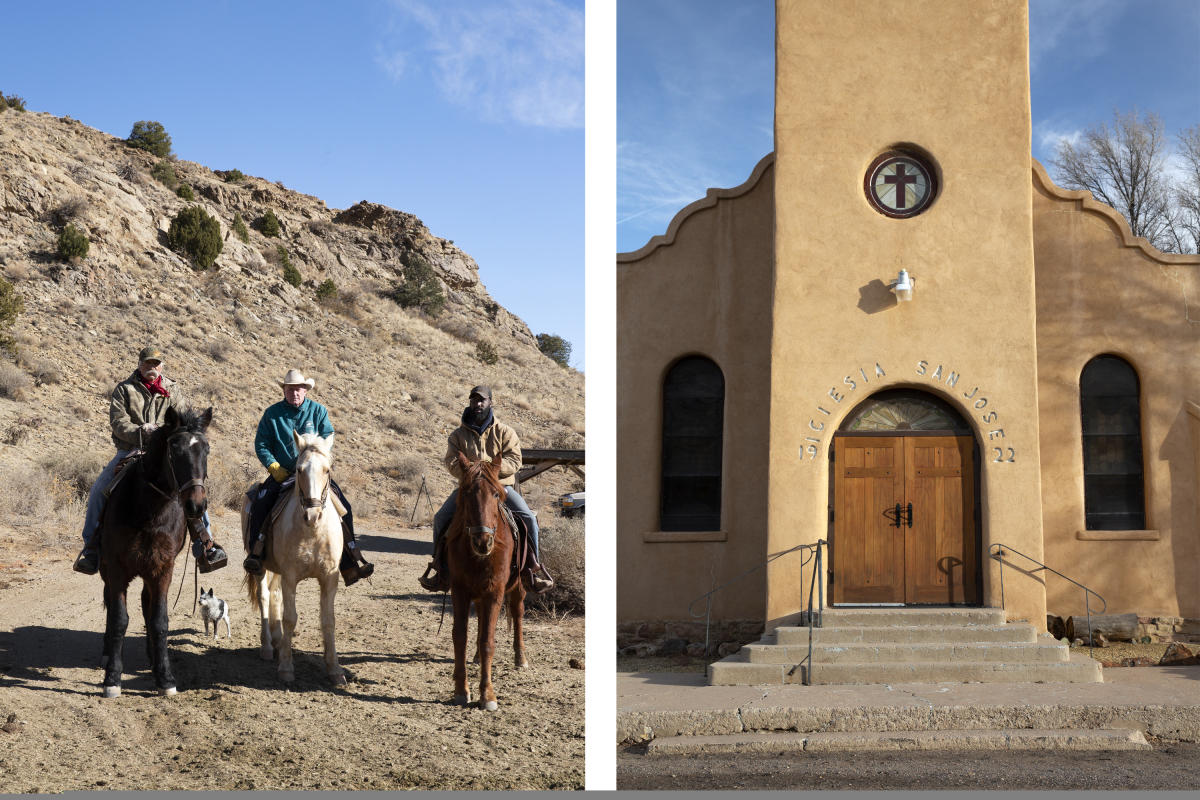 The Broken Saddle Riding Company leads horseback riding tours of Cerrillos Hills State Park. 
"NATURAL RESOURCES HAVE DRAWN PEOPLE to strange and faraway places worldwide," says Peter Lipscomb, manager at the 1,100-acre Cerrillos Hills State Park. "There's a multicultural mining history here, from people who were indigenous to this place to the Spanish and other Europeans who came in when there was a brief boom." 
Visitors can walk five miles of trails past safeguarded mines marked with signs about the area's mining past and residents. (The 10 protected mines represent only a handful of more than 2,000 in the Cerrillos Hills.) On the one-mile Jane Calvin Sanchez Trail, the Rotterdam Lode sign tells of Danish immigrant and miner Hans Christian Rasmussen, who had a dozen claims, including this particular lode of galena lead. The story goes that he opened his own grocery store and meat market where the park's visitor center now stands. There, he sold fresh fish and oysters until fire destroyed the building. Rasmussen abandoned his wife and was never heard from again. 
Lipscomb wants visitors to realize that "mining is still as relevant today as it once was," but to also appreciate the bounty of bobcats, coyotes, bats, and 30 species of birds, along with native shrubs and wildflowers.  
The 0.2-mile Village Vista Trail, at the main parking area, takes hikers to one of the best views of Cerrillos. When I reach its end, I'm reminded of what initially compelled me to slow down and turn off NM 14 a few years ago: the trees. 
In the middle of the high desert, a canopy of cottonwoods and Siberian elms secludes most of the village. In winter, the turquoise dome of the 1922 St. Joseph Catholic church stands out against the gray canopy of bare branches. While the cottonwoods are native, Siberian elms and tamarisks were introduced to create windbreaks and control erosion. Most of the people may have left, I think, but those trees live on.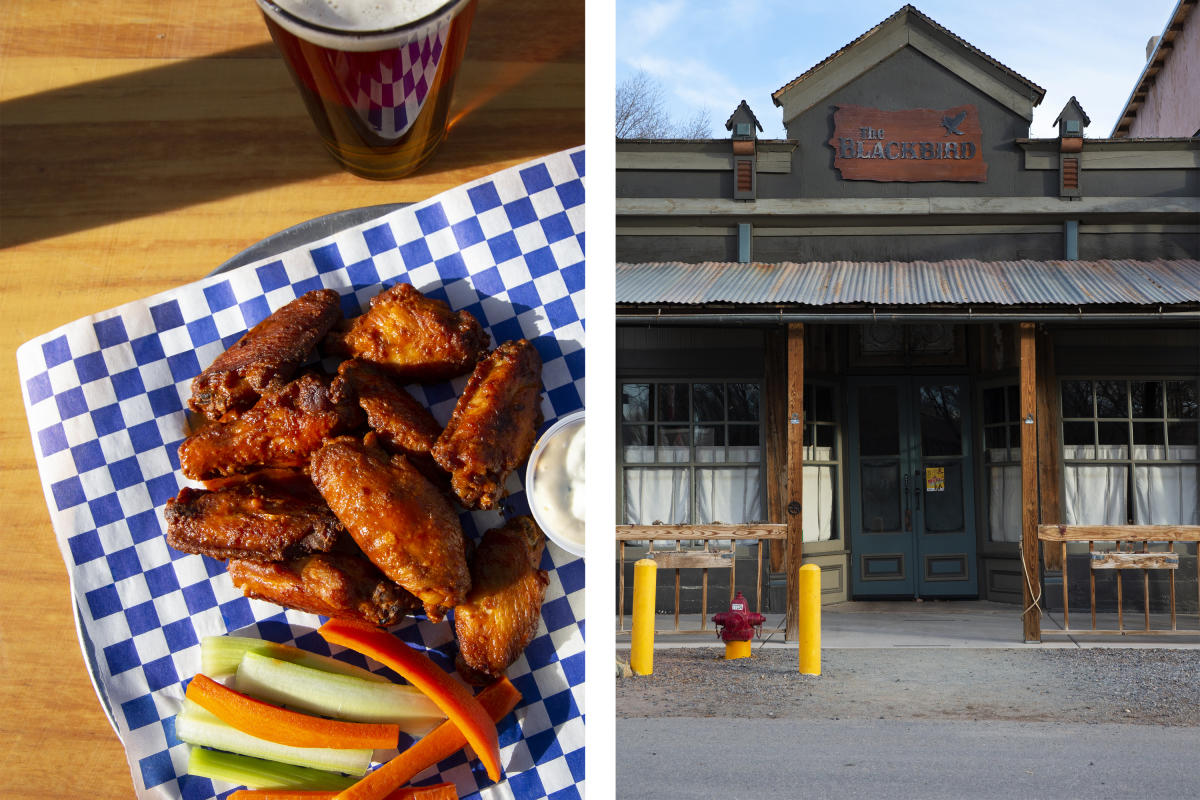 Visit nearby Beer Creek Brewing (left) and the Black Bird Saloon in Cerrillos (right) for good eats and drinks. 
THURSDAY NIGHT IS UNOFFICIAL LOCALS' NIGHT at Black Bird Saloon. A space clears at a tequila barrel on the front porch—a perfect place for me to people-watch. I order an open-face tuna steak sandwich called the Spaghetti Western, served with a prickly pear cactus pesto. The choice wasn't easy. I'm about to miss out on marrow-buttered rustic bread, bison chipotle sausage, and Wagyu beef pastrami. Black Bird also incorporates wild game into its burger list—elk served with blueberry mustard, wild boar with apple-and-onion jam.  
"We feel like we've gone back in time, so the menu should feature some wild game," Kelly Torres explains.  
This spot on the porch also makes a great place to take in a vibrant, if socially distanced, evening. For a moment, it seems as if everyone knows everyone else. But based on the conversations, that's not the case. Even with face masks on, people introduce themselves and ask where you're from. Still, everyone has something in common here on the porch of the Black Bird. At one point—last century, last year, or last night—a shared curiosity led them to turn off NM 14. 
"We appreciate the history and what has come before us here, and we really wanted to respect that," Kelly says. "We're glad to be a part of it."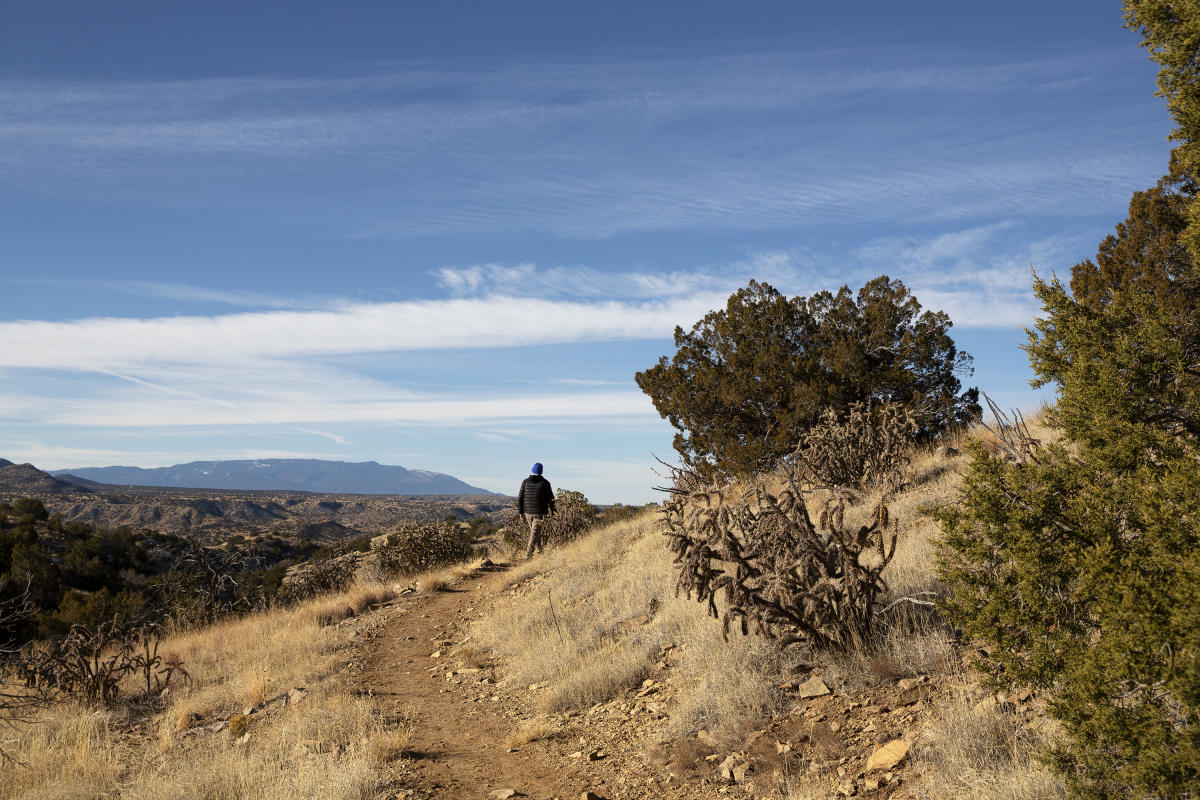 A hiker at Cerrillos Hills State Park explores the many hiking trails with views of the surrounding hills and town.

SEEING CERRILLOS
Visit. Check the village of Cerrillos's website for the latest news on community events. Always check on hours and possible closures during the pandemic. 
Eat. At the Black Bird Saloon, owners Patrick and Kelly Torres serve lunch and dinner Thursday through Saturday and brunch on Sunday.
Sip. About 8 miles north of Cerrillos on NM 14, Beer Creek Brewing pours craft beer and makes (and delivers) pizza and sandwiches daily.
Explore. Casa Grande Trading Post, Petting Zoo, and Cerrillos Turquoise Mining Museum displays turquoise, sells samples, and gives guided hiking tours of the Mount Chalchihuitl mine (groups of four, $75 per person).
Ride. Take a horseback tour of Cerrillos Hills State Park with the Broken Saddle Riding Company ($70–$120 per person).
Stargaze. Arrange a two-hour star tour with Astronomy Adventures ($15–40 per person, free for children under 6). 
Shop. Cerrillos Station has gourmet food items, books, garden tools, ladies' accessories, and locally made pottery, jewelry, and art. From mid-May into October, stop by the farmers' market on Thursday, 4–7 p.m. 
Stay. A handful of Airbnbs are scattered in and around Cerrillos. The Mad Hatter Casita, a remodeled carriage house built in 1884, boasts eco-friendly features, fresh eggs from the chicken coop, and a view of the Ortíz Mountains. 
---
Read More: Once a thriving mining town, Madrid found new life as an art community that digs its quirks.
Read More: Just a few miles north of Los Cerrillos, sculptor Kevin Box creates origami-inspired outdoor sculptures at the Turquoise Trail Sculpture Garden and Studio.
Read More: Santa Fe silversmith Douglas Magnus has owned the famed Tiffany Mine in the Cerrillos Hills since the 1980s.