Above: Little Toad Creek Brewery'and Distillery. Photographs by Douglas Merriam.
In the space of just a few years, businesses like Icebox Brewing, Picacho Peak Brewery, Little Toad Creek Brewery and Distillery, Spotted Dog Brewery, and Bosque Brewing have popped up in Las Cruces—a thirsty city of nearly 100,000 people. Each brewery has crafted a singular identity that adds to the area's small-town, laid-back feel.
If you're going to sample microbrews here, you must start with High Desert Brewing Company. It's one of the oldest microbreweries in a town where, no doubt, many Las Crucens and NMSU students had their first taste of craft beer.
That's true for me, anyway. At 21, my palate wasn't used to bitter IPAs or their flavored Peach Wheat, but I knew these tastes were what packed the place. Ten years later, it's still a popular spot. The casual interior is extremely inviting; the velvet Elvis paintings by the bathrooms make you feel like you're in Grandpa's house.
High Desert brews like the Peach Wheat and the India Pale Ale (they're not really creative with the names) have stood the test of time and are menu regulars. My favorite? The IPA, because it's refreshing, not overly bitter, and pairs nicely with one of their great green chile cheeseburgers. High Desert has the full package: beer, food, a large patio, and a local musician or full band always stuffed in the corner.
Down the road, Little Toad Creek Brewery and Distillery breathes life into Las Cruces' downtown—a zone that has morphed into a happening hangout with a budding nightlife. "This revitalization is a long time coming. The more businesses that come downtown and stay downtown is a good thing," says Carol Ayon, assistant manager at "the Toad," as locals call it.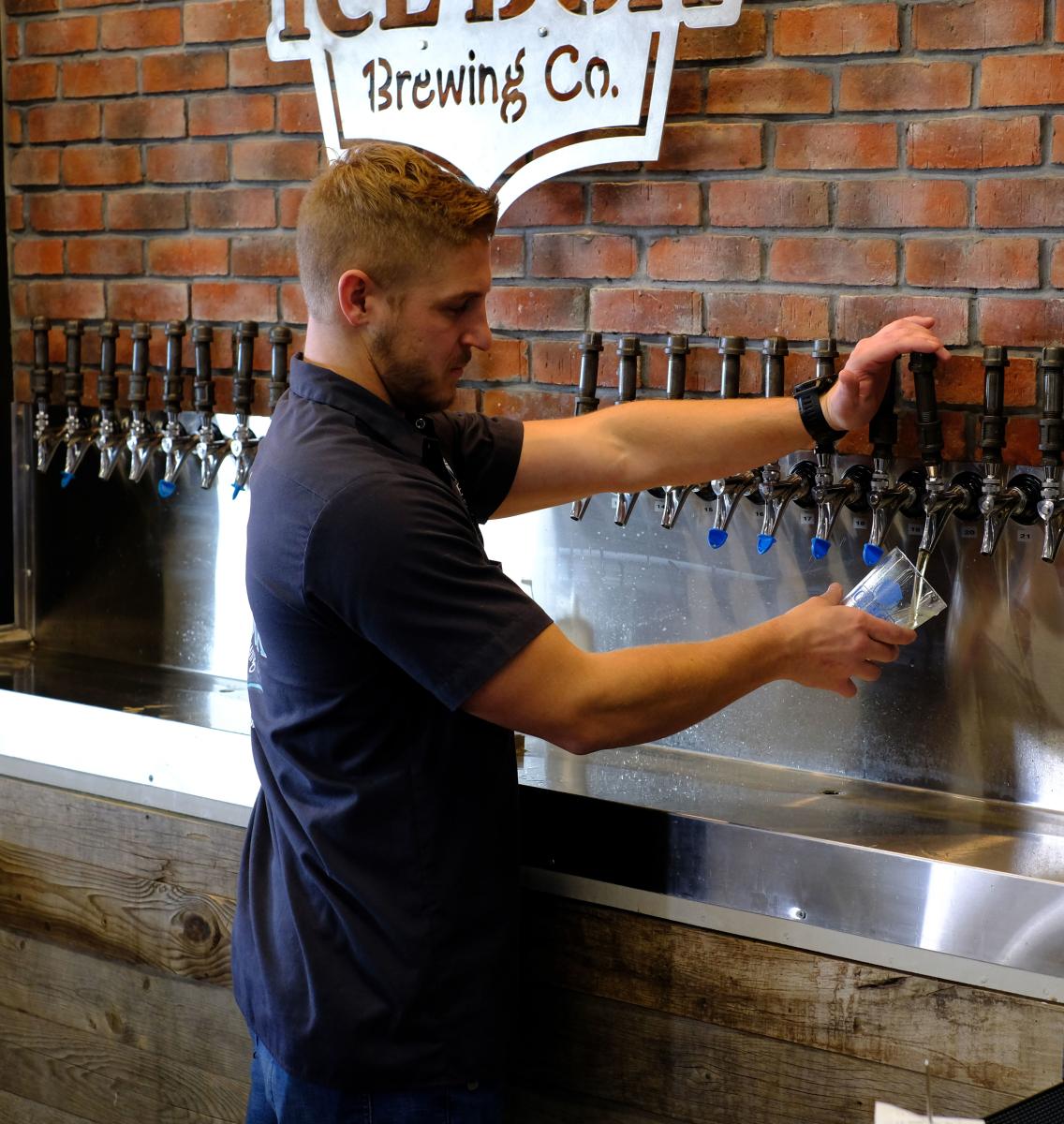 Above: Icebox Brewery in Las Cruces.
Ayon, along with her husband, C.W. Ayon—whose music is just as much a part of Las Cruces' identity as the Organ Mountains—relishes the new energy. The Toad "is kind of like the go-to hangout place," says C.W. between sips of Copper Cream Ale from a special glass that "Mug Club" members get. "It's not upscale. You come to slow down and relax."
The Toad and its fellow breweries have brought more to Las Cruces' social scene than good pints. "It's added venues for bands to play," says Felipe Toltecatl, C.W. Ayon's bandmate. "And usually, with beer, you want to eat. So that's opened up more opportunities for the food truck guys."
Local radio host Edmundo Resendez wants to make sure the locals are not overwhelmed or intimidated by the surge of new and exciting beer flavors.
Read more: You get way more than beer at Comanche Creek Brewing, in Eagle Nest.
He started the Beer Confidential show at KRWG 90.7 FM, where he and his guests talk about "the difference between a pilsner and an ale, between a porter and an IPA," he says. "This show is intended to educate an audience that's just starting in their exploration of microbreweries. At the same time, it's designed for the connoisseurs to lend their expertise."
Students at NMSBrew listen to the show. That's right, NMSBrew: a new brewery engineering program in NMSU's Chemical & Materials Engineering department.
"They are graduating people who are interested in staying in Las Cruces and starting their own microbreweries. I think that you have people who see this as something that they can make a living with," Resendez says. "I see an opportunity to grow."
Catherine Brewer, an assistant professor at NMSBrew, agrees. "I'm hoping NMSU as a school, and Las Cruces as a town, and New Mexico in general becomes a place that knows beer and knows that there's more than one kind of beer."
Love New Mexico? So do we. Subscribe today for just $3 an issue and we'll deliver our award-winning monthly magazine right to your door.
---