Make breakfast a blast with everything and Asiago cheese varieties from Venice Beach Bagels. Photograph courtesy of Venice Beach Bagels.
FOODIES LOOKING FOR TASTE BUD ADVENTURES in New Mexico's second-largest city will find a restaurant scene invigorated by entrepreneurs who've carved out flavor-filled niches despite the challenges of the past 18 months. Satisfy your cravings at these new dining options. 
Breakfast
Gerard Hinderlich, a physical therapist by training, had no intention of launching a bagel business when he moved from California to Las Cruces to help care for a relative during the pandemic. But a news story inspired him to take up bagel making as a way to deal with stress. "I started baking, and baking, and baking," he says.  
At first he gave away his bagels to family and friends. But after word of their quality got out—he boils, then bakes his bagels, a practice popular on the East Coast to impart a chewy crust—Venice Beach Bagels was born as a home-based bakery. "I provide a different kind of taste for the people of Las Cruces," Hinderlich says. 
Pair one of 12 varieties (such as jalapeño cheddar, for a spicy, savory one-two punch) with his selection of spreads, including strawberry, butter pecan, and garden veggie. While Hinderlich expects a Venice Beach Bagels truck to roll out by the end of the summer, orders (six bagels and three spreads for $13, or a dozen bagels and six spreads for $22) can be placed via Facebook Messenger or by phone for pickup or delivery; 575-650-5799.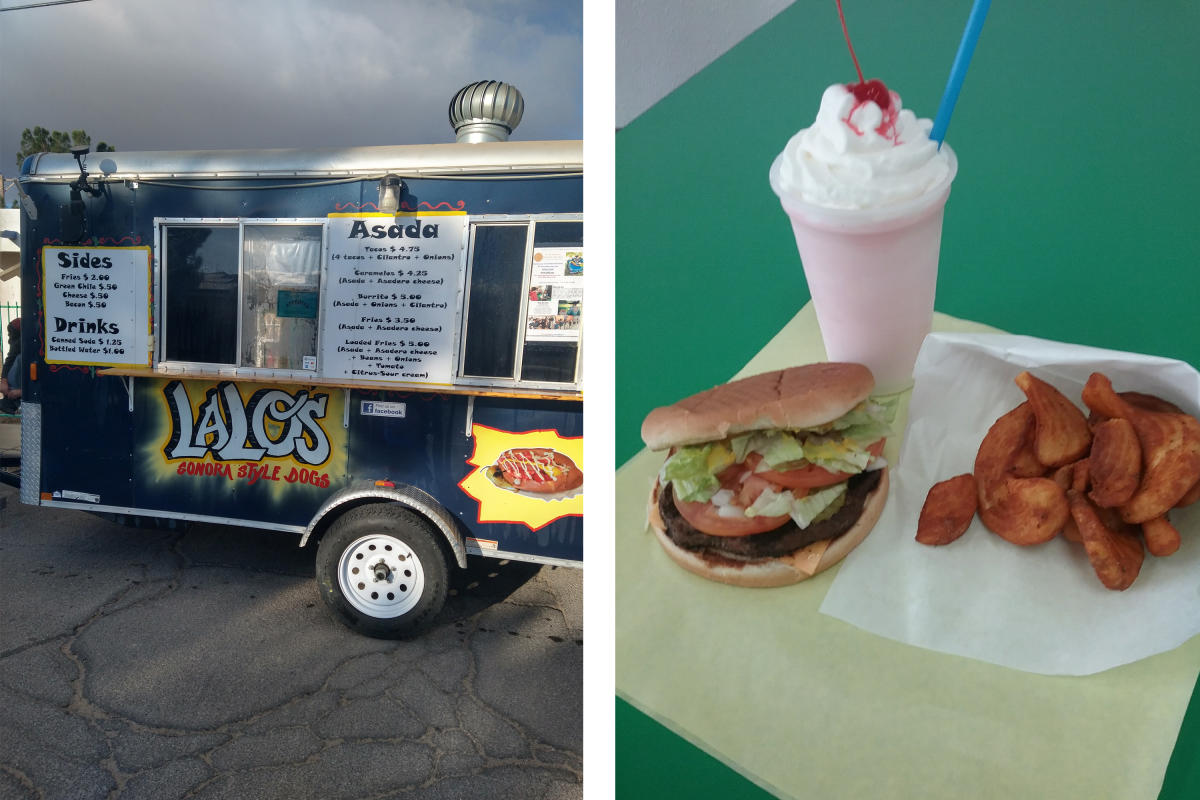 Lalo's Sonora Style Dogs food truck serves up popular Mexican-style hot dogs (left) and Cactus Flats crafts classic milkshakes, burgers, and sidewinders (right). Photographs courtesy of Lalo's Sonora Style Dogs and Cactus Flats.
Lunch
Louis Sena always dreamed of owning his own place. A nearly 30-year veteran of the local restaurant scene, he'd even gone so far as purchasing a food truck. But when his younger brother passed away last year, Sena was spurred into action, launching Lalo's Sonora Style Dogs in July 2020.  
The stationary food truck in central Las Cruces sells 10 varieties of Sonoran hot dogs ($2–$4)—a grilled, bacon-wrapped style popular in Arizona and its namesake Mexican state. Sena then layers on a playful medley of freshly cooked beans, onions (raw or grilled), tomatoes, green chile salsa, mustard, and mayo. 
While some are classic recipes, others Sena invented himself, including the fiery Dozer Dog, topped with red chile sauce (a blend of habanero, chile de árbol, and chipotle peppers), ghost pepper mayonnaise, and green chile salsa. For anyone counting, that's five types of peppers. "It can knock you on your butt," Sena says. 
The Vegan Dog features beans as the protein, along with grilled mushrooms, poblano peppers, red bell peppers, onions, and a Southwestern-style barbecue sauce. Customers can also create their own edible masterpieces by mixing and matching toppings and sauces. "We are 100 percent customizable," Sena says. 110 N. Solano Dr., Las Cruces; 575-993-0536.
Dinner
If a 1950s diner collided with a prickly pear cactus, it'd look something like Cactus Flats. A five-minute drive north of Las Cruces, in the historic village of Doña Ana, this fun Southwestern grill serves burgers, burritos, sandwiches, fries, and shakes. 
Owner Matthew Bucher ran a burrito joint in a gas station before launching Cactus Flats in late 2020. Banks weren't interested in financing restaurants at that point, but family and friends came together to help turn Bucher's vision into reality. He admits it's been a challenge, but customer response has been rewarding. "I definitely have no regrets," he says. 
Bucher worked to incorporate local flavor and flair into his restaurant's theme and menu. The interior's black-and-white tiled floor evokes a bygone-era diner, while vivid green tabletops nod to the humble prickly pear, ubiquitous in southern New Mexico scenery. (A pair of resident roadrunners are known to linger outside.) 
Cactus Flats serves big ol' burgers, the thick, beer-battered potato wedges known as sidewinders, and an array of hefty burritos ($3–$5), including red chile pork, green chile meat, chile relleno, carne asada, and steak fajitas. While it's no surprise that the green chile (hot or mild) is made from certified Hatch chiles, the popularity of the Philly cheesesteak sandwich ($5.50), piled high with cheese and grilled green, red, and yellow bell peppers, might sneak up on you. 641 E. Thorpe Road, Doña Ana; 575-526-7969.
---
Read More: Nestled near Texas and Mexico, Las Cruces revels in its blended identity.
Read More: New breweries abound in Las Cruces—and a new university program will ensure it stays that way.
Read More: The mother-daughter duo behind Indulgence Bakery & Cafe has created a divine gathering place in Las Cruces.