Little Toad Creek's three varieties of canned cocktails are all based on traditional ginger and lime flavors of the mule. Courtesy of Little Toad Creek Brewery & Distillery/Travis Lewis.
TERESA DAHL-BREDINE WAS ON VACATION in Belize when inspiration struck. Sitting at a beachfront bar with her husband, Dave Crosley, she sipped on a watermelon-ginger-and-jalapeño cocktail. "I was like, 'Oh my God, this would be great as a mule,' " says the owner of Little Toad Creek Brewery & Distillery, in Silver City.  
The path from idea to cocktail-in-a-can reality, however, has not always been warm ocean breezes and white sandy beaches for Little Toad Creek's Mixed-Up Mules. The initial seed was planted two years ago when canned cocktails were being touted as the next big thing at the American Craft Spirits Association's distillers convention in Minneapolis. While Dahl-Bredine worried that their operation lagged behind other craft distillers in getting to market, she wasn't about to skimp on quality. That started with using natural, not-from-concentrate juices rather than the natural flavorings in other drinks. "We really wanted to eliminate any doubt about what the ingredients in our products were," she says. "It's taken a lot of research to make it work." 
The three inventive varieties, all based on the traditional ginger and lime flavors of a Moscow mule, have been in development for more than a year and started rolling out in September at the Little Toad Creek tasting rooms in Silver City and Las Cruces. Crafted like a balanced, bar-quality cocktail and made in 27-barrel batches, each 12-ounce can includes two shots (10 percent ABV) of gin, vodka, or rum.  
After Dahl-Bredine's Watermelon Jalapeño (still her favorite), Crosley suggested the Gin & Grapefruit. Although Dahl-Bredine was wary, it's been a hit. "It's actually turned out to be by far our most popular," she says. "Really great flavors." The Mojito rounds out the lineup, which is still being tweaked based on customer feedback.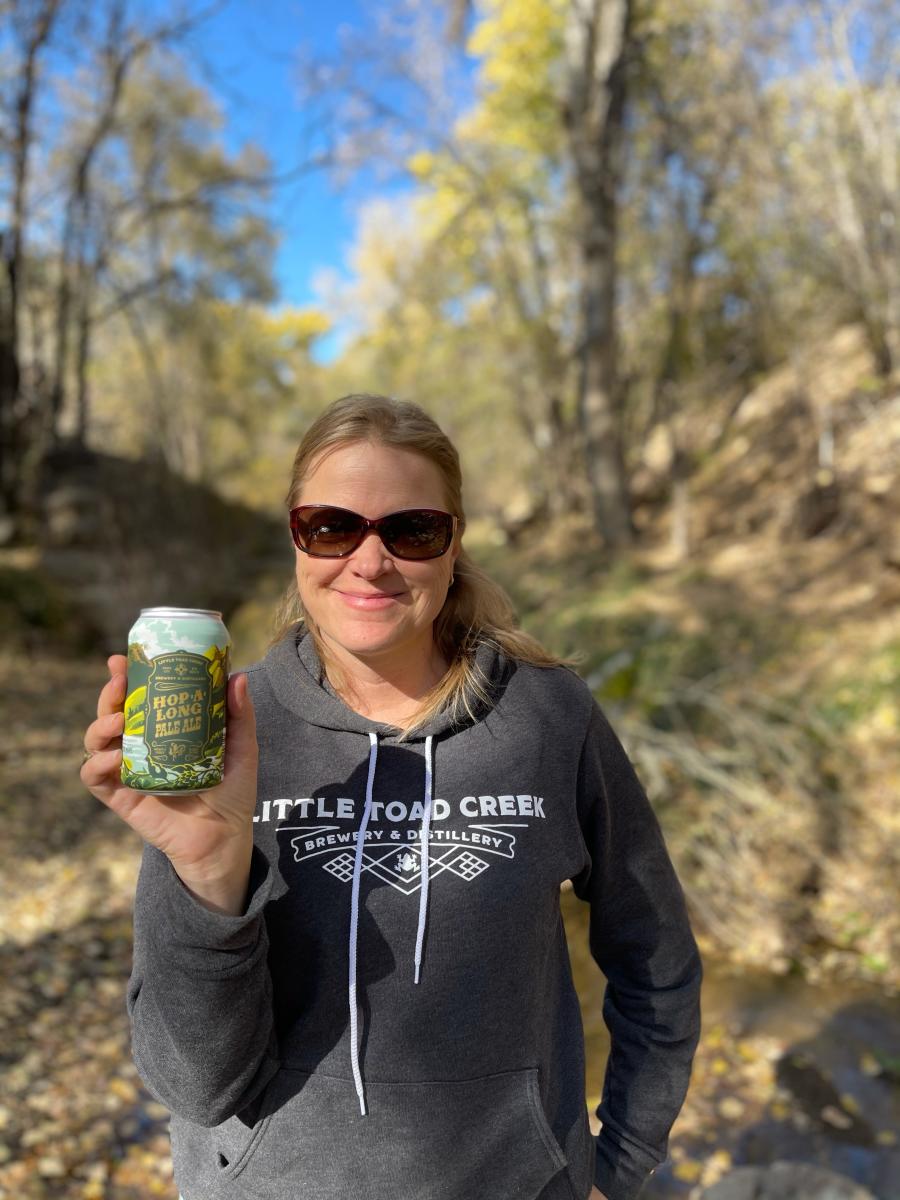 Teresa Dahl-Bredine finds creativity in all aspects of Little Toad Creek Brewery & Distillery's new Mixed-Up Mule canned cocktails. Courtesy of Little Toad Creek Brewery & Distillery/Travis Lewis.
The venture into canned cocktails is just another example of the couple's entrepreneurial spirit, which has transformed a former hunting lodge into Little Toad Creek Inn & Tavern at Lake Roberts, and drawn crowds to their Silver City skating rink turned brewery and Las Cruces tasting room with creative events such as the Octoaderfest street party.
"We love the dreaming phase," says Dahl-Bredine, a Yale University theater graduate. "Running a business is so hard, so all-consuming. You have to have something that sparks your imagination every day to keep you inspired." 
While COVID-19 has slowed their distribution plans, Mixed-Up Mules can be found in Whole Foods Markets statewide, and Dahl-Bredine expects them to be available in other stores in Albuquerque and Santa Fe by January. El Paso and Arizona would be next. And there's plenty of room for growth, especially since the canned cocktails on the market have come primarily from small distilleries with regional reach and very little availability in the Southwest.   
"The cocktails feel really creative," she says, "not only coming up with the flavors but then coming up with the solutions of how to turn that into a reality. That's a creative process for me."
Read More: Holiday spirits from local distilleries
Read More: Patrick's Probiotic Sparkling Water taps into a healthier summer beverage with naturally fruity sparkling kefir water.