Above: An assortment of popular dishes at Chello Grill. Photographs by Gabriella Marks.
I AM AT THE SINK, rinsing a bowl of basmati rice in water. The voice of Shala, mother of my Afghan former boyfriend, comes to me. "Rice takes a very long time," she is saying. "The grains have to be long. The rice," she explains while answering one of my many questions about Afghan cooking, "is the main thing."
After a couple of years of trial and error, I've come close to perfecting jeera pilau—plain basmati rice seasoned with cumin seeds. Almost every month, I make a big batch of it to pair with chicken korma, a stew with chicken, split peas, tomatoes, and onions; sabzi, another stew of spinach and leeks; or lubya, kidney beans in a sauce of stewed tomatoes and onions.
When I'm craving them, I can make more intricate dishes like ashak—leek-filled dumplings served with a chunky spiced ground beef and a minty yogurt sauce—or qabili pilau, Afghanistan's national dish, which is a mound of fragrant basmati rice stained light brown with garam masala, hiding some kind of slow-cooked meat like lamb or chicken and decorated with sweet shreds of carrot, plump raisins, slivered almonds, and pistachios.
I will forever be grateful for Shala's kindness in those years. When I first tasted her cooking, it changed my life. I was introduced to the beauty of Afghanistan at her dinner table, and it showed me the power of food. How it can speak more volumes than conversations and books can. How flavor can create a different level of connection to a people and their culture. And how a simple plate of food can overcome divisive politics and conflict.
I've come to love making and eating Afghan food here in New Mexico, along with what's nebulously labeled as Middle Eastern fare, which connotes dishes from an area that goes roughly from Iran over to Egypt, up to Turkey, and down to the bottom of the Arabian Peninsula. I gravitate to Mediterranean restaurants, too, which draw culinary inspiration from countries like Greece, Israel, and (again) Turkey, plus much of North Africa. The rice dishes, stews, grilled meats, salads, and syrupy sweets from these areas are complex, with an array of spices intricately woven into long cooking times. They can be deceptively simple, too, with no more than a little lemon juice and za'atar, a sumac-based mix of herbs, to add flavor.
This broad swath of geography is a meeting place for flavors and culinary influences from Africa, Asia, and Europe. It's also a tight space where borders change but regional and national cuisines still have specific identifiers. The differences would be similar to those between New Mexican food and Mexican food, for instance. But people and ingredients migrate. Olives, lemons, yogurt, parsley, and couscous can be found in most Mediterranean cuisines. And in the Middle East, legumes, lamb, chutneys, and earthy spices like cardamom and coriander have become shared staple ingredients.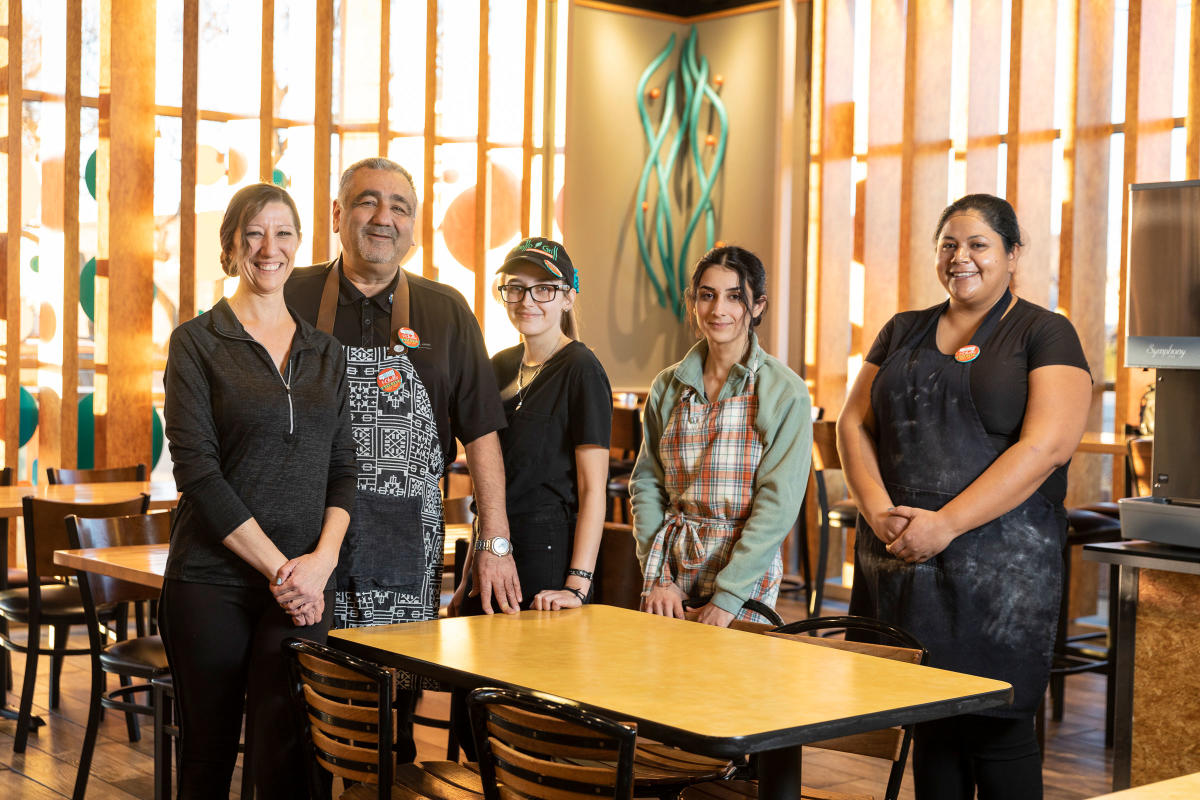 Above: Hass Aslami and the staff at Chello Grill.
According to U.S. Census statistics broken down by the Arab American Institute Foundation, New Mexico is home to just over 4,500 people from Arabic-speaking countries.
Yet the flow of food culture from the Middle East is no recent phenomenon. Spanish cuisine, which set down very deep roots here, was heavily influenced by the Moors, who occupied the Iberian Peninsula for 781 years starting in 711, and who were in turn influenced by Arab peoples. In that time, rice, spices like cumin and herbs like cilantro, and cooking tools such as the horno became part of Spanish food culture. Those influences traveled to the Americas with the Spanish, whose conquests reached the northern frontier, now known as New Mexico, in the 1500s. New Mexican food would not be what it is today without those influences.
Albuquerque is home to a diverse culinary landscape enriched by the contributions of more recent waves of those from across the Middle East. To this city they've brought kebabs, rice, falafel, and hummus. I can have a fine-dining experience at Pars Cuisine, in the restaurant cluster off I-25, or grab a quick falafel sandwich at Sahara Mediterranean Grill Express, in Uptown, then round out a grocery-shopping trip at Alquds Mediterranean Grill and Grocery, in the Northeast Heights. When I eat at these restaurants or shop at their stores, I experience something more than just good flavors. Each is family-owned and -operated, by émigrés who come from Iran, Jordan, and Palestine, respectively, while other city eateries serve the food of Lebanon, Egypt, Syria, and Turkey. Many of these restaurateurs use recipes that not only put their children through college but also educate New Mexicans about their diverse cultures.
AT CAFE ISTANBUL, on Wyoming Boulevard at Constitution Avenue, a grocery store covers the main portion of the establishment and holds hundreds of specialty items from Eastern Europe, all the Persian-speaking countries, and even Russia. Shelves are lined with foods in packages labeled in different languages. Large bags of basmati rice rest along one of the walls. A refrigerator at the front holds pita bread, naan, and lavash. The space is brightly lit and smells like a well-stocked spice cabinet—one filled with turmeric, anise, and cumin. Immediately to the left of the entrance is the café part of Cafe Istanbul: a simple setup of seven tables surrounded by bags of rice, tea canisters, and coffee paraphernalia.
The menu includes the usual suspects: falafel, gyros, chicken shawarma, rice, baba ghanoush (an eggplant dip), and Mediterranean salads. But one of Cafe Istanbul's most popular items is the hummus. No roasted peppers, chocolate, or extra garlic flavors—just plain chickpeas flavored with tahini, lemon, garlic, and salt.
"We don't need chocolate hummus in our lives," Heba Aggad says with a laugh. She's one of six daughters whose parents, Itedal and Nassir Aggad, own Cafe Istanbul. "Everyone knows about hummus now, so it's kind of cool to see that: a food from the Middle East spread around everywhere."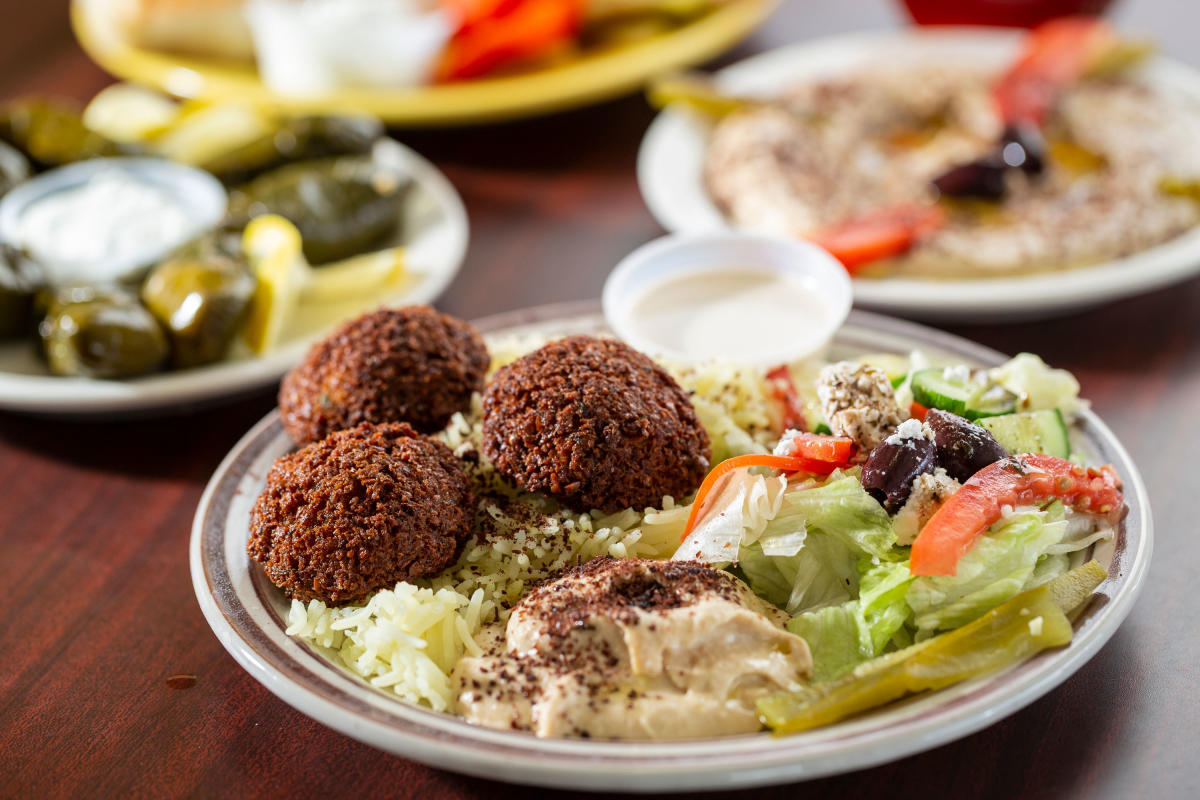 Above: Hass Aslami and the staff at Chello Grill.
She compares hummus's popularity in Palestine, where her parents are from, to the ubiquity of ketchup or ranch dressing here. People there eat it all the time—and they only eat it plain. That's why the flavored-hummus trend strikes Heba as funny, even a little ridiculous. But it's a demonstration of how, in the past decade or so, hummus has come to appear in almost every American grocery store and on more and more restaurant menus. At Cafe Istanbul, Heba says, you can find the best.
Although I've had terrible hummus only once (a salty roasted red pepper one that showed up at an office potluck), I have to agree that Cafe Istanbul's is pretty delicious. As an appetizer, it's served at room temperature with olive oil, sumac for color, little pickle slices, and a couple of olives. The hot piece of pita bread on the side is the vehicle for getting it where you want it to be: your mouth.
The food at the café is no different from what the family eats at home, Heba says. Everyone in her family cooks, and they share responsibilities at the store. "The one thing that no one knows the exact ingredients for is the hummus," she says. "Only Mom and Dad touch that. I feel like that's what makes it special."
The Aggads opened the grocery store in 2000, motivated by the desire to expand food options in the neighborhood.
Eventually they added more and more specialty foods, like basmati rice and bulk spices.  The only thing left to do was open a restaurant, which they did in 2006.
Itedal originally came to the United States in the eighties for her nephew's wedding in Cleveland. She met her husband there and they got married. Both were from Palestine's West Bank—Beitunia and Nablus, respectively—and moved to Albuquerque in 1996. "They figured better lifestyle, better living, better opportunities," Heba says. "But we always visit back home. Every summer, one of us is there. We don't neglect that part of us. We're very proud of that part of us."
Heba was born in Ohio but is also deeply rooted in Palestine. She has two identities, she says. The store and the restaurant represent her intersection. "You get the culture of the store, you get the smells, you get the feel, but we also implement what people here prefer." Though the family is from Palestine, they dubbed their business Istanbul because that Turkish city has long been a major hub connecting European, Mediterranean, and Middle Eastern cultures to one another. In Albuquerque, this little café and grocery store connects New Mexicans with foods from that vast area—and beyond. "So many languages are spoken here," Heba says of her customers. "It's nice to see that there are more people who are enjoying these types of foods."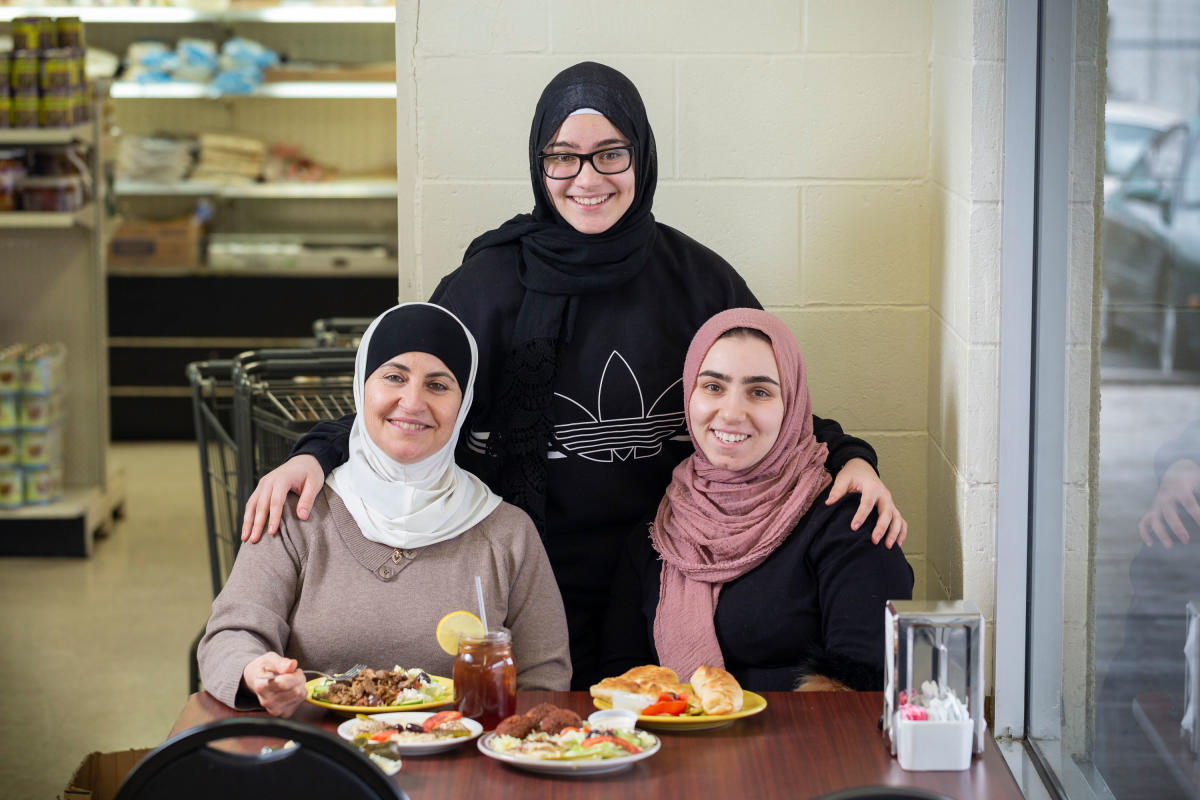 Above: Itedal Aggad with daughters Deena (middle) and Iman (right) at Cafe Istanbul.
SEVEN MINUTES DOWN I-40 is Chello Grill, a hip and contemporary spot close to the UNM radio studio, where I work. The interior is nothing like any of the Middle Eastern restaurants I've visited. In place of sandy-colored textiles are modern art pieces with bright splashes of teal and orange sparking off the natural-wood interior design.
Chello Grill is a fast-casual spot on Cutler Avenue off San Mateo Boulevard that opened in 2017, with a menu of Persian food options. That's how Hass Aslami, who is also chief executive officer of the Pizza 9 franchise, labels it. Aslami owns both the local Chicago-style chain and Chello Grill. "As people try Chello, they seem like they like it a lot, you know, they keep coming back," he says.
Chello Grill serves a variety of kebabs, including salmon and turkey (during the Thanksgiving season), chello (which means "rice" in Persian), and a growing and changing lineup of side dishes like adasi, a lentil stew, and fesenjan, an incredibly delicious sweet and savory stew made with walnuts, pomegranate seeds, and sometimes meat.
Fesenjan pairs well with the chicken kebab and koobideh kebab (seasoned ground beef) I ordered, which I'd never had before. (I was able to get a sample before I made my selection.) The combo plates—Chello Yek, Doh, and Seh ("one," "two," and "three" in Persian)—come with saffron basmati rice, a piece of naan, and some roasted vegetables. It's all very filling, but you can't forget dessert. Baklava, a flaky and sticky stack of phyllo dough layered with honey and nuts, is a must, but Chello Grill takes it a step further with baklava cheesecake, dotting the classic cream cheese filling with nuts and topping it with sticky phyllo dough. "We learned that it's a very difficult operation because of the freshness of the product," says Aslami, who makes everything from scratch.
In 1976, Aslami left Tehran to study civil engineering at Iowa State University, with plans to return home when he finished his degree. "Then the Iranian government changed," Aslami says. War broke out when the Ayatollah Khomeini overthrew the shah and created the Islamic Republic of Iran in 1979. "The whole plan changed for a lot of students who were in my situation," he says. He stayed and worked in a couple of Italian restaurants, where he learned all about pizza, still his favorite thing to make or eat.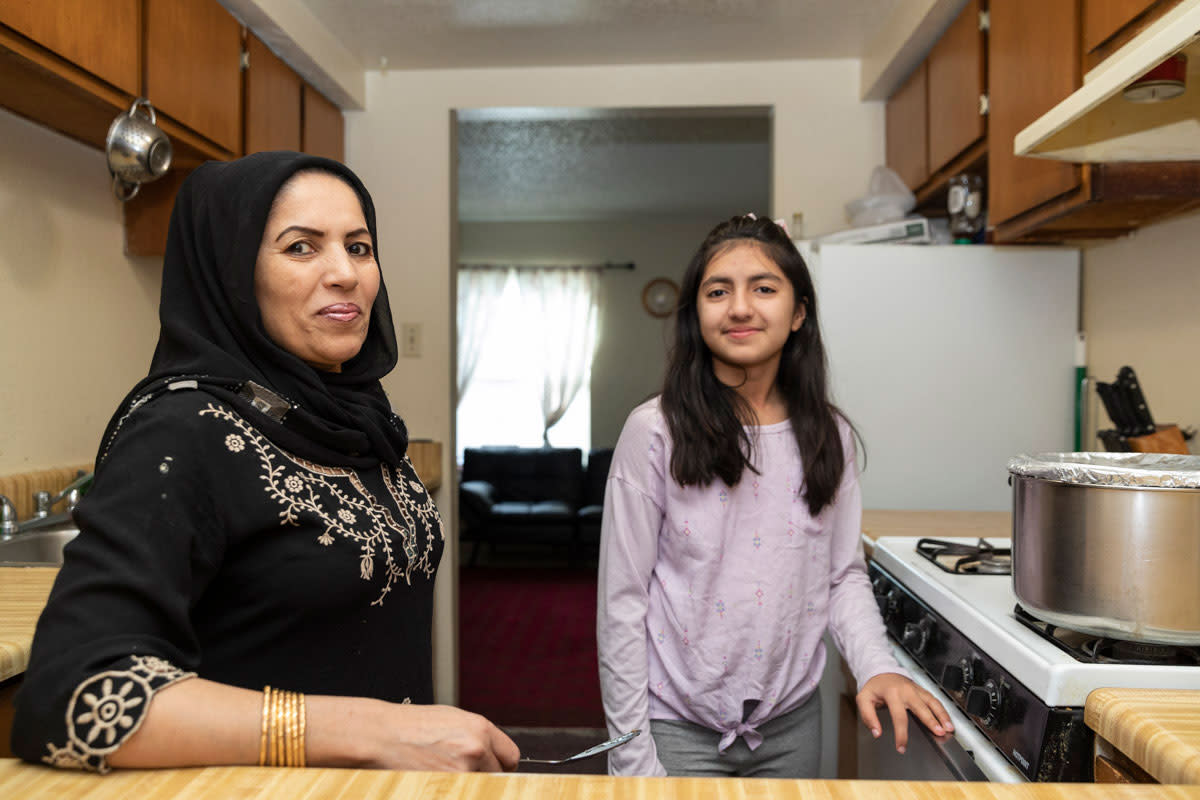 Above: Farida Pakfar part of the Beyond the Plate program, with her daughter.
Before he embarked on the Pizza 9 venture, 11 years ago, Aslami opened restaurants in Khartoum, Sudan; Ashgabat, Turkmenistan; and Dubai, in the United Arab Emirates. Among them were a Tops Burger, other American-style restaurants, and an International Food Buffet. He learned the restaurant business and eventually applied those skills to Pizza 9 in Albuquerque. It's now a franchise with 17 locations across New Mexico.
Chello Grill, he says, is a nod to his roots as well as the culinary diversity in Albuquerque.
I MEET SULTANA AZUMI AND FARIA BOBANI, both from Kabul, Afghanistan, at a gorgeous pop-up dinner. They are taking a breather under a white canopy after cooking a six-course Afghan dinner for me and about 30 other foodies at Tres Hermanas Farm, in Albuquerque. The sun is setting and casting a soft yellow light on tall, green corn and beautiful rows of sunflowers that flank a family-style table adjacent to the canopy.
The women are part of the Beyond the Plate culinary vocational training program sponsored by Lutheran Family Services, a national nonprofit with local offices in cities like Albuquerque that helps refugees from many countries adapt to life in America. Dinners are hosted at Three Sisters Kitchen, a community kitchen space in downtown. At Three Sisters, women like Azimi and Bobani learn about preparing foods for sale and how to operate their own food businesses. They sometimes serve Afghan foods at the Downtown Growers' Market.
This evening, the Sandías turn pink, reflecting the sky's vibrant yellow, purple, and blue. There is even a small rainbow off in the distance. Louis Armstrong's "When We Are Dancing" plays softly from a black Peavey speaker. It feels very romantic and calming.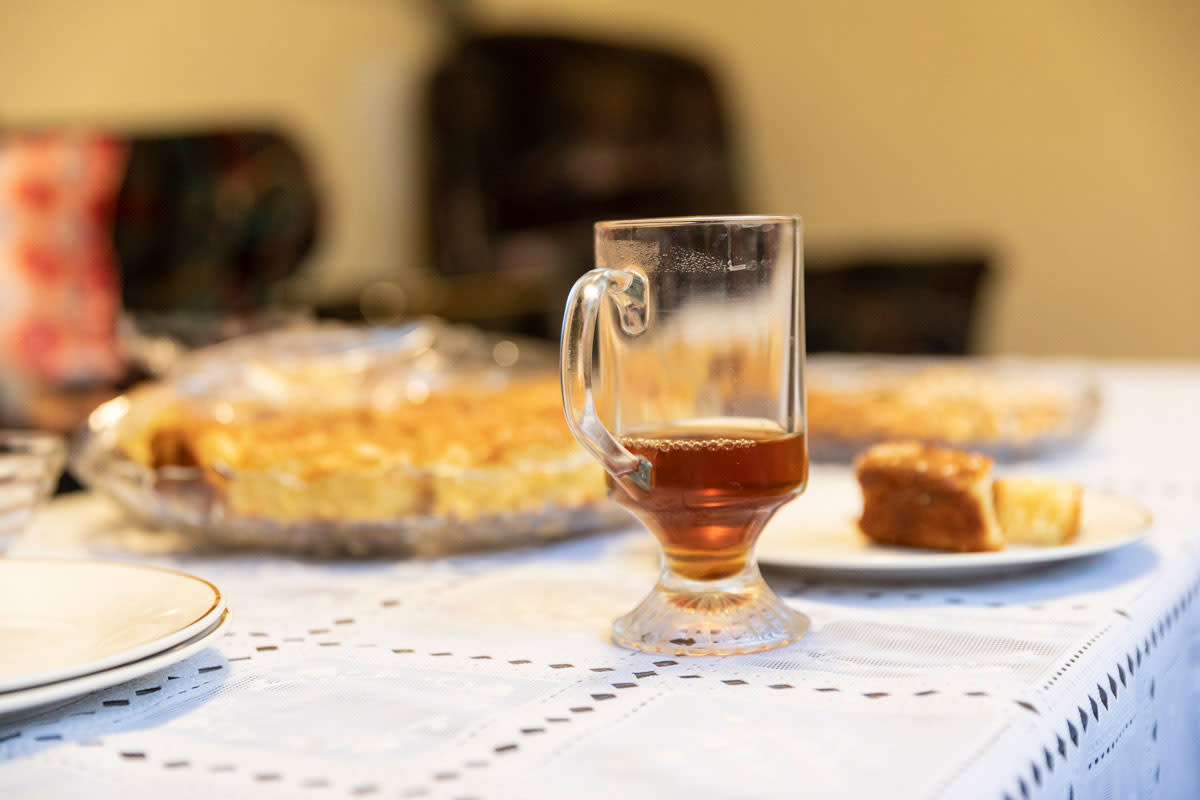 Above: A dinner prepared by Farida Pakfar.
Azimi and Bobani, who cooked for more than six hours to prepare this meal, serve all the great Afghan dishes—qabili pilau, chicken korma, ashak, and sabzi, along with mantoo (dumplings filled with meat and topped with a tomato-based sauce, plus lentils and minty yogurt sauce)—and a simple salad. Everything is piled high on its own glass plate. I hear nothing but good comments from the other dinner guests. I, of course, enjoy everything.
The two women who've prepared this feast both speak Dari, a dialect of Persian, and don't say much. Having moved to Albuquerque from Kabul just over three years ago, they're still learning English. But this much I gather: They learned to cook from their mothers. Which rekindles my memories of Shala all over again.

TOUR DE TURKISH COFFEE
If you see Turkish coffee on the menu, for the love of java, order it. It comes in a very small serving, with a small spoon for stirring in sugar (if you wish). It packs a lot of flavor, filling the senses with warmth and a hint of cardamom. It has a silky feel and offers just as much happiness and contentment as a large cup of joe.
Turkish coffee is made in a cezve, a small copper pot with a long handle that goes right on the stove. It's filled with a couple of spoonfuls of finely ground cardamom-infused coffee and served in espresso-size cups, grounds and all. There's always the question of whether or not to drink the grounds that settle to the bottom. I've slurped them up, but it's customary to leave them behind.

ANDI'S APPROACH
As one who has eaten at a majority of New Mexico's Middle Eastern, Persian, and Mediterranean restaurants, I've seen different takes on kebabs, falafel, hummus, and chello. If this food is new to you, waiters and restaurant owners are always helpful when it comes to elaborating on the menu. I suggest starting with an Arabic or Turkish coffee, hummus as an appetizer, rice with a kebab as the main course, and then baklava for dessert. These simple dishes give a good introduction to some of the most common flavors and ingredients: basmati rice, cardamom, lemon, onion, turmeric, coriander, tahini, olive oil, nuts, and yogurt.
---