"DON'T GET RID OF IT," my father insisted. Just before his ninetieth birthday and a move into my home, we were in the process of clearing out many of his belongings. He was referring to the most striking—and hands down, the least comfortable—piece of furniture in his house.
The chair had been a feature in every one of our family living rooms, in New Mexico and on the East Coast, for over five decades. While I could appreciate some of its appeal—its walnut frame showcased a lovely caramel-colored grain—the chair itself always reminded me of an austere pew, an impression reinforced by its sharp-cornered seat and a back comprising five unforgiving slats. Though I was not enthusiastic about having it in my home, I wanted him to feel comfortable. So the old chair moved in, along with my dad.
Until my father made his plea, the chair had faded into the background of our family's possessions. After Dad passed away, in February 2022, I wanted to know more about the unusual piece I'd now inherited, one that had witnessed every family Thanksgiving, birthday dinner, and countless committee meetings for various organizations. From his folder of receipts, I learned that my dad had purchased the chair directly from its maker in 1962 for $89 (equivalent to $800 today)—not a small sum, considering that four-bedroom homes in Albuquerque were priced under $20,000 at the time.
My mother and father, married in 1960, appreciated decor with simple lines and a minimalist aesthetic. Alongside a wood-framed couch with black leather seats—later accented by marks from when my sister and I used it for teething—and a buffet purchased from American Home, the chair's clean silhouette was a good fit for my parents' Mossman home in Albuquerque's Northeast Heights neighborhood. (Fred Mossman's construction company built more than 7,500 modernist homes in the area between the late 1940s and the '80s.)
Except for a few accent pieces, the living room furniture remained the same in each of our family's eight vastly different residences. It moved with us from Albuquerque to Babylon, New York; back to Albuquerque; and then to Columbia, Maryland, before eventually returning to New Mexico for good. Although the chair was rarely—if ever—used for seating, my practical mother and father viewed the piece as a functional part of their living room. For many years, an unwelcoming olive-green cushion lay atop its wooden base.
Sixty years after the chair's purchase, I was beginning to understand the weight of its origins. The story of the man who designed it is bound to the rise of modernism in New Mexico. In sifting through the past and recovering the multilayered story of its creator, I also unearthed memories of my own family's journey through the 1960s and beyond.
From the 1950s through the 1970s, as New Mexico experienced rapid population growth and expansion, its architecture scene was complex, marked by preservation efforts (only some of which were successful), a new appreciation for modernism, and an influx of ambitious architects. One of those was Jesse A. Pacheco Jr. (1925–2013), a Cornell University–trained architect and the son of a Rhode Island–based Portuguese immigrant. After Pacheco moved to Albuquerque in the early 1960s to set up shop, he began creating both furniture and buildings that incorporated and reworked New Mexico design influences. Along with his business partner, Channell "Chan" Graham, Pacheco designed numerous buildings all across the state, from Chimayó to Fort Selden. In his early career, Pacheco gravitated toward church design, but his body of work also includes several award-winning buildings at the University of New Mexico.
Read more: Rescued from its own clichés, wildlife art takes wing at a prominent Santa Fe gallery.
Introduced to furniture design as an undergraduate student at the Rhode Island School of Design, Pacheco viewed interior decor as an essential component of the architectural process. A proud tradition of architect-designed furnishings preceded him, from the iconic midcentury Eames chairs to the often-reproduced butterfly, or BKF, chair, designed by a group of Buenos Aires architects in 1938. Frank Lloyd Wright marked his projects with his own decorative creations. Architect and designer Alexander Girard, who moved to Santa Fe less than a decade before Pacheco landed in Albuquerque, imprinted his mania for folk art on his own works. Pacheco apparently appreciated the tradition of designing from soup to nuts. In a 1962 design publication, he declared, "Once you've created a space, you should also be able to design what goes into it."
While Pacheco referred to his aesthetic as "contemporary colonial," perhaps as a nod to his New England roots, his designs are clearly tied to the modernist movement and to Southwestern influences. Pacheco's distinctive style, expressed both in furniture and buildings, was controlled and precise, but it contained elements that echoed local motifs. Even the slats on the back of the chair my parents bought are subtly stair-stepped at the top and bottom, abstractly reminiscent of regional designs rooted in Indigenous motifs.
In a 1972 article in the Journal of the American Institute of Architects, Pacheco ties the evolution of his design hallmarks to his move to Albuquerque: "We left those parts of the country to which we no longer related and moved to the Southwest to become part of the vibrant physical environment and multicultural qualities of the area."
Read more: Tasked with overseeing a renovation of the state's capitol building, Paula Tackett also became a champion for its art.
In his building plans, Pacheco made use of New Mexico's extraordinary light, regularly placing high windows to provide indirect illumination and skyward views. As a craftsman, he valued the warmth of wood, employing it not only for construction but as the primary design element in many of the churches and chapels he created.
Pacheco displayed his custom furnishings—including occasional chairs, dining sets, coffee tables, and music stands—in his own home and at local craft shows, earning a first-place award from the Santa Fe International Folk Art Foundation in 1963 and the Santa Fe Biennial Crafts Fair in 1964. His furniture designs were unarguably spare, using flat boards and rendered primarily in walnut. It was undoubtedly this economy of design that attracted buyers like my father.
"I chose a flat board because of its elemental form," Pacheco says in a 1962 Albuquerque Journal story on contemporary living in New Mexico. "As a contemporary expression the flat board offered much room for experimentation." He approached furniture design methodically, making both scale models and full-size drawings of each piece.
Pacheco was concerned about the impact of his design on the intellect as well as on the body—but not in the way you might think. "Bodily comfort, while important, should not be an end in itself in furniture design," he expressed to the Journal. In fact, he continues unapologetically, "There is even a place for a bit of discomfort under certain conditions where an alertness in those present is appropriate."
My parents' chair certainly exemplified this approach; my daughter swears she can sense that attitude when she sits on it. Eventually, however, Pacheco eased a bit, using trusses and hinges in some of his furniture to allow for a bit of give in the seats.
Read more: Tinkertown Museum, in Sandia Park, is decidedly odd and delightful.
Read more: Joanna Keane Lopez's interactive sculptures use adobe bricks covered in aliz to revive a dying tradition.
In 1963, after Pacheco and Channell Graham met while working as architects for the Bureau of Indian Affairs, the pair formed their architectural firm, which grew to employ a staff of nine and used a stylized version of the Pacheco chair as its logo. Contrasting their approaches as restrained (Pacheco) versus free (Graham), a 1964 Albuquerque Journal piece on their entries in the New Mexico Arts and Crafts Fair features Pacheco's description of his aesthetic as "appealing to logic through simplicity."
Meanwhile, Graham, a stained-glass artist who produced mosaics cast in sand, celebrated expression and humanity in his work. Despite—or perhaps because of—their differences, the team was successful in their collaboration. The partners took turns leading projects, and Pacheco was in charge of administration.
The Pacheco and Graham portfolio included numerous projects for religious buildings, including the remodel and expansion of Albuquerque's St. Mary's School and the 1966 design of the Holy Family Church and Rectory, in Chimayó. The duo designed altarpieces for the Los Alamos Medical Center chapel in 1967, and in 1968 they designed the Immaculate Heart of Mary Catholic Church, in Los Alamos, a fan-shaped building set among ponderosa pines.
The Heart of Mary building is noteworthy for a vaulted roof supported by four enormous, 79-foot, 12,000-pound Douglas fir beams, which had to be specially maneuvered up to the Pajarito Plateau. The church was furnished according to the dictates of the recently adopted Vatican II Council: without a cross, kneelers, or other iconography.
The Chimayó Holy Family Church involved 10 months of collaboration with Father Casimiri Roca, resulting in an unadorned wood-frame and brick building with high windows and a barely raised altar. It stands in stark visual contrast to the adobe chapels of northern New Mexico, especially its neighbor, the beloved Santuario de Chimayó.
Read more: Inspired by the pieces in his grandparents' home, this Santa Fe craftsman builds Spanish Colonial furniture any abuela would be proud to display.
In the early 1970s, the firm took on several larger projects at the University of New Mexico, starting with the 22,000-square-foot Physics Library and Lecture Hall, a cast concrete, semisubterranean structure. The above-ground sections of the complex, including a 300-seat auditorium, are composed of three distinct units constructed with triangular roof lines and trapezoid windows that evoke large periscopes. These units are joined together by the underground work space.
Classrooms were originally decorated in brown and yellow to evoke the earth in which the building sat. Atop the underground section of the building is a typical university plaza, populated by students and other community members, including bicyclists, passersby, and dog walkers.
Joe M. McKinney, UNM's campus planner from 1969 to 2004 and author of the UNM Historic Preservation policy, recalls "Jess" as a thoughtful and analytical practitioner. The respect was mutual. In 1972, Pacheco told the Albuquerque Journal, "Good architecture demands good clients," referring to the Physics Building commission. That same year, the American Institute of Architects recognized Pacheco for his design of the building, now known as Regener Hall.
As a result of their work together at UNM, McKinney connected Pacheco to a project involving the design of a Boy Scout camp in Chimayó, now Gorham Scout Ranch. On their 180-mile round-trip drives to the site together, the colleagues discussed their mutual interests in Indigenous arts, history, jazz, and classical music, sometimes stopping at the santuario, or dining at the precursor to the Rancho de Chimayó Restaurante. "He was a good listener, and it was a pleasure to be with him," recalls McKinney.
McKinney worked with Pacheco and Graham again in 1980, when the firm was awarded the contract to design the 72,000-square-foot UNM Mechanical Engineering Building, the first solar-heated structure on campus. Van Dorn Hooker, UNM's first official University Architect, notes in his book Only in New Mexico: An Architectural History of the University of New Mexico that the Mechanical Engineering Building "moved campus architecture toward a compatible relationship with Pueblo style buildings by using mass, color and material."
The engineering building would be located near Hodgin Hall, which was both the university's first building and the first to be remodeled in the Pueblo Revival style. So Pacheco and his team designed its windows to echo the size, placement, and shape of the windows on its historic neighbor. Architect John Gaw Meem, who directed many of downtown Santa Fe's style requirements, also helped to define the UNM campus's Pueblo Revival/Pueblo Deco style in the mode of early New Mexico Spanish mission churches, according to Paul Secord, author of Albuquerque Deco and Pueblo. The Mechanical Engineering Building, while undeniably modern, was in keeping with the Pueblo Revival shape and form, with its flat roof and viga-like openings along the roof line.
While Channell Graham led historic restorations at Taos, Nambé, Picuris, Laguna, and other pueblos, as well as at the San Miguel Mission church, in Socorro, the Pacheco-Graham team also partnered on community projects that included the famed Paolo Soleri Amphitheater for the Institute of American Indian Arts, in Santa Fe. The amphitheater, built in 1970 on the campus of the Santa Fe Indian School, proved a challenging and contentious collaboration with Soleri, the controversial Italian-American architect. The firm's records illustrate numerous frustrations with materials, design, and oversight. But the partners' blend of expertise in historic restoration and modern design alike pushed them to both preserve and innovate.
Pacheco and his wife, Jane, raised six children in their adopted hometown—one of whom, David, followed in his father's footsteps as an architect. Jane used her caning skills to co-create some of the Pacheco furniture that was sold. Eventually, Graham and Pacheco went their separate ways, but Pacheco continued his practice, renovating a 60-year-old Albuquerque house by literally raising the roof five feet, and taking on design projects such as the Church of Jesus Christ of Latter-day Saints, on Rodeo Road in Santa Fe. Jesse A. Pacheco Jr. passed away in 2013; he is buried in Albuquerque's Gate of Heaven Catholic Cemetery. Channell "Chan" Graham died last September at age 94.
As for the unusual chair of my childhood, after considering how it fits into both my family's trajectory and New Mexico architectural history, I am less reluctant about becoming its caretaker. The Pacheco chair now occupies a proud place in my own Mossman house, located just a few blocks from where my parents created their first living room.
With both my mother and father now gone, the old chair ties me to my family of origin. It channels my earliest years, when my proud young parents snapped Polaroids of their children beside it. It recalls my own son and daughter using its solid seat as support in their grandparents' living room as they learned to stand and eventually walk. In later years, I watched my father's hand grip the chair's sturdy back; it helped to steady him as his gait grew shaky.
Though my mother and son each attended UNM—and I worked on campus for seven years—we never had any idea that the buildings we passed every day were designed by the same man who had envisioned and built our chair. The most unlikely of heirlooms, the Pacheco chair now serves as a portal of sorts. It encapsulates not only a family, but a man who helped shape the New Mexico we live in today.
Read more: Inspired by our land and our past, New Mexico artisans create an enchanting mix of beautiful, useful, and meaningful goods.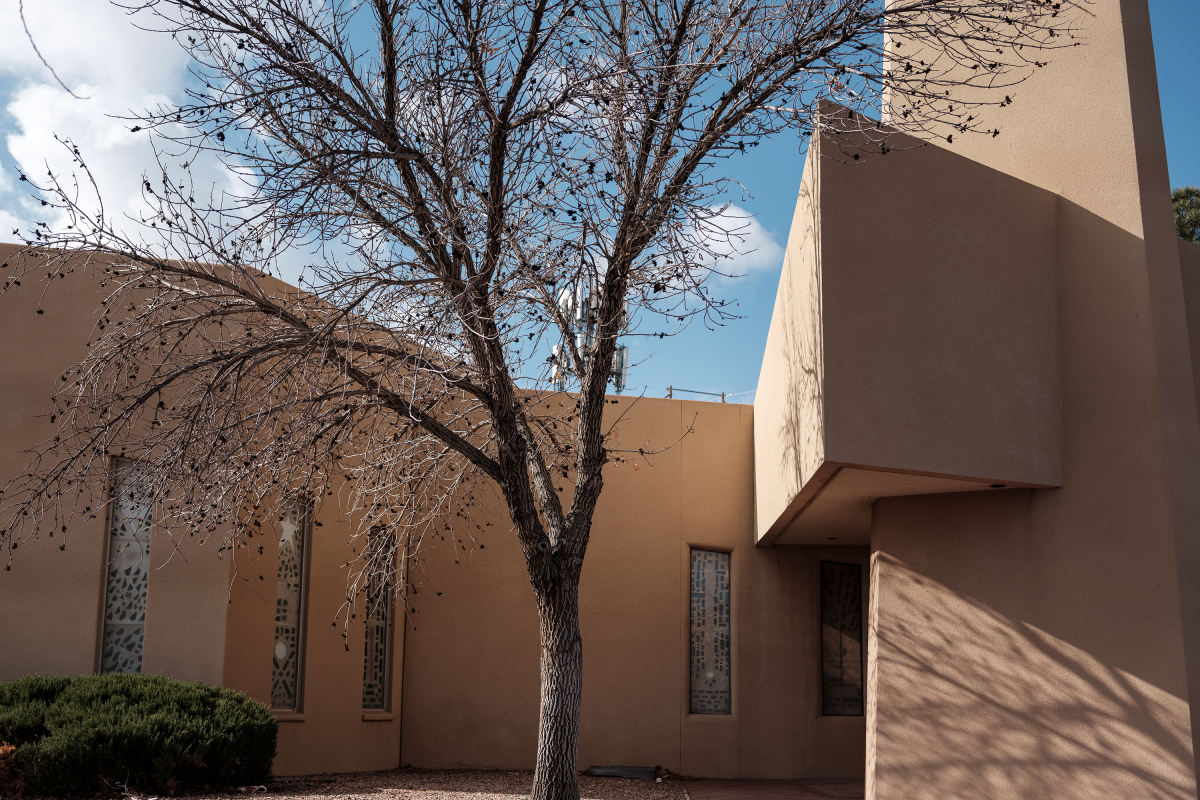 Read Chan Graham's 2014 publication, Historic Houses in the DNA (Albuquerque's Downtown Neighborhoods Association).
BUILDING A LEGACY
You can see Pacheco and Graham's architectural designs throughout the state. Here are a few options. Seek permission before entering any privately owned buildings.
ALBUQUERQUE
All Saints Lutheran Church, 4800 All Saints Road NW. Designed by ChannellGraham in 1966, the church features his stained-glass windows.
Mechanical Engineering Building, 200 University Blvd. NE (#22 on UNM Campus map), UNM Main Campus. View the structure from both Redondo Drive and from nearby Hodgin Hall, the campus's oldest building and a reference point for Pueblo Revival style.
Regener Hall (Physics Library and Lecture Hall), 1911 Redondo S. Dr. NE (#35 on UNM Campus Map), UNM Main Campus. Three concrete classroom structures are linked underground at Room 103, where the lecture hall is located.
CHIMAYÓ
Holy Family Church and Rectory, 1440 Private Dr., NM 76, #10. The plain wooden background behind the altar has been concealed by a white adobe-style frontpiece with nichos and images of saints, all more in keeping with a traditional northern New Mexico aesthetic.
RADIUM SPRINGS
Fort Selden Historic Site Visitors Center, 1280 Fort Selden Road. Pacheco and Graham graded the structure and parking lot two feet below the general ground level so that these new elements wouldn't overwhelm the existing fort structures.
LOS ALAMOS
Immaculate Heart of Mary Catholic Church, 3700 Canyon Road. Look for the vaulted roof supported by massive Douglas fir beams.