At Bar Castañeda in Las Vegas, New Mexico, red chile fires up a plateful of wings. 
WRITING ABOUT NEW WAYS to use New Mexico chiles means fixing for a fight. New Mexicans love to squabble over whose sauces, enchiladas, and other delectables are the most delicious. (Pick an abuela, any abuela.) Our state's culinary professionals gamely join the fray, taking the heralded ingredient and kicking it up a notch. 
Their attempts to raise the bar, alas, sometimes falter. I distinctly remember a new-to-town chef's misguided creation of a peanut-butter-and-chile salsa that garnered deserved boos and hisses from local foodies.
That aside, what are other chefs playing with to satisfy our chile addiction?
Rowley Farmhouse Ales, a popular gastropub on Santa Fe's bustling southwest side, offers plenty of chilled brews on tap to help wash down the creative list of dishes from the global menu. Canadian poutine is on offer, alongside Mexican elote, Mediterranean mezze, and Southern shrimp and grits. But it is in a clever take on the humble tuna melt that Rowley sneaks in some roasted green.
I love that Chef Jeffrey Kaplan lists the origins of some of the elements on that tasty sandwich: The tuna is yellowfin, poached in olive oil, shredded, and dressed with local pea shoots from Sungreen Living Foods and aged white cheddar on seeded whole-grain bread from Angel's Bakery—no canned tuna with Velveeta here. A pint of Rowley's earthy Fields of Rye saison should help put out any fire started by this buxom sammie.
Up north in Las Vegas, at the beautifully restored Hotel Castañeda, Executive Chef Sean Sinclair, who owns the expansive Bar Castañeda restaurant and lounge just off the hotel lobby, gussies up the requisite bar nosh—chicken wings—into sweet and sticky wonders by adding brown sugar and vinegar to the red chile glaze. The result is a gorgeous lacquer finish that will have you licking your fingers so as not to miss a drop. 
Sinclair's Harvey Smash Burger won top honors in last year's New Mexico Green Chile Cheeseburger Smackdown, making him the "Reigning Chomp," and that plateful makes a great second course.
The Castañeda is an ideal destination should you be looking for travel plans that keep you closer to home this autumn. Sinclair has implemented a more casual counter service, and you can social distance on the patio while overlooking the tracks of the Atchison, Topeka & Santa Fe Railway.
When I saw the headline this summer announcing the arrival of vegan chicken at KFC, I knew the trend was here to stay. At Salud! de Mesilla, on the edge of Las Cruces, owner Russell Hernandez and his partner, Christopher Schaljo, join the meatless mode with their healthy take on a dinner bowl. Chris's Vegan Bowl features Beyond Beef patties that are chopped, sautéed, and tossed with potatoes, corn, black beans, broccolini, and fiery green chile. They serve it with corn tortillas for a hearty main course that has proven to be popular in the casual yet classy eatery.
The bowl is also available with steak or chicken sitting in for the plant-based protein. And there are also plenty of waistline-wreckers on the large menu, including my favorite: a baseball-mitt-size Bavarian pretzel served with mustard and queso.

EATERY DEETS 
Rowley Farmhouse Ales
1405 Maclovia St., Santa Fe
505-428-0719
rowleyfarmhouse.com
Bar Castañeda
524 Railroad Ave., Las Vegas
505-434-1005
kinlvnm.com
Salud! de Mesilla
1800 Avenida de Mesilla, Las Cruces
575-323-3548
saludmesilla.com
RECIPES
About 2 servings
1 pound chicken wings
Buttermilk brine
1 quart buttermilk
1 tablespoon onion powder
1 tablespoon garlic powder
1 tablespoon dried thyme
1 cup pickle juice (strained)
1 teaspoon kosher salt
1 teaspoon ground black pepper
Whisk spices into buttermilk and brine the chicken wings, covered in the refrigerator, for 24 to 36 hours.
Red chile glaze
1 cup of your favorite red chile sauce
1 cup red wine vinegar
1 cup brown sugar
Bring all ingredients to a boil in a medium saucepan over medium heat. Allow to reduce until it takes on a syrupy texture.
Dilled crème fraîche
½ cup crème fraîche
½ bunch fresh dill, chopped
½ lemon, juiced
Mix ingredients together.
Hot wings
1 cup flour
½ teaspoon kosher salt
½ teaspoon ground black pepper
8 cups vegetable oil
1 scallion, chopped
1 tablespoon toasted sesame seeds
Carrot and celery sticks
1. Dredge the brined and drained wings in flour seasoned with the salt and pepper.
2. Heat the oil to 350° in a deep Dutch oven or wok and fry wings in batches until cooked through, about 8 minutes.
3. Put the sauce in a large mixing bowl and toss wings until completely coated. Garnish with sesame seeds and scallion. Serve with carrot and celery sticks and dilled crème fraîche.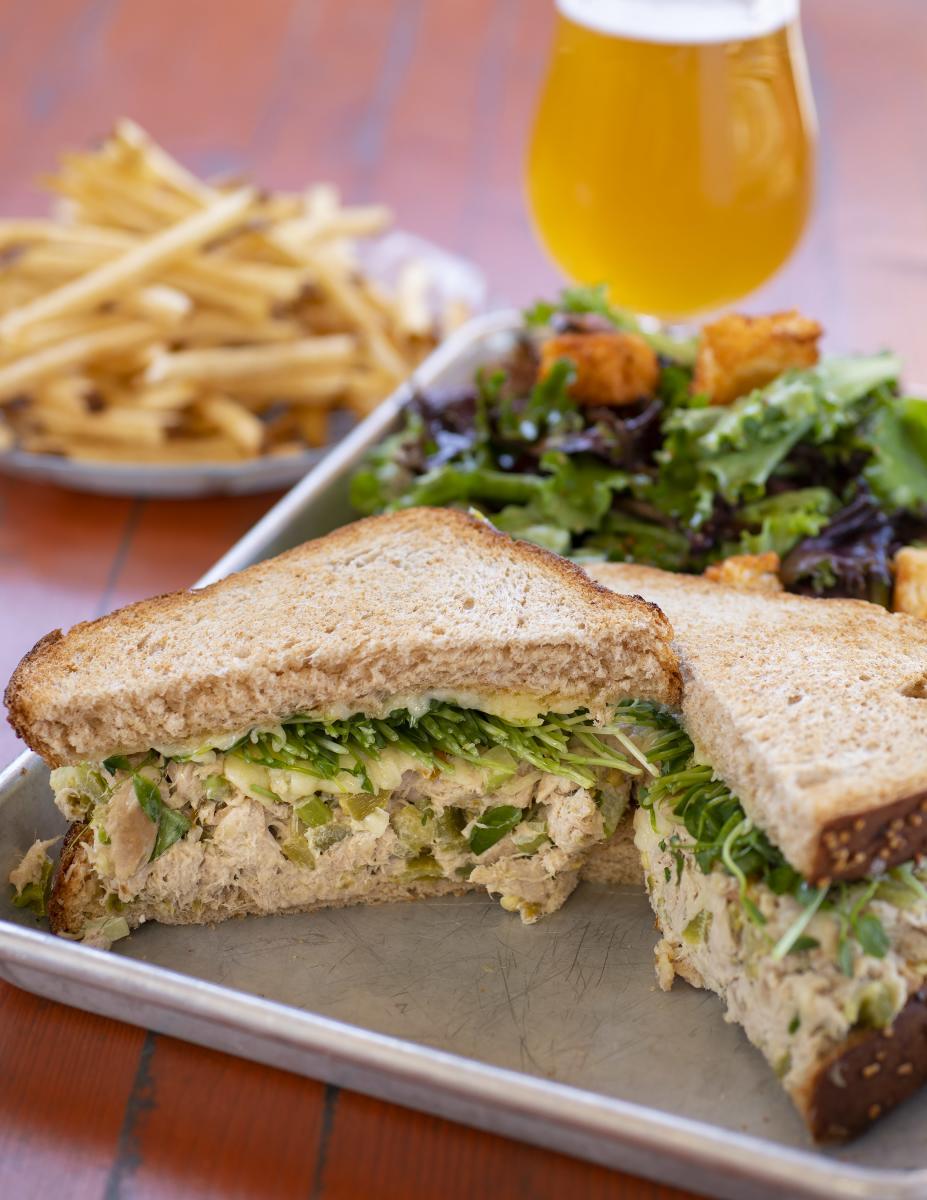 The classic tuna melt earns a long-overdue update at Rowley Farmhouse Ales, with fresh tuna, roasted green chile, hearty bread, and locally grown sprouts.
Makes one sandwich
1 4-ounce tuna steak
1 quart olive oil
2 heaping tablespoons mayonnaise
1 teaspoon Dijon mustard
½ stalk celery, diced small
2 tablespoons green chile, roasted, peeled, seeded, and chopped
Salt and pepper to taste
2 slices of your favorite wheat bread
1 cup grated aged white cheddar cheese
Small handful pea shoots
1. Place the tuna steak into a small saucepan and cover with room-temperature olive oil. Place over medium-low heat and cook until the oil reaches 150°.
2. Remove tuna from oil and allow to cool slightly. Refrigerate saved oil, which can be reused several times for this recipe.
3. While tuna is still warm, shred it into a mixing bowl. In a separate bowl, mix the mayonnaise, Dijon mustard, celery, and green chile. Mix tuna with dressing. Season with salt and pepper.
4. Toast bread. Put tuna salad onto one piece and top with half the cheddar cheese. Put the remaining cheddar cheese onto the other piece of toast.
5. Place both slices under broiler and heat until cheese is melted. Put pea shoots onto tuna and top with the other piece of toast.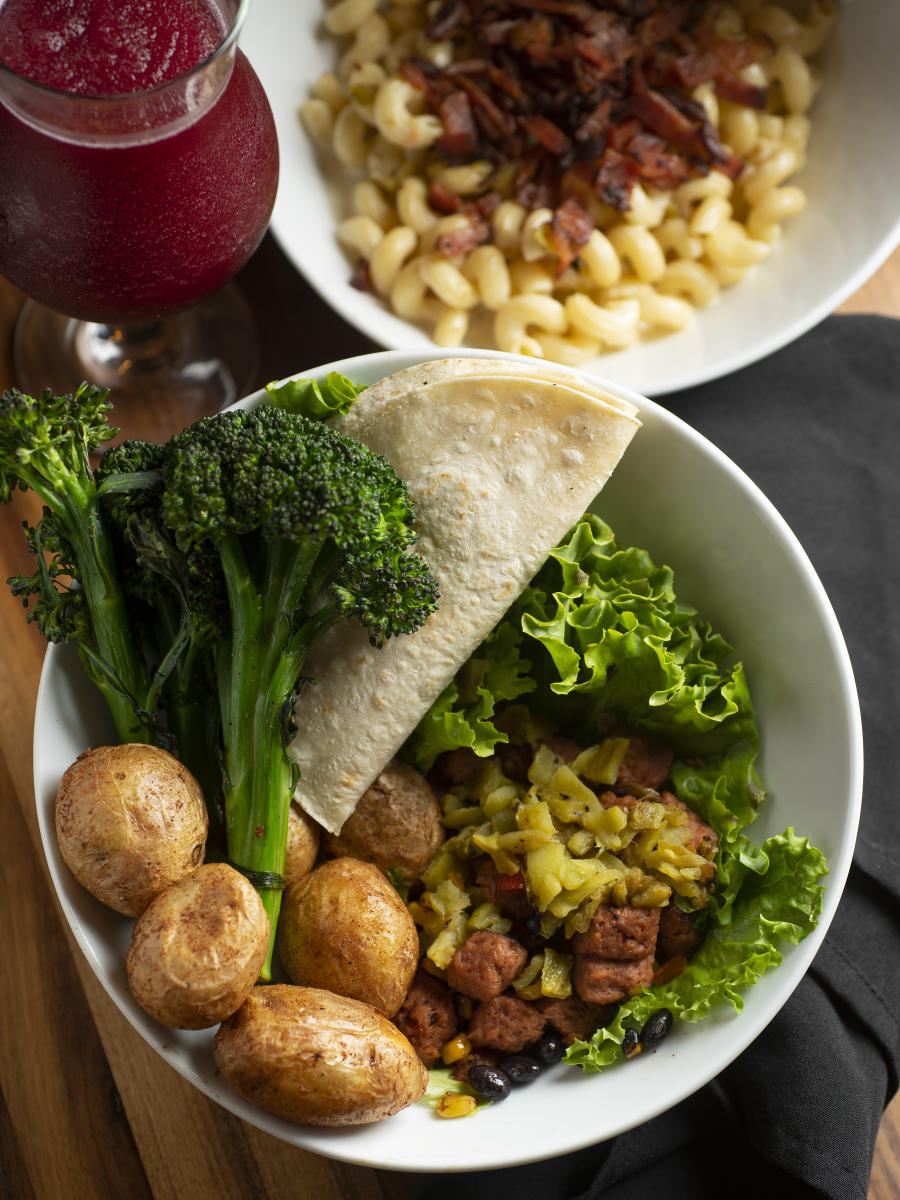 Salud! de Mesilla's bowl of vegan goodness carries a punch. 
Serves 2
10 baby red potatoes
4 stalks broccolini
2 vegan patties, such as Beyond Beef
4 tablespoons vegetable oil, divided
¼ red bell pepper, chopped into
¼-inch dice
¼ green bell pepper, chopped into
¼-inch dice
¼ white onion, chopped into
¼-inch dice
¼ cup yellow corn, fresh or frozen
¼ cup green chile, roasted, peeled, seeded, and chopped
¼ cup canned black beans, drained
4 corn tortillas
Salt and pepper
1. Bring lightly salted water to a rolling boil in a medium pot. Add potatoes and broccolini and blanch until both are tender (check with a knife). Remove from heat.
2. Crumble vegan patties to break them up. Add 2 tablespoons oil to a medium saucepan and sauté patties until cooked to desired temperature (medium well to well done). Set aside.
3. In another medium sauté pan, heat remaining oil and sauté peppers, onion, corn, green chile, and black beans until onions are translucent and other vegetables are cooked through.
4. Toss the chopped patty with the sautéed veggies and season with salt and pepper. Put in two separate bowls.
5. Heat corn tortillas on a warm cast-iron comal or frying pan.
6. Drain potatoes and broccolini and season with salt and pepper. Place in a serving bowl on the side. Serve with tortillas.

The Mystery of Big Jim
A 10-year effort to restore one of New Mexico's most distinctive chiles underscores how memory thrives in our taste buds. 
José Gonzalez: The Allure of Chile Farming
Although he's tried other jobs, José Gonzalez keeps coming back to the farm where his family grows chiles, corn, beans and more.
The Ultimate New Mexico Chile Tasting Guide
We asked two experts to describe the flavors of New Mexico's best chile varieties.
More Than Just Salsa
Capsaicin does more than make chile hot, it is used in medicinal creams, bear repellent and in foods to give captive birds and fish a reddish hue. 
The Making of Chile U
One of the only scientific institutions devoted to a so-called condiment flourishes in Las Cruces.
Matt Romero: The Chile Roaster
Rooted in family history, Matt Romero brings that heavenly scent and his special flair to the Santa Fe Farmers' Market.
Rooted in Native Soil
Chile holds a very special place in the traditional foods of Southwest tribes.
Nick Maryol: Feeding the Soul
The owner of Santa Fe's Tia Sophia's, Nick Maryol understands how food creates ties to our families, our history and our culture.
Mix and Hatch
Does chile go with everything? Mmmmmmaybe.
Take Your Pick
At Big Jim Farms, in Los Ranchos de Albuquerque, you can hand pick your chiles right from the field.
Danise Coon: Researching New Varieties
With roots on the farm, Danise Coon helps develop new varieties at the Chile Pepper Institute.