Several breeds of cattle, horses, and sheep are on view at the New Mexico Farm & Ranch Heritage Museum. Photograph courtesy of the New Mexico Farm & Ranch Heritage Museum. 
HEATHER REED AFFECTIONATELY REFERS TO her rural Ohio hometown as "a little cornfield." That's why the executive director of the New Mexico Farm & Ranch Heritage Museum felt a twinge of kinship when she first saw the 47-acre spread at the edge of Las Cruces—despite its decidedly non-midwestern backdrop of the Organ Mountains. "It just felt right," Reed says. "It looked like home—barns, animals, and all." 
As the granddaughter of farmers, she raised and showed goats, sheep, and a llama. That background was good preparation for her new gig. In November, she took over stewardship of seven beef cattle breeds, Holstein cows, two kinds of sheep, several types of ponies, a greenhouse, and 24,000 square feet of exhibit space devoted to 4,000 years of agricultural history in New Mexico. 
"My personal experience with farming is very narrow in scope, in comparison to the depth and width of agricultural history in New Mexico," Reed says. "Agriculture in this state ranges from small farms to large ranches, goes back hundreds of years, and crosses multiple cultures." 
Reed began her foray into museums as a tour guide at Gettysburg National Military Park, earned a master's degree in public history, spent seven years working at the Taylor County History Center, in Buffalo Gap, Texas, and eventually became the first museum director of the South Carolina Historical Society, in Charleston. That variety has given her a flair for presenting personal stories as a way of helping visitors relate to the past. 
The state's history offers a wealth of perspectives that Reed is eager to spotlight. A project in progress showcases the influence of women in agriculture, featuring individuals from the past and present, along with young people who represent the future. "Let's think about all the different ways people have used the land and lived off the land—the Native American stories, the Hispanic stories, the African American stories," she says. "There are so many layers to peel back."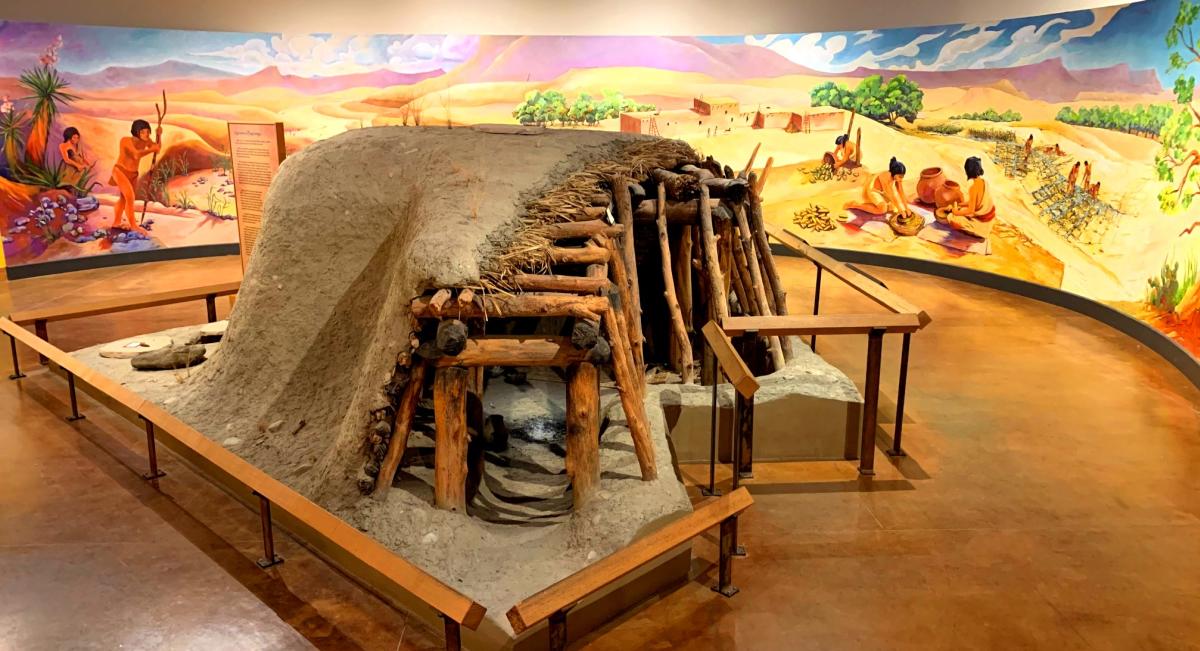 A replica of a Mogollon pit house transports visitors back in time. Photograph courtesy of the New Mexico Farm & Ranch Heritage Museum. 
Current exhibitions include Home on the Range: From Ranches to Rockets, which tells the story of early-20th-century ranching in the Tularosa Basin before the development of White Sands Missile Range. Other corners of the museum explore the history and importance of New Mexico gristmills, and artist Peter Hurd's charcoal studies of familiar rural landscapes. An eclectic collection of farm and ranching vehicles includes a Basque sheep wagon as well as the horse-drawn hearse said to have delivered famed lawman Pat Garrett to his grave in 1908. A circa-1840 wagon-wheel hub made of cottonwood was discovered, half-buried, at White Sands. 
A silver lining of the pandemic, Reed notes, has been "the outreach, the programs, the creativity that has emerged from our staff" as they posted exhibits online before the museum reopened to the public in February. "Being able to reach out across the state is much easier to do virtually." 
Reed hopes that local families will begin to think of the museum as a community center, whether they're buying plants from the greenhouse, petting churro sheep, or attending a wedding in the courtyard. "I want it to be a place where they have an investment because they see parts of their family stories being told," she says.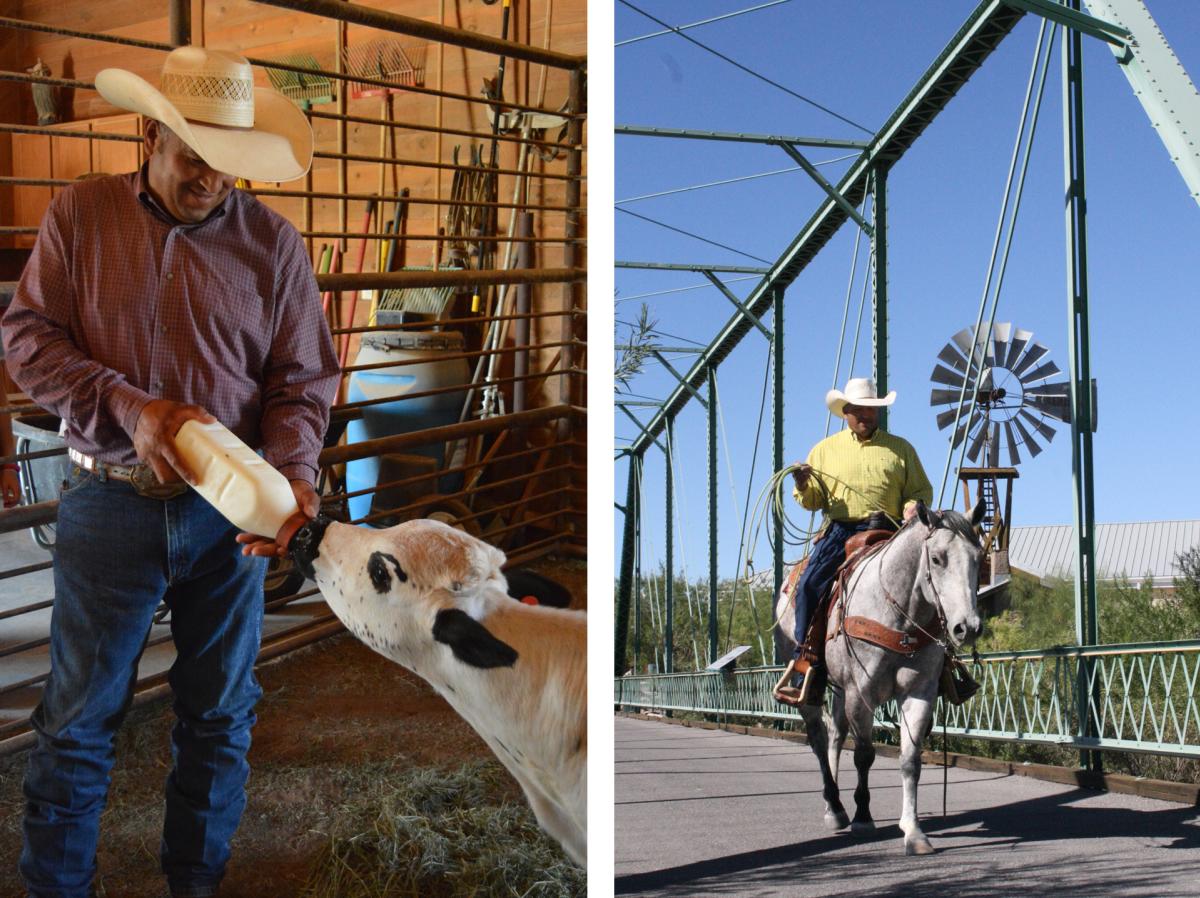 Learn more about what it's really like to work on a farm at the New Mexico Farm & Ranch Heritage Museum. Photograph courtesy of the New Mexico Farm & Ranch Heritage Museum. 
New Mexico Farm & Ranch Heritage Museum, 4100 Dripping Springs Road, Las Cruces; 575-522-4100.
FRUITS OF THE SPIRIT
MAY DOESN'T JUST MEAN a green light for gardeners. It also marks the centuries-old tradition of the Blessing of the Fields, an event that's been celebrated at the New Mexico Farm & Ranch Heritage Museum for more than 20 years.  
The annual rite of blessing plants, animals, and the acequia—which usually includes both a procession and a Prayer to the Four Directions—has been scaled back at the museum during the pandemic. (A small prayer is planned for May 14.) The spiritual purpose remains: to offer intentions and gratitude for the newly planted fruits of the land.  
The museum's ceremony originated with local families celebrating the May 15 Feast Day of San Ysidro, a 12th-century Spanish farmer. Spanish Colonial retablos show him in a field with his plow and oxen. 
"Very often, there's an angel helping him," says Nicolasa Chavez, curator of Spanish Colonial collections at the Museum of International Folk Art, in Santa Fe. "It's something that permeates today, since we've had several years of drought. He's a protector of many things—not just food, but keeping our forests from burning down, keeping our fields fertile." 
---
Read More: A Bosque Farms dairy delivers milk the natural way.
Read More: Community gardens in Española and Albuquerque reclaim agroecología, heirloom seeds, and cultural roots for the next generation.
Read More: Los Poblanos Historic Inn and Organic Farm shakes up the way we eat, right down to the roots.