Above: Tacos from El Parasol. Photograph by Jen Judge.
FAVORITE NEW RESTAURANTS
New Mexico has recently fostered a bumper crop of fantastic, creative, interesting new restaurants that have transported us to a state of culinary bliss. Our sharp-eyed (and sharp-toothed)readers identified the juiciest morsels. 
SANTA FE
Rowley Farmhouse Ales This southside gastropub captivated Santa Feans with its focus on complex, fruity Belgian-style ales and an ambitious menu of elevated bar food, like Korean-style chicken wings and duck pâté banh mi. (Get their Spicy Nuts recipe)
Sazón Chef Fernando Olea's upscale Mexican restaurant just off the Plaza is on fire with grasshopper tacos, pork-belly taquitos, signature moles, and gorgeous south-of-the-border cocktails.
El Nido The city cheered when the chef behind the beloved Bang Bite food truck took over this iconic and too-long-empty Tesuque facade. The building is renovated, the vintage steakhouse menu replaced with trendy wood-fired pizzas, creative pastas, and rotisserie meats. (See recipe here)
Above: Halibut over mole at Sazón in Santa Fe. Photograph by Douglas Merriam.
ALBUQUERQUE
Frenchish At her new project in Nob Hill, oft-lauded chef Jennifer James focuses on French classics but gives herself plenty of room to get creative, as with the "carrot dog," a poached and grilled carrot that seems to mysteriously match, then far surpass, a hot dog.
Matanza This self-styled craft-beer kitchen serves 100 local beers and puts a hip spin on New Mexico favorites like whole-hog green chile stew and chile con Kobe beef.
Amore Neapolitan Pizzeria Two new locations—one at Green Jeans Farmery and another in Old Town—introduced this pie to audiences hungry for traditional pizza topped with house-made mozzarella and fired in a wood oven.
THE BUZZ AROUND THE STATE
Common Fire in Taos is a cozy, creative gathering place at Quail Ridge Resort with an outstanding wine list, a changing menu that makes use of the giant wood-fired oven, and a jaw-dropping view of the mountains.
Tapas Tree Grill in Silver City is a global street-food adventure that quickly became popular for its huge portions (for tapas!) and multicultural mashups like Mediterranean lamb sliders and Vietnamese pork-stuffed crepes with pickled veggies and Sriracha mayo.
Smokey's Roadhouse in Gallup spiced up the city with barbecued ribs, pulled pork, brisket, and smoky sausage spread over tables covered with butcher paper and served with a huge choice of beers on tap.
Pig + Fig in White Rock serves sophisticated breakfast and lunch in an unlikely spot (a strip shopping center near the shuttle to Bandelier National Monument). The signature sandwich combines honey-cured ham, Brie, and fig jam on sourdough.
Salud de Mesilla is a haven for the paleo, the gluten-free, and the gourmand. Don't miss duck confit beignets dipped in warm maple syrup, fried chicken with jalapeño and bacon crumbs, and a nacho plate with corn chips or fried pork skins.
The Encino Firehouse isn't just the best new restaurant in this Torrance County village (population 82)—it's the only restaurant, which is part of the reason readers are so excited. The food is great, too: barbecue pork-belly sandwiches, burgers smothered with beans and chile, plus pizza and tamales.
BIG-NIGHT-OUT-RESTAURANT
To mark a special occasion, you want just the right restaurant to show your guests how much you care about them and their anniversary/graduation/promotion/birthday/rodeo win. But picking that right restaurant can prove a challenge. Readers to the rescue. 
SANTA FE
Arroyo Vino Crowds drive out to Las Campanas for the farm-to-table menu (think duck breast with charred radicchio, pomegranate, celery root, Asian pear, and walnuts) and the option to pair dinner with a bottle from the many hundreds for sale in the attached wine shop.
State Capital Kitchen This near-the-Roundhouse spot is popular for simple-sounding dishes that surprise with clever touches of molecular gastronomy (exploding passion-fruit balls, for example). The dim-sum-style cart that wheels through the relaxed dining room also offers can't-miss delights.
Joseph's of Santa Fe This "culinary pub" serves an adventurous, global menu with New Mexico accents in what one reader described as an "atmosphere that was warm, friendly, and unpretentious despite the extraordinary quality."
Restaurant Martín Chef Martín Rios has earned New Mexicans' affection for his imaginative combinations of local ingredients, classic techniques, and hints of Asian flavors. This is also one of the rare top-tier restaurants in Santa Fe that serves lunch—a surprisingly affordable one, too.
Geronimo A Canyon Road favorite for ages, Geronimo still sets the bar for pampering service and luxurious New American food, like a Wellington of Kurobuta pork with Burgundy peppercorn sauce and apple béarnaise.
ALBUQUERQUE
Los Poblanos Historic Inn Nestled in the gloriously pastoral village of Los Ranchos, the restaurant offers a taste of Río Grande terroir with meals crafted from fruit and vegetables grown on the property, honey from bees that feed on the lavender field, and house-made bacon from the farm's pigs.
Corn Maiden The atmosphere throughout the Hyatt Regency Tamaya is nearly unbeatable. Its stately Southwestern dining room is full of windows that face the lush bosque of Santa Ana Pueblo and frame spectacular views of the sun setting on the Sandía Mountains. The menu is just as showy, with entrées like gorgonzola-crusted buffalo tenderloin. (See their recipe for Hatch Green Chile Potatoes au Gratin.)
Farm and Table The stunning view overlooks 11 acres of land that supply chef Carrie Eagle with inspiration for locavore show-offs such as a kale and apple salad with toasted pecans, Tucumcari feta, shallots from Chispas Farm, and a pomegranate vinaigrette.
Vernon's Speakeasy Hidden behind the facade of a small liquor store is a diverting experience: You must find the pass-word and deliver it through a grated window. Inside, the shiny black-plastered walls reveal a traditional steakhouse menu with jazz emanating from the bar.
TAOS
Sabroso Tucked under a lush canopy in Arroyo Seco, on the way to Taos Ski Valley, Sabroso's menu ranges from affordable small plates to big, formal plates of wood-fired rack of lamb or Cornish game hen marinated in East Indian curry. Meet in the lively bar or the shady patio.
Love Apple Expect exuberant farmers' market fare that celebrates local ingredients and indulges omnivores but also finds room for vegans and the gluten-free. With a charming center-of-town setting in a historic former Catholic chapel.
El Meze With the unbeatable atmosphere of a 19th-century hacienda in El Prado—and a picture-perfect view of Taos Mountain—El Meze wows the senses. The menu highlights Spanish–New Mexican heritage with shareable plates of chicharrones, bolita beans, and fried green olives.
THE BUZZ AROUND THE STATE
The Double Eagle in Mesilla serves house-aged steaks in an ornate Territorial-era mansion. You never know what will be on the menu at the irreverently hip 1zero6 in Silver City because it changes every night. Extravagance = USDA Prime steak and lobster tail at Wendell's at the Inn of the Mountain Gods in Mescalero. Try the "Emperor's Dinner" of filet mignon and scallops from the teppanyaki table at Tomo Sushi and Steakhouse in Farmington. Go to Badlands Grill in Gallup for a dry-aged T-bone, buffalo sirloin, or bacon-wrapped elk filet.
CHEAP DATE
Whether you're scoping out a Tinder match with minimal investment or saving up for a splurge, the most important quality these restaurants offer is value. They're reliably delicious and relentlessly affordable. You can't miss. Swipe right.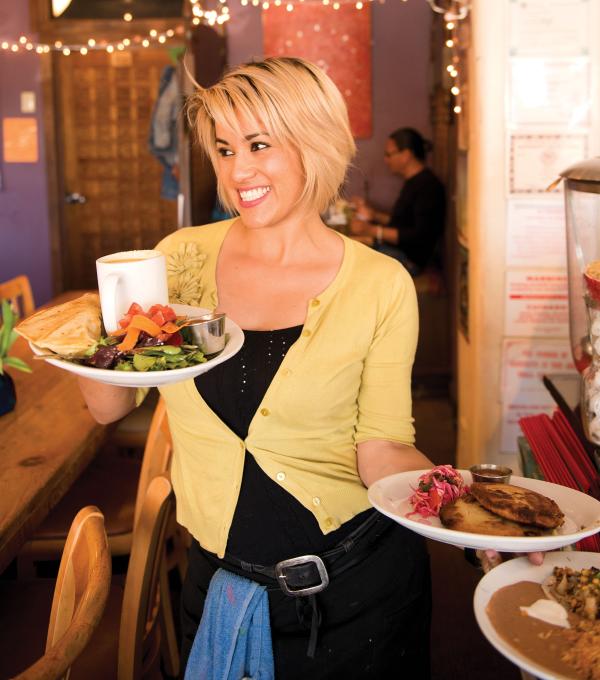 Above: The Tune Up Cafe in Santa Fe. Photograph by Douglas Merriam.
SANTA FE
Jambo Cafe African, Indian, and Middle Eastern flavors make this feel like an incredibly exotic excursion for $10–$15 per plate.
Tune Up Café Where else can you get an El Salvadoran Combo (banana leaf tamale, pupusa, rice) and a brown rice nut burger for less than the cost of a gas-tank fill-up?
Shake Foundation Even upgrading to a Shepherd's Lamb burger or a fried oyster sandwich won't put dinner over $20. (Adding an adobe mud shake will.)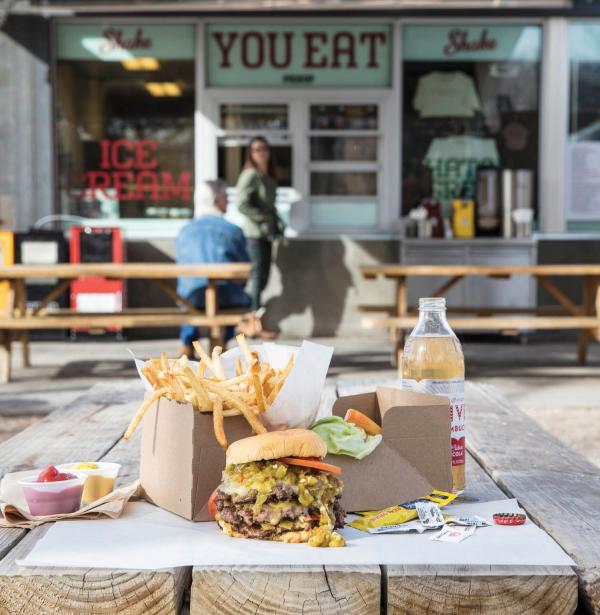 Above: Shake Foundation. Photography by Douglas Merriam.
Del Charro Housed at the Inn of the Governors, this is a locals' favorite for a simple but stellar menu of nachos, chili cheese fries, bison burgers, and, never forget, enormous margaritas.
Plaza Café The retro-1950s décor and healthy portions of stick-to-the-ribs Greek/New Mexican/diner food pull in crowds at the historic Plaza location and the roomier (but still slammed) southside café.
ALBUQUERQUE
Holy Cow The signature burger at this hip Edo eatery—a giant patty topped with crisp pecan-wood-smoked bacon, melty American cheese, and gooey Thousand Island dressing—is the only meal you'll need all day.
The Frontier It isn't romantic, but this cafeteria across from UNM has been a dream come true for hungry (and pobre) Lobos since 1971. The carne adovada burrito is still a steal at $2.25.
La Taqueria Mexico This downtown gem has only a handful of tables but does a brisk business through the takeout window all day. The taco plates are epic, the fat tortas are a steal, and the burritos are gigante.
TAOS
Taos Diner Two people on a breakfast date could eat like kings on a pauper's pay at either location of this old-fashioned diner. At $3.50, the "Penny Pincher" breakfast is just one value on a menu full of great deals.
Guadalajara Grill Taoseños' favorite Mexican seafood place makes oysters on the half shell and garlic shrimp so affordable you can add on fried ice cream and churros without breaking the bank.
Gutiz What a great lunch date this French-Latin fusion place is when you order the paella Valenciana and a salade Niçoise. Ordering a bottle of rosé takes it from "cheap date" to "hot date."
LAS CRUCES
International Delights Make meeting for a cup of coffee something a lot more interesting at this Middle Eastern café that specializes in Turkish coffee and French pastry.
Chachi's It's hard to find anything on the menu at this Mexican fave that rings up over $10—a smothered burrito bañado, a torta de milanesa, even a combo plate with enchiladas, tamale, and chile relleno.
GALLUP
Jerry's Café At this downtown diner you can absolutely smother a table in gooey enchiladas, stuffed sopaipillas, and fat burgers for $20.
Glenn's Bakery Do as the sign commands and "Get your buns in here" for the daily lunch special (patty melt, heaping sub) that comes with a side (go for the fries), a gigantic soda, and the best part: two doughnuts.
FAMILY NIGHY OUT
One of the most pressing questions we get is: What's a good place to go with kids? Here are the places our readers say do a great job of humoring messy little eaters, making the experience fun, and offering menu options that are kid-tested and mom-approved.
SANTA FE
Cowgirl Two words: Kid Corral. Sometimes the best family dinner is the one where you get to drink margaritas and have adult conversation while your offspring run wild in the controlled environment of Cowgirl's backyard playground.
Harry's Roadhouse With a menu full of kid-friendly food (spaghetti and meatballs, pizza, quesadillas), perpetually understanding staff, and a laid-back atmosphere, Harry's makes it easy.
Back Road Pizza The award-winning pizza will keep them at the table just long enough—then the kids are certain to abandon you to go play Pac-Man or pool upstairs.
La Choza Many restaurants have a kids' menu, but La Choza is a parent fave for the range of healthy sides (applesauce, carrot slices, cucumbers) that come with the pint-sized burritos and tacos. Plus, as one reader says, "You'll always see people you know there—or make new friends."
Tomasita's The whole gang can cram into one of the long booths for a Wednesday night special of blue corn chicken enchiladas. Some chips, queso, and guacamole keep the kids quiet while you work on a Swirl of frozen margarita and sangria. Mmm … Swirl.  
ALBUQUERQUE
The Range Kids are not just indulged but heartily welcomed at the Range, where the Little Annie Oakley (Sprite with a heavy dose of maraschino cherries) can be ordered in a spill-proof cup. Crayons and coloring paper come standard.
Farina Alto This is the kind of pizza adults like (charred spots on the bottom; grown-up toppings), and kids will eat, too. Farina's far Northeast Heights location is roomier (and frankly, less hip than the downtown original). Either way, kids fit right in.
Giovanni's Pizza Weekend nights are a party at this red-and-white-plastic-tablecloth pizzeria, where the trick is to call ahead so your pie is ready when you get there. Good kids (and well-behaved adults) may be rewarded with cannoli.
TAOS
Michael's Kitchen and Bakery Children are more than welcome at this Taos institution, where the reward for finishing your vegetables can be a junior chocolate sundae—or even better, absolutely anything from the bakery case. Orlando's This colorful, welcoming spot a short drive north of town is where Taoseños go for a chile fix. Kids can burn off a little energy on the patio before digging into a Frito pie. Ranchos Plaza Grill In the famous shadow of the San Francisco de Asis Mission Church in Los Ranchos de Taos, you'll find classic New Mexican food in a rambling hacienda with a cozy portal and a shady patio for the kids to explore.
LAS CRUCES
Peppers at Double Eagle The formal dining at Double Eagle is nowhere near as fun as the more casual Peppers, in the courtyard, where you can dig in to fried guacamole and Pancho Villa's Fajitas without worrying about perfect table manners.
A Bite of Belgium It's waffles for dinner at this European café. Big, beautiful, and perfectly sweet on their own, the waffles are a treat. For family members with special food needs, ask for the menus omitting gluten and common allergens.
THE BUZZ AROUND THE STATE
Don't let Trattoria de Bernardone's highfalutin name turn you away from one of Farmington's best pizzerias, where a side of spaghetti marinara or penne Alfredo is only $6. The Blue Moon Diner's retro décor and classic diner menu make it a popular place to take hungry little athletes after the game.
Five and younger eat free from the kids' menu at the new Burgers, Brownies & Beer Oh My! in Silver City. Bigger kids love the gourmet burgers, build-your-own hot dogs, and seven kinds of brownies. (Nab their carrot cake recipe)
Fratelli's Bistro is the place to go in Gallup for pizza, pasta, and gelato. Readers raved about Bovine 'N' Swine's BBQ Co. in Hobbs, where you can choose from six different "family packs" of pulled pork, smoked sausage, corn coblettes, and scalloped potatoes. When you hear hollering from the backseat for the "place with the cow on top," that's Del's in Tucumcari, the old-timey diner with the kitschy gift shop. 
OLD AND BELOVED FAVORITES
These are the restaurants our readers turn to when they have guests in town and want to give them a real taste of the place. They're where your parents took you when you were a kid. Places where you watched the owners' kids grow up and take over. Places where you don't even have to look at the menu because you already know what you want.
SANTA FE
La Plazuela It's one of Santa Fe's most iconic images: Sunlight streaming through the painted windowpanes of the historic La Fonda Hotel's courtyard restaurant. Dining here can be an inexpensive breakfast or a deluxe dinner, but the holiday buffets are a tradition.
SantaCafé A favorite since it opened in the 1980s, SantaCafé was great when Ming Tsai was the chef in the mid-1990s and was still great when Giada De Laurentiis named it one of her favorites a couple of years ago. The menu combines flavors of the Southwest and Asia, the courtyard is gorgeous in the summer, and the cocktails are fantastic.
The Pantry For nearly 70 years, the Pantry has been dishing up huevos rancheros just like your abuelita's, and making guests feel like family. As one reader wrote, "We went there two days in a row. The staff acted like we were long-lost relatives!"
The Shed Extremely popular with tourists streaming off the Plaza, the Shed remains a fixture for Santa Feans who have come to love the quirk of getting a plate of carne adovada with a hunk of crusty garlic bread. (It does a heckuva job at soaking up every last drop of chile.)
ALBUQUERQUE
El Pinto This lush North Valley institution has been owned by the same family for generations—and the bond is strong. In 2016 owners (and twin brothers) Jim and John Thomas hired chef Marc Quiñones from a four-star resort in Santa Fe, returning him to the restaurant where he got his start more than a decade ago.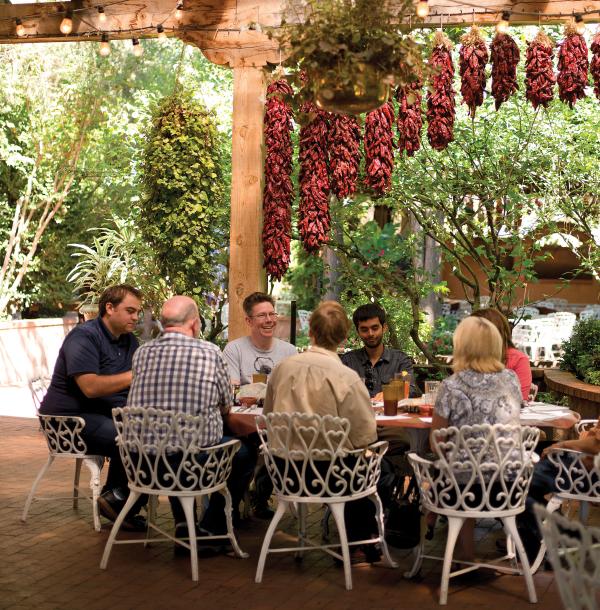 Above: The gracious patio at El Pinto in Albuquerque. Photography by Douglas Merriam.
Pueblo Harvest Café The stacked-stone restaurant inside the Indian Pueblo Cultural Center is the best place to get a taste of food from all 19 New Mexico pueblos—and to compare traditional dishes like mutton stew with the edgy, modern creations of the café's ambitious chefs.
Mary and Tito's Both Mary and Tito are gone now, but their children and grandchildren still run the place, and the fruity red chile, crispy chicharrones, and characteristic "turnovers" (read: stuffed sopaipillas) are the same ones that earned this little café an America's Classics Award from the James Beard Foundation.
Monte Carlo Steakhouse Stepping into this dark dining room is disorienting. You seem to have been transported back to a time when people drank martinis and ate steaks at lunch on a weekday, sitting in red-vinyl-backed booths. But no, that still happens at this throwback treasure.
TAOS
Doc Martin's Every-one who comes to Taos eventually eats, drinks, or stays at the Taos Inn, the historic hotel at the center of town. The blue corn and blueberry hotcakes are always a hit at brunch.
Alley Cantina It's billed as "the oldest house in Taos" and it's certainly one of our readers' most enduring favorites. A hoppin' lunch spot during the day, it's one of our top picks for drinks later at night.
El Taoseño Whether you've been skiing, hiking, or shopping all over town, king-sized platters of enchiladas are ample reward for the weary and the hungry.
LAS CRUCES
La Posta de Mesilla This wildly colorful hacienda was once a stagecoach stop on the Butterfield Line. It's still a place where dusty travelers refuel, Las Crucens go to celebrate, and everybody likes to see the colorful parrots swooping around their cage in the lobby.
Nellie's What started as a burrito delivery route in 1962 is now a 50-year-old fixture. Don't miss the picadillo (ground beef with jalapeños, onions, and tomatoes).
THE BUZZ AROUND THE STATE
Rancho de Chimayó became one of the country's favorites in 2016 when it won the America's Classics Award from the James Beard Foundation. Charlie's Spic & Span Bakery and Cafe is the place to see and be seen in Las Vegas. Don't leave without a cherry limeade, a bag of fresh tortillas, and a doughnut for the road. Diane's in Silver City is a favorite place to pick up a loaf of bread or linger over a glass of wine and listen to music.
BREWPUBS, GASTROPUBS AND TAPROOMS
New Mexico's beer scene has been booming over the past few years and a recent change to state law made it easy for local breweries and wineries to sell one another's products, vastly expanding the offerings available all over the state.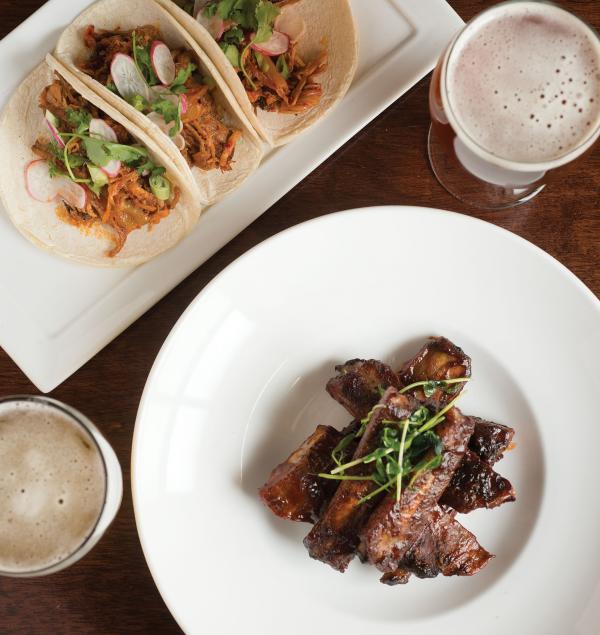 Above: Gastro-grub at Fire and Hops in Santa Fe. Photography by Douglas Merriam.
SANTA FE
Second Street Brewery Stop in to the original location (the city's first brewery) or the Railyard taproom for a taste of one of their 60 handcrafted beers.
Fire and Hops A curated selection of intriguing local and national beer, wine, and cider complement dishes like pork-belly tacos with pineapple kimchi.
Santa Fe Brewing The brewery and tasting room just outside of town is a hot spot for concerts in Santa Fe. Be sure to Instagram yourself with a can of the iconic Happy Camper IPA: electric yellow with a bright red Zia symbol.
Also in Santa Fe, don't miss The Root Cellar, a new taproom that specializes in mead, the enormous sake list at Izanami, or the 24 taps of local cider and other brews at New Mexico Hard Cider.
ALBUQUERQUE
Bosque Brewing There's a full menu (falafel sliders, duck poutine, fish and chips) at the North Valley brewery, and a shorter list for lunch and happy hour at the Nob Hill pub.
Bow and Arrow This popular new spot (co-owned by two Native American women) is worthy of a feature in Architectural Digest. But Burqueños come for the Land of Mañana IPA, the Jemez Field Notes Golden Lager—and kombucha on tap!
Marble Brewery The city's best-known brewery bottles and cans a short list of classic brews, but more are available at its three taprooms that often feature live music.
Tractor Brewing The Nob Hill taproom is a popular gathering place for university-area students and professionals, while the Wells Park taproom is the northern anchor of the downtown "brewery district."
Also in Albuquerque, Kelly's Brewpub was taken over by Santa Fe Dining (owners of Chama River Brewing and Blue Corn Brewery) last summer. The Freight House in Bernalillo is a beautifully industrial hangout with lobster tater tots and a big list of wine and craft beer. Ponderosa Brewing Company has enlivened the Sawmill District. Try a glass of Dr. Strangehop at Boese Brothers Brewing, located in an old Studebaker dealership downtown.
TAOS
Taos Mesa Brewing A hot craft brewery and restaurant, this "brewclub" near the airport draws national music acts to an indoor stage and outdoor amphitheater.
The Burger Stand at Taos Ale House Linger over juicy burgers and craft brew in these cozy digs on the main drag.
Eske's Green Chile Ale is the beer you date, but Elf Juice is the pale ale you marry. The food is kid-tasty, gluten-free, and vegan-friendly.
LAS CRUCES
High Desert Brewing Stop in for a pint of porter and a pub burger (house-made root beer and a quesadilla for the kids); take home a growler of Black IPA.
Pecan Grill and Brewery An upscale restaurant with a thriving bar scene and a dozen craft brews. Don't skip the pecan-flavored beer. Spotted Dog A constantly changing list of house-brewed beer is on tap at Mesilla's only brewpub, owned by a husband-and-wife (and dog) team.
THE BUZZ AROUND THE STATE
Bathtub Row Brewing in Los Alamos is one of only four brewing co-ops in the country; member-owners get discounts on beer—and dividends when it's profitable.
Enchanted Circle Brewing is a 50-seat taproom with a fine food menu and a stunning view of Angel Fire's ski area; it opened in the spring of 2016. Rio Grande Grill and Tap Room is the place for craft brews and barbecued pork sliders in Ruidoso. Turtle Mountain has been Rio Rancho's favorite destination for craft beer and wood-fired pizza since 1999. The Three Rivers Brewery, taproom, restaurant, and pizzeria takes up a whole block of Main Street in Farmington. Little Toad Creek is Silver City's craft brewery and distillery in a charming historic building.
JAVA FAVE
For a pretty laid-back state, New Mexicans are surprisingly into coffee. We're not as snobby about it as some other places, but we know a well-brewed cup when we sip one. Readers highlighted coffee shops all over the state, so many that we'll never need to ask Siri for the closest Starbucks.
SANTA FE
Iconik Coffee Roasters The Lena Street location is a cool, cozy-industrial space to sip a pour-over and get some work done; the downtown shop is a great place to pop in for a bagel and recharge with a "bullet-proof" cup.
Ohori's The drive-up window on St. Francis is a lifesaver on a busy morning, while the newer location on Cerrillos near Paseo de Peralta is conveniently located near Sage Bakehouse.
Ecco This popular downtown espresso shop and gelateria recently moved across Marcy Street to a new spot next to Cheesemongers of Santa Fe.
Also in Santa Fe, Java Joe's serves a hot cup with gorgeous pastries in a newish space on Siler Road; there's also a smaller location and drive-up window on Rodeo Road. The Teahouse serves a full espresso menu, beer, wine, and great food all day. Betterday Coffee Shop & Kitchen serves Stumptown coffee next to La Montañita Co-op. Downtown Subscription is a popular spot behind Canyon Road to loiter over a latte and the newspaper.
ALBUQUERQUE
Zendo This hip coffee shop serves super-high-octane brews in mason jars and dramatically increases the cool factor of its immediate neighborhood.
Humble Coffee A loyal following makes it hard for this popular shop to be too humble. Look for the flash of orange along an otherwise unremarkable stretch of Lomas Boulevard.
Deep Space This is serious hipster habitat downtown, but the cool kids are onto something: exceptional espresso.
Old Town Farm Bike-in Coffee The city's hardest-to-find coffee shop is beloved by cyclists who know exactly where to duck off the Río Grande bike path for this hidden treasure.
Michael Thomas makes artisan coffee accessible with classes on beans and brewing methods. Espresso Fino is a gourmet coffee micro-bar on Gold Street. NM Piñon Coffee Company's popular piñon-flavored coffee is available at two coffee shops in Albuquerque's North Valley.
TAOS
Head to Elevation after lunch for a gelato and a shot of espresso—but bring cash. World Cup is smack-dab in the center of town where it's easy to dash in for a quick, cash-only mocha. Wired has a quirky cabin/treehouse/garden vibe and plenty of private nooks to flip open your laptop. Coffee Cats offers a huge menu of flavored coffees with feline names; the "hair ball" is four shots of espresso. The Coffee Spot serves vegan tacos to a loving crowd of mesa rats.
LAS CRUCES
Near NMSU, Milagro is a fun place to relax over an espresso, milkshakes, and an almond croissant—or hit the drive-through for an Americano and green chile bagel.  At Beck's, you can grab a cup to go from this cool stone-faced coffee shop and then take the kids across the street to the playground at Klein Park. 
THE BUZZ AROUND THE STATE
302 Main Espresso is one of the coolest spaces in Farmington—a historic building with Artifacts Gallery. Javalina, Jumping Cactus, and Yankie Creek are our readers' favorite spots in Silver City. In Gallup, Silver Stallion and Gallup Coffee Co. are tops. Sacred Grounds gets the nod in Ruidoso. Circa is the hippest espresso bar in Tucumcari. People are cuckoo for Coco Bean Café in Grants. Mock's Crossroads Coffee Mill keeps Clayton awake. Highway 4 is the hot spot in Jemez Springs. Jahva House packs 'em in during downtown block parties in Artesia. When you're in Clovis, hit up the Java Loft. In Hobbs, try Undergrounds Coffee. And look for Traveler's Café in Las Vegas.
WILD CARDS
What did we miss? We asked readers to name favorites in categories that weren't on the survey. Boy, did you tell us. (Join the conversation by sending more favorites to letters@nmmagazine.com.)
DRIVE-INS, DRIVE-THROUGHS, AND TAKEOUT JOINT
Foxy Drive-In in Clovis lures you off the road even if it's not a Taquita Tuesday. Nearby, the sign for Twin Cronnie features two hot dogs holding hands and dancing over a fire.
Hometown Burgers in Farmington is a drive-through if you're first in line, but a drive-in (and wait) if it's busy. To find Don Juan's Burrito in Silver City, look for the electric yellow building with a red roof and follow the giant burrito all the way to the pickup window. Fill up on corn dogs and tater tots at Becky's Drive-in when you're in Carlsbad. In Albuquerque, Kathy's Carryout is the best place to walk away with enough Cuca Burgers for an army.
SWEET TOOTH SATISFACTION FACTORIES
In Santa Fe, readers raved about the elaborate pastries at Biadora Bakery, French tarts and croissants at Clafoutis, elaborate artisan truffles at Cacao, drinking chocolate at Kakáwa, and monkey bread and cupcakes at Dulce.
Albuquerque loves tMexican-accented ice cream at Pop Fizz, cupcakes at Cake Fetish, and of course, the Breaking Bad–inspired "blue meth" doughnuts at Rebel Donut.
Around the state, we had lots of votes for Glenn's Bakery in Gallup, JoBeth's Sugar Shack in Clovis, Millie's Bakehouse in Silver City, Bearclaw Bakery in Taos, Cornerstone Bakery & Café in Ruidoso, La Fiesta Bakery in Las Cruces, Morning Glory in Los Alamos, and the Bakery & Café @ Angel Fire.
ON THE ROAD
New Mexico is one of the biggest states in the country, so when you're crossing the Land of Enchantment you'll need various stops to refuel yourself and your car. Some of our readers' favorite restaurants are destinations all on their own. Others are strategically, magically located at the hungriest part of your drive.
The Owl Café in San Antonio is the oldie-but-goodie we love for the high-backed booths, the skinny burgers on soft buns, and the "Hiya, hon!" service. The Buckhorn Tavern across the street is flashier (it won a Throwdown with Bobby Flay), but still has old-school charm and great burgers.
Ancient Way Café and Outpost in Ramah is where you should plan to have a low-key-but-gourmet lunch before visiting the Bandera Volcano and Ice Caves.
Sparky's in Hatch will make you glad you got off the highway to eat a spectacular green chile cheeseburger and pose for pictures with the wacky fast-food artifacts.
The Gatherin' Place in Pie Town is our readers' favorite place for a fruity, creamy, or chocolaty slice in the town that's named for its favorite food.
Halona Plaza Deli in Zuni drives people wild with its fried chicken and burgers.
The Buckhorn in Pinos Altos, a former saloon and opera house, is a dinnertime must-do between Silver City and the Gila Cliff Dwellings.
One of the highlights of taking the High Road from Santa Fe to Taos: Sugar Nymphs in Peñasco.
El Parasol in Española makes it impossible to drive through town without stopping to fill a paper sack with tacos.
Café Abiquiú at the Abiquiu Inn is yummy and picture perfect, with a covered patio that leads to a shady lawn.
The Adobe Deli in Deming is a wild roadhouse full of taxidermy and memorabilia that will lure you off I-10 for dinner.
Laguna Burger is technically within Albuquerque city limits, but it's 20 miles from the center of town—far enough to convince yourself you need to stop for a bite.
El Bruno in Cuba is a favorite pit stop between Albuquerque and Farmington—and a destination on the state's official Green Chile Cheeseburger Trail.
Chopes in La Mesa makes you want to stop and "stuff it" between Las Cruces and El Paso.