Learn to do it yourself at these classes given by top chefs.
By Cheryl Alters Jamison | Photography By Douglas Merriam
One of the most immediate ways to delve into a culture is through its food, and few places have as distinctive a culinary heritage as New Mexico. Recreational cooking schools serve up a full menu of fast and fun ways to learn more about our singular cuisine. The options range from special subjects (maybe tamale-making, or grilling) to creating an entire celebratory meal. Most individual classes run two to three hours, then you eat what you've made.
These days, though, cooking schools have expanded far beyond the solo class, with multiday boot camps, weeklong series, farmers' market visits, culinary tours, even restaurant tasting tours. Schools attract everyone—skilled amateurs, pros looking for new inspiration, those who've never picked up a knife, and, yes, some who come just for the food. Pricing varies by menu and instructor.
Expect to take home recipes as well as tasty memories.
Two schools, in business for decades, focus tightly on the foods of the Southwest and Mexico. You can learn all about working with chiles, how to make a sopaipilla poof, or how to dazzle your friends by cooking trout in clay. Even if you've lived in New Mexico for decades, you'll learn something you almost surely didn't know before.
Jane Butel's Southwest Cooking School, Corrales/Albuquerque
ane Butel, the first promoter of New Mexican food to make an impact nationally, invites students to her quintessentially New Mexican home in Corrales for participatory weekend or weeklong classes that are infused with a real spirit of camaraderie. Butel also gives briefer demonstration classes at Builders Source Appliance Gallery and the National Hispanic Cultural Center, both in Albuquerque.
Hardly anyone can match Butel's depth of knowledge of the region's food. In the early 1960s, while working as the young director of the Public Service Company of New Mexico's home-economist team, Jane put together the initial version of Cocinas de New Mexico, a much-loved book that the company still publishes. By the 1970s, she had vaulted from there to become the face of Southwestern food, known for cooking classes, regular TV appearances, and writing (including for this magazine), as well as for her line of then-exotic Pecos River Spice Company chiles and spice blends.
She submitted a manuscript, Cooking with Blue Corn and Green Chile, to a New York publishing house when few Americans knew an enchilada from an extension cord. The staff at Crown rechristened the book Jane Butel's Tex-Mex Cookbook. Only the photo of Butel wearing her squash blossom necklace hinted at the New Mexican treasures inside. At least they let her spell chile with an e. The wildly successful book made Jane the iconic figure she remains today. (505) 505-243-2622; www.janebutelcooking.com
Santa Fe School of Cooking, Santa Fe
On a winter day in 1989, Susan Curtis met me for lunch and announced that she was leaving her career in real estate appraisal to start a cooking school and market. Having been raised on a working ranch, Susan saw the connection—long before it became mainstream—between ranchers and farmers, how food is prepared, and what ends up on our plates.
Her daughter Nicole Curtis Ammerman runs the operation today. It now offers more than three dozen rotating classes taught by a savvy team of chef-instructors, including renowned Native American food authorities Lois Ellen Frank (also a contributor to this magazine) and Walter Whitewater. Some classes, such as their Tamales! class, are fully participatory. In the school's market, stock up on New Mexico–made products, hard-to-find Southwestern and Mexican ingredients, related cookware, and a broad range of cookbooks, including a half dozen published under the school's imprimatur. The school also hosts restaurant walking tours, intensive cooking boot camps, area culinary tours, and runs a robust mail-order business.
The downtown school is planning a move to larger quarters by the end of this summer, so double-check with them on their location when you call or e-mail. (800) 982-4688, (505) 983-4511; www.santafeschoolofcooking.com
Other Cooking Classes These schools offer some New Mexican classes in their repertoires, but on a less regular schedule than those featured above.
Comida de Campos, Embudo
New Mexico native Margaret Campos offers a true field-to-table experience to groups of at least five via "A Day on the Farm." Generations of Margaret's family have worked this land, a lush slip sandwiched between the Río Grande's western bank and piñon-speckled foothills about an hour north of Santa Fe. Campos teaches traditional New Mexican dishes created with sustainably raised farm produce that participants help pick. Weather permitting, classes take place in a shaded outdoor kitchen and often feature horno cooking. (505) 852-0017; www.comidadecampos.com
Cooking Studio Taos, Arroyo Seco
Christopher Maher, chef, actor, and native of Alexandria, Egypt, brings his international background to a mix of classes headquartered in his mountain home, between Taos and the Ski Valley. All classes are hands-on. He previously owned the popular Momentitos de la Vida restaurant in the same area, which received accolades from Gourmet and Bon Appetit magazines, and garnered Chef Maher a coveted invitation to cook at the James Beard House, in New York. He and wife, Valerie, produce Caleb & Milo condiments, named after their two sons. (575) 776-2665; (575) 613-5226; www.cookingstudiotaos.com
Las Cosas Cooking School, Santa Fe
The school is tucked inside DeVargas Center's well-stocked kitchen store of the same name, owned by Mike and Karen Walker. Charmingly irrepressible Chef John Vollertson, better known locally as Johnny V, presides over many of the classes on the full calendar of offerings, but he books in a variety of guest teachers, too, including many of Santa Fe's most popular restaurant chefs. It's an eclectic program in an intimate setting. The school also offers summer classes for kids. (877) 229-7184, (505) 988-3394; www.lascosascooking.com
Savories, Ruidoso
Chef Bonnie Branson teaches classes at her Savories Cooking Studio, nestled in the tall pines not far from downtown Ruidoso. Many of Branson's classes are booked by groups wanting team-building activities, or perhaps a girls' night out, or a children's party. (575) 257-0204; www.savories.net
Seven Directions, Santa Fe
Many cooking schools arrange culinary tours. In this case, a tour company owner, the gregarious Patrizia Antonicelli, collaborates with cooking schools and chefs to showcase New Mexico's cultural heritage. Both set and custom tours are available. (877) 992-6128, (505) 820-3305; www.sevendirections.net
Cheryl Alters Jamison is New Mexico Magazine's contributing culinary editor. Read her blog at www.nmmagazine.com/tastingnm.
SAUTÉED SHRIMP WITH ORANGE-CHIPOTLE HONEY-MUSTARD SAUCE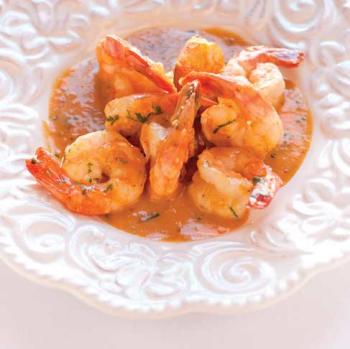 This dish comes from the Santa Fe School of Cooking's Southwest Tapas class menu. I love both its simplicity and its big bold taste. If serving the shrimp as an entrée, add a side of rice to soak up the scrumptious juices.
Yield
SERVES 4 AS MAIN DISH, 6–8 AS TAPAS SMALL PLATE
Ingredients
Orange Chipotle Honey-Mustard Sauce
6-ounce can frozen orange-juice concentrate, thawed
2 to 3 tablespoons chipotle chiles and juice from a 7-ounce can of "chipotles en adobo"
2 tablespoons honey
2 tablespoons Dijon mustard
1 teaspoon minced garlic
1 cup packed coarsely chopped fresh cilantro
2 tablespoons fresh lime juice
½ teaspoon salt or more to taste
Shrimp
2 to 3 tablespoons vegetable oil
2 pounds (32 to 36) shrimp, peeled and deveined
Directions
Prepare sauce: Purée all ingredients in blender until smooth.
Makes about 1½ cups.
Warm 1 tablespoon oil in a large, heavy skillet over medium-high heat. Add about one-fourth of the shrimp and sauté until pink and just cooked through (2 to 3 minutes). Place cooked shrimp in large serving bowl or on platter. Continue with another one-fourth of shrimp, adding more oil if needed.
Repeat until all shrimp have been cooked.
Pour sauce over shrimp.  Toss to combine well. Serve warm.