Artist Ed Sandoval is surrounded by his work in his Taos gallery. 
WHEREVER THE GNARLED OLD man appears, time seems to stand still. Dressed in the same hat and weathered brown coat, he leans his bent figure over a crooked walking stick, lurching down ancient dirt lanes. In serpentine landscapes swirling with chamisa, sagebrush, and the blood-red skyline of the Sangre de Cristo Mountains, he is the frail yet abiding human center. 
Taos-based artist Ed Sandoval calls the figure who appears in most of his paintings "El Viejito," the little old man. El Viejito, who is only ever seen from behind, walking toward the horizon, stands in for the people Sandoval calls "the sacred old ones." His depiction is rooted in the venerable elders who have lived and worked for generations in the villages along the High Road to Taos.  
El Viejito is only a character. But, like the mounded adobe walls, rusted 1950s pickup trucks, and seasonal scenes of rural northern New Mexico that Sandoval paints around the old man, he represents a certain immortality. Sandoval's brushstrokes capture the enduring lifeways of Norteño people: Bonfires burn bright at Taos Pueblo every Christmas Eve, majestic cottonwoods glow orange in the fall and are stripped bare in winter, centuries-old adobe churches welcome the faithful every week.  
Time trickles on, slowly and steadily as spring water through an acequia. Many of these compositions are done in plein air, teased into existence on an easel set up near Taos Plaza as tourists look on. The paintings instill a cozy sense of comfort and belonging, gently placing the viewer in a golden instant along the road home.  
"It's always a moment thing with me," Sandoval says, standing in his studio and gallery on Quesnel Street in Taos.  
Born in 1945, the artist divided his childhood between the family home in Nambé and Los Alamos, where his father worked on the Manhattan Project. He learned the power of a split second at age 6, when he was lying on the side of a road peering down at a ditch with his twin brother and cousins. From up the hill, a car freakishly came out of park and rolled over the children, badly injuring Sandoval. While he recuperated in a full-body cast for the next several months, drawing and painting showed him the way forward—then and for the seven decades that lay ahead.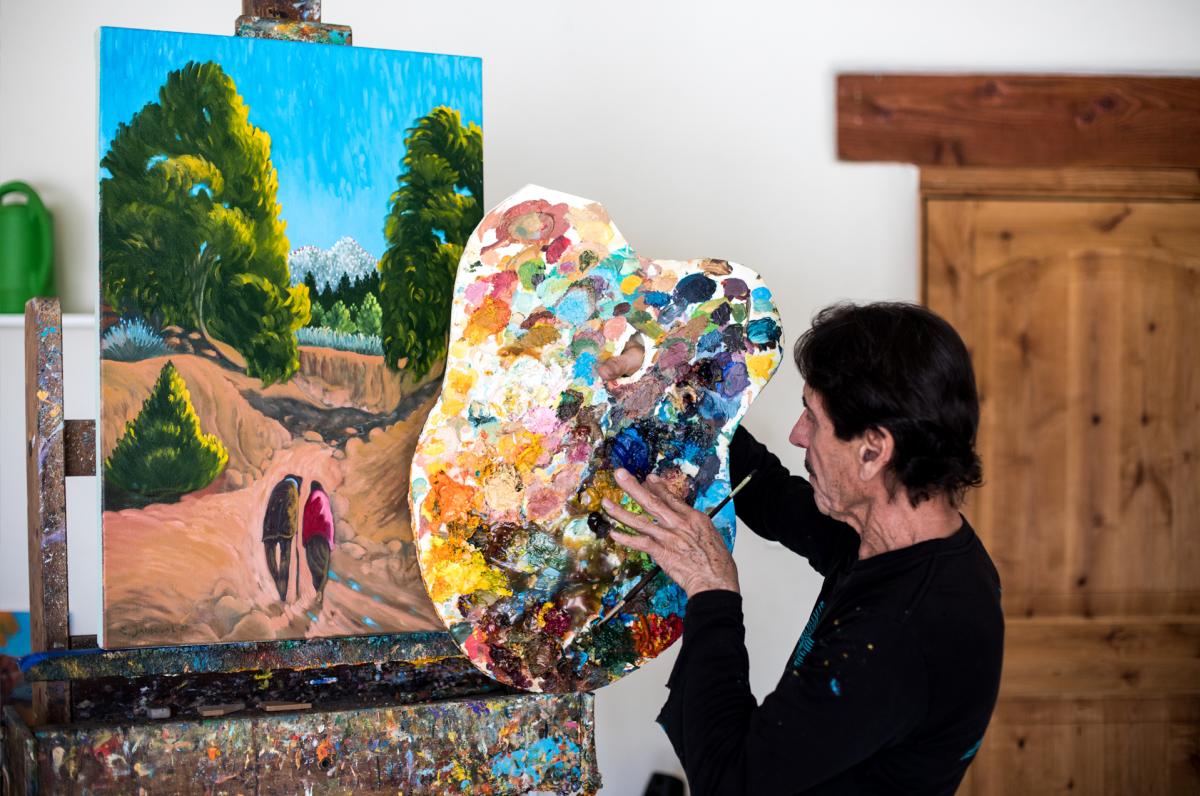 Ed Sandoval's expressive range of colors starts out as a seeming riot before he melds them in his peaceful paintings. 
"HE HAD THE HABIT OF REMEMBERING SCENES, moods, geography, little moments—memory blips—that had occurred yesterday or maybe fifty years ago," John Nichols writes in The Milagro Beanfield War of "the immortal old man" Amarante Córdova.  
The character of Amarante, too, is an inspiration for El Viejito: During the filming of The Milagro Beanfield War in the village of Truchas, Sandoval befriended actor Carlos Riquelme, who played the indelible elder Amarante in the 1988 film. "I was so taken by his character in the movie, his personification, his body language," Sandoval remembers.  
He thought of all the old ones—his grandfather, a Nambé farmer, and grandmother, a curandera whose dirt-floor kitchen was lined with dried healing herbs—who had shaped his own life. "I started doing paintings of him," he says. "It just evolved into a trademark."  
The painter has another signature. In his frames, every mountainous horizon is lined with a thin yet unmistakable stripe of crimson that represents the reddish evening light of the Sangre de Cristos. 
"Wherever the sky kisses the mountains, you'll see it," says Sandoval.  He gets a faraway look on his face, wondering aloud about the first time Spanish colonists saw what they dubbed the "Blood of Christ" mountain range. Those colonists included Sandoval's first New Mexico ancestor, cartographer and santero Bernardo Miera y Pacheco, who arrived in the 1740s.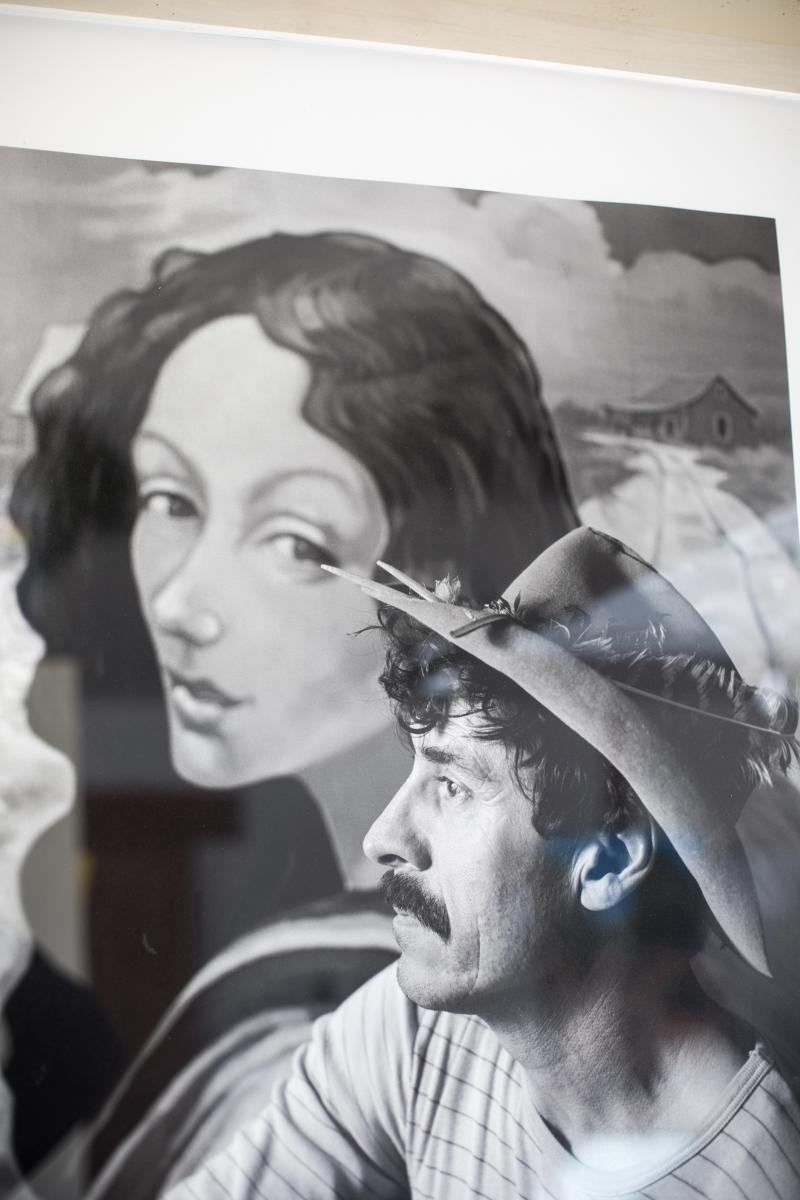 A portrait of the artist as a young man—a black-and-white photograph on display in his home studio.
A devoted student of art history (and former Los Alamos High School teacher of the subject), he uses color to draw the viewer's eye—to pull the mountains forward, push the sky back, and highlight the varicolored hues of the seasons. His rules of composition are rooted in a triangle that unites three elements: the landscape, the architecture, and the people.  
"You see those in practically all my work," says Sandoval, who once owned a construction company. "Adobe just became a part of me. When I see an adobe church I get excited, because I know the work involved in building it."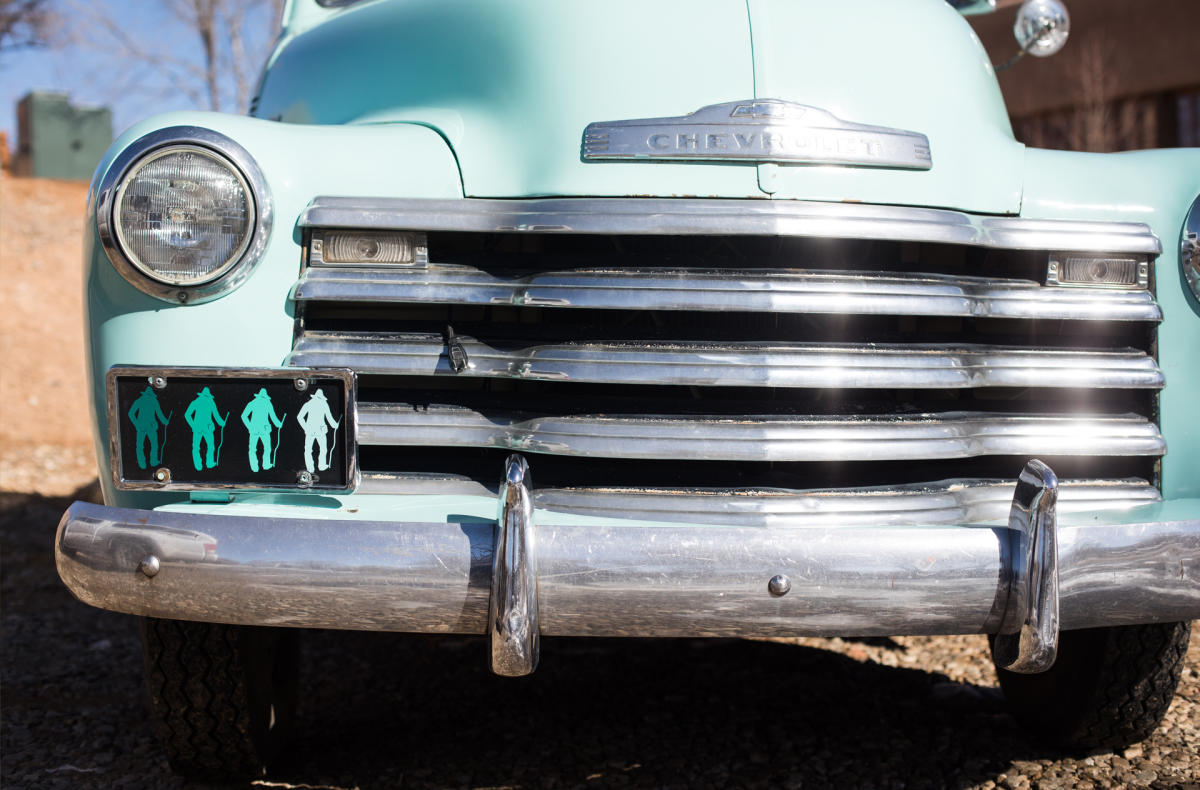 Ed Sandoval's classic 1951 Chevy bears images of El Viejito, his favorite character. 
SANDOVAL'S PARTNER, GWEN MCFADEN, SAYS Sandoval's devoted collectors buy his paintings because they depict humble scenes that speak to their values of home, faith, and family. In El Viejito, they see their own elders. A Sandoval painting, she adds, "is just like Ed. It's not trying to be something it's not."  
Large Hispanic families make annual pilgrimages to the Ed Sandoval Gallery to buy his yearly calendar, McFaden says, where they can view their lives represented in his suspended-in-amber moments.  
Taoseños and returning visitors know exactly where the artist can be found on any given day of the year: outside his studio, painting in the open air, capturing what he calls "the feeling of New Mexico." Sandoval explains, "You've got to be right there, out in it, without looking at a photo. A photo really disappears the energy and spirit of the place. When you're outside and painting what you're seeing, magically it starts taking on a cultural or a spiritual form."  
With the help of McFadden, he also issues a monthly newsletter recounting memories of his Norteño childhood, along with more recent adventures throughout the region.  
Taos News publisher Chris Baker, a longtime friend of Sandoval's, says the painter is as much of a Taos original as his artwork. "He's out there in the plaza working it in the heat and the cold, bringing people in. He doesn't sit behind the gallery glass and wait for people to come to him. He goes out and finds the tourists."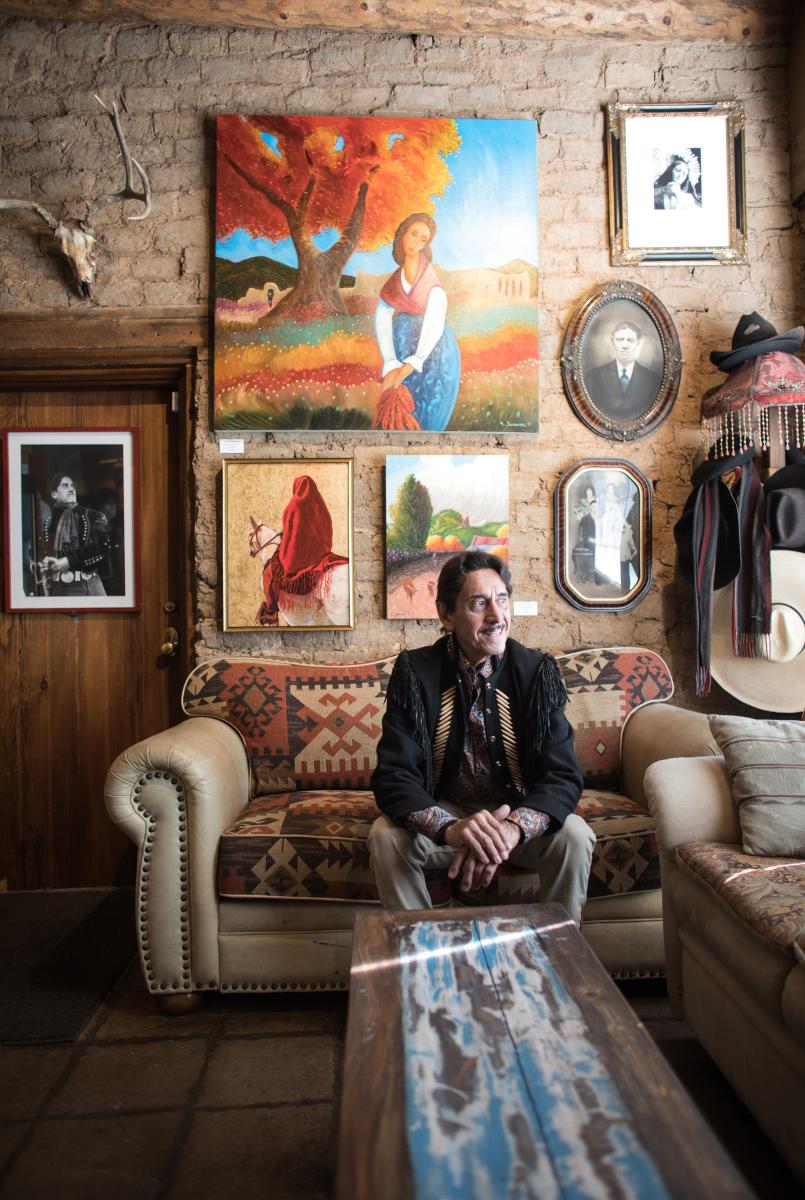 Ed Sandoval at his Taos gallery. 
Unlike many artists, Sandoval is an extrovert, often encouraging onlooking children to try out his paintbrush and add a few strokes to his canvases.  
Baker says Sandoval has an exhibitionist streak that transcends his art gallery: Occasionally the artist gets a wild hair to dress himself up as Zorro. He rides his Arabian horse, Patrón, through the streets of town, cutting a masked and swashbuckling figure that channels his conquistador ancestors.  
"He's got that mystique, and he works it," Baker says. "Ed fits in here like a glove. If there was ever an artist made for Taos, it's Ed Sandoval."

SEE MORE
Learn more about artist Ed Sandoval and sign up for his newsletter at edsandovalgallery.com.
Follow him on Facebook or visit the gallery at 119 Quesnel St., in Taos. Canyon Road Contemporary Art, at 622 Canyon Road in Santa Fe, also carries his work.  
---
Read More: Albuquerque painter S.M. Chavez wrangles success with an old-is-new approach to cowboys, horses, and New Mexican landscapes.
Read More: Artist and illustrator Collette Marie breathes new life into classic New Mexican imagery.
Read More: Afton Love explores grand questions by detailing the tiniest of changes.