Clockwise from top right: Oreos 'n' cream, watermelon, cantaloupe, chocolate-dipped strawberries with cream, bubble gum, and chile lime.
DOES SANTA FE'S OASIS ICE CREAM SHOP have a time machine? One taste of the guava paleta—a pale pink Mexican-style popsicle dotted with seeds and a hint of green rind—transported me to a family vacation in Hawaii, fresh guava juice sticky on my chubby eight-year-old cheeks. 
The rainbow of strawberry, kiwi, chile mango, and arroz con leche flavors packed into Oasis's Design Center display case makes picking just one improbable. Co-owner Oscar Castañeda blends fresh fruit, cane sugar, and water or cream before pouring the mixture into popsicle molds. Each batch of 240 paletas takes just 15 minutes in a freezer before they're ready to serve. 
"When we moved to this country from Mexico, my father knew someone who was selling a paleta store," says Oscar's daughter and co-owner Erika Castañeda. "So we all learned to make paletas." 
The family business, which includes Erika's husband, Omar Reyes, and her mom, Elizabeth Castañeda, opened originally on St. Michael's Drive and eventually landed on Airport Road. In 2017, Oasis won the grand prize at the annual Santa Fe bizMIX competition, which fueled its downtown expansion. 
The shop continues to develop its menu of elotes, nachos, and candy- and chile-laden beverages and also features special jumbo paletas dipped in toppings and a giant churro milkshake. There's no time machine, but there is a secret ingredient in every item: nostalgia. "Paletas are a little piece of childhood in Mexico," Elizabeth says.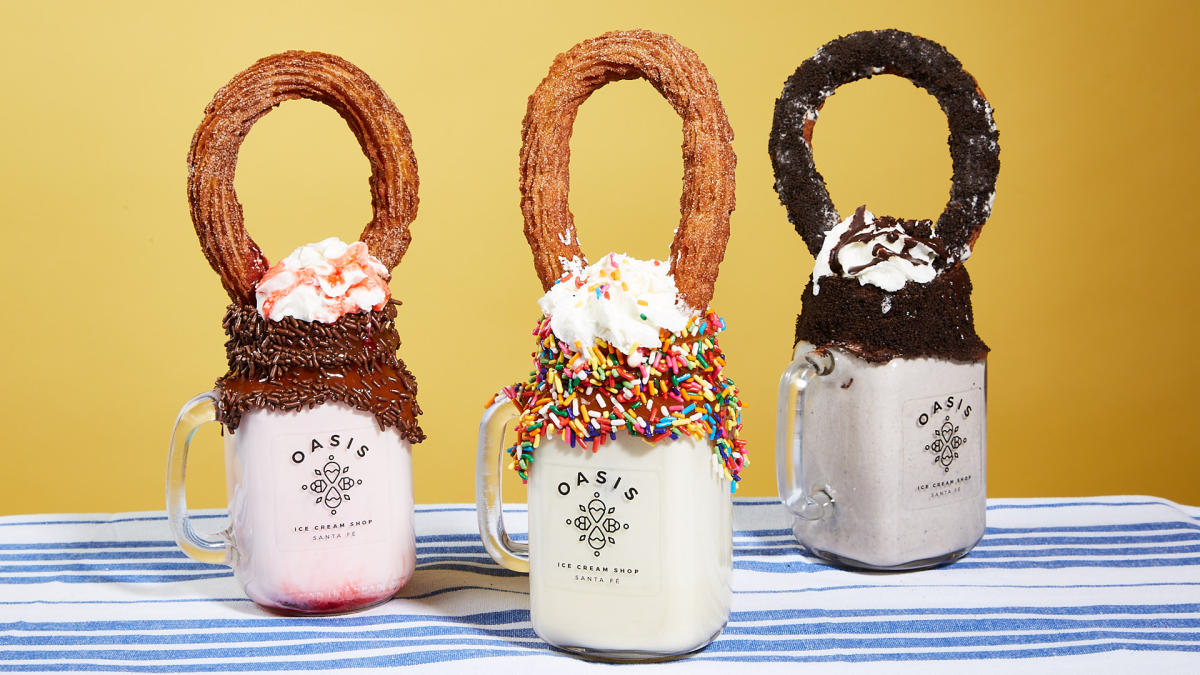 Don't miss these giant milkshakes dipped in sprinkles and topped with a churro. 
Stop by Oasis Ice Cream Shop at 418 Cerrillos Road or 4641 Airport Road in Santa Fe or get updates on Facebook.
---
Read More: Welcome spring with a centuries-old Mexican infusion.
Read More: The mother-daughter duo behind Indulgence Bakery & Cafe has created a divine gathering place in Las Cruces.
Read More: Katharine Kagel, the chef and owner of Cafe Pasqual's, in Santa Fe, shares her recipe for a classic cherry pie filling.