Some of New Mexico's most exquisite cuisine awaits on the historic patio at Santacafé.​
DINING ALFRESCO MAKES EVERYTHING taste better. (Good thing, since it's the only way most of us have eaten at a restaurant in the past year.) Hidden behind historic adobe walls and nestled in verdant landscapes, these outdoor dining spots are some of our favorites. 
Forgetting you're in a restaurant while on Farm and Table's patio is understandable. With soft wooden tables, a canopy of garden lights, pale adobe walls, and rounded entryways, the ambience feels intimate, like a stunning dinner party. Owner Cherie Montoya spent her childhood farming with her father, David, in Albuquerque's North Valley and developed a deep appreciation for the land and its gifts. Farm and Table cherishes every ingredient—80 percent of them from local growers—creating a romance you can taste.
8917 4th St., Albuquerque; 505-503-7124
Tucked behind two massive wooden doors, the main patio at the Las Cruces bistro feels like you've wandered into a secret courtyard garden. Adorned with planters, flowers, and other greenery, the space gets covered in sunshades and decorated with twinkly garden lights. It's the perfect spot to relax with a flight of wine and the Signature Nosh, an aesthetically pleasing platter of meats, cheeses, mustard, artichoke hearts, olives, and chocolate. "The plants are special," says Daniel Gonzales, creative content manager at Lescombes. "The live music is great when we get to have it."
1720 Avenida de Mesilla, Las Cruces; 575-524-2408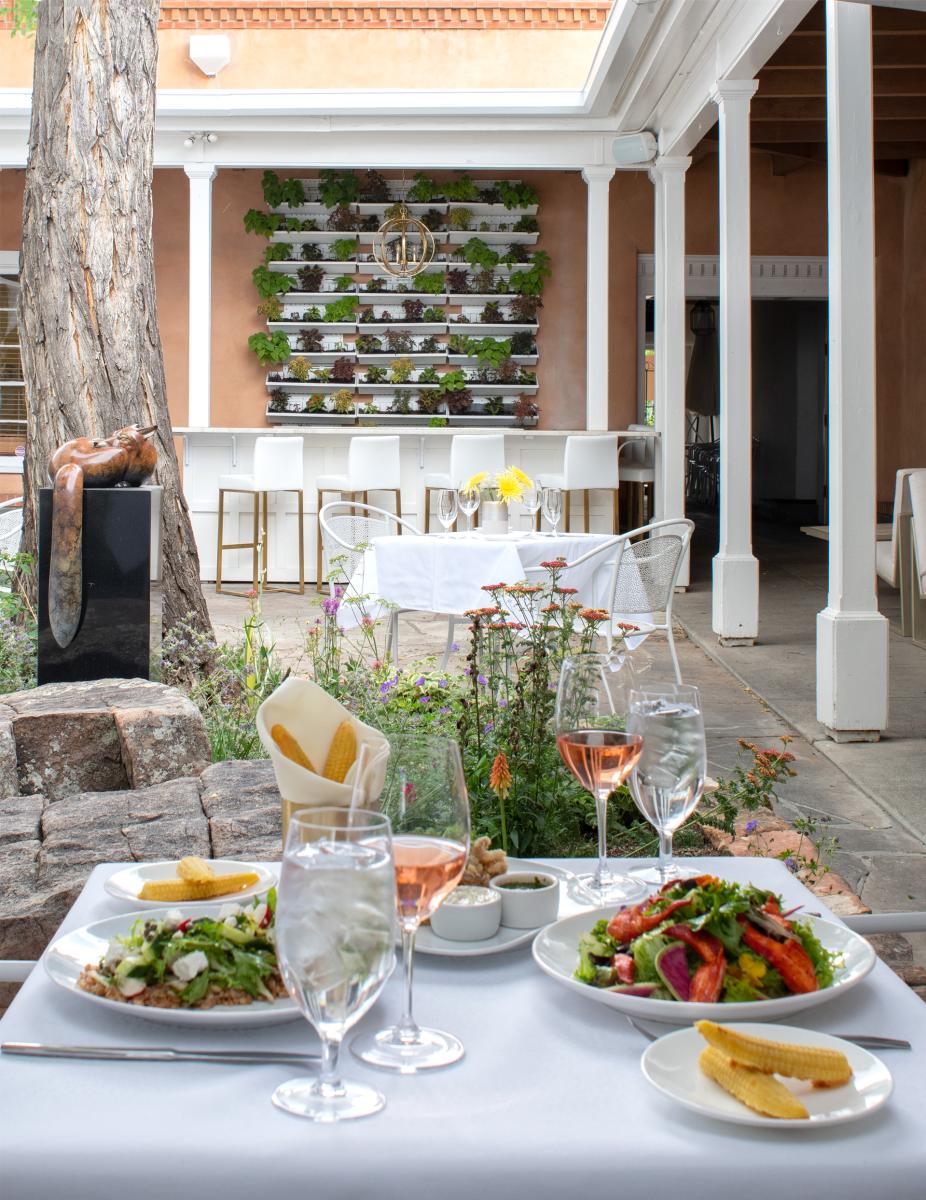 Santacafé's patio complements its fare. 
Just a shake of one lamb's tail away from the Santa Fe Plaza, a stone courtyard, white tablecloths, gurgling fountain, and some of New Mexico's most exquisite cuisine await on the historic patio at Santacafé. "It's one of the oldest buildings and courtyards in Santa Fe," says Elisa Garcia, manager since owner Quinn Stephenson took the reins two years ago. Built between 1857 and 1862, the structure was originally the home of Padre José Manuel Gallegos, an eccentric priest defrocked by Bishop Lamy. "We have apricot trees that have been here for decades," says Garcia. "It feels like you step back in time into an old hacienda." 
231 Washington Ave., Santa Fe; 505-984-1788
The 360-degree views from the sprawling patio at Turtleback Taphouse and Grill at Sierra del Rio Golf Course, in Elephant Butte, will make you feel like a pro no matter your handicap. "It has picture-perfect views of the golf course and Turtleback Mountain," says Janine Holcomb, marketing director at Spirit Golf Management. You don't even have to swing a club. Just set your sights on the menu of appetizers, steaks, and sandwiches for a trophy-worthy good time.
101 Clubhouse Road, Elephant Butte; 575-744-4653
Dine under the cottonwoods at Farmhouse Café, where the menu supports a network of more than 20 Taos-area farmers and growers. A garden just 200 yards from the patio supplies fresh greens for salads, and the Three Sisters: corn (including the blue kind), squash, and beans. "We are right in the shadow of Taos Mountain, next to the buffalo pasture on Taos Pueblo," says owner Micah Roseberry. "We have an expansive view and a beautiful sculpture garden filled with about 50 wind sculptures." And don't miss the koi pond. "Kids love to feed the fish."
1405 Paseo del Pueblo Norte, Taos; 575-758-5683
---
Read More: The elevated ingredients and flavors of Arable's pastrami Reuben sandwich are pure poetry.
Read More: New Mexico has over 88 breweries in operation and the list keeps growing.