IN THE RESTAURANT WORLD, "new" always grabs headlines. Vintage dining establishments, though, can build on their classic character, day after day, decade upon decade, and show the arrivistes that aged doesn't mean outmoded. La Posta de Mesilla (near Las Cruces), El Pinto (in Albuquerque's North Valley), and Rancho de Chimayó (north of Santa Fe) are so well known and beloved that the owners of any one of them could have kicked back and continued to watch guests trail through the doors for decades to come. But all of them have invested heavily in the beauty of their surroundings, in the importance of their homegrown staffs, and in their support of local suppliers. All serve New Mexican cuisine in its red and green glory, staying true to tradition while continuing to upgrade the quality of their ingredients. These venerable culinary landmarks, with a total of 175 deeply rooted years in the restaurant business, are honored with places on the New Mexico Tourism Department's Culinary Treasures Trail (mynm.us/nmculinary).
La Posta de Mesilla
Exuberance abounds here, on the plate as well as in the surroundings. It starts when you enter the lobby, flourishing with tropical foliage, aquariums, some lively parrots, and a toucan named Tiki.
In preparation for this year's 75th anniversary year, owners Jerean Camuñez Hutchinson (the founder's great-niece) and her husband, Tom, have expanded into a half-dozen new spaces within the storied original adobe structure. The building dates to the earliest days of Mesilla, when settlers began moving there after the conclusion of the war with Mexico in 1848. Now on the National Register of Historic Places, it served as an important stop of the Butterfield Stage Line and later the distinguished Corn Exchange Hotel. La Posta's legend started in 1939, when 19-year-old Katy Griggs Camuñez Meek announced to her family that she was going to open a restaurant. That she knew nothing about the business, or any business, was no hindrance to can-do Katy. She bought a corner of the rambling adobe (now the Banquet Room) from her uncle for $1 and convinced her mother to cook the family recipes for a fourtable "chile joint" with no running water. It became a smashing success. Katy was an absolute charmer, an ebullient hostess and waitress who welcomed everyone. She delighted in making risqué quips that Jerean says could make a salty old sailor blush.
The Hutchinsons' newly remodeled rooms include Katy's Blue Room. Once the founder's bedroom, it may be my new favorite among the dining spaces. The original wood floor remains in place, as uneven as ever and a charming contrast to the lapis walls. Nearby, the Fiesta Room was once a part of the historic Fountain Theatre, which still operates next door. Everything about the room exclaims antiquity—the hefty hand-carved wooden doors, the two-footthick adobe walls, the 700-pound vigas that span the ceiling. The Corn Exchange Cantina holds what was Katy's favorite table; her portrait now hangs there. The intricate stained-glass window behind the bar shows a stagecoach descending from the Organ Mountains into Mesilla. As if these and the other festive dining rooms don't give guests enough seating options, there's now the additional opportunity to eat outdoors in an enclosed patio under the shade of a pecan tree.
Jerean smiles as she talks about the new Adobe Cantina y Tequileria, a central gathering spot. She opts for the "La Patrona" margarita, with 100 percent blue agave Patrón Añejo tequila, Cointreau, and freshly squeezed lime juice, but the options are pretty much unlimited. For those who prefer their libation straight, Herradura now makes a special-reserve La Posta tequila, served here from the barrel.
Since the beginning, one of the restaurant's most popular dishes has been Katy's original tostadas compuestas. I love these cupped corn tortillas overflowing with frijoles, red chile con carne, and bright garnishes. Among the green chile dishes, always made with Mesilla Valley peppers, locals opt most often for the sour cream enchiladas. Jerean and Tom have added shrimp ceviche, fajitas, and serious charbroiled steaks to the menu more recently. La Posta now serves breakfast on weekends. Jerean emphasizes that they purchase many of their products locally. "The honey we serve with our sopaipillas comes from local bees, so you're tasting the flowers of the Mesilla Valley." Sweet indeed.
2410 Calle de San Albino, Mesilla; (575) 524-3524; laposta-de-mesilla.com
El Pinto
A gracious adobe hacienda, dating to the 1960s, El Pinto was created on this Albuquerque North Valley site by Jack and Consuelo (Connie) Thomas. Connie is related to the Griggs branch of the La Posta de Mesilla family, through her grandmother Josephina Chavez-Griggs. Now in its 52nd year, El Pinto was really way outside of town when the Thomases launched a one-room café on the 12-acre property (it's off the Tramway exit). Twin brothers Jim and John Thomas grew up here from the time they were toddlers, and took the reins from their parents in 1989. They created a garden room that brings the outside in, but when the weather's right, five patios offer striking settings, and lots of wide views of the Sandías.
Jim Thomas claims that his family was the first to differentiate the state's red-and green- chile specialties as "New Mexican" rather than Mexican. "My mother's grandmother was a Mexican citizen, and she insisted there was nothing Mexican about the local fare. She was right. To this day, we avoid dishes that come from elsewhere, like Tex-Mex fajitas." El Pinto's bestsellers are the traditional chicken enchiladas, made with antibiotic- and hormone-free poultry, and the #3 combination plate, with rolled enchilada (Jim has his red, beef, and hot), rolled taco, chile relleno, pork chile con carne, and Colorado pintos. Both the red and green chile are grown pesticide- and herbicide-free near Hatch.
This past summer, the twins began growing heirloom tomatoes for salads and salsa, and a greenhouse is under construction so they can grow greens and some vegetables year-round. They send their food scraps to a vermiculture (worm) farm, which then returns the rich worm castings to the restaurant for the garden soil. Jim tells me that they are now sourcing non-GMO corn for their chips and tortillas. Finding unmodified corn has become increasingly an issue here in the United States, so El Pinto's corn now comes from Mexico.
Horno pig roasts, monthly spring through fall, have become a new tradition. Roasts are planned for Easter, Memorial Day, and the Fourth of July, in particular. The hogs come from Kyzer Farms, on the southern edge of Albuquerque.
El Pinto's bar currently offers New Mexico's largest selection of tequila, some 168 different choices. Guests can opt for a handmade margarita, a flight of three tequilas with a traditional southof- the-border chaser of citrusy sangrita (a blend of citrus, chile, and tomato, the traditional accompaniment sipped alongside straight tequila in Mexico), or a shot or snifter of super-premium tequila. A big salud to the Thomas twins.
10500 4th Street NW, Albuquerque; (505) 898-1771; elpinto.com
Rancho de Chimayó
Turning 50 in 2015, Rancho de Chimayó ranks as the youngster in this collection of culinary landmarks. However, what's astonishing here is that founder Florence Jaramillo continues to helm the restaurant, as she has since day one. Actually, it's not so astonishing if you've ever met the energetic Florence, known to virtually everyone as Mrs. J. Equally noteworthy is that Florence, with her then husband Arturo, created the restaurant in Arturo's ancestral family home, to help preserve the local culture and way of life they saw was becoming endangered in the 1960s.
When a fire nearly destroyed the rustic but genteel hacienda in 2008, Florence determined immediately that she and the staff would bring the restaurant back to life. The village's economic and cultural life were too intertwined with the landmark to do anything else. Hundreds of area residents helped with various tasks, including the mud replastering of the exterior. It took nearly two years. The kitchen was revamped completely, but everything else was restored to its former historic appearance. When the Rancho reopened, the food was perhaps even better than it had been previously.
It's been a personal honor for me to have worked with Mrs. J. and her daughter Laura on the restaurant's original cookbook, The Rancho de Chimayó Cookbook: The Traditional Cooking of New Mexico, published back in 1991, and again on a brandnew book, the 50th anniversary edition, which will be released in June. It includes Chimayó classics like the signature carne adovada, made with genuine Chimayó red pods, of course. The book also includes a number of new recipes, especially breakfast dishes, now that the restaurant serves the morning meal on weekends. Mrs. J. says, "New Mexico Magazine's early coverage of the restaurant helped us get our start." And she'd love for the magazine's readers to come to the kickoff party celebrating the new Rancho de Chimayó cookbook, and the restaurant's 50th anniversary events, on Saturday afternoon, June 21. Check the restaurant's website for the specific time and details.
300 Juan Medina Road, Chimayó; (505) 351-4444; ranchodechimayo.com
Recipes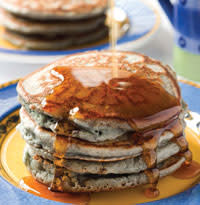 These recipes are from the upcoming The Rancho de Chimayó Cookbook: 50th Anniversary Edition, by Cheryl Alters Jamison and Bill Jamison (© 2014, Lyons Press, an imprint of Globe Pequot Press). The three can make the basis for an Easter breakfast or brunch with a platter of fruit and a festive beverage. Try the pancakes for supper, the tortas for lunch, or the bread pudding (online at mynm.us/414recipe) as a dessert with any meal.
Blue Corn Pancakes
Along with the especially nutty blue cornmeal itself, the generous amount of vanilla extract is the secret to Rancho de Chimayó's tender raised cakes. The restaurant staff makes plate-size pancakes, but you may prefer to make smaller ones.
Serves 4
1 cup plus 2 tablespoons blue cornmeal, preferably, or other cornmeal
1 cup all-purpose flour
2 tablespoons sugar
2 teaspoons baking powder
Pinch of salt
2 large eggs
¾ cup half-and-half
¾ cup milk
3 tablespoons canola or vegetable oil
2 teaspoons pure vanilla extract

Canola or vegetable oil for frying Butter and warm maple syrup
Stir together in a large bowl the cornmeal, flour, sugar, baking powder, and salt.
Whisk in eggs, half-and-half, milk, oil, and vanilla. Let batter sit at room temperature for 30 minutes. Alternatively, cover batter and refrigerate it overnight.
Warm a griddle, preferably, or a large heavy skillet over medium heat. Pour a thin film of oil on griddle. Pour or spoon out batter onto hot griddle, where it should sizzle and hiss. A generous 3 tablespoons of batter will make a 4- to 5-inch pancake. Make as many cakes as you can fit on the surface without crowding.
Flip pancakes just once, after 1 to 2 minutes, when their top surface is covered with tiny bubbles but before all bubbles pop. Pancakes are done when second side is golden brown, an additional 1 to 2 minutes. Repeat with remaining batter, adding a bit more oil to griddle as needed.
Serve pancakes immediately, accompanied by butter and syrup. The pancakes absorb more of both toppings than cakes made with regular flour, so plan on being generous with their use.
Tortas de Huevos Tradicionales (Egg Patties)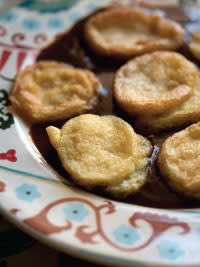 Ahead-of-time note: Up to an hour ahead, the egg whites and yolks can be prepared to the point just before they are combined. Keep both bowls chilled until ready to use.
High-altitude note: At 6,500 to 7,000 feet, the batter will rise more easily, so less leavening is needed. Use just a pinch of baking powder and fry between 360˚F and 365˚F. At altitudes between 2,500 and 6,500 feet, adjust the baking powder and temperature accordingly.
Don't let the lack of familiarity or the simplicity of this dish cause you to pass it by. Also, don't confuse it with Mexican tortas, which are typically sandwiches. These light, crispy egg fritters are a Jaramillo family favorite. Steeped in tradition, the tortas are common in northern New Mexico households during Lent, when meat is avoided. The tortas also appear on Easter menus because of eggs' association with new life.
Serves 2 to 3 as a main dish, 4 to 5 as a side dish
3 large eggs
3 tablespoons all-purpose flour
Scant ¼ teaspoon baking powder
Pinch of salt or more to taste
Canola or vegetable oil for frying, to a depth of 1 inch
2 to 3 cups Red Chile Sauce (recipe at mynm.us/414recipe)

Separate eggs, dropping whites into a medium-size non-plastic mixing bowl and placing yolks in a small bowl. Mix yolks lightly with a fork or whisk. Stir in flour, baking powder, and salt and set aside. Beat egg whites with a mixer at high speed until stiff. Gently fold egg yolk mixture into egg whites.
Lay several thicknesses of paper towels near the stove. In a heavy skillet, heat oil to 375˚ F. Scoop up a large spoonful of the batter and drop it gently into oil. Within seconds it should puff up by 50 percent or more into a torta or patty. Turn patty at least once to cook evenly and fry until deep golden brown. It will be fragile but crisp. Remove first torta with a slotted spoon and drain on paper towels. Cut into patty to see if it is cooked through but has a melting tenderness. The interior should not be dry. Adjust oil temperature if necessary.
Drop in remaining batter, several large spoonfuls at a time. Don't crowd tortas as they cook. Repeat until all batter is used. Transfer tortas to a platter or plates and surround with chile sauce. Serve immediately.
Cheryl Alters Jamison is New Mexico Magazine's contributing culinary editor. Read her blog at nmmagazine.com/tastingnm. See more of Douglas Merriam's work at douglasmerriam.com. Preorder The Rancho de Chimayó Cookbook: 50th Anniversary Edition from the New Mexico Magazine Store (books ship in late April) at shopnm.co/ChimayoCookbook.