Above: Cured meats, cheeses, and bread are from Cheesemongers of Santa Fe. Left page, clockwise from top right: Che! Chimichurri. La Quercia Speck Americano. Barrio Brinery's escabeche. Creminelli Finocchiona salami. Époisses de Bourgogne cheese. La Quercia Tamworth Prosciutto. Barrio Brinery sauerkraut. Wild Leaven bread. MiYoung Farm's kimchi. Lomo Iberico de Bellota cheese. Right page, clockwise from top left: Chocolate Cartel bark. ACES blue cornbread mix, brownies, and hot chocolate. Rebel Donuts' Blue Sky. Sweet treats from Chocolate Cartel.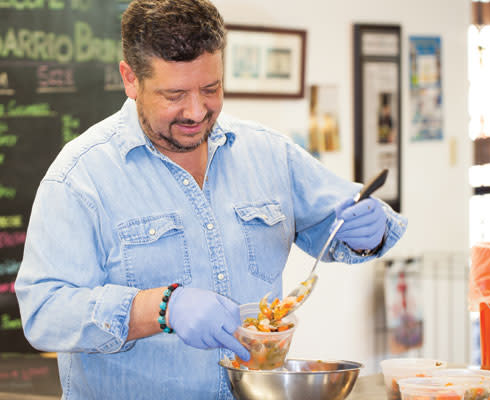 Pat Block brines up a mean escabeche. In Portugal and Spain, the pickled vegetables are often served with fish, another option besides eating it straight out of the container in front of the fridge (no judgment).
FERMENTING A REVOLUTION
Barrio Brinery
Santa Fe
At the end of one gardening season, Pat Block was awash in green tomatoes. To store them, he turned to fermentation, the classic old-world method of preservation. The tangy, delicious results hooked him on the technique. Retired from a career with the New Mexico Game and Fish Department, Block decided to try his hand at a food business. He used some personal savings, and to avoid going into debt he renovated the Barrio Brinery space himself. Pat and cheesemonger John Gutierrez were both recipients of Santa Fe's bizMIX economic development awards in 2014, which gave each of them a financial boost, as well as advertising and marketing assistance. The business employs Pat and, part-time, his wife, Yvette, his sister, and his son.
Barrio Brinery's current line of small-batch fermented foods includes half-sour and dill cucumber pickles, the kind that are found in venerable Jewish delis in New York. He makes caraway-seed-studded sauerkraut and a positively addictive jalapeño-laced vegetable escabeche. Find the products served at the Violet Crown Cinema and Duel Brewing taproom in Santa Fe, or buy them from Pat's shop or at Cheesemongers of Santa Fe. 1413-B W. Alameda; (505) 699-9812; barriobrinery.com 
SPECIAL SAUCE
Che! Chimichurri
Taos
A couple of months ago, friends brought me a bottle of Che! Chimichurri as a hostess gift. They'd tasted the Argentinian-style condiment at a supermarket demo and were wild about the assertive blend of oil, vinegar, herbs, and spices. As soon as I cracked open the bottle, I became a fan, too, and decided to find out more about the family behind it.
Carla Paillaqueo, an Argentinian, moved to Taos after meeting her husband, Bret Burden, in South America. Bret had lived in Taos off and on for 25 years, and ultimately the couple decided to settle here. Carla took a job at the Gorge Bar & Grill. She tells me, "When people found out I was from Argentina, they would ask if I had a good chimichurri recipe for serving with steak. Of course I did!" She began making small batches to share with friends and co-workers. The enthusiasm expressed by all who tried the chimi led Carla and Bret to begin bottling it commercially at the Taos Food Center community kitchen.
One comment the couple heard from New Mexicans was that it would be extra delectable if it had a blast of chile heat; they decided that fiery habanero blended best with the herbal accents.
Initially, the chimi needed refrigeration. Whole Foods, which wanted to carry the marinade and sauce in its stores as far north as Idaho, asked if it could be made shelf-stable without loss of flavor. A food scientist at NMSU helped the couple come up with a quick but effective sterilization method. Now both types of Che!—traditional and habanero—can be found with other meat marinades and sauces in the condiments aisle of stores throughout the Rocky Mountain West. Carla and Bret still make the chimichurri in small kettles and hand-bottle it, too, with a label designed by Bret's dad, Gary (who has designed album covers for the likes of Joni Mitchell, the Eagles, and Neil Young).
Try the chimichurri on pork ribs, chicken, lamb, or even shrimp or meaty fish. Mix it into meatloaf and then drizzle a little over the top when baking. And of course, as Carla says, "Always use it with steak!" Order online or buy at Cid's Market in Taos, or Whole Foods.
(575) 770-1403; chechimichurri.com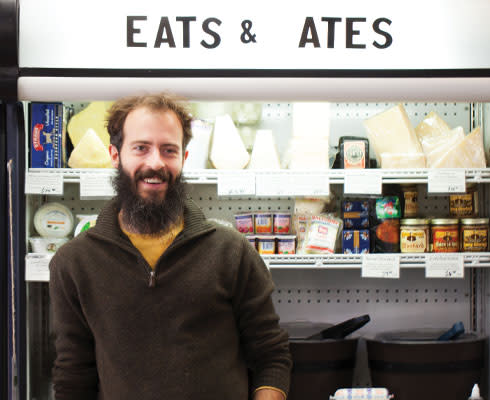 GOOD THINGS, SMALL PACKAGES
Cheesemongers of Santa Fe
Santa Fe
John Gutierrez created a thriving marketplace when he opened the doors to his independent cut-to-order cheese counter in 2014. His downtown storefront carries a curated selection of traditionally produced international cheeses and accompanying condiments, meats, and breads, many of them from local producers. Gutierrez is passionate about enriching the lives of farmers, cheese makers, consumers, and the broader community
Cheesemongers is the epitome of the clean, well-lighted space, and behind the counters you will typically find John and a couple of other exemplary cheese-slingers who can explain every nuance of these delectable foods. The shop offers classes on pairing cheeses with wine or beer. 130 E. Marcy St.; (505) 795-7878; cheesemongersofsantafe.com 
MAKING A LIVELIHOOD
NMSU ACES in the Hole
Las Cruces
Many undergrads hope to someday design, market, and sell specialty foods to an eager public. At the College of Agriculture, Consumer, and Environmental Sciences (ACES) at NMSU, it's all part of the curriculum—and the results give students and faculty the opportunity to snap up tasty treats on campus.
Program manager Whitney Biel helped start the ACES in the Hole line of foods while working on her master's in food science and technology. She was further involved in securing university funding for the students' retail outlet, Sam Steel Café. The students develop recipes, labels,and packaging for dry brownie and blue cornbread mixes. They also whip up more than four dozen kinds of gelato and sorbet, using local ingredients in flavors like pecan pie and caramel apple. Another favorite is their chocolate hazelnut, blended with Nutella spread. The café shop also sells certified organic produce and flower arrangements from the students' two-acre garden. The products are available on campus in the Sam Steel Café at Gerald Thomas Hall lobby, and at Landmark Mercantile in Mesquite. (575) 646-1807; aces.nmsu.edu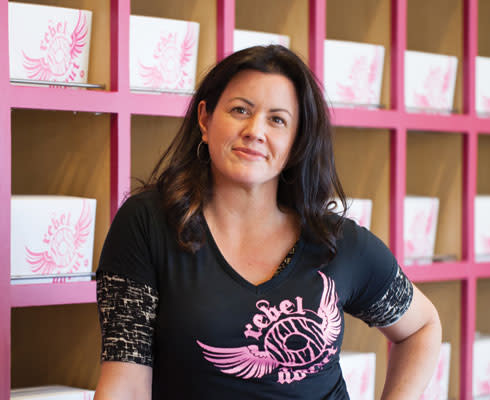 SOFT, SWEET, AND SINFUL
Rebel Donuts
Albuquerque
Carrie Mettling kicked off Albuquerque's love affair with cupcakes a decade or so ago with her shop Cupcake Fetish. In 2012, she unleashed the city's current craze for artisanal doughnuts by opening Rebel Donuts on Albuquerque's East Side. Carrie says, "I was trying to come up with what to call the business when a favorite 1980s song of mine, 'Rebel Yell,' by Billy Idol, came blasting out of my car radio. I knew that was it!"
I couldn't help but notice that the little store is rebelliously near a Krispy Kreme and a lot harder to spot from the road. Look closely, though, and you'll spy the tattoo-esque logo of a winged doughnut, and a stream of people heading in and out of the simple, sleek shop. Rebel's pastries caused me to completely rethink doughnuts, which I had resolutely blown off years earlier, as having too little bang for the calories. Raised doughnuts here have a moist, tender dough with not-too-sweet glazes, such as salted caramel. Cake doughnuts taste like, well, home-made cake. The more than 30 varieties featured daily are fried in trans-fat-free shortening and include flavor combinations like Pad Thai (dipped in peanut butter frosting, dunked in coconut, and squiggled with Sriracha) or Barney Rebel (studded with Fruity Pebbles cereal). The shop's most notorious and popular choice is the Blue Sky doughnut, topped with cotton candy frosting and shards of blue rock candy, in honor of the locally filmed TV hit Breaking Bad. A large photo shows actor Aaron Paul, who played the show's wild-eyed Jesse Pinkman, with a box of the addictive doughnuts.
Rebel is such a success that Carrie added a West Side shop in 2013. The stores have a handful of tables for on-site indulgences. 9311 Coors Blvd. NW; (505) 898-3090; 2435 Wyoming Blvd. NE; (505) 293-0553; rebeldonut.com 
EMBRACE THE DARKNESS
Chocolate Cartel/Van Rixel Bros.
Albuquerque
You have to look to find this modest corrugated industrial building on Albuquerque's East Side, but it's well worth the hunt for what I think are some of the very best chocolate truffles and chocolate bars made in the Southwest. Like many top shops, Chocolate Cartel uses El Rey, a Venezuelan cacao, as the base of its proprietary chocolate blends. El Rey's fair-trade, single-origin premium beans are considered a gold standard in the chocolate world. Much of the Cartel's production is dark chocolate, such as the top-selling 73 percent chocolate bar lavishly topped with house-made toffee bits and crunchy Murray River sea salt.
Brothers Scott and Tim Van Rixel started the business in Taos, with the former in charge of making the chocolate and the latter overseeing sales and marketing. Eventually, the brothers decided that Albuquerque would be a better center for distribution of the growing enterprise. Two of Scott's Taos chocolatier apprentices, Alex Spray-Eich and Troy Lowe, made the move, too, and now are the main chocolate makers. Scott has left the business, but Alex and Troy make everything on the small stovetop and with the same care that Scott insisted upon.
Under the Van Rixel Bros. label, the guys also churn up gelato and sorbet from local Rasband Dairy's whole milk. They create a wide array of flavors, like Red Chile Chocolate Chunk Gelato, Smoked Sea Salt and Honey Caramel Gelato, and English Cucumber and Key Lime Sorbet. Seasonal flavors are popular, too, whether Cantaloupe in high summer or Pumpkin Pie as the weather cools down. New Mexican chile, pecans, and piñon are reliably involved, where applicable. Available also at many retail outlets, including Whole Foods. 315 Juan Tabo Blvd. NE, Suite A; (505) 797-1193; chocolatecartel.com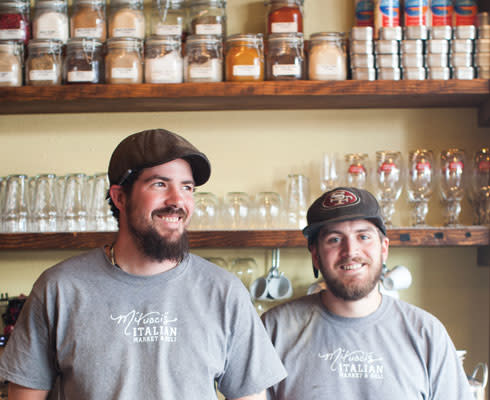 From left: Chef Cory Gray and sous-chef Shawn Cronin.
THAT'S AMORE
M'Tucci's Italian Market & Deli
Albuquerque
The team of Jeff Spiegel, Katie Gardner, and John Haas is behind M'Tucci's Italian, M'Tucci's Cocina, and now M'Tucci's Italian Market & Deli, which feels like a trip to Little Italy. Chef Cory Gray oversees an ambitious program of curing meats such as capicola, salami, guanciale, pastrami, pancetta, and bacon. He bakes seven kinds of bread and makes fresh pasta and mozzarella, not to mention preserves, pickles, and pestos from local ingredients. He also sources some specialty cheeses, meats, olives, and other foods from purveyors in Italy and elsewhere. You can enjoy sandwiches and other dishes at tables in and out, or procure all the makings for meals at home. Abbondanza!
6001 Winter Haven Rd. NW; (505) 639-4819; mtuccis.com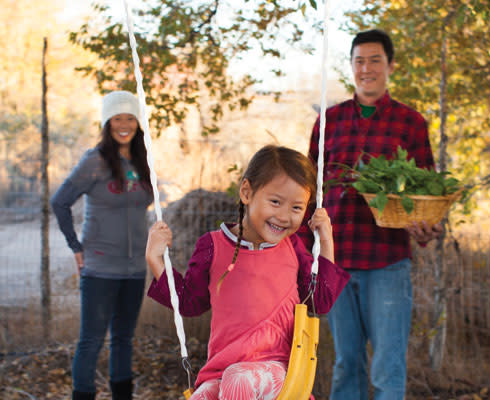 MiYoung and her parents.
FARM FUSION
MiYoung's Farm
Jaconita
For Jenn Yi-Mushen and William Mushen, farming is a family affair. Their northern New Mexico farm is named after their daughter, MiYoung, and their kimchi, made from a Korean family recipe, is composed of ingredients grown there.
If you attend the Santa Fe Farmers Market on either Tuesdays or Saturdays in the Railyard, you can also find at least one of the adult Mushens mixing up and griddle-cooking savory gluten-free kimchi pancakes. I like combining them with a smear of goat cheese and some sprouts, both sourced from nearby vendors. Sold at the Santa Fe Farmers' Market, Dr. Field Goods Butcher Shop & Bakery, and Cheesemongers of Santa Fe. (505) 795-1983