(above) Martín's chicken with citrus pan sauce and watercress-apple salad.
"IF I EVER STOP LEARNING about food, I'll have to stop cooking. It's a deep-seated need, this drive I have to explore and grow. It pushes me like some powerful internal engine," says Martín Rios, New Mexico's James Beard Award finalist this year for Best Southwest Chef.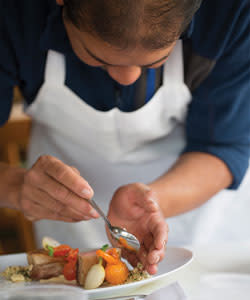 Chef Martín sculpts each dish with the same focus and passion that infused his ascent from dishwasher to James Beard Award finalist.
He and his wife, Jennifer, own Santa Fe's Restaurant Martín, and I had the extraordinary opportunity to work with the couple on The Restaurant Martín Cookbook, released recently by Globe Pequot. Over a summer breakfast at La Posada de Santa Fe, they asked if I could help them find a publisher and write a book. I didn't know them well, but I admired Martín's creative excellence and Jennifer's business savvy. I loved the thoughtful way the chef reinvented classics: a tamale as corn pudding with a cheese fondue and a chile relish and corn-husk garnish, key lime pie in the form of a creamy lime vacherin with thin sheets of Szechuan peppercorn–spiked meringue. He grew herbs for the restaurant in its courtyard and welcomed farmers and foragers at his door.
And there was this: Martín's drive for success. At age 28, without a high school diploma or formal culinary training, he was promoted to head chef of Santa Fe's four-diamond Eldorado Hotel.
By the end of breakfast, I was pretty certain we could put together a good book. I didn't know that I would also acquire two new best friends as we navigated some of life's toughest challenges together.
My husband, Bill Jamison, and I had co-authored on some dozen and a half cookbooks. He played his usual central role in this one, organizing the big picture as well as the details, always able to see through the seemingly impenetrable forest to the single gnarled tree that was a roadblock at any given time. He figured out how much work we all had to accomplish every week to make our deadline and kept us all on track. The Rioses brought Santa Fe–based photographer Kate Russell into the project to document the dishes and the restaurant's operation, which of course had to go on without a hiccup. Bill and I met Martín and Jennifer in early mornings, coaxing the modest chef's life story out of him. I then spent days with Martín in the kitchen as we scaled down his recipe outlines to home-cook dimensions.
At home Bill and I re-created recipes until we nailed them, and wrote them up in detail. About two-thirds of the way through the book project, Bill was diagnosed with cancer. He still managed to have a hand in every stage, but he did not live to see it published. It comforts me to know that our final project together was one that focused on a stellar New Mexico culinary talent.
A LIFELONG ADVENTURE
Martín's obsession with learning goes back to his early childhood. He grew up in Guadalajara, Mexico, the sixth of eight children in a working-class family.
"Our income, such as it was, came primarily from my father's job as an auto-body repairman, work that was never in steady supply. He was forever trying to make ends meet. We could only live in marginal neighborhoods, ones that were always flirting with violence. I realized over the years that I needed an exit from that eventual fate, one that I saw few people escape."
But his memories of those years were primarily happy—mostly because they related to food. Like many Mexican home cooks, Martín's mother spent much of her time finding inexpensive ingredients that were fresh and tasty and putting them together for family meals. When he was 10, his mother started a cooking business in the main Guadalajara market, the Mercado San Juan de Dios, one of the largest in Mexico. She sent him out shopping for ingredients, and he was exposed to a wide variety of unfamiliar foods, as well as nose-to-tail butchering and cooking practices.
The market was his school in Mexico. Martín didn't start going to school on a daily basis until his family moved from Guadalajara to Santa Fe, in 1979, when he was 15, after the proprietor of an auto-body shop promised his father work. "It was pure luck for us, knowing nothing about the United States, that we ended up in an area settled by Spanish colonists in the 16th century, just decades after the founding of Mexico City and Guadalajara, a place where a similar culture had thrived for four centuries."
Martín began working at 16 as a week-end dishwasher in a hotel kitchen. It was a menial job, but he was so diligent about the routine responsibilities that the executive chef began assigning him more tasks. He dropped out of school to work full-time at the restaurant. Within a year, the chef had promoted Martín up to his top assistant as the sous-chef. To encourage his young disciple, the chef gave Martín one of his favorite gifts of all time, an English translation of Auguste Escoffier's Guide Culinaire. For years he carried it with him everywhere. Reading it constantly and mining it for recipes and techniques taught him more about written English than he thought he could have learned in a classroom.
After Martín's mentor left the hotel, he moved on to a fancy new hotel in town, the Eldorado. Again, he rose through the ranks rapidly, learning from a half-dozen talented and experienced chefs at once. He thought he had mastered the craft of cooking, but didn't consider himself an accomplished chef.
Jennifer helped Martín reach the next step. Raised in New York City and New Jersey, but a frequent visitor to Santa Fe, Jennifer was then earning an MBA at Georgetown University. She interned at the Eldorado in the summer of 1993 and was sent to the kitchen for a two-week introduction to the food-and-beverage side of hotel management. By the end of the summer they were a couple.
"I confided to her my dream of becoming a major chef," says Martín. "The next step, I felt, was going to the top culinary school—the Culinary Institute of America in Hyde Park, New York—but I didn't have a clue about how to do it. Jennifer just started helping me put together a plan. We fit in our wedding, too." Martín graduated in 1996. With his new training and wealth of previous experience, he was accepted for an apprenticeship at Georges Blanc, one of the most famous and respected Michelin three-star restaurants in France. After half a year there, Martín returned to Santa Fe to become the executive chef of the Eldorado's signature restaurant, the Old House. It was his first real opportunity to develop a personal cooking style.
While running the Old House, Martín acquired American citizenship and Jennifer gave birth to their two daughters. After almost a decade at the Eldorado, he itched for a new challenge. Not surprisingly, Jennifer and Martín had been dreaming about having a place of their own for quite some time. But before they made the leap, Martín helmed two esteemed Santa Fe restaurants, the Rosewood Inn of the Anasazi and Geronimo.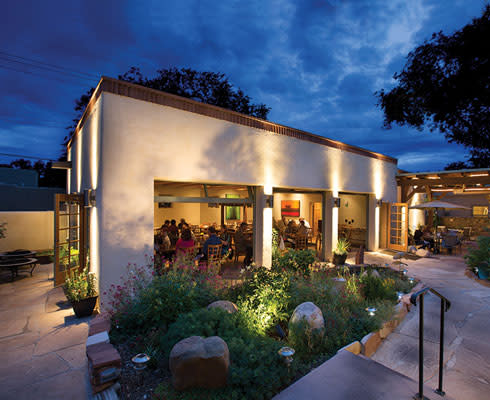 In downtown Santa Fe, Restaurant Martín's elegant, modernized Territorial design lets the outside in.
THE BIRTH OF RESTAURANT MARTÍN
In March 2009, the Rioses bought a run-down historic house near downtown, at the corner of Galisteo and Paseo de Peralta, hoping to open by the summer. Looking ahead to the annual Santa Fe Wine and Chile Fiesta in September, the Rioses confidently booked a special wine dinner during the festival. The seats sold out far in advance.
Martín and Jennifer described Martín's changing seasonal menus as "progressive American cuisine." He prefers to work with reasonably priced goods that need coaxing and creativity to shine on the plate, such as beef short ribs and lamb cheeks. And when it comes to preparation, he says, "I don't cook French food, or Mexican food, or Asian food, though many of my dishes borrow elements and flavors from these and other cuisines. Traditions can focus vision, but they also come with boundaries about appropriate foods, seasonings, and cooking methodologies. I prefer to remain open to all options."
These recipes, cooked up together, make up a hearty Sunday dinner with a Rios spin. If simply eating well is more your style than cooking, stop in soon for lunch or dinner, when Jennifer will greet you and Martín will prepare you one of his imaginative meals.
SLOW-ROASTED WHOLE CHICKEN WITH WATERCRESS- APPLE SALAD AND CITRUS PAN SAUCE
"When I cook a nice plump chicken at home, I'm the one who grabs for the juicier thigh and leg portions," Martín admits. In this version, citrus juices steam the chicken while it cooks, adding their fragrance as well as keeping the bird moist.
Serves 4
31⁄2-pound whole chicken, neck and giblets removed
1 large orange, sliced
2 large lemons, sliced
1 large lime, sliced
1 large sprig fresh tarragon
4 bacon slices, preferably applewood-smoked, chopped
2 tablespoons
(1 ounce) olive oil
2 tablespoons
(1 ounce) unsalted butter, softened
Kosher salt and ground white pepper
16 to 20 whole garlic cloves
4 cups (1 quart) chicken stock
WATERCRESS-APPLE SALAD
8 ounces watercress
2 Granny Smith apples, cut into matchsticks
2 celery stalks, shaved lengthwise with a vegetable peeler
2 ounces salted roasted cashews
2 tablespoons (1 ounce) olive oil
1 tablespoon fresh lemon juice
1 teaspoon grated orange zest
1 teaspoon grated lemon zest
2 tablespoons chopped fresh chives
Kosher salt and ground white pepper
Preheat oven to 325° F.

Combine the sliced citrus, tarragon, and bacon in a roasting pan not much larger than the chicken. Arrange chicken breast side up over bed of citrus, rub the oil and butter all over it, and season with salt and pepper. Roast for 45 minutes. Remove chicken from oven and, using a spoon, baste it thoroughly with pan juices. Add garlic cloves to roasting pan. Turn up oven temperature to 375° F and return chicken to oven. Continue cooking until chicken is golden brown and juices run clear (160° F to 165° F on an instant-read thermometer), 20 to 25 minutes more. Lift chicken, draining juices back into roasting pan. Transfer chicken to a platter or shallow baking dish.
With a slotted spoon, remove garlic cloves from roasting pan and reserve them. Spoon and pour pan contents into a large saucepan—pan juices, fruit, bacon, and all, scraping out any browned bits. If they are sticking, pour a few tablespoons of stock into roasting pan, scraping up from bottom, and then pour out the browned bits into saucepan. Pour all of remaining stock into pan. Simmer mixture over medium-high heat to reduce liquid by half. Pour mixture through a fine-mesh strainer, into a gravy boat or small serving bowl. Discard solids.
While pan juices reduce, prepare salad. Combine watercress, apples, celery, and cashews in a bowl. Just before serving, toss with oil, lemon juice, orange and lemon zests, and chives. Season with salt and pepper. Arrange salad around chicken. Scatter garlic cloves over chicken and salad. Serve chicken whole at table, accompanied by pan sauce.
ORZO MACARONI AND CHEESE
This pasta side dish has been on the menu since Restaurant Martín opened in 2009, at the height of America's love affair with comfort food. Beloved by restaurant guests, it will likely remain on the menu. Orzo means barley or grain in Italian; the tiny pasta resembles rice. Truffle flavoring is optional.
Serves 4 or more
1 cup uncooked orzo pasta
2 teaspoons olive oil
1⁄2 cup (4 ounces) heavy cream
1⁄4 cup (4 ounces) truffle butter or 1⁄4 cup unsalted butter with 2 teaspoons truffle juice
1 1⁄2 tablespoons mascarpone cheese
1 1⁄2 tablespoons grated mozzarella cheese
1 1⁄2 tablespoons grated Gruyère cheese
2 teaspoons truffle oil
Kosher salt and ground white pepper
Extra-virgin olive oil
Minced fresh chives or basil
Prepare orzo, bringing a large saucepan of salted water to a rolling boil. Parboil orzo 5 to 7 minutes, until still somewhat firm at center. Drain orzo and toss it with olive oil. It can sit at room temperature for up to an hour before you finish the dish.
Combine cooked orzo in a saucepan with cream, butter, and three cheeses. Bring to a simmer over medium heat, stirring to release more of the starch from orzo and to thicken sauce. When orzo is tender and sauce is creamy, stir in truffle oil, season with salt and pepper, and spoon into 1 large serving bowl or 4 (or more) individual bowls. Dribble a bit of extra-virgin olive oil over top and garnish with chives or basil. Serve right away. ✜
EXTRA RECIPES
PLUM TOMATO-CARAMELIZED ONION TART
Martín's wife Jennifer and both of his daughters eat a mostly meatless diet. Jennifer kids him that when they met, his idea of feeding a vegetarian was to send out a pile of grilled peppers and onions and call it a dish. He smiles and claims "It wasn't quite that minimal. Jennifer's right though, that she and the girls have inspired me to think as intently about what I put together for non-meat eaters as I do for other diners. I'm delighted when I get praise for the combinations of vegetables and the interplay of their textures, colors, shapes, and flavors in my vegetarian plates." This could make a light meal with a salad and dessert, but it can share the plate with the roast chicken recipe too.
Serves 4 
Possible Do-Ahead Steps
Up to 1 day ahead: make the Caramelized Onions and the Tomato Confit.
CARAMELIZED ONIONS
2 tablespoons (1 ounce) olive oil
1 large onion, sliced thin
2 garlic cloves, roasted in a dry skillet until soft, then mashed with the side of a knife
1 tablespoon Dijon mustard
2 tablespoons minced fresh basil
1 teaspoon minced fresh thyme
Kosher salt and ground white pepper
TOMATO CONFIT
2 pounds plum tomatoes, quartered, cored, and seeded
2 garlic cloves
2 teaspoons granulated sugar
1 teaspoon kosher salt
1 cup olive oil
3 sprigs fresh thyme
1 sheet thawed frozen puff pastry
Prepare onions. Warm the olive oil in a medium sauté pan over low heat. Mix onions well with oil, then sauté them slowly until medium brown and caramelized, about 45 minutes. Stir occasionally. Mix in roasted garlic and mustard and remove from heat. Stir in herbs and season with salt and pepper. The mixture can sit at room temperature while you make tomato confit.
While onions are cooking, prepare the tomatoes. Preheat oven to 300° F. Combine in a small roasting pan the tomatoes, garlic, sugar, salt, oil, and thyme. Cover pan and bake for 25 to 30 minutes, until tomatoes are softened but still hold their shape. Remove tomatoes from oven and turn oven up to 375° F. Take tomatoes from pan with tongs, then pull off and discard tomato skins. Save 1 tablespoon of oil that tomatoes cooked in.
You will need 4 individual round tart molds, about 3 inches in diameter. Arrange them on a baking sheet lined with a non-stick mat or parchment paper. Assemble tarts in molds. Position 2 to 4 tomato pieces so that they cover bottom of each mold. Flatten pieces a bit as you go. This will be the top of the tart when finished so it should be neat.
When onions are ready, spoon a thin layer of mixture over tomatoes, enough to almost fill tart shells.
Roll out sheet of puff pastry to about 1/8-inch thickness. Cut out rounds slightly larger than molds. Place a pastry round over each mold. Tuck edges down around onion mixture inside molds.
Bake tarts about 15 minutes, until pastry is browned and puffed. Transfer tarts to a baking rack to cool several minutes.
Putting it all together
While tarts are still warm, run a thin-bladed knife around inside of each mold. Give each tart a good but careful shake and place crust-down. Baste top of each tart with a portion of reserved oil, just enough to give it some gloss. Serve warm or at room temperature.
Kitchen Notes
Decent quality plum tomatoes are easier to find much of the year than their bigger, less sturdy cousins. Cooking the tomatoes concentrates their flavor too, improving any less than perfect specimens.
If you don't have molds of this type, large ramekins or small tart pans can be used. Treat them in the same fashion, turning them upside down to release the tarts. Turn crust-down to serve.
POPCORN ICE CREAM WITH SWEET-AND-SALTY CARAMEL
"This dessert brings out the kid in the most buttoned-down adult and it's dead simple to make," says Martín. "When I took it to a friend's sixtieth birthday party, twenty-five adults looked like they had regressed to happy preschoolers. I fold caramel popcorn into a vanilla ice cream base, where it retains its crunch. I don't often use salted butter, because it throws off the salt balance in some dishes, but here it's perfect for the French-style salty caramel."
Serves 8
Possible Do-Ahead Steps
—Up to 3 days ahead: Make the Sweet-and-Salty Caramel.
—Up to 1 day ahead: Make the Popcorn Ice Cream.
POPCORN ICE CREAM
2 cups (1 pint) heavy cream
1 cup (8 ounces) half-and-half
1 tablespoon Nielson-Massey vanilla bean paste, preferably, or 1 tablespoon pure vanilla
   extract
3 cinnamon sticks
½ cup (about 6 to 7 large) egg yolks
¾ cup granulated sugar
1 cup caramel popcorn, from a specialty store or market, crushed in a plastic bag by hand      or with a rolling pin (Martín suggests G.H. Cretor's Caramel Popcorn)
SWEET AND SALTY CARAMEL SAUCE
¼ cup granulated sugar
1 tablespoon water
¼ cup (2 ounces) heavy cream
2 tablespoons (1 ounce) salted butter , diced into 8 pieces total
Prepare ice cream. Combine in a medium saucepan the half-and-half, cream, vanilla, and cinnamon sticks. Over medium heat, bring mixture just to scalding, when a few bubbles break at the rim. In a medium bowl, whisk together egg yolks and sugar. With a whisk in one hand and warm cream-milk mixture in other, drizzle cream-milk mixture steadily into egg yolk mixture, whisking rapidly. Pour combined mixture back into saucepan and continue cooking over medium heat, stirring with a rubber spatula, until mixture coats back of spatula heavily, about 10 minutes. Strain through a fine-mesh sieve and chill over an ice bath or in refrigerator for at least 1 hour.
Pour mixture into an ice cream maker and follow manufacturer's instructions. Freeze until ice cream is softly holding its shape, then fold in caramel popcorn, and freeze until firm.
Prepare caramel. Combine sugar and water in a heavy medium saucepan. Bring mixture to a boil and watch color until sugar turns dark amber. Immediately remove pan from heat and add cream, which will solidify caramel. Continue stirring slowly until mixture has liquefied again. Return pan to medium heat and simmer until caramel has been reduced by one-half, approximately 5 minutes. Whisk in butter, a bit or 2 at a time, until caramel has thickened and emulsified. Strain it through a fine-mesh sieve and let sit at room temperature. 
Putting it all together
Paint a smear of caramel with a pastry brush across the center of 8 shallow bowls, then top with balls of ice cream. Alternatively, arrange ice cream balls in tall glasses and spoon caramel over. Serve right away.
All recipes are adapted from The Restaurant Martín Cookbook, by Martín Rios with Cheryl and Bill Jamison, published by Lyons Press, an imprint of Globe Pequot, © 2015 Martín and Jennifer Rios.

Cheryl Alters Jamison is New Mexico Magazine's contributing culinary editor.