Getting grill marks on your lettuce adds a nice, smoky element to a classic salad.
WITH THE TEMPERATURES SET TO soar this season, savvy home cooks will head to the grill to avoid firing up the oven or stove. The variety of grills and accessories for sale means you needn't limit the types of dishes you create from a trip over glowing coals or searing flames. It's time to think outside the (fire) box. 
First, though, some history. Grilling really got going in the 17th century with Caribbean tribespeople. They called the cooking technique of grilling meats over an open flame barbacoa, from which we get the word "barbecue." The tribes used a lot of spices, which Spanish conquerors sampled, loved, and adopted, eventually bringing them to America. 
With the advent of Ellsworth B.A. Zwoyer's patent for charcoal briquettes in 1897, the process of preparing the fire accelerated, giving grillers more time to focus on marinades and rubs to flavor the meat. By 1920, Henry Ford, in collaboration with Thomas Edison and E.B. Kingsford, began making briquettes from sawdust and wood scraps from Ford's Detroit auto plants. Out in the New Mexico desert, I imagine cowboys and Indigenous peoples were still stoking a roaring wood fire to cook the catches of the day while a cast-iron kettle simmered chile and beans. 
During the suburban sprawl of the 1950s, backyard grills became popular thanks in part to a welder named George Stephen, who designed a dome-shaped metal contraption that held the coals and a lid that could be closed to capture the heat. Propane grills hit the market in the 1960s. Inventors still fiddle with the vessel design, introducing ceramic Green Egg and kamado-style grills, along with ones that boast side burners or built-in smokers and fryers, pellet-fueled models, hybrids that offer both gas and coal gratings, and infrared versions that heat up instantly and retard flare-ups. What's next? Laser beam searing? Solar flare BBQ? 
Let's assume you possess the grill of your dreams. What exotic dishes might you play with this summer? Admittedly, I'm not the most adventuresome griller. To see what my fellow New Mexicans toy with, I posted a query on social media. 
Responses included pizza, oysters, and vegetables like asparagus, peppers, and onions. Among the ones I hadn't considered were purple potatoes, artichokes, elephant garlic, jicama with lime and chile, Brussels sprouts, bok choy with a red miso glaze, kohlrabi, and carrots served with a tahini sauce. One cook studs a whole eggplant with garlic and grills it until it collapses, then turns it into a smoky baba ghanoush, while another grills kimchi to garnish Korean barbecue.  
Fruit lovers listed grapefruit, apples, watermelon served with feta, strawberries for a unique shortcake, grilled lemon halves with thyme to squeeze over fish, grapes to accompany a gourmet cheese plate, pine-apple glazed with brown sugar, peaches for salads and desserts, plantains, and bananas. (I toss banana slices in lime juice, sugar, rum, cinnamon, and crushed peanuts, grill them, then serve them with pineapple-rum ice cream.)  
Other suggestions included garlic bread, firm tofu with a spicy, nutty salsa macha, broccolini, halloumi cheese, foil packets containing everything for a Cajun seafood boil, paella, squid, and sponge cake for strawberries. I clearly need to up my grilling game!  
Before you start, if you're using a gas grill, make sure you have a standby tank, just in case the first one runs out. A sturdy brush makes it easy to clean the grate, but a wadded-up sheet of aluminum foil will do. Lightly oil both the grate and the food you are about to cook to avoid sticking—especially with fish.  
Let the grill get nice and hot. Allow meats to warm up slightly before they hit that hot grill, to reduce the chances of over-blackened surfaces with underdone interiors. If you're cooking to a specific temperature, take that item off the heat before it hits its final temp; it will continue to cook on its own. 
Have a spray bottle close by to douse flare-ups. Any marinade that has had raw meat in it can be used as a serving sauce but must be brought to a boil for a few minutes.  
With that, have fun, be brave and creative, and let me know about the recipes you invent.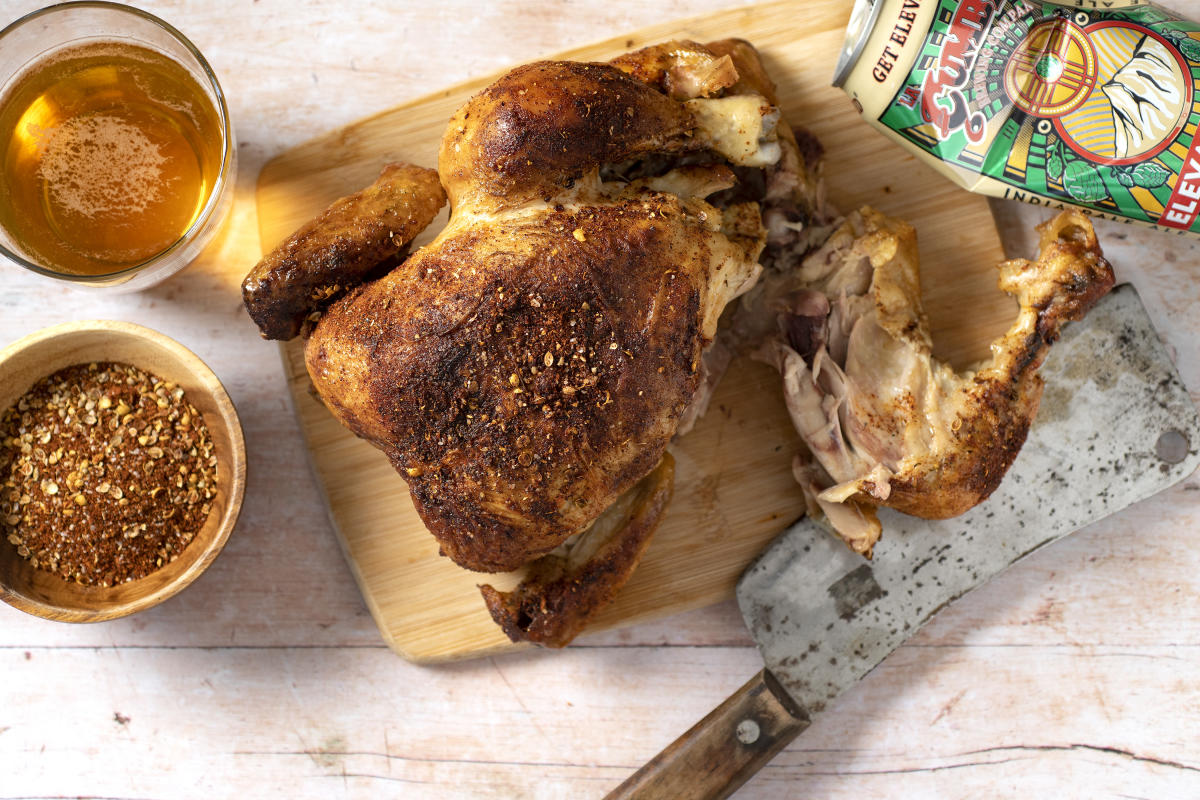 This recipe employs a popular grilling technique that has been around for decades. It's amazing how moist the steaming beer bubbling up into the cavity makes the chicken, and the subtle hops flavor pairs perfectly with the ice-cold beers you are apt to be drinking on a hot July day. New Mexican beer, please!
ANCHO CHILE RUB
2 teaspoons coriander seeds, toasted and then ground 
2 teaspoons brown sugar 
2 teaspoons cumin seeds, toasted and then ground
2 teaspoons hot New Mexico red chile powder
2 teaspoons ancho chile powder 
2 teaspoons fresh ground pepper 
2 teaspoons kosher salt 
CHICKEN
4-5-pound whole chicken
2 tablespoons vegetable oil 
1 can of your favorite New Mexican beer (try La Cumbre Elevated IPA)
Serves 4
---
INSTRUCTIONS
Mix all ingredients for the ancho chile rub in medium bowl.

Place chicken in a large bowl and allow to sit at room temperature for 30 minutes. Rinse with cold water and blot dry with paper towels. Rub the chicken and its cavity with the vegetable oil. (Wearing rubber gloves makes this task easier.)

Prepare grill for medium-high, indirect heat (350°). (For a charcoal grill, bank coals on either side of grill, ignite and allow hot coals to form; for a gas grill, leave one burner turned off in the center so chicken can roast over unlit burner.)

Season the chicken's surface, including cavity, with the rub mixture. Pour out (or drink!) a quarter of the beer and place the cavity of the chicken, legs pointing down, onto the open can so that it supports the chicken upright.*

Once grill has reached 350°, place the chicken in the center of the hot grill and cover. (My five-burner gas grill has 5 dials; I had 1, 2, 4, and 5 lit—the chicken was over 3.)

Grill chicken for 1 to 1¼ hours (start checking after 35 minutes), or until an instant-read thermometer registers 165° when inserted into the breast. It's important that the grill stays between 350°–400°. If the gas grill gets too hot or chicken starts to get too dark, turn off one burner. Charcoal-grill coals may need to be adjusted.

Once cooked, cover loosely with foil and let rest for 10 minutes before carving.
*If you find it tricky to balance your chicken directly on the beer can, a variety of vertical roasters can provide extra support. Many have spikes that hold potatoes or vegetables as well.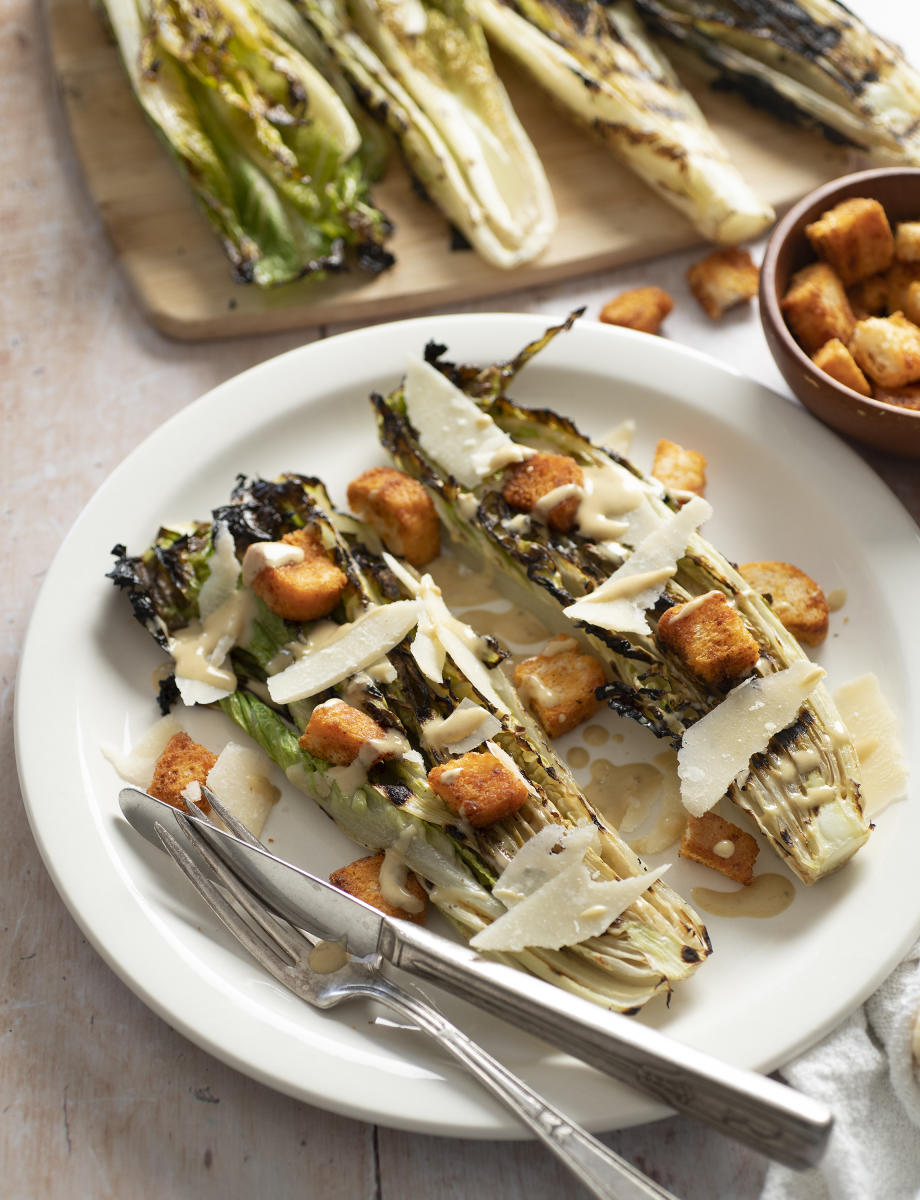 Grilled Southwest Caesar Salad with Cumin Croutons
- Chef Johnny Vee
Getting some grill marks on your lettuce before dressing it adds a nice smoky element to this classic salad, which I give a New Mexico twist with lime and cumin.
SALAD
1 large head romaine lettuce, outer leaves discarded
2 tablespoons olive oil 
¾ cup shaved Parmesan cheese
12 anchovies 
1½ cups cumin croutons (recipe follows)
Kosher salt 
Fresh ground pepper
Dressing (recipe below)
DRESSING
3 large garlic cloves 
6 anchovies, chopped 
1 egg yolk 
1 tablespoon Dijon mustard 
1 teaspoon Worcestershire sauce  
6 tablespoons olive oil  
3 tablespoons lime juice 
½ teaspoon kosher salt 
Fresh ground pepper 
CUMIN CROUTONS
1½ cups baguette cut into ¼-inch cubes
3 tablespoons butter 
¼ teaspoon garlic powder
½ teaspoon cumin seeds, toasted and then ground
¼ teaspoon New Mexico red chile powder 
¼ teaspoon kosher salt 
½ teaspoon sugar 
Serves 6
---
SALAD INSTRUCTIONS
Preheat a grill to medium-high heat (350°). Scrape the grate, wipe it clean, and then brush it lightly with vegetable oil.

Cut the lettuce head in half lengthwise, then each half lengthwise into thirds, keeping the leaves connected to the stem. Rinse in cold water and blot dry.

Brush olive oil on the cut side of the romaine hearts and season with salt and pepper. Place the romaine cut side down on the grill and cook until nicely marked, 6–8 minutes. Allow to cool on serving plates.

Drizzle dressing over lettuce. (You may not use all of it; refrigerate the rest and use within the week.) Garnish with shaved cheese, anchovies, cumin croutons, salt, and pepper.
DRESSING INSTRUCTIONS
Place garlic, anchovies, egg yolk, mustard, and Worcestershire sauce in a blender and blend for 30 seconds.

Slowly add olive oil, lime juice, salt, and pepper and continue blending until sauce is creamy.
CUMIN CROUTON INSTRUCTIONS
Melt butter in a small saucepan and stir in seasonings.

Drizzle butter over bread cubes and toss to combine.

Scatter cubes on an ungreased cookie sheet. Bake in a 350° oven for 10–12 minutes or until nicely browned. Cool and store in tightly covered container.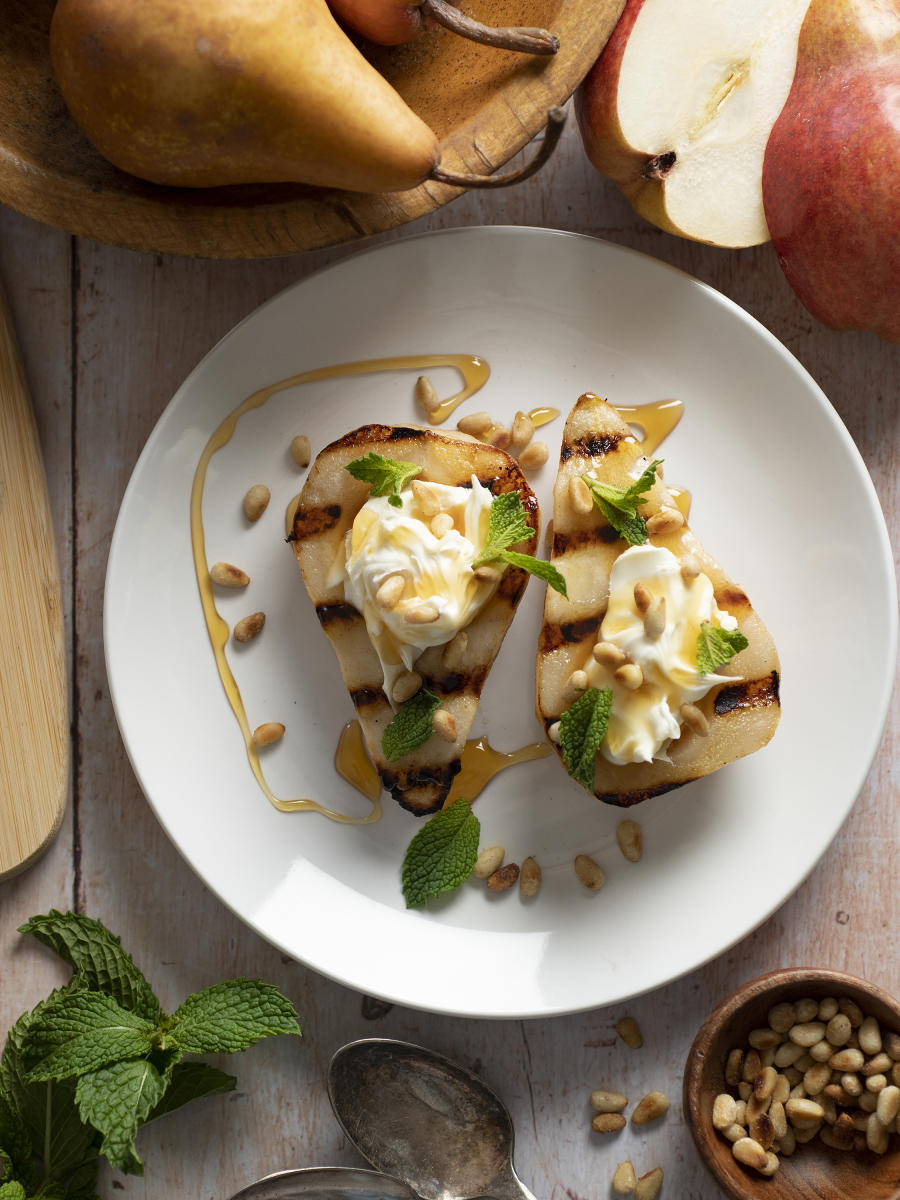 2 tablespoons salted butter, melted
6 Bosc or other firm pears, like Bartlett
8 ounces piloncillo, or 1 cup dark brown sugar plus 2 tablespoons molasses
1 cinnamon stick 
1 tablespoon dark rum (try Rojo Piñon Rum from Albuquerque's Left Turn Distillery)
8 ounces mascarpone cheese
2 tablespoons toasted piñon nuts 
Mint leaves for garnish
Serves 6
---
INSTRUCTIONS
Prepare a grill for medium-high heat (350°). Brush grate and wipe clean.

Peel pears, halve lengthwise, then remove cores. Brush cut sides of pears with melted butter. Grill pears cut side down until they are nicely browned but still firm. Remove from grill and leave at room temperature.

Make the syrup by placing piloncillo, cinnamon stick, and 1 cup water in a medium saucepan. Stir to combine. Bring to a boil, then reduce heat to a simmer. Allow syrup to cook until it thickens slightly and is the consistency of maple syrup, about 20 minutes. Strain out cinnamon and stir in rum. If you aren't serving it right away, let cool then transfer to a glass jar and store in the fridge.

Place two pear halves on each of six serving plates. Using a melon baller or small ice cream scoop, make small scoops of mascarpone and place one scoop in each half pear. Drizzle pears with piloncillo syrup and garnish with piñon nuts and mint leaves.