Kevin Box's Crane Unfolding soars in his Turquoise Trail Sculpture Garden and Studio.
THE WIDE BLUE HORIZON OVER THE Turquoise Trail National Scenic Byway can make for some real "What was that? Turn around!" moments. A few miles north of the mining town of Los Cerrillos, 50-foot razorback rock formations erupt from the Galisteo Basin. The craggy fins zigzag along the landscape, creating what is known as New Mexico's Garden of the Gods. This natural monument to a prehistoric seismic event can be seen from space.
Among the shadows cast by these sandstone formations, Kevin Box's outdoor sculptures seem to appear from nowhere. The sight of a nearly 12-foot-tall white origami boat, suspended in the balance between earth and sky, might spark a backseat cry of "Did you see that?!"   
Perched jauntily above the red dirt on bronzed olive-branch oars, Light Boat seems both out of place and out of time. Yet it's somehow perfectly at home among the piñons and junipers. The boat proclaims your arrival at the Turquoise Trail Sculpture Garden and Studio, a three-acre art center, foundry, and home that Box and his wife, Jennifer, built in the high desert south of Santa Fe.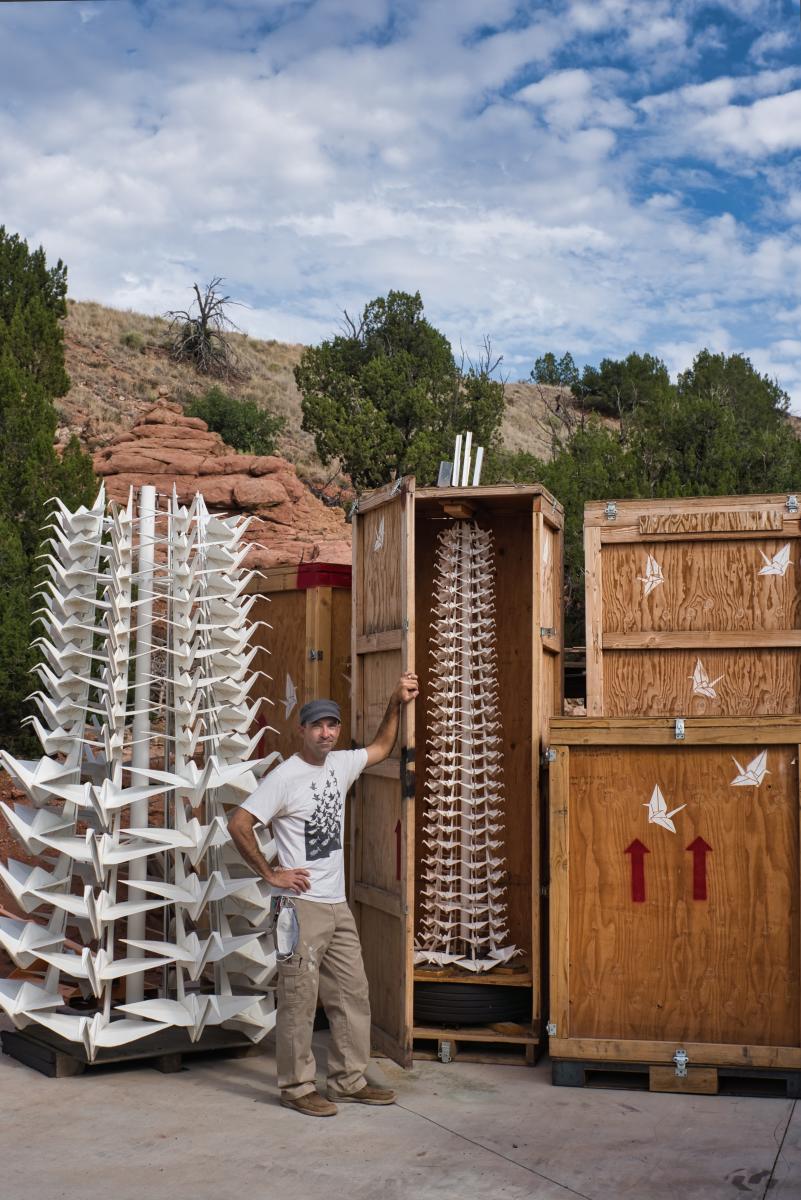 Several towers of folded cranes.
Eight of Box's large-scale outdoor sculptures—colorful folded ponies, unfolded mandalas, a rock-paper-scissors juxtaposition—are scattered throughout the state in public spaces. After beginning with a 2014 exhibition, Origami in the Garden, at the Santa Fe Botanical Garden, he has since put many more on rotating displays at other botanical gardens throughout the country. Box's forms take deceptively simple origami shapes to monumental heights cast in bronze, stainless steel, and aluminum. And unlike a flimsy sheet of paper, they can defend themselves against the elements.
"I don't want to be in a museum," he says of his works. "I would much rather be outside."   
Like most of his sculptures, Light Boat takes its inspiration from a square piece of white paper—and, as Box puts it, "thirty thousand years of art history." One sun-bleached afternoon, we cross the sandy arroyo that runs through the sculpture garden while he reminisces about his early fixation on paper. As a kid growing up in Bartlesville, Oklahoma, he discovered a playful sensibility that became integral to his creative process. He remembers feeding banana peels and blue-jean scraps into a blender to make paper pulp and folding loose-leaf pages into glider airplanes.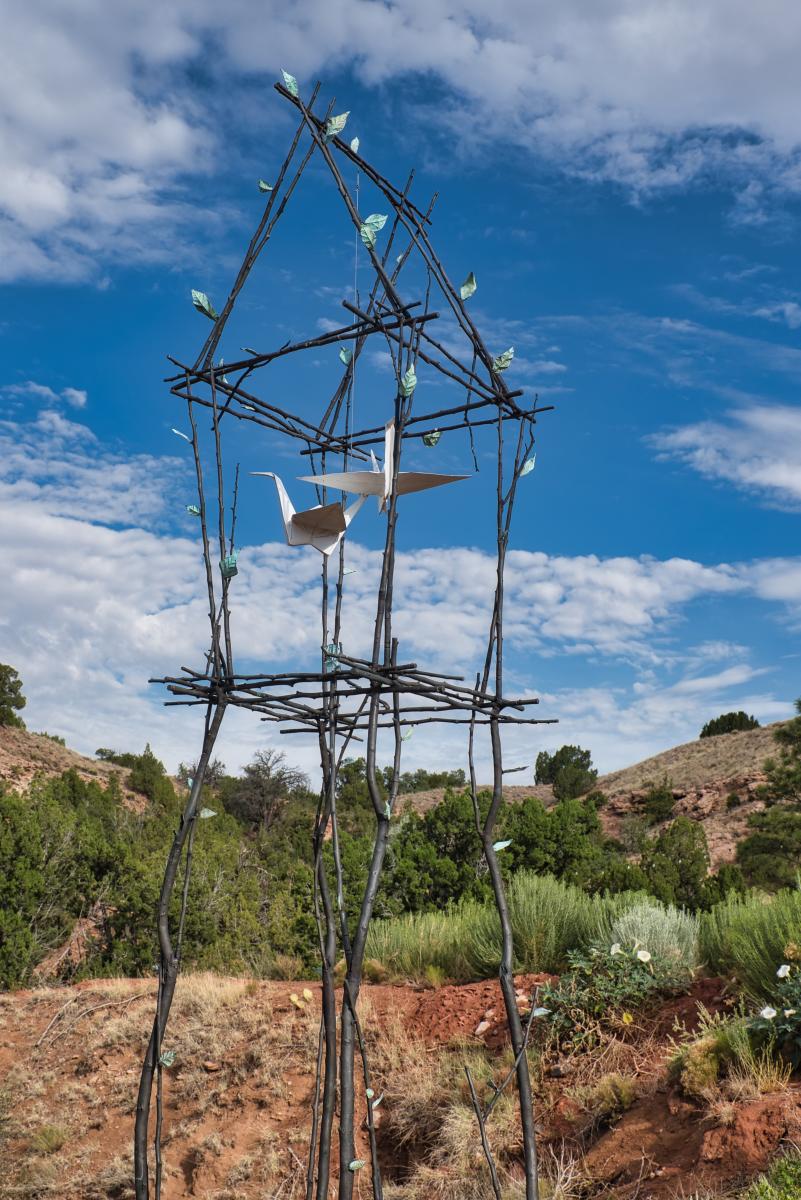 Kevin Box collaborated with his wife, Jennifer, for Spirit House.
Years later, as a fledgling sculpture artist and graduate of New York City's School of Visual Arts, he apprenticed with multiple foundries in Austin, trying to find the right metal and subject matter to express himself. Box kept returning to the philosophy of the blank page, tabula rasa, drawn to it as an essential metaphor for the artistic process.
"It's the archetype of the creative challenge," he says in the shade of the covered porch outside Box Studio, which he and Jennifer, who handles the business side, built in 2012. "Whether you're a writer or a mathematician or a magician—anybody who is making something out of nothing—we all begin with that blank slate."
He perfected his casting techniques in Texas, pioneering methods for mimicking a delicate sheet of paper with metal. Around 2004, after a period of making sculptures from unfolded paper, which created mandala-type patterns, Box hit upon his signature origami-inspired process.

Kevin Box in his studio with Scents of Sincerity, an in-progress aluminum rose.
He began, as usual, by playing with a sheet of paper, folding it into the shape of a crane.   
He thought about how the paper crane merely represented a bird and would never be the bird itself.
He remembered Michelangelo's words: "The true work of art is but a shadow of the divine perfection."
He unfolded the crane. There, within the square of paper, was a star-shaped pattern of creases. They showed the inner architecture of representation, a story told through folds and light and streaks of dirt. He refolded the bird, unfolded it again. The page seemed to hold the key to inspiration itself.
Read More: A guide to Santa Fe art galleries, museums, and events. 
Crane Unfolding (2005), which he cast in bronze and coated in white powder, uses the metaphor of the deconstructed origami bird to express the beauty of hidden design. Additional versions of the sculpture sold to several collectors, launching Box's career as a large-scale creator. It also got him accustomed to using the months-long casting process as a spiritual exercise, one in which he ponders the formula behind creation itself.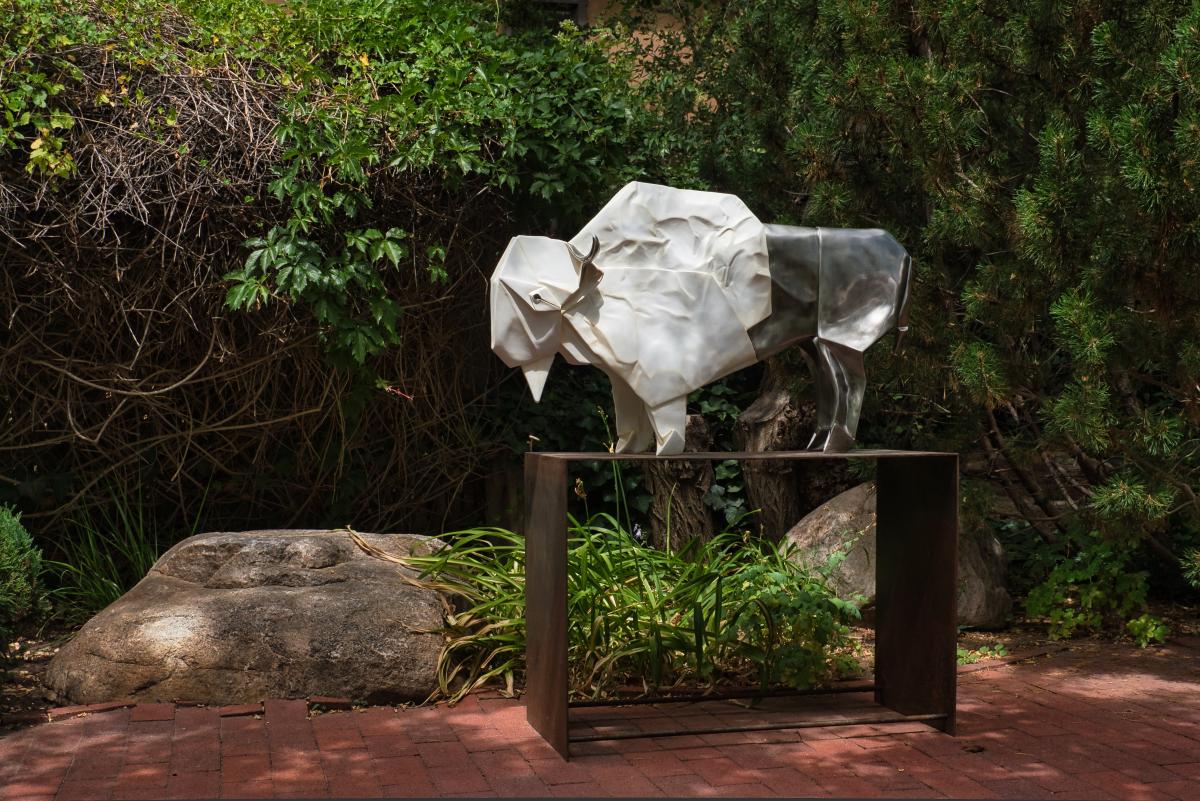 Kevin Box's origami-inspired sculptures include Tatanka Ska, a bison collaboration with Robert J. Lang.
"The algorithm of a tree is the same for every tree," he says, gesturing toward the evergreen landscape of the sculpture garden. "But they all come out different."
Box drily refers to the journey from folded paper to cast metal as "a very simple 35-step, 12-week process" that is rooted in the 6,000-year-old artistic practice of lost-wax casting. "You can capture a thumbprint in a lost-wax casting. To capture the watermark on a piece of paper is a very different goal."     
In his early days of figuring out how to render the minute details of paper in metal, he made wax molds and overlaid those with ceramic shells, which then became receptacles for molten metal, burning out the wax.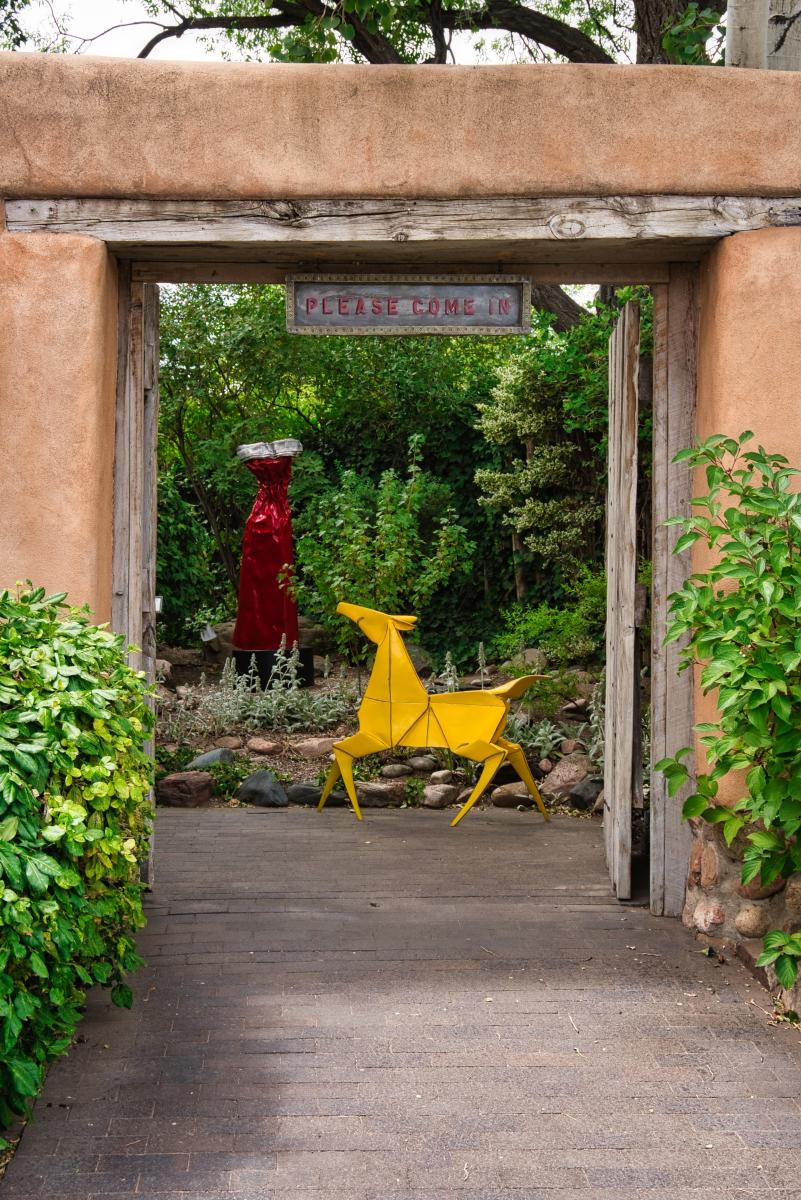 Kevin Box's Paper Dress and Dancing Pony welcome visitors into the garden at Kay Contemporary Art in Santa Fe.
The original folded paper sculpture would sometimes also burn out with the wax—a process called "organic burnout"—meaning that, as with another bird, the phoenix, the means of creation is also an act of destruction. Those works are one of a kind. 
Box still does a few limited-edition organic series every now and then, but these days his sculptures use rubber molds.  "Anybody can melt metal," Box says. "But what are you pouring it into? That's the real art."
"He is taking these sculptures to a monumental level," says Santa Fe gallerist Karla Winterowd. "His inquisitiveness has led him to be able to do this at this scale."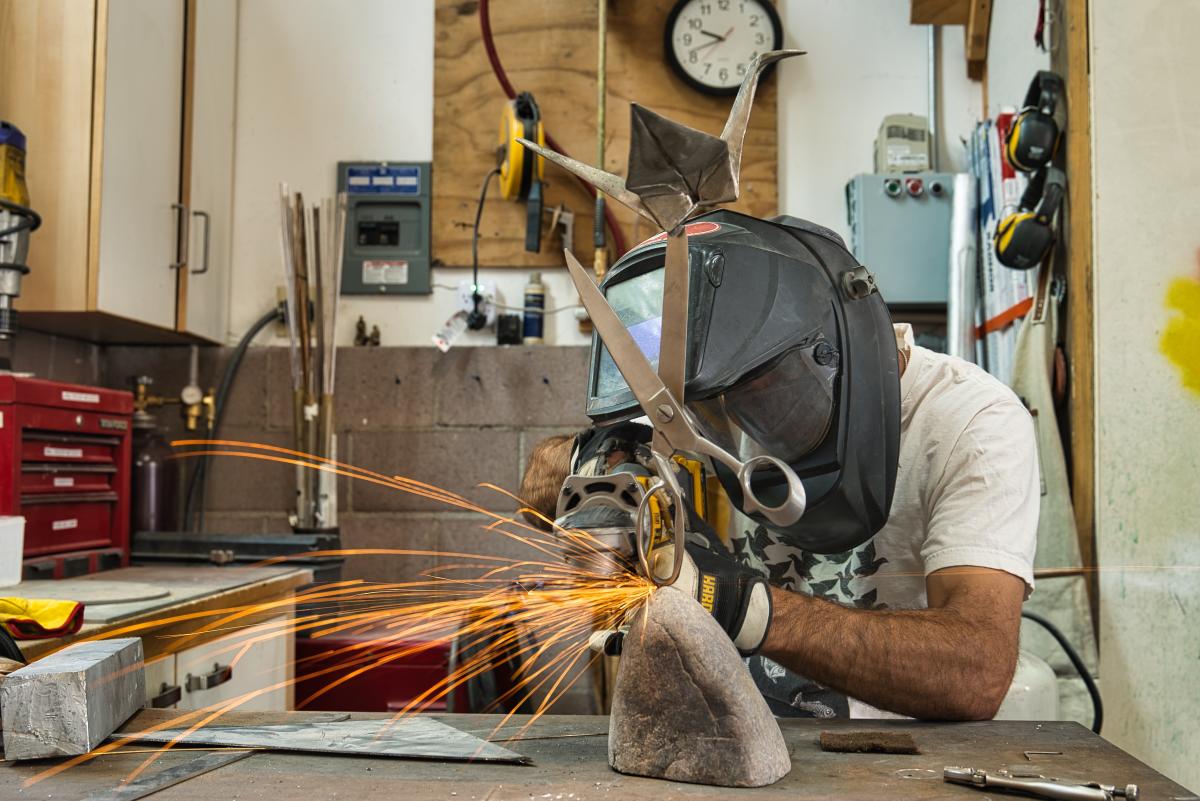 Kevin Box riffs on his rock-paper-scissors theme, topping this one with a crane.
Winterowd keeps a delightful array of Box creations in the sculpture garden outside Kay Contemporary Art, on Canyon Road. Inside the gallery, cases and mantels display smaller sculptures cast in stainless steel. Their credits attest to Box's troupe of creative collaborators, whose talents he likens to a rock 'n' roll supergroup. A favorite colleague is Robert J. Lang, a physicist, engineer, and artist whom Box calls "the origami Jedi of the universe."
Read More: Belén artist Paula Castillo fuses metallic cast-offs into fantastical sculptures that evoke her sense of family and place.
Box Studio also employs a team of foundry and fabrication artists who continue Box's legacy of apprenticeship, although he insists that he learns just as much from them. The Turquoise Trail Sculpture Garden is closed to visitors until 2023, but Box and his collaborators are hard at work fabricating new sculptures for a 2021 exhibition at the Missouri Botanical Garden, in St. Louis, as well as work for upcoming installations at gardens in Indiana and Atlanta.
He makes lots of giant flowers these days—a 72-piece aluminum rose, 18-foot bronze tulips. Looking at a large metal sunflower, he pauses to contemplate the stasis of life during quarantine, comparing it to the moment just before a bloom. I hold my breath for his insight. I've realized that a certain eloquence flows through his words as much as through his works.
"Look at this place," he says, his voice infused with awe. He surveys the special slice of rocky land, which he hopes will one day represent a Southwestern center for sculpture education. "It's just this little moment in this rift, by these mountains. The geological history here is spectacular. It's why creativity has been here longer than most places in North America."
He reminds me that one of the oldest continuously mined sites on the continent is just two miles away. "People have been making something out of nothing here for a long time."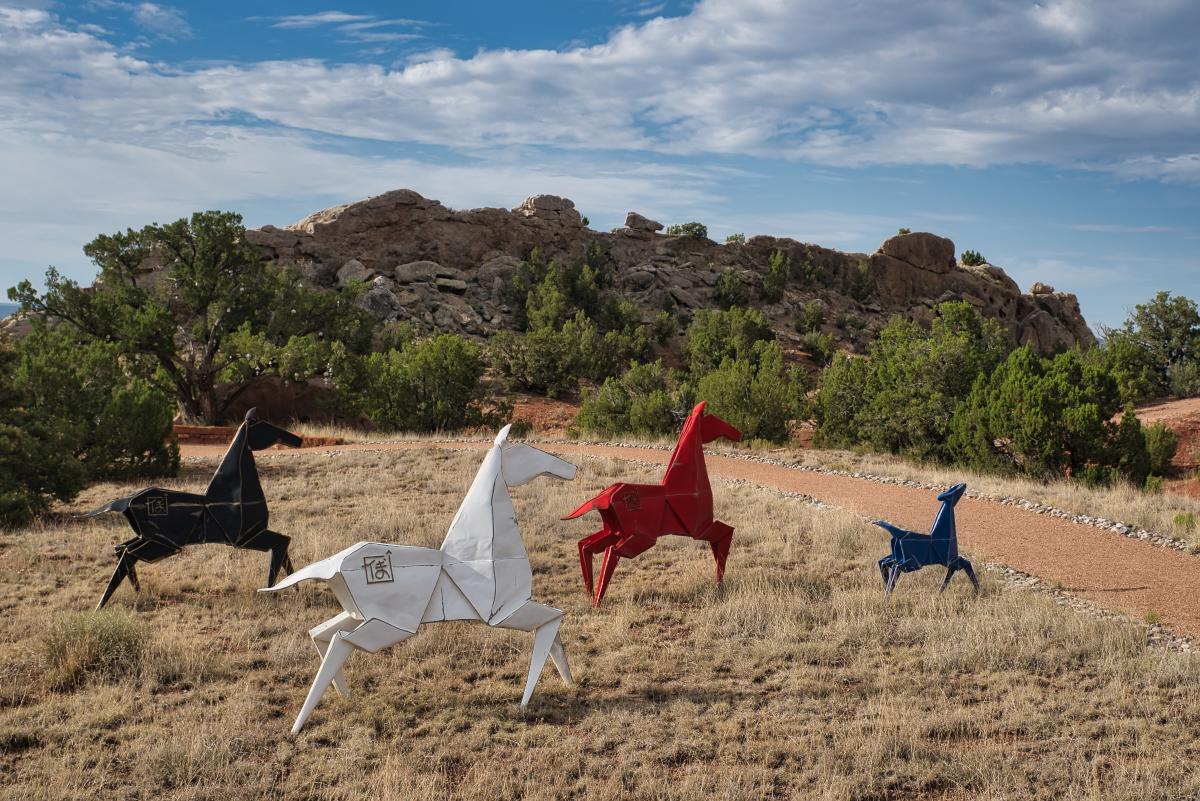 Ponies gallop across the sculpture garden's yard.

BOXED UP
Learn more about sculptor Kevin Box at his website or on Instagram. You can see a variety of his works in the backyard garden of Kay Contemporary Art, 600 Canyon Road, Santa Fe. These other sculptures are worth a road trip or two.
Flying Peace, a collaboration with Robert J. Lang, New Mexico Highlands University campus, Las Vegas, New Mexico
Rock Paper Scissors, Dr. Martin Luther King Jr. Park, 2739 Calle Serena, Santa Fe
Adinkra Symbols, African American Performing Arts Center at the Expo New Mexico fairgrounds, 310 San Pedro Dr. NE, Albuquerque
Flying Folds and Crane Unfolded, Opus #563, a collaboration with Robert J. Lang, White Rock Branch Library, 98 NM 4, White Rock
Star of Restoration, Mescalero Apache Tribe Health Clinic, 318 Abalone Loop, Mescalero
Dancing Pony, Farmington Fairgrounds Park, 1003 Fairgrounds Road, Farmington
Temple Mandala and Star Mandala, Agave Restaurant at Eldorado Hotel, 309 W. San Francisco St., Santa Fe