A storm brews over an abandoned home in Yeso. 
FOR LONG MINUTES, THE ONLY SOUND is the wind rising and falling as it blows across New Mexico's eastern plains. From somewhere along a street of empty houses, a piece of tin bangs slowly on a rooftop. Nearby, the two-story Hotel Mesa's misspelled sign promises not a good night's rest but a "Frontier Musem & Trading Post" complete with "guns" and "antiques." A car approaches from US 60, slowing slightly at the cluster of curious buildings before speeding off toward Clovis. On the other side of the road sits the yellow shell of the Super Service Drive-In Garage.  
Sheep once grazed this dry grassland, and not far away Billy the Kid and his gang had a shootout with a posse led by Sheriff Pat Garrett. A train whistle blows, always a surprisingly lonesome sound, all the more so here. When the engine roars past, the clacking of the steel wheels echoes the reason why this place exists at all. After the caboose passes, following the train onto the open expanse, all falls quiet again.  
This is Yeso, New Mexico, a ghost town.  
Those last two words are freighted with more romanticism and evocation than they can rightly bear, and yet they seem to require no explanation at all. In this past year of pandemic, cities like London and Boston have been referred to as ghost towns, and everyone immediately understood what that meant and why that feels sad. But what is a ghost town, really? And why does even the idea of such a place affect us so deeply? If you have spent much time traveling the back roads of New Mexico, you may have asked yourself these questions, probably more than once.  
Upon my arrival in the Land of Enchantment in 2009, I immediately began to crisscross the state, not only to explore as much of the ever-changing landscape as possible but also to feed an obsession with old places, particularly those that are largely forgotten. I documented what I discovered on my blog, City of Dust, supplementing whatever history I could uncover with photos that I would usually shoot with film out of a fidelity to the old ways. This eventually led to a book, Abandoned New Mexico: Ghost Towns, Endangered Architecture, and Hidden History, published last fall.  
What compels a person to drive dirt roads of unpredictable quality only to stand beside, say, the few adobe bricks and rusty sardine cans that represent the earthly remains of the Puertocito trading post, in Socorro County? In the stark desert quiet, without another soul around, I couldn't help but somehow feel—not just imagine—that this is where Texas outlaws "Bronco Bill" Walters and "Kid" Johnson stopped briefly on their flight from the law in May 1898, following a heist now known as the Great Belén Train Robbery, with tragedy for all parties involved. This sense of the past is a mysterious, addictive thing that may well require solitude and even a flash of loneliness.  
Some ghost towns openly celebrate their history and welcome visitors—friendly faces will tell you about Lake Valley, Chloride, and Madrid. Then there are those now quiet villages, like the twin ghosts of Acme and Frazier, near Roswell, that have only stone walls and cemeteries to speak for their past. Still others, with remaining residents tracing a connection spanning many generations, protect their homes and memories and would prefer that both be left in peace.  
Regardless of perspective, as I traveled countless miles both literal and figurative, I learned that many of us share a fascination with the past that borders on awe, along with a desire to preserve the stories these places can tell, even when it's not clear how to preserve the places themselves.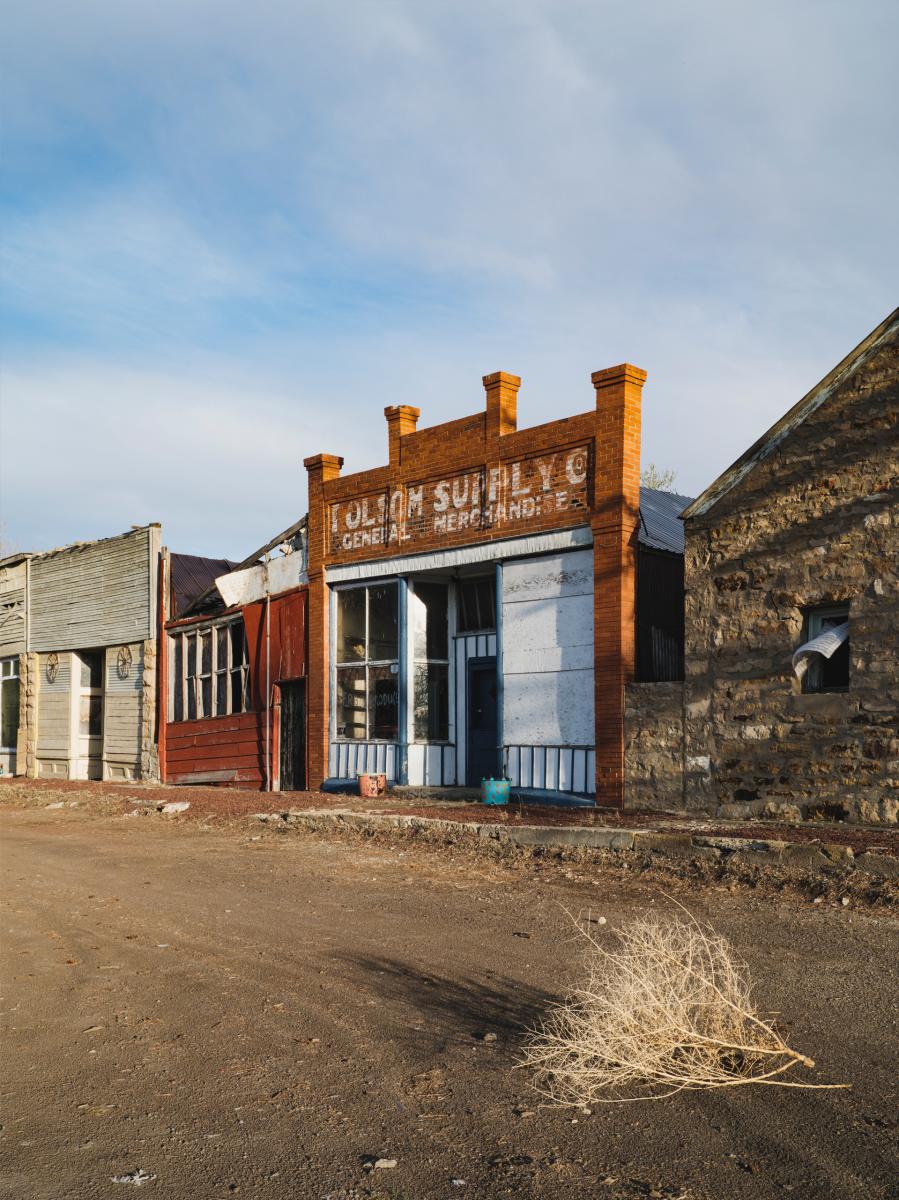 A tumbleweed meanders down Folsom's once busy streets.
TRUE GHOST TOWNS ARE RARE. Very few places have become entirely uninhabited. By one definition, a ghost town is a place that has seen its population decline significantly from its peak and lost the reason it originally came to exist. Thus, Yeso. It still has a couple of residents, depending on the day, and even a post office. But steam locomotives on the Belén Cutoff no longer stop to take on water—the reason the village once began to grow.  
New Mexico can claim most of the reasons that towns fade. Let's start with the railroad. When the switch from steam to diesel occurred after World War II, trains suddenly sped past many of the places they had formerly needed. Businesses that had sprung up around the tracks shuttered, including hotels and restaurants now starved of passengers.  
Likewise, the construction of the interstate highway system pulled travelers off of the winding roads that passed through countless small towns. When I-40 replaced Route 66, the most famous of these onetime byways, towns like Glenrio, Cuervo, Budville, and Prewitt, saw businesses close and houses stand empty.  
The Dust Bowl and the instability of small-scale agriculture also inflicted wounds, particularly near the state lines with Texas and Oklahoma. Here you will find Causey, Wheatland, and Amistad.  
Finally, New Mexico's rich history of mining intertwines with tales of mines going bust and prospectors moving on. Southwestern New Mexico is scattered with these ghosts, Mogollon, Fierro, and Kingston among them. But miners worked throughout New Mexico, in long-gone settlements such as Santa Rita/Riley, near Magdalena, and Elizabethtown, near Angel Fire.  
If you go even further back in time, you find evidence of past lives in places such as the Bandelier, Aztec Ruins, and Salinas Pueblo Missions national monuments and Chaco Culture National Historical Park—communities where Ancestral Puebloans once thrived.  
Our comparatively mild winters and lack of humidity help preserve what a couple of decades elsewhere would quickly obliterate. That raises a tiny hope for revival, even as rural areas throughout the nation grapple with dwindling populations. Sometimes people "discover" these old towns and move to them to get away from it all. When critical mass is reached, you might find a town reborn, such as Madrid, on NM 14. Now that the pandemic has proved we can do our jobs from anywhere, perhaps one day more Madrids might spring up across New Mexico.  
Jeff Cornay and Matt Doherty inside the Folsom Hotel (left), and a window to the past in Yeso (right).
SOME GHOST TOWNS CLAIM momentous events. Elizabethtown, in the Sangre de Cristo Mountains, was the first incorporated town in New Mexico. Hanover's 1950–51 Empire Zinc Company strike, in the southwest of the state, was portrayed in the film Salt of the Earth. The murder of popular merchant Anton Coury in central New Mexico's Duran led to the execution of four of the five assailants in 1922, the last judicial hangings in the state. In that same region, Pinos Wells saw the still-unsolved murder of well-known politician and Civil War veteran J. Francisco Chavez, who was shot through a window while eating dinner at a friend's house.  
When I talk with people from such places, they don't mention those kinds of events. Instead they focus on little things that were important to their lives. The postmistress everybody loved in St. Vrain, music on the patio at the Organ Mountain Lodge, or adding peanuts to bottles of RC Cola outside the R.L. Borden Store, in Floyd.  
They also talk about basketball and dancing. Not that many decades ago, high school basketball was the biggest thing going in rural New Mexico, and the games and rivalries remain fresh for those who were there, even as schools and gymnasiums in places like Cedarvale, Encino, and Forrest are torn down or collapse. Steve Flores wrote a 2006 book about the phenomenon, Ghost Town Basketball: Former High School Basketball Teams of New Mexico, now a rare and sought-after volume.  
As for dances, the Dunlap Community Church and School, south of Fort Sumner, hosted get-togethers still talked about today. Solano, in northeastern New Mexico, had dances on an outdoor basketball court—"the Starlight Ballroom"—and bands played on a flatbed truck. On the Llano Estacado, the town of Lingo held dances at its high school, enticing kids from nearby Causey, where dances weren't allowed. In Guadalupe, out in the Río Puerco Valley, all-night parties were held inside Juan Córdova's two-story adobe store, where the Tafoya brothers played until the wee hours of the morning.  
When you find a ghost town that speaks directly to you, you might feel something like what they call saudade in Portugal and Brazil. It can contain longing, melancholy, loss, and even a desire for a time that you suspect may have never truly existed. I have felt all those things. But ghost towns can also allow us something even more fundamental: a quiet moment of recognition for those who came before and brought each of us to where we are today, for their story is ours, and it is well worth learning. 
---
Read More: Once a thriving mining town, Madrid found new life as an art community that digs its quirks.
Read More: From railroad history to the makings of an arts and culture destination, the city of Belén is best taken in slowly.
Read More: In the land of Billy the Kid, historic preservation comes with great art, rich coffee, and a pint of local ale.