The Sacred Heart Church in Bueyeros still holds Mass the first Saturday of each month. 
AFTER SERVICES IN SACRED HEART CHURCH, Mary Libby Campbell remembers, folks gathered in the old WPA schoolhouse for food. Someone played music, and they danced in the street—NM 102 through the heart of Bueyeros (Spanish for "ox drivers"), 60 miles southwest of Clayton. Before the Dust Bowl, Bueyeros claimed 400 residents. Today? "Only two," Campbell says. "My sister and her husband." The 1894 chapel still has a 4 p.m. Mass the first Saturday of each month. Nearby Mosquero delivers sustenance, with barbecue at Headquarters Restaurant and craft beer at Callahan West Brewery.
The Magdalena Livestock Trail once teemed with cattle, thanks to the rail line that hauled them, along with ore from the nearby Kelly Mine. In the town of Magdalena, 27 miles west of Socorro, the arts have found a foothold. A few years back, Fritz Kapraun and John Sakel opened the La Posada de Maria Magdalena inn and art gallery. "We like to say that everything in Magdalena is understated on the outside," Kapraun says. "But when you step inside, it's a surprise."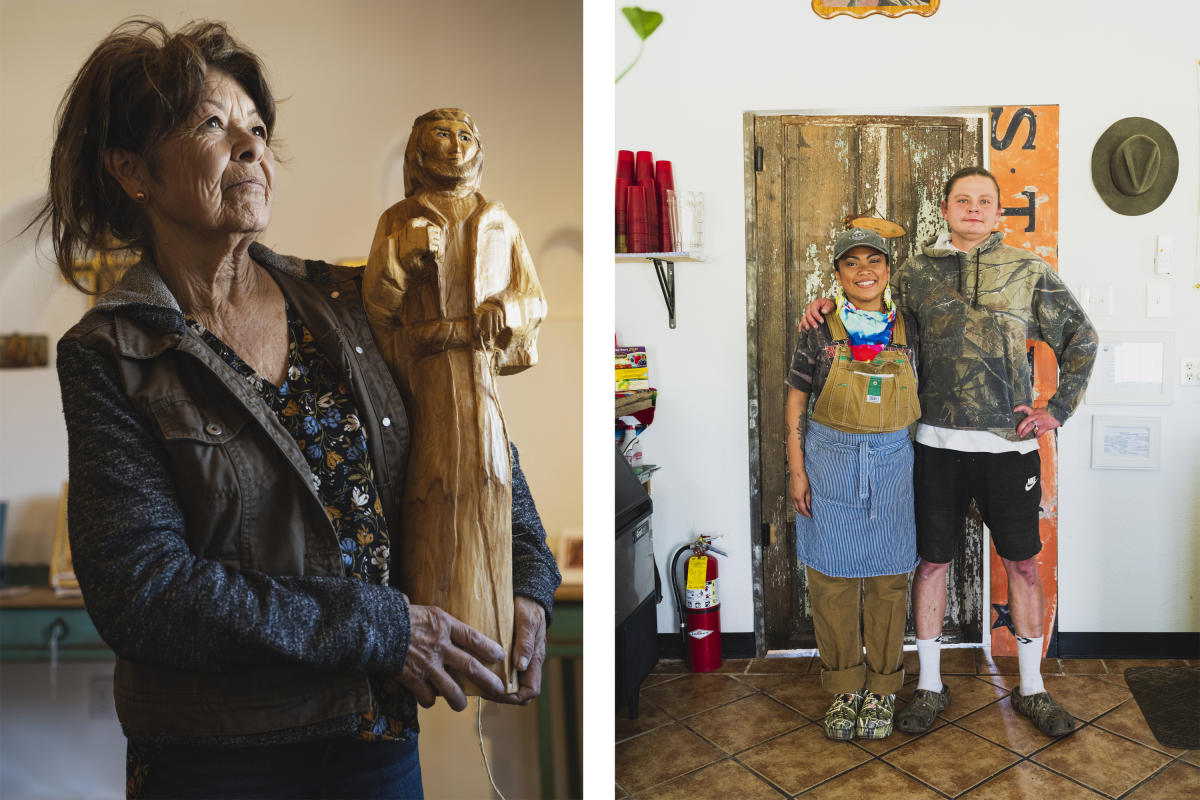 Santera Mary Rose Pino at La Posada Art Gallery, in Magdalena (left) and Osiris Navarro and Michal Gola at their Tumbleweeds Diner, in Magdalena (right). 
In northeastern New Mexico, Folsom once counted 1,000 residents before a 1908 flood. "About 55 people live here now—well, my buddy got divorced, so 54," says Matt Doherty, a board member of the Folsom Museum. Here's something only locals know to look for: a boulder with a painted thunderbird on a hill across from the museum. Supposedly, two cowboys huddled under it one night, but their campfire split the rock. A chunk of it crushed them. "Their bodies are still up there today," Doherty says.
---
Read More: Abandoned, barely there, or rebounding with new purpose, towns, hotels, and restaurants all across the state hold secret treasures: the stories of past lives.
Read More: Cowboys and trains changed New Mexico—and still spur our dreams.
Read More: The New Mexico Farm & Ranch Heritage Museum's director hopes to deepen connections to our agricultural roots.