Once a ghost town, Madrid has rebounded as a place for galleries, boutiques, and live music. Photograph by Steve Gleydura.
MADRID LOOKS LIKE ANYTHING BUT a ghost town on a sunny Sunday in May. A stream of cars slowly cruises through the center of town on NM 14, searching for a spot to park. Couples stroll from shop to shop like wanderers on a beachfront boardwalk. On the Mine Shaft Tavern patio, bikers, families, tourists, art hunters, and a smattering of dogs fill almost every table as the High Desert Playboys prepare for an afternoon set of live country music. 
We've made the short drive here along the Turquoise Trail from Santa Fe because I was intrigued by the once booming mining town, known as Coal Gulch, that had gone bust and somehow pickaxed its way back as an artistic village. Plus, I wanted to see Maggie's Diner and the rest of the locations Tim Allen, John Travolta, and company made famous in the movie Wild Hogs. (Sadly, I did not spot Marisa Tomei.)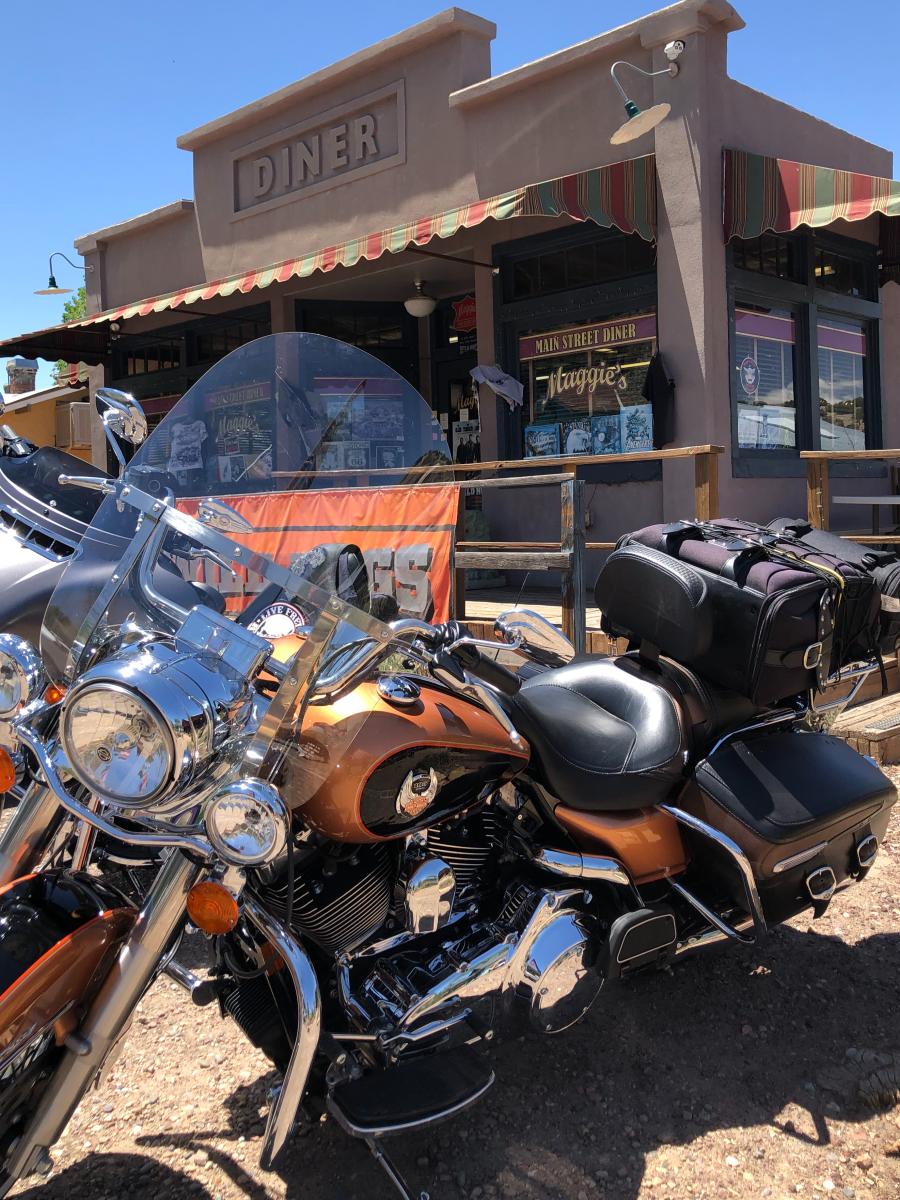 Maggie's Diner, built for the movie Wild Hogs, still draws bikers and tourists alike (though it now just serves up souvenirs). Photograph by Steve Gleydura.
Before this month's "Good Haunts" cover story, I'd known little about Madrid beyond the fictional account or dug into the past of other towns such as Lake Valley, Folsom, Kingston, and Frazier that have faded because of the decline of the railroads and mining, the rise of interstate highways and industrial farming, or any of the other forces that ghost a place. 
As Mine Shaft Tavern co-owner Melinda Bonewell tells it, Madrid swelled to about 2,000 people in the 1920s and '30s. But when World War II took most of the miners and then demand for coal dwindled, just a handful of folks remained. "In the 1970s, they tried to sell the town of Madrid," she says, "and it wouldn't sell." 
Now Madrid's galleries and boutiques feature artwork and jewelry with price tags in the thousands. We did our part to make sure the town of about 200 remains vibrant, picking up a recycled-glass platter at Weasel & Fitz, some Madrid Coal lavender-and-oatmeal soap—for a little of that mining past—from Gunky Folk Soap & Sundries, and two handmade trivets and a pound of locally roasted coffee at Java Junction. 
It's certainly naive to think that every diminished town could hit the economic motherlode that spurs it back to life. But it's nice to remember that at one time they bustled with families, mercantiles, farms, and saloons. They once hosted dances, basketball games, and live music on a patio, and they might have felt like Madrid on a sunny Sunday in May. 
---
Read More: Once a thriving mining town, Madrid found new life as an art community that digs its quirks.
Read More: The mines boomed and then faded, but the town of Cerrillos still revels in its past—served up with a champion-caliber burger.
Read More: Just a few miles north of Los Cerrillos, sculptor Kevin Box creates origami-inspired outdoor sculptures at the Turquoise Trail Sculpture Garden and Studio.