Outdoor dining is available at The Yard at Sawmill Market.
FOR ERIC OLSON AND HIS WIFE, Nancy, it started innocently enough. One Sunday in May, they awoke in their Santa Fe home and embarked on making an indulgent brunch: crepes Maryland with a rich Nantua sauce, a summer salad of peas, haricots verts, candied walnuts, and a lemon vinaigrette dressing, plus a simple applesauce.   
Before the pandemic, the couple had routinely dined out two or three times a week. Breakfast had always been more of an afterthought.   
"Our new Sunday brunch ritual was a completely unanticipated development," says Eric, a scarf designer. "We wanted to have some regularity and celebration in our lives, even though it was just the two of us."  
Each week afterward, they planned a special meal, put on nice clothes, made Bloody Marys, and cooked up salmon Bennies or French toast with home-baked bread. "These brunches give us a treat, something to look forward to as we marked time on our way to a post-covid world of freedom," says Nancy.  
Almost everything about our lives changed in the past year. As we craved both connection and comfort, the shift in where and with whom we ate sometimes felt like sliding into a sinkhole. Food has always brought people together, so we've been forced to find new ways, or revive older methods, to get closer to our food and one another.   
With New Mexico restaurants at limited occupancy or open for carryout only, home kitchens became our oases and a form of entertainment. We read cookbooks, bought new gadgets, and stocked our freezers. We visited farmers' markets and specialty shops seeking fresh ingredients and moments of indulgence. We planted backyard gardens with lettuce, cucumbers, and kale to feel like we stood on solid ground.  
On the days when it all got to be just … too … much, we ordered burgers, tacos, enchiladas, and other comforts wrapped and ready to eat.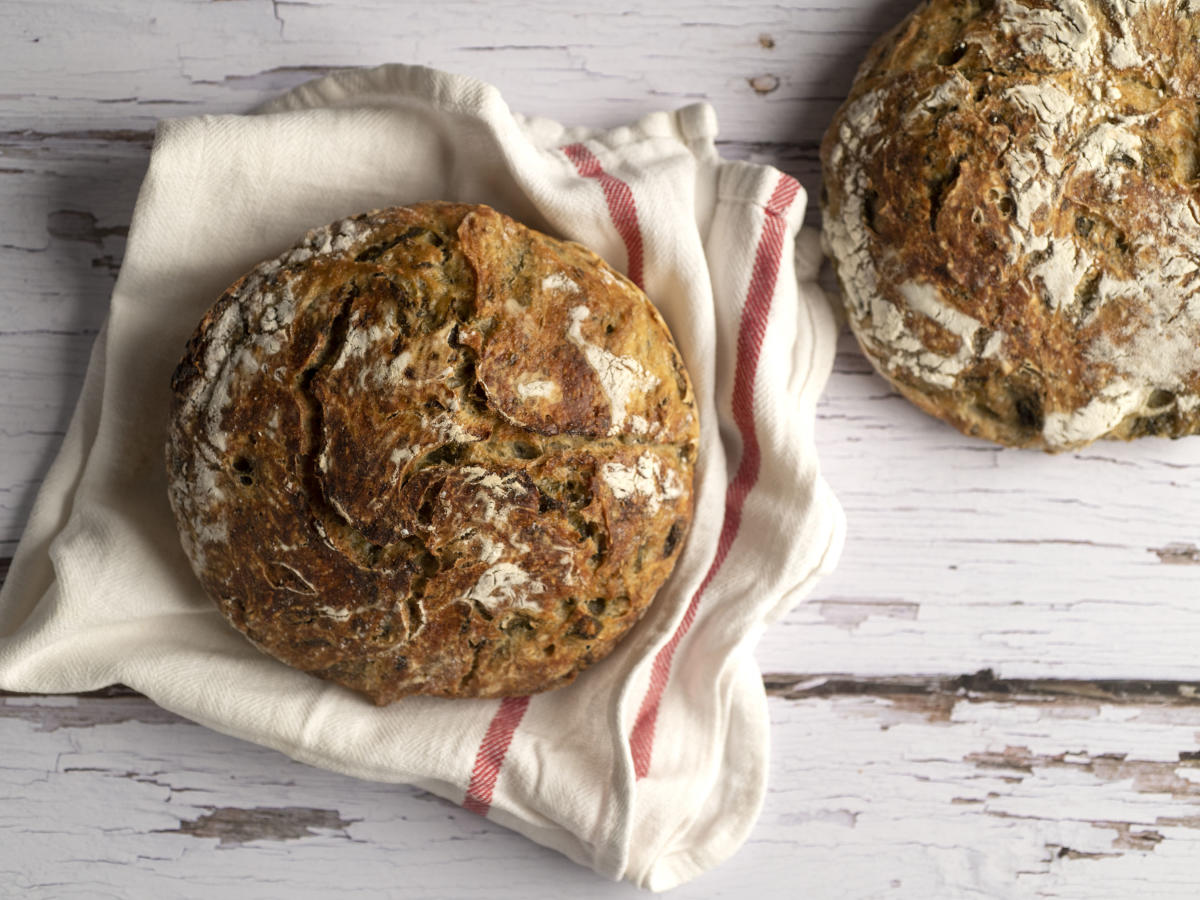 Home-baked bread has made a resurgence over the past year.
IN THE FIRST FEW MONTHS of the pandemic, Santa Fe artist Gigi Mills found it difficult to work. She missed her friends. She struggled to make sense of things.  
"Overwhelmed and bored at the same time, I just sat in my studio looking out the window, staring at the birds," she recalls. Then one day, almost without thinking, she baked a boule—a simple round loaf of bread—with einkorn flour, made from an ancient grain. "I buttered a slice, still hot, sat down with a cup of coffee, and watched the birds."   
Things didn't change immediately for Mills. But it was a start. "I eventually found my way back to the easel," she says. "Watching and feeding the birds are now a meaningful part of my morning ritual."  
Virtual cooking classes, online wine tastings, and Zoom happy hours helped lift our spirits. The same web connectedness also inspired Corona Kitchen, a daily Facebook Live and YouTube cooking show featuring Santa Fe actors and writers Debrianna Mansini and Lisa Lucas. The duo shared family recipes, told stories, and discussed the ups and downs of the pandemic. "We provided a place to be together when we couldn't physically gather," Mansini says. "People reacquainted themselves with old family recipes or tossed aside their fear of cooking and just began cooking."  
And baking—especially bread. No-knead, sourdough, or whole-grain, baking bread can feel fundamental, even primal. Flour, salt, yeast, water. A golden, warm sense of accomplishment. If a loaf falls flat, try again. "There are no baking failures," says Eric Stillman, a web designer in Santa Fe. He made four loaves every other week, giving away three, before "covid belly" forced him to cut back. "My friends were disappointed," he says. But he didn't quit. "Bread baking is a big part of my life now."  
Victory gardens proliferated. "During the pandemic, it comforted me," says Penina Meisels, a food photographer in Santa Fe, who grew lettuces, squash, and broccoli. Then the strawberries she had planted a few years back came into their own. "I'd sit with my covid pod in my backyard with a bowl of strawberries between us," she says. "We'd laugh as the sweet juice dripped down our chins."   
Smoked potato soup from Mercantile Café heats things up at Sawmill Market, in Albuquerque.
RESTAURANTS, BREWERIES, and wineries have all suffered this year, but many have found ways to adapt by creating special takeout menus, family-style meals, and creative, intimate dinners.
"We're a family restaurant," says PeeWee Ulibarri, chef and owner of PeeWee's Restaurant, in Gallup. The breakfast and lunch spot offered its full menu for carryout over the past year, but business still dropped 80 percent. 
"I miss my friends," Ulibarri says. "The restaurant is my social life, where we love on each other, hug on each other. I just want to do something worthwhile. Feeding people is worthwhile."  
When Santa Fe's Cowgirl BBQ closed for three months to start the year, chef and owner Patrick Lambert took time to reevaluate more than his menu. Life in the hospitality industry can be grueling, so Lambert spent more time with family and close friends hiking and picnicking in the mountains. "It was a respite from all the restrictions and chaos," he says. "We were able to connect and enjoy one another's company."  
The time for reflection has changed his approach moving forward, now that the Cowgirl has reopened. "I want to work smarter, not harder," he says.  
Even after the vaccine does its work and restrictions loosen, our relationship with food and one another will likely have changed for good. Alexis Vourvoulis, an estate jewelry appraiser raising her 1-year-old son, has embraced her own vulnerability and feelings of isolation. "I learned to adapt and found comfort where I thought none existed," she says. "I found the little kindnesses we shared around cooking and eating to be the cure for my weariness."  
---
Read More: As the pandemic reduced the size of their world, one Taos family took on a hiking challenge and found a new path.
Read More: The elevated ingredients and flavors of Arable's pastrami Reuben sandwich are pure poetry.
Read More: As the fabled Bishop's Lodge prepares to reopen, chef Peter O'Brien infuses its classic dishes with Southwestern style.