No-Knead Bread goes New Mexican with a kick of green chile. 
FOURTEEN MONTHS AGO, nobody dreamed that something could drive us out of our favorite restaurants and into what, for some, is the least used room in the house—a place that requires an ability to read recipes, source ingredients, learn techniques, and do it all while grocery store shelves are stripped of basics like flour and yeast.  
Americans, it turns out, are a resilient bunch. It took a month or so to get our bearings—after hoarding strange things like toilet paper and hand sanitizer. The internet picked up part of the slack. Blogs like The Daily Dish and Cook This Now inspired us to get cooking. Fresh-from-the-oven websites offered cooking tips with links on how to order everything you need to pull off the recipes. Trying a complicated Moroccan dish gets much easier when every ingredient appears on your doorstep. 
I reveled in the Woks of Life website, where a Chinese American family explores the history of each recipe and provides easy-to-follow directions. Authentic stir-fries, dumplings, and scallion pancakes became a part of my repertoire.  
PBS ran those wonderful old black-and-white Julia Child episodes to remind us how to roast a chicken and bake a fancy apple pie. One of my friends said he was not only watching every episode of The Great British Baking Show but also re-creating each recipe.
Home-cooked food consumed social media, with photos of fabulous meals, humblebrags about ancient sourdough starters, and versions of the ubiquitous No-Knead Bread, as touted by The New York Times' Mark Bittman. I followed the Times' food content religiously and laughed when one day it announced, "Chocolate pudding is the answer." What was the question? I wondered.  
Although I have cooked professionally for 45 years, most of the meals I prepared at home for the past decade were not elaborate. The compact kitchen in my 1940s bungalow hemmed me in. Granted, if I needed space and double ovens, I could head to my cooking-school kitchen at Las Cosas, in Santa Fe, where I had my pick of cookware—Le Creuset and Staub, Cuisinart food processors, blenders, a commercial six-burner stove, smokers, and more. But once the pandemic hit, I knew I had to make it work at home.  
I started by buying my own KitchenAid stand mixer. (Even as other retail sectors saw a downturn over the past year, kitchen stores reported steady sales.) I upped the ante on trying all the dishes I never had time to play with when I was working full-time: bagels, puff pastry, six-hour roasted pork butts, monkey bread (yum!), and all sorts of ethnic creations I had never included in my classes.   
Numerous friends waxed lyrical over the air fryers they purchased (me included). Many of us pulled out favorite cookbooks and got nostalgic making loved but forgotten dishes. Old-time homesteading techniques roared back into popularity as folks made cheese, raised chickens, fermented vegetables, and put up jams and jellies.  
The pandemic gave us lemons, and we made mint hibiscus lemonade.  
As I look back on the past year, I realize that my slowed-down life taught me to enjoy what I cook by bridging the distance between what I do for a living and what I do for myself and neighbors, especially in a dire time. On that score, the Times is right: Chocolate pudding is the answer—and it's among my favorite new make-at-home recipes.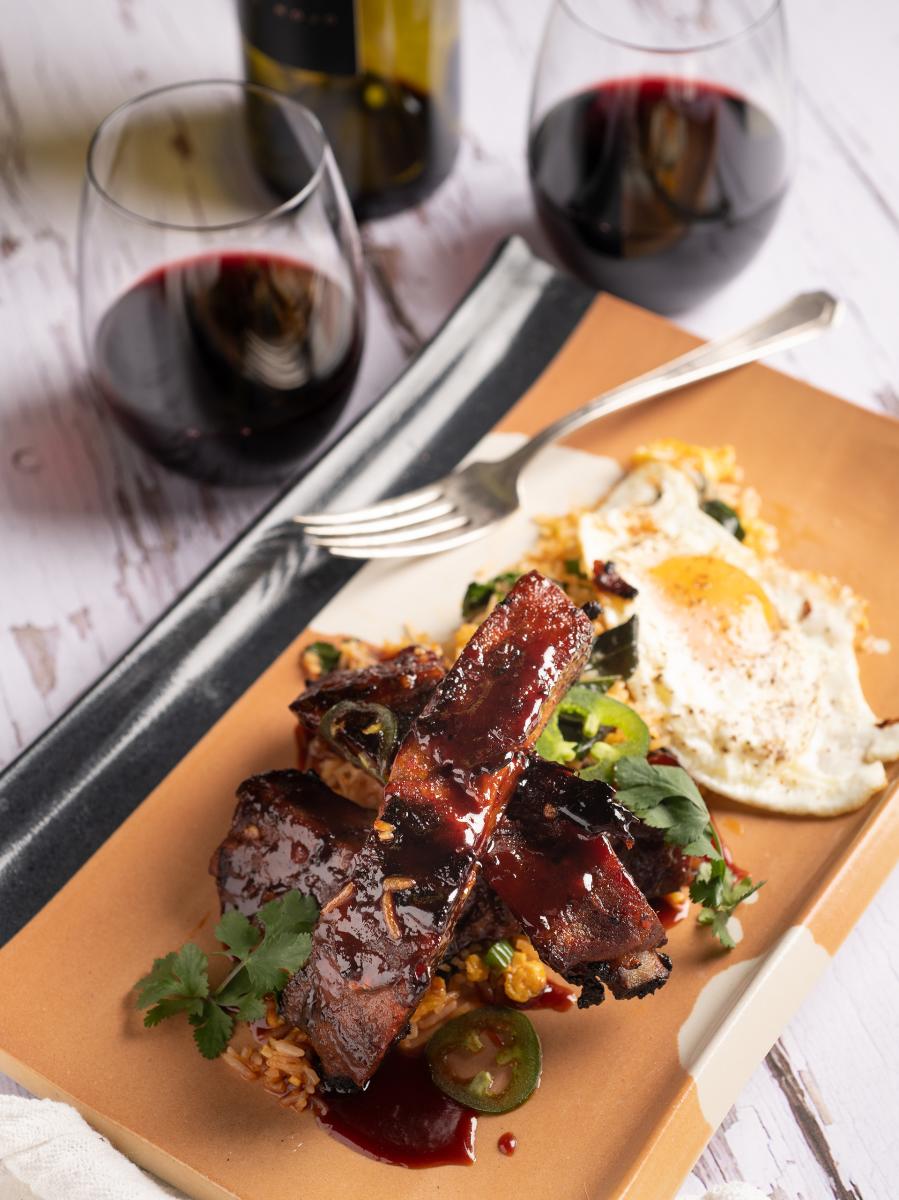 Santa Fe chef David Sellers took advantage of the pandemic's downtime to perfect recipes for his new Italian gastropub, Horno, opening this spring. He also hosted pop-up dinners, one of which featured this dish. He often serves it with a sunny-side-up egg. 
2 racks baby back pork ribs 
Salt and pepper 
KOREAN BBQ SAUCE
1 cup gochujang fermented chile paste (available in Asian markets and some grocery stores)  
1½ cups sugar 
1 cup soy sauce 
2 tablespoons rice wine vinegar 
1 tablespoon sesame oil 
KIMCHI FRIED RICE
2 cups jasmine rice 
¼ cup sesame oil 
2 tablespoons vegetable oil 
2 tablespoons fresh ginger, minced 
5 cloves garlic, minced 
3 Thai chiles, stemmed and chopped 
1 bunch scallions, finely sliced, green and white parts 
1 cup kimchi, chopped and drained (reserve liquid) 
4 eggs, lightly beaten in a bowl 
½ bunch cilantro, stemmed and chopped 
½ cup Thai basil, stemmed and chopped 
¼ cup soy sauce 
Serves 8
---
INSTRUCTIONS
Season the ribs liberally with salt and pepper. Set up a roasting pan with a rack and about ½ inch of water. Place ribs on rack and roast in a 325° oven for 2½ hours or until almost tender, basting at the 90-minute mark (see next step). 

While they roast, stir together the gochujang, sugar, soy sauce, rice vinegar, and sesame oil. Whisk vigorously until smooth. (This will make more sauce than you need, but it will keep indefinitely in the fridge and makes a great condiment.) When the ribs have been in the oven for 1½ hours, remove them, brush both sides with some of the sauce, then return to the oven.

Place 3 cups water in a medium saucepan, stir in rice, cover, bring to a simmer, and cook on low heat until all the water is absorbed, about 15 minutes. The rice should be just slightly undercooked. (I don't recommend using a rice cooker for this.) Spread out onto a cookie sheet and allow to cool.

When the ribs are about ready, heat a grill to medium-high. Brush the ribs liberally with more sauce and cook on the grill for 10–12 minutes per side. Allow the sauce to caramelize, but take care not to burn it. Glaze with more sauce if necessary.

In a large sauté pan, heat the sesame oil and vegetable oil on high until they start to shimmer. Add ginger, garlic, Thai chiles, and scallions. Cook for 1 minute, stirring constantly and being careful not to burn. Add the chopped kimchi and cook for 2 minutes more.

Turn heat down to medium and add the cooked rice and eggs, stirring to incorporate. Cook for 2 minutes. Season to taste with salt. Add cilantro, basil, reserved kimchi juice, and soy sauce. Cook for 2 minutes more.

Portion the ribs and serve with the fried rice and extra sauce on the side.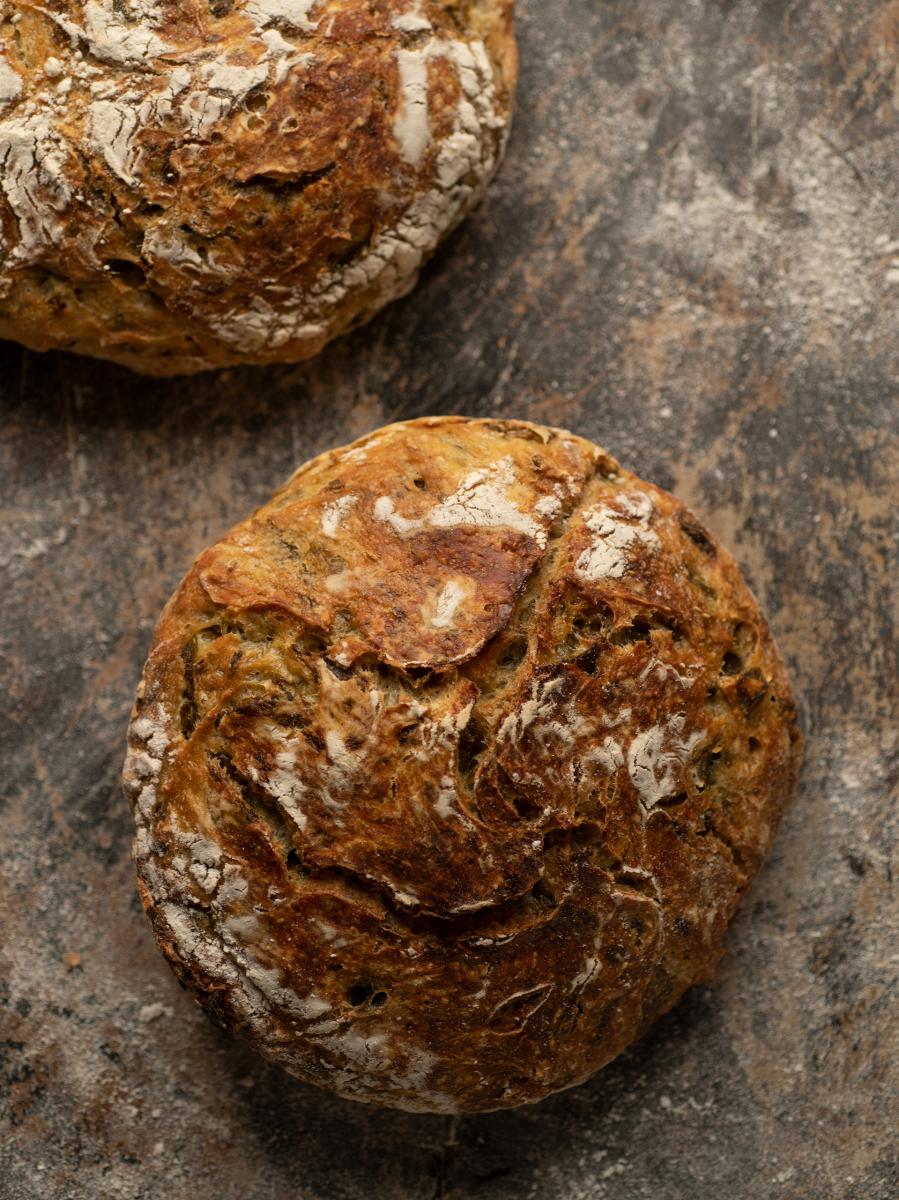 Makes 1 large loaf or 2 medium loaves 
We New Mexicans add green chile to recipes whenever we can. It seemed a natural for me to include it in this easy bread recipe, inspired by Mark Bittman's popular one. 
3⅓ cups all-purpose flour, plus more for dusting  
¼ teaspoon instant yeast  
2  teaspoons kosher salt  
2 teaspoons Mexican oregano  
1½ cups water, slightly warm  
1 cup roasted, peeled, seeded, and finely chopped green chile, hot or mild (thawed and well drained if frozen)  
Cornmeal, as needed 
Makes 1 large loaf or 2 medium loaves
---
INSTRUCTIONS
In a large bowl, combine flour, yeast, salt, and Mexican oregano. Stir green chile into water and then stir into flour. With a wooden spoon, mix until blended; dough will be shaggy and sticky. Cover bowl with plastic wrap. Let dough rest at room temperature for 18 hours.

Lightly flour a pastry or cutting board and turn dough out onto it. Sprinkle with a little more flour and fold it over on itself once or twice. Dough will be sticky, so you can use a spatula. Cover loosely with plastic wrap and let rest about 15 minutes.

Flour your hands and gently and quickly shape dough into a ball (or halve it to make two smaller loaves). Generously coat a large sheet of waxed or parchment paper with cornmeal and transfer the dough seam side down onto paper. Dust with more cornmeal. Cover with plastic wrap and let rise for 2 hours.

A half hour before dough is ready, preheat oven to 450°. Put a 6-to-8-quart heavy pot (or two smaller pots) with a lid (cast iron, enamel, Pyrex, or ceramic) in the oven as it heats.

When dough is ready, carefully remove pot from oven. Slide your hand under the paper, lift the dough, and turn it over into the pot, seam side up. Shake pan once or twice to evenly distribute.

Cover with lid and bake 30 minutes, then remove lid and bake another 15 minutes, until the loaf is beautifully browned. Cool on a rack. (This is a very moist bread and benefits from toasting once sliced.)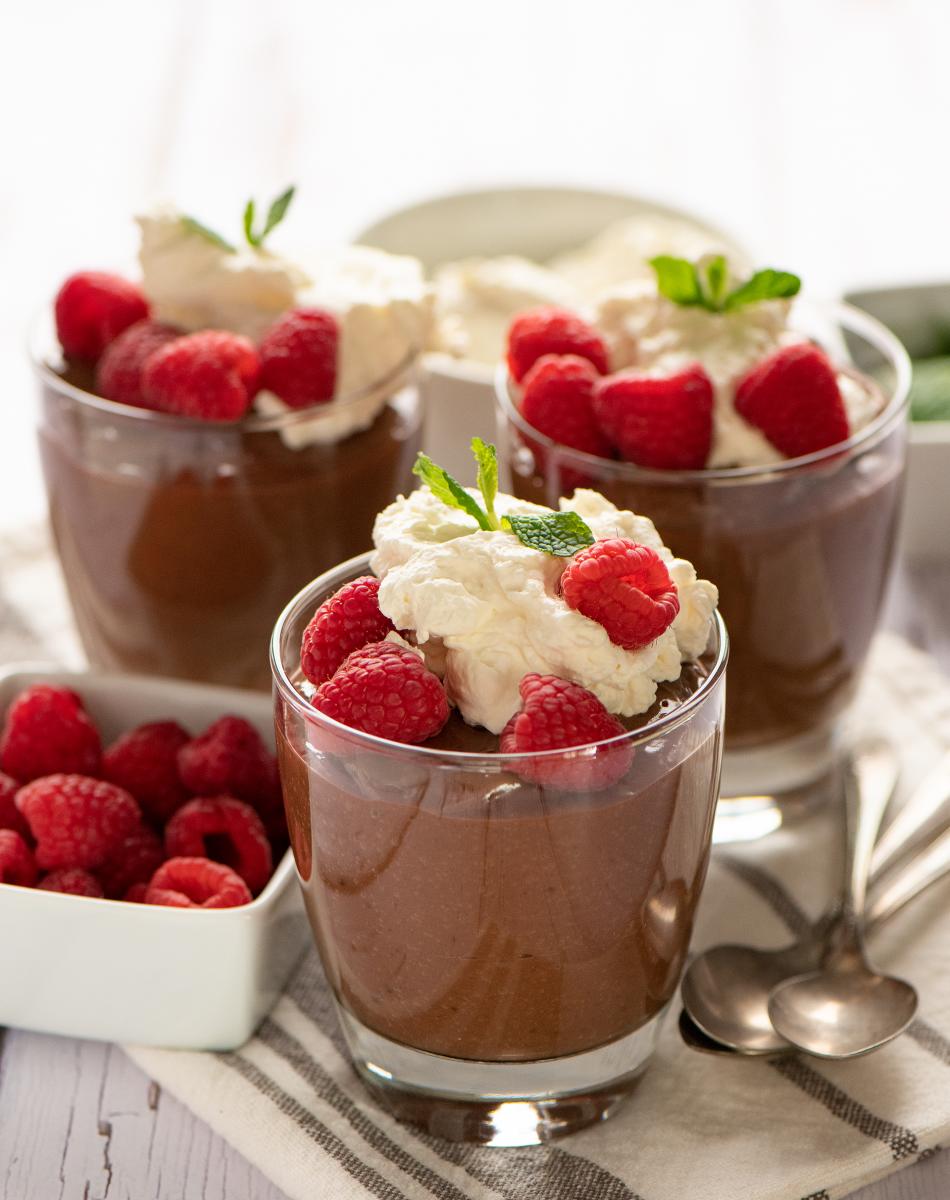 Ancho Chocolate Pudding
Makes approximately 6 five-ounce servings
We can thank the Maya for coming up with the concept of mixing chocolate with chile. I gussied up this New York Times recipe with ancho chile, which is the ripened and dried version of poblanos. It is more sweet than spicy and enhances the depth of the chocolate flavor. A splash of piñon rum in the whipped cream adds even more home-state essence. 
3 cups whole milk
3 large egg yolks
1 cup granulated sugar
15  tablespoons Dutch-process cocoa powder
3 tablespoons cornstarch
2 teaspoons ground ancho chile  
Pinch of kosher salt  
1½ teaspoons vanilla extract
1  cup heavy cream  
2 tablespoons confectioners' sugar  
1 tablespoon Rojo Piñon Rum (from Albuquerque's Left Turn Distilling), optional  
Raspberries and mint leaves for garnish 
Makes approximately 6 five-ounce servings
---
INSTRUCTIONS
Whisk milk and egg yolks in a medium bowl until blended. In a large bowl, mix sugar, cocoa powder, cornstarch, ancho chile, and salt, breaking up any lumps. Whisk the milk-and-egg mixture into the dry ingredients until smooth.

Place in medium saucepan and cook over medium heat, stirring constantly with a rubber spatula and making sure to scrape the corners and bottom of the pan, until pudding thickens and starts to bubble, 10–12 minutes. Once it bubbles, cook for an additional minute until thick and creamy. If any lumps form, whisk the mixture vigorously for a few seconds to smooth them. Stir in vanilla extract.

Spoon the pudding into serving bowls or glassware and press a piece of plastic wrap on the surface of each to prevent a skin from forming. Chill for at least 1 hour and up to 2 days.

When ready to serve, whisk the cream in a chilled bowl until it forms soft peaks. Add sugar and continue to whisk until firm peaks form. Stir in rum. Top pudding with the whipped cream, raspberries, and mint.