Clayton's Hotel Eklund is home to a few ghosts. 
THE HOTEL EKLUND HAS HAD 125 YEARS to accumulate ethereal energy by offering comfortable accommodations, good food, and liberal libations to travelers, some of them rambunctious. (Take a gander at the tin ceiling. The bullet holes are still on display.)
Since 1892, what started as a mercantile is now a three-story sandstone boutique hotel, saloon, and restaurant in the small northeast New Mexico town of Clayton. Between the bar brawls and angry confrontations, the joyous celebrations and clandestine trysts, it's no wonder some say they've had otherworldly encounters there.  
"Usually when people ask about the ghost, I tell them it's just an old building. Old buildings have stories," says co-owner Keith Barras, of the historic property that he, his wife, Jeannette Vigil Barras, and his sister-in-law, Jo Beth Vigil Price, purchased in 2011.  
The Barrases are both New Mexico architects with loads of hospitality experience. Jeannette's family goes back generations in Clayton. When the Eklund became available, they turned into innkeepers. That's not their only connection with the Eklund. Her family recounts a gunfight in the saloon when her great-uncle Cipriano worked behind the iconic, belly-up bar. He shot a man dead after the ruffian knocked her great-grandfather unconscious.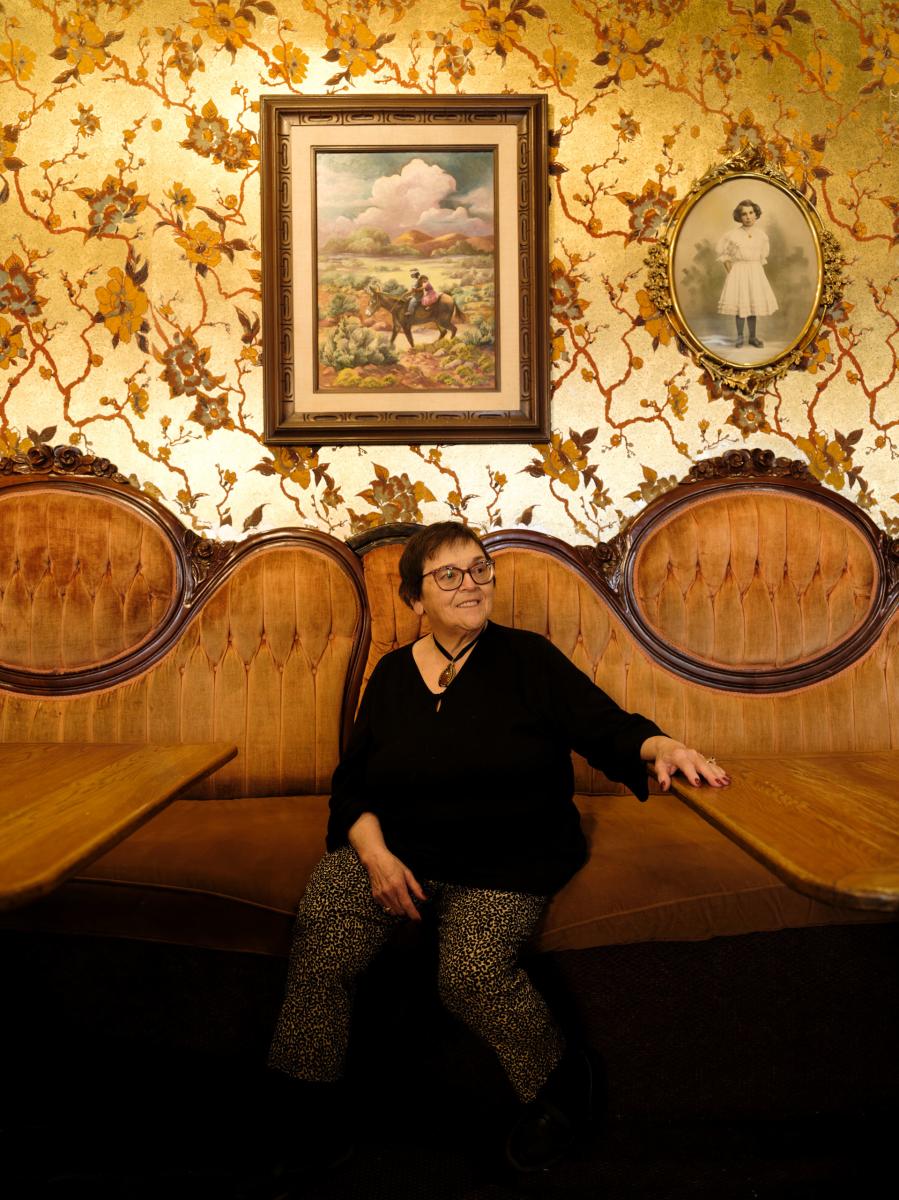 Co-owner Jo Beth Vigil Price sits in the Victorian lobby.
"We've got a great photo on display of Carl Eklund, the property's namesake, sitting on the front porch with the family during a celebration in the 1920s," says Barras. Guests can imagine more happenings from the scores of family photos and Wild West period decor.  
The supposed ghost, a maid named Irene, poltergeists her way around Room 307, creaking floorboards and making mysterious faces in the wallpaper. Barras prefers to think of her as a benevolent presence.  
"My personal favorite story is the time a couple stayed because the wife had a terrible migraine. In the morning, she thanked her husband for the wonderful way he had caressed her head through the night, relieving her headache. He denied having done anything! Maybe she was touched by an angel," Barras says.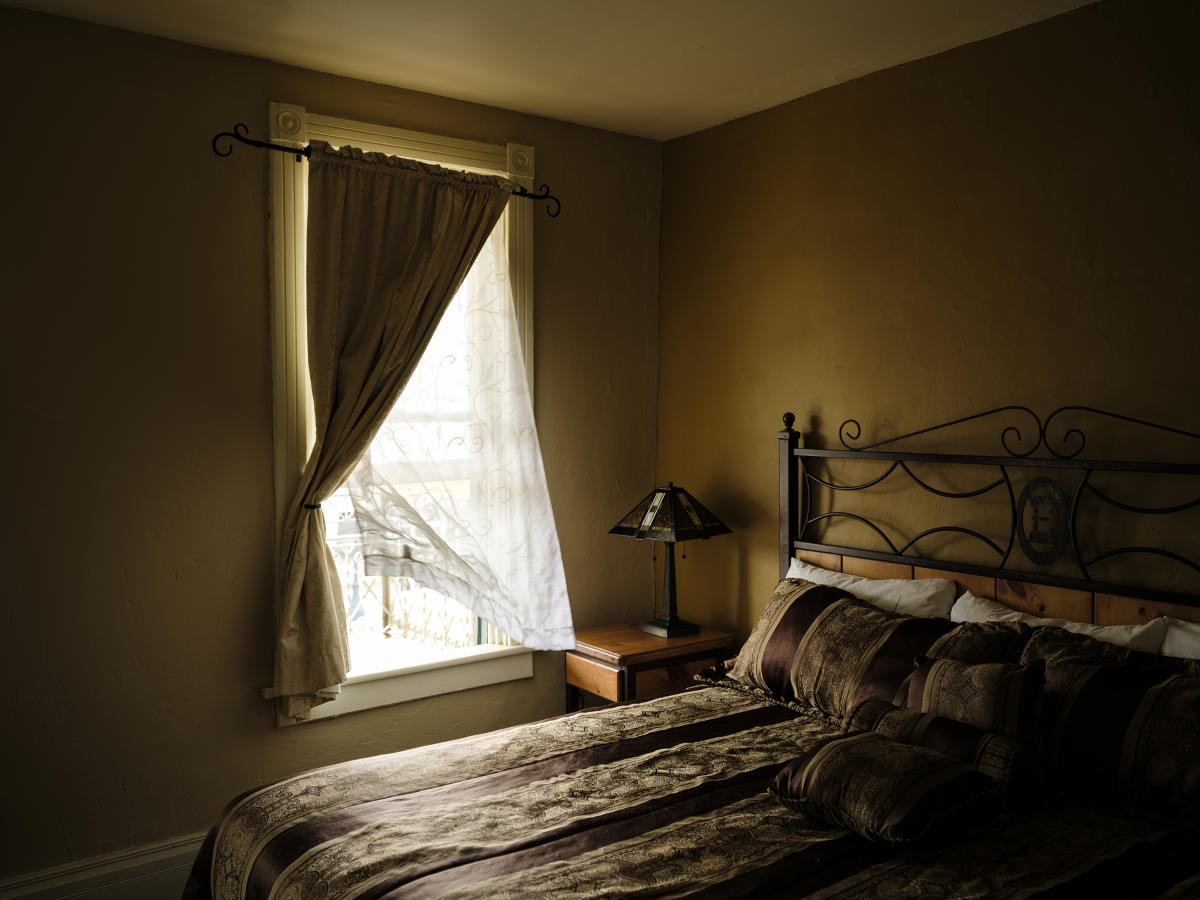 One of the hotel's restored rooms.
Not so angelic is the spirit of Clayton's notable ne'er-do-well (and lover of the Eklund's chicken dinners), Tom "Black Jack" Ketchum. He and his magnificent mustache supposedly haunt the halls of the nearby Union County Courthouse and leave a chill in the jailhouse cell where he awaited capital justice. Ketchum was a train-robbing member of the infamous Hole-in-the-Wall Gang, and his botched hanging in 1901 and ignominious burial in one cemetery and then in another might be reason for his shadow to linger.  
The town's Herzstein Museum, built in 1919 as a Methodist Episcopal church, offers more about Black Jack, as well as Clayton's history as a stop along the Santa Fe Trail, its Dust Bowl and WPA connections, and its own haunted happenings. The presence of a "sassy older woman" was documented by professional ghost hunters in 2015, who reported that she roamed the building. You can choose to believe it or go with Barras, who offers a skeptical shrug.  
"We love hearing about people who came into the hotel with their grandparents who are here now with their grandchildren," he says. "That's continuing the Eklund's and Clayton's tradition of hospitality. Ghosts or no ghosts."
Hotel Eklund, 15 Main St., Clayton; 575-374-2551.
---
Read More: Meet a few of the people who love this prairie town—and are determined to help make it thrive.
Read More: Abandoned, barely there, or rebounding with new purpose, towns, hotels, and restaurants all across the state hold secret treasures: the stories of past lives.